Best black pork in Jeju — Tasting the super delicious specialty "Black Pork" on Jeju island
You must have heard a lot about Jeju's specialty Black Pork, the famous dish of this beautiful island, when learning about it. The black pork in Jeju has a distinct flavor that distinguishes it from other types of pork; the black pigs are smaller in size, with black skin and smooth fur. According to culinary experts, smoking Jeju black pork with hay, smoke, and heat will make the meat taste more delicious and unique. However, when I ate it on the island, I didn't see them smoked with hay, but it was really delicious and had an unmistakable flavor. So, have you tried black pork BBQ Jeju before? Let me show you the best black pork BBQ in Jeju (best black pork in Jeju, black pork Jeju best, black pork Jeju city) from how to eat black pork in Jeju to where to find this specialty and best places to eat it.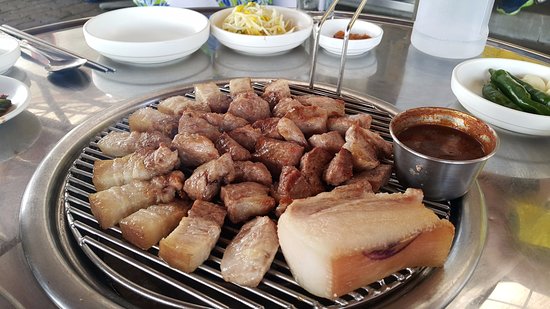 Best black pork in Jeju: Tasting black pork at Seogwipo night market
On our first day in Jeju, we visited Seogwipo Maeil Olle Market, which has a few eateries and stalls selling street food but not a lot of variety. When I got closer, I noticed people (mostly locals) lining up to buy from a small stall, and I realized it was black pork. A black pig with pointed ears is the unmistakable symbol.
The pork is simply prepared here; it is marinated and grilled before being cut into small pieces and placed in boxes for customers to take away. Don't forget to season with some spices, especially the spicy chili powder. To eat the meat, a small bamboo pointed stick is used.
It appears simple, but it is incredibly delicious when eaten. The meat here differs from restaurant BBQ in that it is marinated, which covers both the skin and the meat when grilled, and the skin is crunchy. If you can eat the meat with the skin, it's all delicious, so delicious, whereas the BBQ meat lacks that crunch. We ate this 5.000 KRW box of black pork with a little Kimbap, a perfect combination that was so delicious.
Address: 22 Jungjeong-ro73beon-gil, Seogwi-dong, Seogwipo-si, Jeju-do, South Korea
Hours: 7AM–9PM
Try black pork at Black Pork Street – Jeju City (Black Pork Jeju City)
There were many black pork BBQ restaurants on the island, both in Seogwipo and in Jeju City, but we chose the famous Black Pork Street in Jeju City. If you rent a car in Jeju from AJ Rent-a-car, you will undoubtedly be given a travel guidebook that includes restaurants in Jeju. You find Black Pork Street, look up their phone number, and tap on the navigator screen to get there.
Address: 25 Gwandeong-ro 15 (sibo) -gil, Geonip-dong, Cheju, Jeju-do, South Korea
Hours: 11AM–12AM
Because there are many narrow streets around the restaurant, even though there are directions, we have to go around for a while to see the restaurant, even though there is no parking space, but when we arrive, we see the road in front of the restaurant is very wide for parking.
The restaurant's door is adorned with the famous old man statue Dol Hareubang, which is a symbol of Jeju. Just entering, the aroma of grilled pork has permeated the space; it's aromatic and fragrant, and my stomach is empty after a morning spent wandering around the island. Her owner came out to greet us and led us to a large table by the window with a view of the street.
Barbecue restaurants in Korea all have the same layout, in that the tables already have a grill on them, as well as a chimney wrapped in foil on top to remove the smoke emitted when grilling meat. The table here is large and can turn around.
The owner's menu is straightforward, with the main course remaining black pork. We ordered a part for two people for 44,000 KRW, which was a bit pricey but well worth it. Meat can be ordered by weight, with thick or thinly sliced pieces.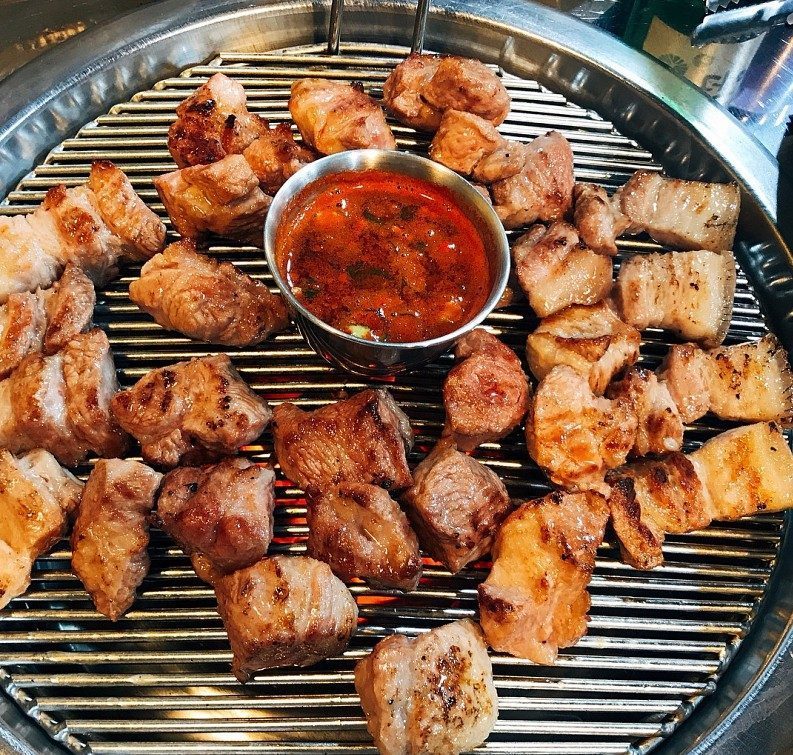 Pickled vegetables such as kimchi, pickled radish or seaweed, raw garlic, mushrooms, bean sprouts,… are always included in a meal here. They also provided two bowls of hot rice and a bowl of kimchi soup to accompany the meal. Korean rice made from pure white rice tastes great and is very clean. Furthermore, bottled water is provided free of charge; they will bring a large bottle of water with the appropriate number of cups based on the number of people in the meal.
Black Pork Jeju Best: How to eat best black pork BBQ in Jeju?
After you place your order, the waiter will turn on the grill (or flat pan) and instruct the kitchen to prepare the ingredients. Typically, the waiter will assist you in grilling the meat; they will melt the butter in the pan first, then place the raw meat on it, followed by the kimchi, mushrooms, and bean sprouts. Just looking at them grilled makes my mouth water, but the service here is extremely professional and quick. The dipping sauce is a thick red sauce that appears to be quite tasty.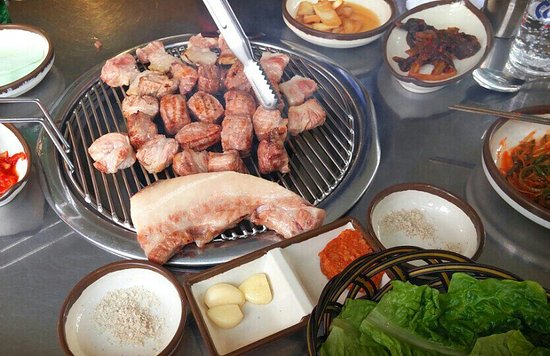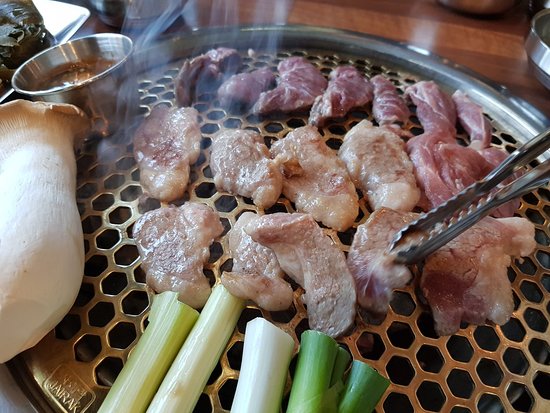 After the meat was medium-cooked, the waiter (who was also the owner) cut it into small pieces while keeping it on the pan and lowering the heat. Wrap it in large lettuce leaves or Perilla leaves. Perilla leaves are very popular in Korea for wrapping barbecue because they are cool and crunchy. Here are some suggestions for eating Black Pork in Jeju:
Wrapping ingredients include well-cooked black pork with a little raw garlic, kimchi or other fresh vegetables, and salt. If you run out of options, simply order these extra dishes, which are served for free and indefinitely.
Eating by hand is preferable to using chopsticks and having to eat the entire piece in one bite! After wrapping the piece of meat, dip it in the sauce and remember to put the entire wrapped piece of meat into your mouth, as this is how Koreans eat; don't half bite and continue eating later. Eating in this manner will be more enjoyable.
How to grill the meat: Reduce the heat a little bit because the waiter will cut the meat very quickly while you have not wrapped it to eat it all. Do not turn the pieces of meat too many times and let the meat be well-cooked thoroughly and wrap it up.
The total cost of the meal is 44,000 KRW, of which 40,000-42,000 KRW appears to be for Black Pork for 2 people, with the remaining 2,000 KRW for ordering more rice or something! In general, it is quite full, with grilled meat, wrapped leaves, salted vegetables, rice, and soup. I hope you enjoy this delectable dish!