5 FAMOUS TRADITIONAL VIETNAMESE FOOD YOU SHOULD TRY IN VIETNAM (Part 1)
Vietnamese cuisine is becoming increasingly popular around the world because it is young, nutritious, and affordable. The best places to serve Vietnamese food are in the country where it is made.
So here is the list of 5 famous traditional Vietnamese food you should try in Vietnam
PHO
Nothing beats a decent bowl of Pho – the heartwarming rice noodle soup for a wonderful day – when it comes to street food in Vietnam. As the birthplace of pho, Hanoi is the epicenter of the salty broth, fresh rice noodles, a sprinkling of chicken or beef options, and fresh herbs that has become unofficially regarded as Vietnam's signature dish. The soul of pho is made by simmering meat bone for 24 hours with more than 20 ingredients such as ginger, garlic, star anise, and peppercorns, salt, seasoning glutamate, and so on. Pho is usually eaten for breakfast, but it is now available all over town from dawn to dark.
BUN CHA
Pho may be the champion of breakfast, but Bun Cha has to be the best choice for lunch in the capital. A Bun Cha kit consists of a plate of fresh noodles and a bowl of sweet and sour fish sauce with chargrilled pork patties, crunchy pickled papaya, and carrot, flavored with chili and garlic to enhance the flavor. This would be a delightfully heady blend of flavors accompanied by deep-fried spring rolls. The highlight of Bun Cha is these pork patties grilled over smoldering coals and smoked with a simple hand fan!
XOI
Every morning, you can easily see a colonial hat-wearing lady hawking her wares. Sticky rice is a carb-rich breakfast food that comes with a variety of flavors covered in a banana leaf.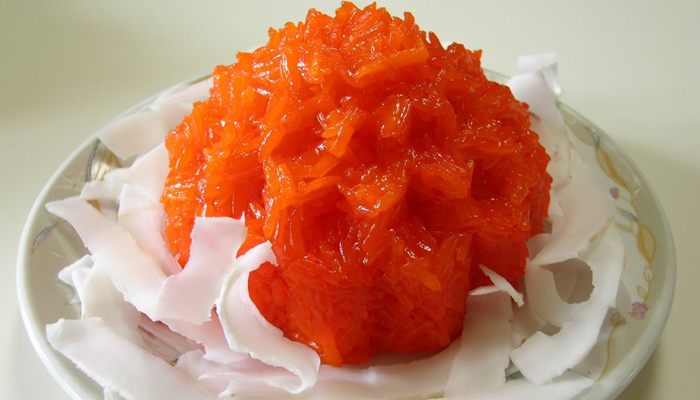 BANH XEO
Banh xeo – also known as Vietnamese pancake – is a popular snack among both Vietnamese and foreigners due to its crispy, sloppy, savory fillings and fresh flavor. The yellow outer layer of a healthy banh xeo is bulging with pork strips, crabs, and bean sprouts. Banh Xeo is classified as a handy food, so no complicated chopstick skills are needed. To eat it like a native, wrap a cut-in-pieces banh xeo in herbs and leaves before dipping it in the sweet and sour dipping sauce. The sauce is a delicious combination of fish sauce and spices including cinnamon, lime juice, garlic, and minced chili.
GOI CUON
It's exciting to find out that regarding CNN Travel's voters, Goi Cuon – Vietnamese fresh spring rolls have made their position to the best 30 dishes on the world list. The traditional recipe is made up of wrapped rice paper with boiled pork and shrimp, rice noodles, lettuces, local herbs. They are served at room temperature with either hoisin peanut dipping sauce or sweet and sour fish sauce. This refreshing roll is a perfect appetizer for any local tasting menu. Goi Cuon is also a regular dish on our daily meal basis as it's easy to make and ingredients are available at many local markets all year round.