5 Best Cycling Day Tours in Vietnam
Cycle tours across Vietnam are probably the best way to get a close-up look at the region. Most streets in Vietnam are clogged with bicycles from city to city. On their way to university, eager students weave between cars and motorcycles, sellers stack their racks with towers of merchandise bound for the auction, and passionate couples share a pair of wheels with handlebar drives. Take a guided tour with them on your next journey to Vietnam. If you want to ride down peaceful country roads looking for rice paddies, ride between centuries-old temples learning about the country's history, or weave between market stalls looking for products to add to your shopping basket, there's bound to be a 2-wheeled adventure to fit your tastes. So put on your helmet and get ready to fly. Here are a few of our favorite Vietnam bike tours.
Historic Hue with Cooking Class
Tour duration: 5h 30m
Hue is an ideal stopover for travelers traveling by bus or train between Hanoi and Ho Chi Minh City. Its UNESCO-listed Imperial City is full of ancient bridges, a citadel surrounded by a moat, and a slew of palaces that will transport you back to the Nguyen Dynasty. Get out of town to see the pastoral landscapes that lie just outside the city limits on a half-day cycling excursion with Asia Travel Links. Finish your ride by going to the market to get some fresh ingredients for dinner, and then park your bike at a local kitchen to learn how to make Vietnamese classics like fresh spring rolls, delectable fern cakes, and steaming bowls of pho bo (beef noodle soup)
Early Morning in Hanoi
Tour duration: 3h
The capital city of Vietnam is dotted with parks, lakes, and riverfront promenades that soften the city's urban edges at any level. With influences from France, China, and Southeast Asia, tree-lined avenues with gabled roofs and Art Deco columns are as common as Buddhist temples and grand pagodas. Take it all in and beat the heat with an early morning bike ride around Hanoi's streets led by a Threeland Travel guide. Look for multigenerational communities of fitness enthusiasts gathering around Hoan Kiem Lake for their morning routines, ride by the Ho Chi Minh Mausoleum while learning about the city's namesake, and end your ride with a bowl of pho to replenish your exhausted legs.
Backroads & Pottery of Hoi An
Tour duration: 8h 30m
Hoi An's ancient core is worth a cycle ride on its own, but this frozen-in-time city is also a perfect jumping off point for travelers looking to immerse themselves in rural life and get a glimpse of Vietnam's agricultural side. Set out of town with a Hoi An Express guide for a trip through small villages and fields. Visit the talented designers who make Hoi An's classic paper lanterns, assist on a vegetable field, and enjoy lunch at a small café. Change your bike for a boat and cruise down the Thu Bon River back to Hoi An with your Hoi An Express guide, stopping at a pottery workshop along the way.
Mekong Delta Farms & Markets
Tour duration: 10h
In green plains, winding waterways, and peaceful rice paddies, the Mekong Delta cradles Vietnam's southern boundaries. Traditional villages are dotted with stilted homes, market days are held on boats on the river, and the pointed tops of Khmer pagodas are the only thing that rises above the dense jungle canopy. Explore the Mekong labyrinth by bicycle with Vietnam Travel Group and immerse yourself in this vibrant corner of Vietnam. See fishermen in colorful boats navigate the waterways, eat lunch in the shade of star apple trees, and bite into fresh dragon fruit while talking with local farmers.
Cu Chi Tunnels & the Vietnam War
Tour duration: 10h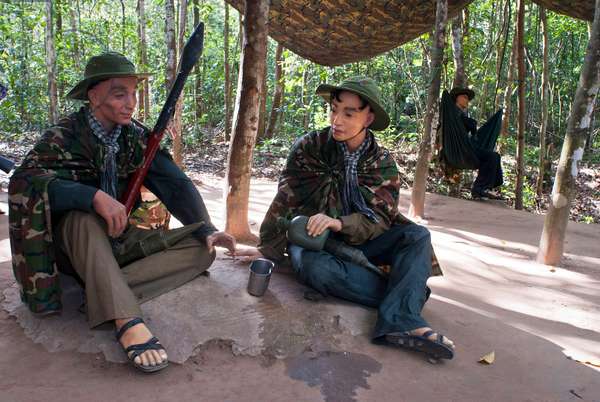 History buffs involved in the Vietnam War will spend a day cruising through the forested paths of Cu Chi. Along the way, your Grasshopper Adventures guide will take you to the famed Cu Chi Tunnels, which are concealed under the fallen foliage. This labyrinth of subterranean passageways was used by Vietnamese soldiers during the war and has been preserved to show tourists what life was like during those tumultuous days. Climb off your bike and explore the underground sleeping quarters, kitchens, and operating rooms where officers prepared and responded to threats.
Learn about the war's legacy through engaging commentary, then continue your history-packed conversation over lunch before concluding the day with a relaxing trip back to Ho Chi Minh, complete with easy drop-off at your hotel.