5 destinations in ThaiLand that not everyone knows
Thai Lan is a country that attracts tourists around the world not only because of the friendly people but also many beautiful natural landscapes. Coming here you will be discovering the beautiful island with smooth white sand and green pine forest. When coming to Thailand which is known as a shopping paradise, visitors cannot ignore bustling cities, shopping malls melancholy or modern electronics centers. Today, Focus Asia Travel will introduce 5 tourist destinations in Thailand that few people know which possess the enchanting beauty.
Wat Rong Khun Temple
Thailand is considered as the land of the Golden Temple and Buddhism. If you are a follower of Buddhism, coming to this beautiful city, you will be surprised by a completely white pagoda located in Chiang Rai province.
With the uniqueness of the novel architecture designed by Chalermchai Kositpipat, the temple is made entirely of glass and plaster materials with the combination of classical and surreal architecture. You will be amazed and admire by its design without getting bored from the carvings. The decorative motifs all speak the philosophies of Buddhism and praise the purity and self-preservation of the Buddha before human temptations, desires and wisdom.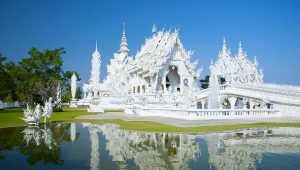 Wat Rong Khun Temple
This temple is the "soul" of Thai people. When you explore Thailand, please show your devotion to the Buddha when you explore Thailand. This is a temple that tourists should not miss out.
However, when you come to the grounds of Wat Rong Khun Temple, you will encounter a special golden architecture here. This architecture is special not only in color but also in its function.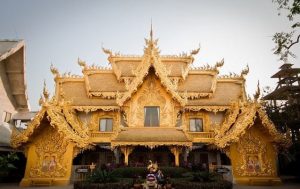 Special architecture on the grounds of Wat Rong Khun Temple
The yellow building in a corner of this main temple precinct is the toilet of the temple, which is considered the most luxurious toilet in Thailand. In particular, the cost to build the toilet is up to 5 million Baht (150,000 USD).
Erawan 7-storey waterfall
This waterfall is located in Kanchanaburi province, surrounded by large mountains creating beautiful water-filled valleys. Tourists have compared this place to a fairyland because not only its beauty but also the combination of the immense greenery and the sacred song from thousands of birds here. The water flowing downwards like a loose white hair creates a magic.
The attraction and special about Erawan waterfall is that it does not pour down forcefully but through many different floors, each floor is a few meters away to create a small emerald green lake. You can relax or sit to rest and immerse yourself in the sweet taste of Erawan mountains. Around the waterfall are green forests of all kinds of trees and a multitude of flowers.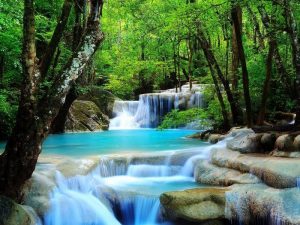 The beautiful Erawan waterfall
This is one of the most mesmerizing waterfalls in Thailand. You will be fascinated by its charm. You can enjoy the cool natural water, sit on the cliffs and take unique pictures with the surrounding scenery during your Thailand adventure tour.
Khao Lak beach
Located in Takua Pa district of Phang Nga province, Khao Lak is a fairly unspoiled gem, which will be very suitable if you are not a fan of noisy beaches in this summer. Unlike Pattaya or Phuket which are vibrant, Khao Lak  possesses a wild beauty with jade green beaches and endless rainforests.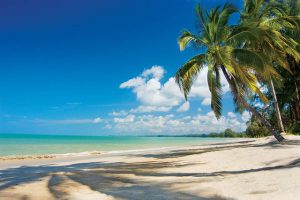 Khao Lak beach is still unspoiled
This is also a place that enthusiasts scuba diving can not ignore. You can snorkel on the small island of the Similan archipelago nearby.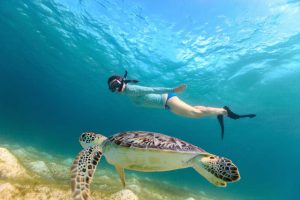 It will be very suitable for those who love the sea when coming to Khao Lak because this is the magnet for those who love swimming and diving.
Jungle de Café
If you come to Chiang Mai, quickly visit the special cafe located on the edge of the forest-  Jungle de Café. Sipping a cup of fragrant coffee, enjoying its great taste while listening to the jungle birds singing chirping is definitely great.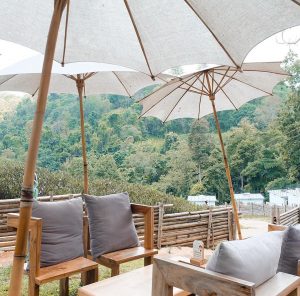 The open space of the Jungle de Café
Coming to Jungle de Café, you will feel completely free because of its open space. Furthermore, you can hear the birds singing the gurgling sound of a small waterfall. Another special thing is that the tables and chairs in the restaurant are made of wood, creating a warm feeling for customers. Besides, there are some special seats made from solid mesh, making you feel like lying in the middle of the forest. It's a great experience, isn't it?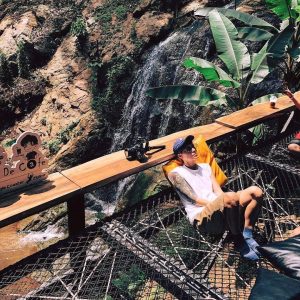 A special sitting position to enjoy a delicious cup of coffee
Besides the delicious drink, you can also enjoy the pastry flavors to make your mood even more cheerful. In addition, those who like thrills can "relax" with the Zipline adventure game.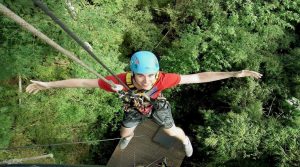 Even the "active" people find joy here
Visit the long-necked Kayan tribe
You can move away from the city to return to the Kayan tribe which is located in the Burmese area in the north of  Thailand bordering  Myanmar and watch the long-necked beauties of this tribe.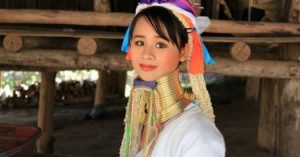 Long-necked beauties
More specifically, you will be experiencing incarnations as long-necked people, wearing bracelets that the women here wear as their jewelry.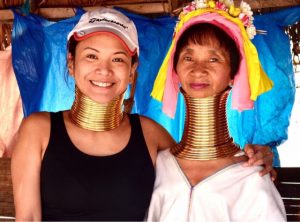 Interesting experience that you should try
How do you feel about these destinations? What are you waiting for without planning and book tickets right away? For those who have not traveled to Thailand before or want to go to famous places like Bangkok, Pattaya or Phuket, book a  tour to experience without thinking. Wish you have a good trip!!
Photo source: Trung Son Internet