Trekking In Vietnam – Where And When To Go (Part 1)
In fact, Vietnam (Viet Nam) has excellent trekking opportunities as well as less strenuous walks. The scenery here is breathtaking, with plunging highland valleys, rice paddies, and massive limestone mountains. Anything from half-day hiking to assaults on Vietnam's tallest peak, lofty Fansipan, is achievable in Vietnam. In general, the northern region of Vietnam is the best for hiking because of its interesting minority community and scenic mountainous trails. Furthermore, national parks and nature reserves are excellent locations for trekking in Vietnam.
Tourists who visit this S-shaped country are normally mesmerized by the breathtaking scenery, which ranges from golden terraces in harvest season in the north to the central highlands or the attractive bustles of the Mekong Delta in the south. Mountain hiking, jungle trekking, countryside hitchhiking, rambling adventures, and walking are the most common ways of trekking and hiking in Vietnam.
1. Sapa
This is the border town of the province of Lao Cai, which is situated in northwest Vietnam. Sapa is regarded as the best trekking area in Vietnam, and it is home to the prominent Fansipan mountain, which stands at 3143m and is the highest peak in both Vietnam and the Indochina peninsula. In addition to the rugged terrain, Sapa is home to ethnic minorities such as the Dao, Hmong, Pho Lu, Giay (Giáy), and Tay (Tày).
2. Pu Luong (Phu Luong)
The Phu Luong Nature Reserve is one of Vietnam's most popular trekking destinations. It is also Vietnam's newest park. It is situated in Thanh Hoa (Thanh Hoá) province and has outstanding splendor, high biodiversity importance, and cultural significance. This reserve is located over two parallel mountain ridges that extend from northwest to southwest and are separated by a central valley. With its lush jungle, beautiful rice paddies, limestone panoramas, and stunning scenery, Phu Luong is one of Vietnam's most popular trekking destinations.
3. Mai Chau (Mai Châu)
Mai Chau, located approximately 135 kilometers from the capital of Hanoi (Hà Ni), is a popular destination for both easy and complex trails (hills, lowlands, and mountains). Mai Chau (Mai Châu), a district of Hoa Binh (Hoà Bnh) province in the northwest region of Vietnam, is surrounded by stilt houses of ethnic minority groups and a lush valley as seen from above. There are two ethnic minority groups in the region, White Thai (Thái) and Black Thai (Thái), which are the most populous. Trekking enthusiasts can find a variety of services.
4. Cao Bang (Cao Bằng)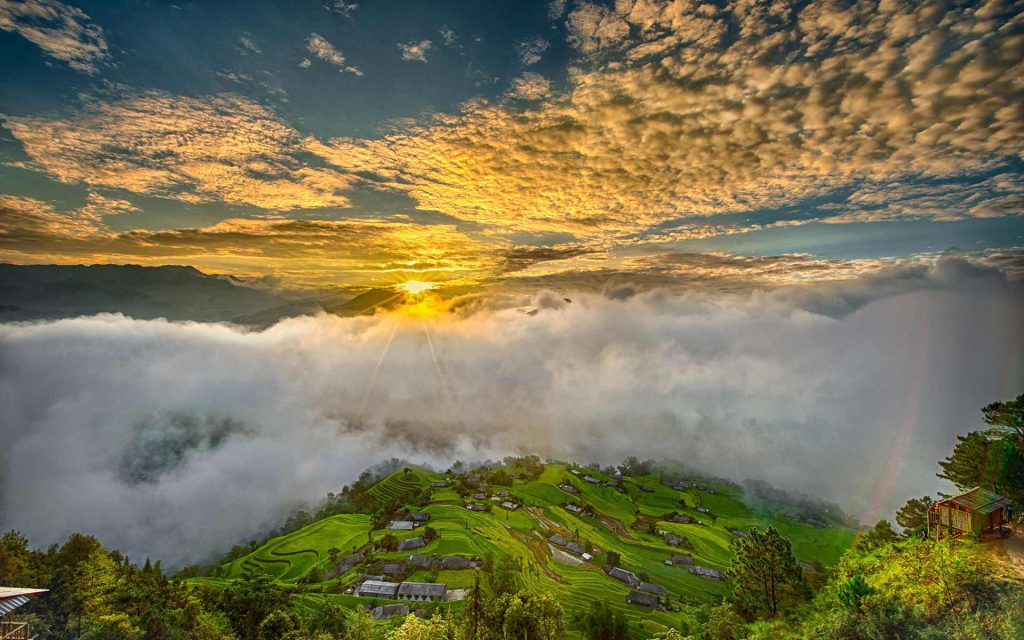 Cao Bang is a province in northwest Vietnam, bordering Tuyen Quang (Tuyên Quang), Ha Giang (Hà Giang), Bac Kan (Bc Kn), Cao Bang (Cao Bng), and Lang Son (Lng Sn). It is a perfect trekking destination, with high mountains twisted with lakes, rivers, and untouched jungles. You will be able to see the Ban Gioc (Bn Gic) waterfall, which is located on the border with China and is a well-known natural feature in this province.
5. Cat Ba Island (Cát Bà)
Cat Ba (Cát Bà) Island, located on the southern edge of the prominent Ha Long (H Long) Bay, is the largest of 366 islands that comprise the Cat Ba Archipelago, with the national park covering half of the coast. This island is the meeting point between forest and ocean, resulting in a wide range of natural habitats, both terrestrial and aquatic, and high rates of biodiversity.
6. Ba Be Lake (Hồ Ba Bể)
Ba Be Lake is another excellent trekking destination in Vietnam. This is Vietnam's biggest natural lake, and it is now the focal point of the vast National Park. Ba Be Lake is located in the heart of the Bac Kan Province's limestone mountain range. The lake region has a lot to offer, such as rivers, waterfalls, mountains, caves, and lakes that provide a beautiful landscape. The region is densely forested and home to a host of ethnic minorities. This national park is surrounded by tropical and semi-tropical evergreen monsoon forests.