Travel to Phu Yen – Everything you need to know
Phu Yen Overview
Phu Yen is another off beat track destination in Central of Vietnam with pristine beaches, busy fisherman villages, glistening mini desserts, mouth-watering seafood and astounding natural landscapes. If you're planning to travel to Phu Yen for a peaceful holiday, you certainly won't be disappointed.
While attractions in Phu Yen are a bit similar to those in Quy Nhon, Phu Yen is a lesser-known destination which has only become (a bit) more popular thanks to the Vietnamese film "I see yellow flowers on the green grass". Nonetheless, many people still call this land a sleeping beauty, waiting for the Charming Prince to come and wake her up.
Where is Phu Yen in Vietnam?
Situated in the middle of Binh Dinh Province (Quy Nhon) and Khanh Hoa Province (Nha Trang), Phu Yen is a coastal province in the Central of Vietnam. Its capital is Tuy Hoa City.
Phu Yen remained unpopular to tourists for a long time as the province did not invest much in promoting its tourism. After the launch of the movie "I see yellow flowers on the green grass", which was shot in Phu Yen, the province's picturesque landscapes started to capture attention from Vietnamese tourists. Since then, tourists have flocked there to discover other lesser-known attractions in Phu Yen.
Best Time to Visit Phu Yen
Phu Yen has a tropical climate which means it's rather warm and humid most of the year. To avoid the hottest season, the best time to travel to Phu Yen come here between January and March. During this time, you'll experience temperatures in their high twenties and there will not be a lot of rain. The closer your travel dates are to summer, the hotter it will get, but chances of rain are still low. If the heat doesn't bother you, traveling in summer is great as you'll be sharing the beaches with fewer people.
If you can, avoid the time between September and December. That's Phu Yen's rainy season and you risk getting caught in heavy downpours several times a day. You'll still have your share of sun and warm weather but be ready to get the occasional free shower. Also, note that bad weather might make it impossible to go on boat trips during this time (in Phu Yen as well as neighboring provinces), as going out to sea wouldn't be safe.
How to Get to Phu Yen
Focus Asia Travel share you some traveling tips to Phu Yen help you have good preparation for Phu Yen trip.
Air
Tuy Hoa airport is located across the river, seven kilometres south of the city centre. There are daily flights to HCMC(Jetstar, Vietnam Airlines, VietJet) and Hanoi(VietJet).
Train
If you want to see more of Vietnam's landscape and are not in a hurry, why not take the train to Phu Yen? The famous North-South Express stops in Tuy Hoa and connects the city to hubs like Danang, Ho Chi Minh City (~11 hours), and Hanoi (~13 hours). To make the long journey go by faster and even get some rest, go for a berth. It's quite comfortable and you'll be rested enough to explore come morning. Check out Vietnam Railway's website to find a train and book it directly.
Bus
The bus situation in Tuy Hoa is confusing as there is more than one station. There is the main Tuy Hoa station as well as other stations belonging to individual bus companies. 

All north-south buses going along Highway 1A can drop off at Tuy Hoa — more specifically, they will drop en route along the highway which lies five kilometres west of the city. Buses (if they're nice) will stop at a major intersection where a few xe om hang out. If leaving from Tuy Hoa, there's two side-by-side bus terminals to choose from at the corner of Nguyen Tat Thanh and Tran Phu Streets. The one run by Thuan Thao Tourist offers the most departures. Bold travellers can also stand on Highway 1A and flag down a passing bus.

Sample destinations:
Dak Lak (Buon Ma Thuot): Departs at 07:30, 13:30. Costs 95,000 dong.
Kon Tum: Departs at 06:15, 12:00. Costs 106,000 dong.
Gia Lai (Pleiku): Departs at 06:30. Costs 120,000 dong.
Da Lat: departs at 08:30. Costs 155,000 dong.
Nha Trang: Departs at 05:30, 08:30, 13:30, 17:30. Costs 65,000 dong.
Qui Nhon: Departs at 07:30, 13:30. Costs 55,000 dong.
Da Nang: Departs at 07:00, 19:00. Costs 210,000 dong.
HCMC: Regular departures between 05:30 and 20:30. Costs 220,000 to 255,000 dong.
By Car
If you're traveling with a few friends or you simply want to be more flexible, you can hire a driver. That way you can travel as fast or a slowly as you like and even make some stops along the way. To find a reliable driver at a fair price, it's best to ask your hotel's front desk staff. They can recommend someone for you, put you in touch, and give you some recommendations on which route to take.
Getting Around in Phu Yen
Once you travel to Phu Yen, you'll need transportation to get to all the beautiful sights. Since they are quite spread out, some as far as 50 kilometers from Tuy Hoa, walking or biking is not an option for most travelers.
By Motorbike
If you're traveling alone or with one other person, getting a motorbike is a good choice. You only need one and can take turns driving. Be aware though that long drives can be exhausting in the heat. Make sure to bring enough water, wear sunscreen or maybe even long sleeves and pants to protect yourself from the burning sun.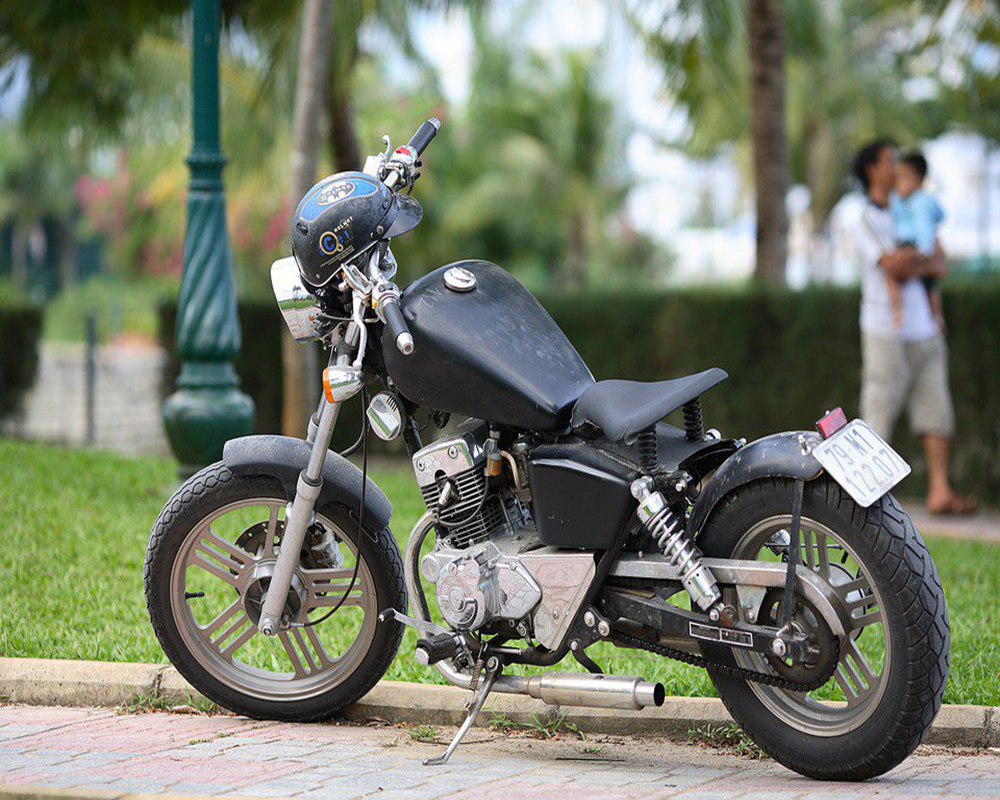 There are plenty of shops in town which rent motorbikes to tourists. Generally, they will charge between 80,000 – 100,000 VND per day and ask you to leave your driver's license or passport as a guarantee that you'll bring back the bike. Before you head out, make sure you get a helmet. It's legally required to wear a helmet in Vietnam and of course, it's safer. To find a good rental shop, ask your hotel's or hostel's front desk for recommendations.
By Car
As with getting to Phu Yen, if you're traveling with a group or value flexibility, getting a car with a driver is a good idea. You can easily drive yourself in this area too as there is only light traffic and the roads are in good condition but the rules for driving cars in Vietnam are difficult to figure out. You can get a driver too if you prefer to marvel at the beautiful scenery rather than keeping your eyes glued to the road.
Renting a car should cost you about 700,000 VND per day and again, you will be required to leave your passport as a guarantee. To find a company which will rent you a good car, check with your front desk staff. They can connect you with a rental business and maybe help you negotiate a better rate if you decide to use the vehicle for more than one day.
Where to Stay in Phu Yen
As more people are discovering Phu Yen, more hotels, hostels, and homestays are popping up. This gives you several places to choose from in categories ranging from luxury to budget.
Want to surprise your partner with a nice room? Then you can splurge on the Vietstar Resort & Spa, a five-star property close to the city with a beautiful pool and sweeping views of the ocean.
If you're looking for a more budget-friendly place to stay which is also closer to the beach, have a look at the Sala Tuy Hoa Beach Hotel. This newly opened hotel is only a four-minute walk from the sea and offers great amenities and even an airport shuttle.
What to See and Do in Phu Yen
From beautiful sandy beaches to rocky cliffs and green hills, Phu Yen is a wonderfully diverse province. Make sure you plan your days well, so you get to see as much as possible!
Explore Tuy Hoa
The capital of Phu Yen province, Tuy Hoa is the center of cultural and economic life in the area. It is also home to some great historical spots such as the Ngoc Lang temple and the Nhan tower built by the Champa people. Take a few hours to check out the city before heading out into the countryside, it's well worth it.
You can start with the Nhan tower which was built in the 12th century and is a reminder of the city's original founders, the Champa people. It's perched on top of the Nhan mountain which offers a beautiful view of the city and coastline. If you want to save your energy, you can drive both cars and motorbikes all the way up the hill.
After that, go to the southern part of Tuy Hoa, to a commune called Ngoc Lang. It's home to endless fields of vegetables which makes the area look like it's covered in a silky green carpet. From lettuce and cabbage to coriander and other herbs you can find all your favorite veggies here. Apart from the lush greenery, you can also find the historic Ngoc Lang temple. Its intricate design and cultural importance make this a great place to see before heading out into the countryside.
Xep Beach
A small beach with the length of only 500 meters, Xep Beach is a quiet place suitable for those seeking peace and tranquility during their trip. There are black stones lining along the beach, adding some sharpness to the softness of the ocean.
You can climb onto a hill nearby for a sweeping view of Xep Beach from above. This hill became popular to tourists as the place where the children from "I see yellow flowers on the green grass" flew kites. In real life, this place is a small meadow where the locals' cows are herded. I did not see any yellow flower there though, unfortunately.
Tip: It was extremely hot when we visited Xep Beach at 10am. Nobody was on the beach and we felt like burning when standing on the hill overlooking the whole area. We later learned that locals only visited Xep Beach in the afternoon to avoid the burning heat from the sun.
O Loan Lagoon
Since O Loan Lagoon is quite large, it's not easy to identify the most picture-perfect corner to stop at. We rode along O Loan Lagoon under the heat of midday and stopped at a local seafood restaurant with a view of part of the lagoon. That view was not so impressive to be honest. Yet we had the chance to taste Blood Oyster: a must-try local cuisine.
Tip: Our advice is to avoid visiting this lagoon around noon time. The heat's really unbearable and you won't see anything nice anyway. The best time of the day to visit O Loan Lagoon is either during dusk or dawn.
Ganh Da Dia (or Ghenh Da Dia)
This landscape is the emblem of Phu Yen's tourism. Nowhere in Vietnam can you find such a beautiful piece of art by nature: hundreds flat black stones are stacked on top of each other right next to the sea. It's hard to believe this amazing structure was arranged totally by nature.
Nhan Tower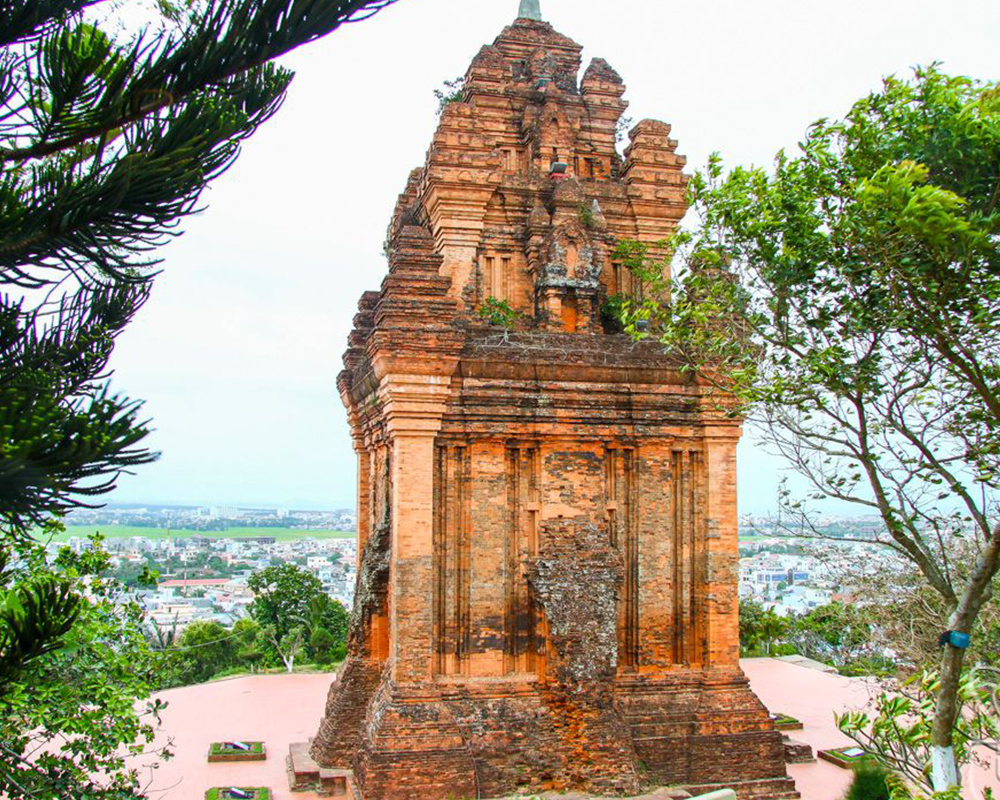 Located in Tuy Hoa City, Nhan Tower was built by the Cham people on top of the Nhan Mountain in the 12th century. Here you can have a beautiful view of Tuy Hoa city with the Da Rang River flowing by.
Tip: You can ride motorbike / drive car directly to the top of Nhan Mountain. The mountain's height is only around 60 meters.
Mui Dien Cape – the easternmost point of Vietnam's territory
Theoretically speaking, Mui Dien Cape is the first location in Vietnam to receive sunlight for a new day. After climbing steps for around 30 minutes (slow pace), you will reach the foot of the Mui Dien Lighthouse. Climbing up to the lighthouse gives a stunning view of the sea below.
From the Lighthouse you can also climb out to Mui Dien. It's a bit hard to climb out here so mind you step!
Tip: Interested in visiting the northernmost point of Vietnam's territory as well?
Bai Mon Beach
Bai Mon Beach can be accessed from the entrance to Mui Dien area as well. You need to pay an entrance fee and also a parking fee (very cheap!). There are shower rooms near the entrance for you to change before walking 200 meters to the beach.
Now here's the interesting part. As you walk to the beach from the entrance gate, you will first be able to see the Mui Dien Lighthouse on top of the hill on your right hand. As you walk further, a gorgeous landscape of yellow sand dunes on the left, a clear channel in the middle and a green hill on the right will leave you stunned. You can even see fish swimming in this clear channel. And finally, the beach! Bai Mon Beach is nestled between 2 hills with the length of only 400 meters. Its clear water, smooth sand and amazing view will not disappoint you.
Tip: The beach is most deserted at around 2-3pm, when the sun still shines quite brightly. Come here at this time and make the beach your own!
Vung Ro
From Mui Dien and Bai Mon, continue driving forward and you will soon arrive at a lively fisherman village. The smell of fresh fish is unmistakable. This place is called Vung Ro – a small busy bay with lots of fishing activities going on. You can stop by at a local boat house to buy fresh seafood and taste them right there (the locals can help you cook).
What to eat in Phu Yen
Candidate #1 – Chicken Rice (Com Ga)
You've just arrived in Phu Yen and you might feel a little bit tired. I have a simple dish that will wake you right up. Let's stop for just a moment to get some chicken rice, my friend!
First, let me ask you something: Does the name of this dish sound familiar to you? Chicken rice is a popular dish in Vietnam, but each region has a specific way to make it. Let's take Phu Yen and its "almost" neighbor, Hoi An, as an example. Unlike Hoi An rice which is cooked in a rice cooker, Phu Yen rice is cooked directly in a hot pan with oil, minced garlic, and chicken broth to make it radiant yellow.
My suggestion: Com Ga Tuyet Nhung
Location: 189 Le Thanh Ton Street, Ward 3, Tuy Hoa City, Phu Yen
Opening time: 5:30 AM – 11 PM
Price range: 25,000 VND – 50,000 VND (1.25 USD – 2.50 USD)
Candidate #2 – Phu Yen Vietnamese Fried Pancake (Banh Xeo Phu Yen)
When you have rice flour, eggs, and pork (which I think are three of the greatest ingredients on Earth), what would you do? I don't know about you but I would make a fried savory Vietnamese pancake!
Along with hot water fern cake, the fried pancake is also a traditional dish in Phu Yen. It is a perfect combination of rice flour, bean sprouts, belly pork, shrimp, or squid. A perfect pancake means you can taste the crispiness from the outside and the soft, juicy stuff inside. The right way to enjoy this pancake is with raw vegetables such as lettuce and other herbs. There are two different kinds of sauces: fermented fish sauce and original fish sauce. When you wrap this fried pancake into rice paper and herbs, you know that there's not much more that needs to be said besides dip away!
Our suggestion: A local food stall on Le Trung Kien Street
Location: 98 Le Trung Kien, Ward 1, Tuy Hoa city, Phu Yen
Opening time:  3 PM – 9:30 PM
Price range: 3,000 VND to 5,000 VND per pancake (0.15 USD – 0.50 USD)
Candidate #3 – Hot Waterfern Cake (Banh Beo Nong)
If I have to describe this dish in three words, I'll definitely say: "Simple but undeniable!" This eye-catching food includes hot water fern cake topped with pork floss, fried bread, and oiled scallions.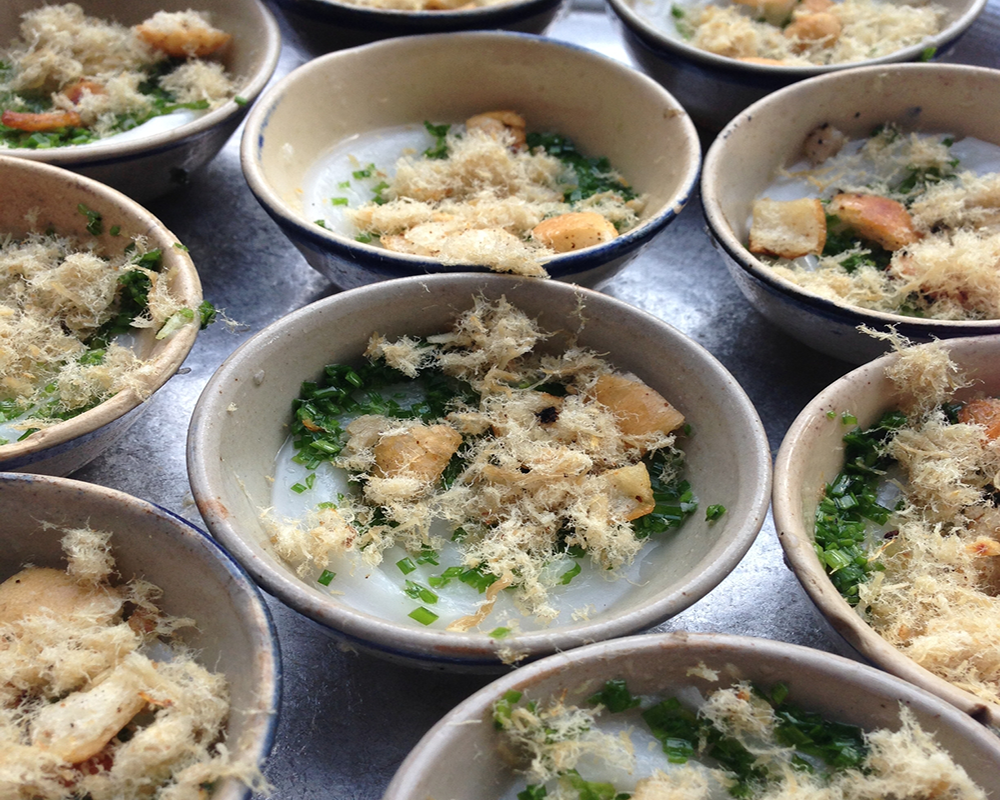 The taste of Phu Yen hot fern cake is so delicious, not too sweet, and not too salty. It goes so well with crispy fried bread, oiled scallions, and its typical Vietnamese fish sauce. It is such an extremely addictive dish that even the Phu Yen locals have to admit: "We don't order this dish in bowls or plates. We order it in TRAYS!" Do you not believe me? If so, why not come here and experience it yourself?
Our suggestion: Banh Beo Co Mai
Location: 92 Le Trung Kien Street, Ward 1, Tuy Hoa city, Phu Yen province
Opening time: 1 PM – 10 PM
Price range: 15,000 VND per tray of 10 small bowls (0.70 USD)
Candidate #4 – Oyster Porridge (Chao Hau)
Have you ever heard the quote: "Good wood is better than good paint?" You can apply this to oysters. The fluffy, juicy, sweet, addictive ivory oyster meat is absolutely addicting!
To make satisfying oyster porridge, chefs choose qualified rice and then add a little bit of sticky rice. The rice is soaked and cleaned, then cooked until the rice expands. The oysters are washed and marinated, then stir-fried with oiled scallions. After that, they are poured into the porridge.
The sweet flavor and health benefits have made this dish famous everywhere. Depending on the weather, people can choose to enjoy either hot or cold oyster porridge. As long as you savor this dish, you will experience the natural sweetness coming from oysters and the rice porridge. This dish is also a great choice to add to your dinner rotation.
Our suggestion: A no-name local food stall on Le Loi Street
Location: 363 Le Loi Street, Tuy Hoa city, Phu Yen
Opening time: 6:30 AM – 10 AM
Price range: 15,000 VND per bowl (0.70 USD)
Candidate #5 – Fish Cake Noodle Soup with Chives  (Banh Canh He)
One of the ingredients that decide the success of this dish is fish cake. The fish is minced thoroughly, then seasoned and folded into pieces. After that, it is steamed or deep fried. A healthy helping of fresh green chives is served on top. And most importantly, the broth isn't made from pig thigh bones but from fresh fishbones. That's the reason why the broth has a naturally sweet taste of fish that you'll never tire of.
Our suggestion: a no-name local food stall on Hoang Dieu street
Location: 5 Hoang Dieu Street, Tuy Hoa city, Phu Yen
Opening time: 3 PM – 10 PM
Price range: 10,000 VND per bowl (0.50 USD)
Candidate #6 – Blood Clam of O Loan Lagoon
(So Huyet O Loan)
People say that if you leave Phu Yen without trying seafood, it means that you NEVER visited Phu Yen! On top of that, blood clams in O Loan lagoon are the most famous of them all. They are bigger than anywhere else, easily caught, and they appear regularly. Chefs often include them in many dishes with different ingredients such as grilled onions, chilis, or tamarind and vegetables.
The best time to try them is at night when all the lights are on and the streets are less busy. Slurping blood clams while sipping a local moonshine (I'd suggest Bau Da alcohol) and watching the starry sky will be absolutely relaxing and poetic.
You can experience this dish in restaurants near O Loan Lagoon.
Price range: 30,000 VND – 40,000 VND per dish (1.50 USD – 2 USD)
The Last Candidate #7 – Tuna's Eyeballs (Mat Ca Ngu)
I believe that tuna's eye is the most thrilling food in Phu Yen. You want to know the reason why? Take a look at this photo below:
But don't panic! I guarantee that this dish is a blessing in disguise! To make a standard dish, a tuna must weigh between 40 to 50 kilograms. Chefs then remove the fish's eye and place it in a small jar with vegetables, spices, and some herbs such as jujubes. After boiling on the fire, the fishy odor is totally replaced by a delicious fragrance that reminds me of the majestic sea!
In the midst of the cool weather surrounded by the sea breeze in Phu Yen, tasting the soup, biting a piece of jujube, and enjoying the fish will certainly be a great cultural experience for you.
Our suggestion: Quan Ba Tam – Ca Ngu Dai Duong
Location: 293C Le Duan, ward 7, Tuy Hoa city, Phu Yen province
Opening time: 9 AM – 9 PM
Price range: 36,000 VND per bowl of tuna eyeballs (1.80 USD)
Focus Asia Travel – Phu Yen Tours
Option 1: Tuy Hoa – Mang Lang church – Da Dia Reef – Xep Beach – Ganh Ong 1 day tour
Phu Yen Tours is honored to introduce to travellers our Tuy Hoa – Mang Lang church – Da Dia reef  – Xep beach – Ganh Ong 1 day tour as follow:
Itinerary:
7h.30 am: Our tour guide and driver pick tourists up at specified place.
8h.00 am: Depart from the north of Phu Yen province. On the way we will stop to enjoy the overview sight of O Loan lagoon. Visit Mang Lang Church with the history of nearly 120 years, which is known as the most ancient church in Phu Yen province and one of the oldest churches in Vietnam. It is also home to the first book written in Vietnam's modern script. Most notably, the first book of "Christianity in Eight Days" written in Vietnamese has been kept here protected by a glass box. It was printed in 1651 in Rome, Italy. The book was written by Alexandre de Rhodes who romanised the Vietnamese writing system.
10h.30 am: Then we will pay a visit to Da Dia reef. Da Dia Reefis structured with a surprising geology, including bountiful rocks in disparate shapes: circular, pentagonal, hexagonal or other polygonal looks. They are stacked together in a heap or fixed in pillars like plates overlapped each other. After surveying and testing sample, the geologists said that these are black and yellow basalt rocks. From a far corner, the whole area looks like a giant beehive.
11h.45 am: Have lunch at a restaurent in An Hai. Enjoy fresh seafood and take a rest.
3h.00 pm: Depart for Xep beach – Ganh Ong, one of the beautiful sights in the film "I see yellow flowers on green grass". Go swimming.
4h.30 pm: Depart for Tuy Hoa city.
5h.30 pm: Return to the beginning point.
End of your Phu Yen tour 1 day.  
Option 2: Phu Yen 2 days Tour
Phu Yen Tours is honored to introduce to travellers our Phu Yen 2 days tour: Tuy Hoa – Mang Lang church – Da Dia reef – Xep beach – Ganh Ong – Mui Dien cape – Mon beach – Dai Lanh beach as follow:
Day 1: Tuy Hoa – Mang Lang church – Da Dia reef – Xep beach – Ganh Ong (have lunch, dinner)
D2: Tuy Hoa – Mui Dien cape – Mon beach – Dai Lanh beach (have lunch)
Option 3: Phu Yen 4 days 3 nights tour – the yellow flowers on green grass land
Phu Yen Tours is honored to introduce to travellers our Phu Yen 4 Days 3 Nights Tour: Tuy Hoa – Nhan mountain – Mang Lang church – Da Dia reef – Xep beach – Mui Dien cape – Dai Lanh as follow:
Itinerary :
1: Tuy Hoa – Teambuilding (have lunch and dinner)
2: Tuy Hoa – Mang Lang church – Da Dia reef – Xep beach – Ong reef (have breakfast, lunch and dinner)
3: Tuy Hoa – Mui Dien cape – Bai Mon beach – Da Lanh beach (Have breakfast, lunch, dinner)
4: Tuy Hoa – See tourists off
Conclusion on Phu Yen Travel Guide
It seems that Phu Yen land has hardly "cooled" in the touristic community. After one trip, another new, appealing sight that no one cannot resist to visit once is discovered. Recently, the photos about a vigorous green moss paradise of a fishing village in Phu Yen have spread and covered most of the newspapers and internet. This has aroused curiosity of many tourists and so people pack their backpacks, head to Phu Yen to be immersed into a new world.