NAM DU ISLAND – TRAVEL INFORMATION
Nam Du Archipelago, around 40 kilometers away from Phu Quoc Island, is becoming an attractive destination for backpackers heading to the Mekong Delta province of Kien Giang. This pristine island has 21 islets, 11 islets of which are inhabited, while the others remain completely untouched.
The immense blue sea and sky, imposing mountains erupting amidst the ocean, endless evergreen primeval forests, long stunning beaches and splendid rock cliffs of Nam Du Archipelago in Kien Giang Province have seen it compared to the "New Wonder of the World" – Halong Bay in Quang Ninh Province.
The archipelago stretches over two communes of An Son and Nam Du with a population of 10,000 people working in fishing and sea-related services. Formed from a volcano, it has numerous six-meter creeks which are advantageous for transportation. As it is endowed with high mountains, Nam Du also is suggested as a great spot for offshore fishermen to flee rough storms.
Best time to visit Nam Du Island
There are two main seasons in Nam Du: dry season (from November to May) and rainy season (from May to October). The rainy season is characterized by rain, and during the peak of this season from July to September, it may have a lot more rain and rough seas. Hence, the best time to visit Nam Du Island is from December to April when the sea is peaceful and turquoise, the temperature is comfortable and the weather is consistent and sunny.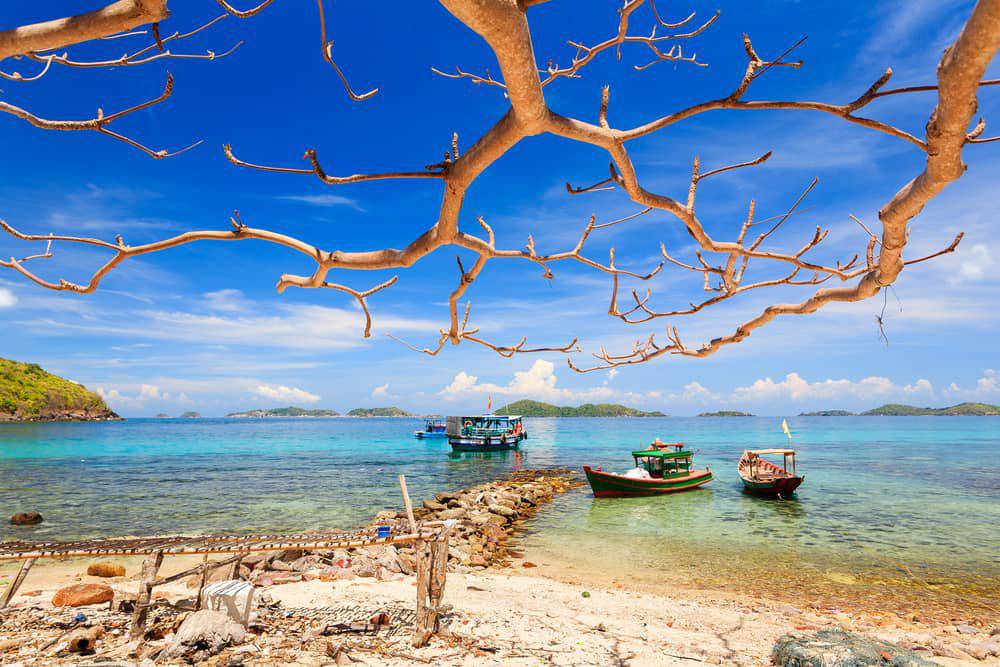 How to get to Nam Du Island
By Plane
You can take a flight from Ho Chi Minh City or Phu Quoc to Rach Gia Airport (Kien Giang Province) and then take a bus or taxi from the airport to Rach Gia wharf to catch a ferry to Nam Du.
Ferry to Nam Du Island from Rach Gia
At the Rach Gia ferry wharf, you can take Phu Quoc Express Boat, Superdong Speed-boat or Ngoc Thanh Ferry to Nam Du Island. The Phu Quoc Express Boat and Superdong Speed-boat are efficient, orderly, air-con and comfortable. Seating is assigned and you get a bottle of water, a refresher towel and entertainment on flat-screen TVs.
Ferry
Route
Departure
Arrival
Adult
Child
Phu Quoc Express
VIP Catamaran
Rach Gia – Nam Du
6:30
——-
11:45
8:30
——-
13:45
250,000 VND
200,000 VND
Nam Du – Rach Gia
9:00
——-
14:30
11:00
——-
17:30
Ngoc Thanh
Rach Gia – Nam Du
7:30
9:45
205,000 VND
145,000 VND
Nam Du – Rach Gia
12:15
14:30
Superdong
Rach Gia – Nam Du
7:20
9:50
210,000 VND
150,000 VND
8:45
11:15
Nam Du – Rach Gia
11:00
13:30
11:50
15:20
Getting around Nam Du Island
By Boat:
To explore the surrounding islands like Hon Lon and visit some beautiful places, you can rent a private boat or join in a group. Find a boat of the local people at the main pier on Hon Lon Island.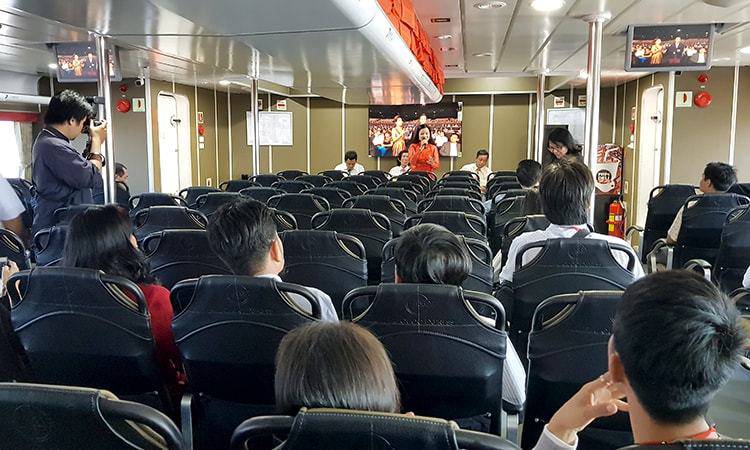 By Motorbike
The main road to Hon Lon Island is paved and you can rent a motorbike from your motel/guesthouse for about 150,000 VND – 200,000 VND per day. One of the most memorable things to do in Nam Du island is to ride around the coast at sunset. The scenery is so stunning and the ocean sunset is absolutely gorgeous.
By "Xe om"
You can also hire a motorbike taxi driver to visit some of the popular sites on Hon Lon. Sometimes, they will be a tour guide showing what and where you should visit on Nam Du Island.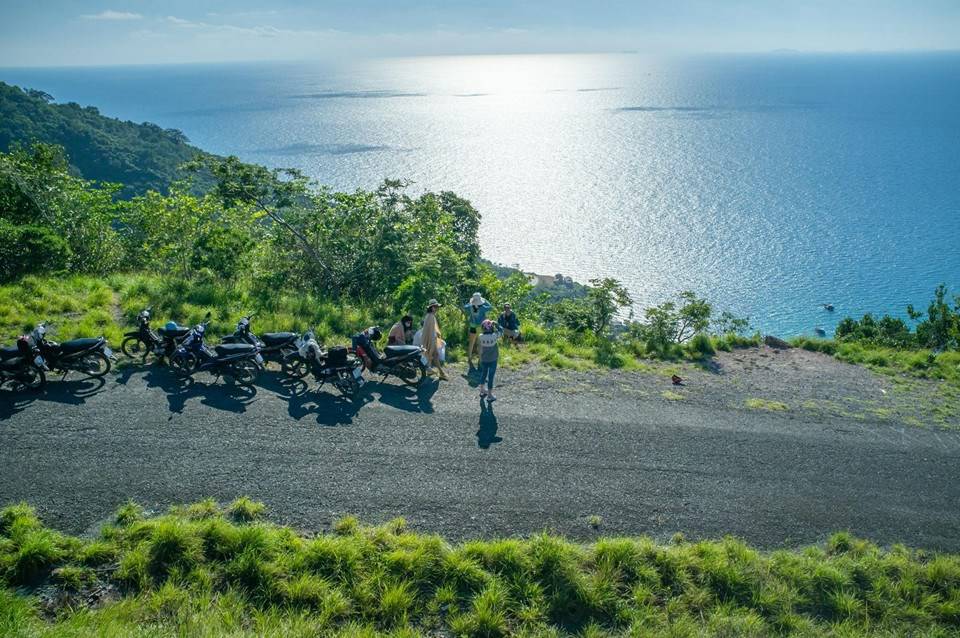 Accommodations on Nam Du
Almost hotels, guesthouses in Nam Du Island are motel and they are still basic. There are two ways to spend your night on Nam Du Island, rent a hotel's room or choose homestay with the locals. For those who like experience, you can rent a tent in beach to spend your night.
The majority of the accommodation options in Nam Du are available on Hon Lon Island. They range from simple guesthouse to motels and price vary from 100,000 VND to 500,000 VND per night. You should check and book a room in advance, especially on the weekends. To enjoy the sound of sea waves with an ocean view, you can book a room in Phuong Vu Hotel (outside of Cu Tron Town), Humiso Resort, Thao Thuong Camp, Kim Yen Motel, Thuy Diep Motel and Sau Co Motel in Hon Lon Island.
Camping on Nam Du Island is also popular for tourists who want to have a special experience. Hon Dau Island is the most suitable beach for overnight cause of coconuts and long sandy beach, price for rent beach is 30,000VND and 40,000VND per night for rent a tent.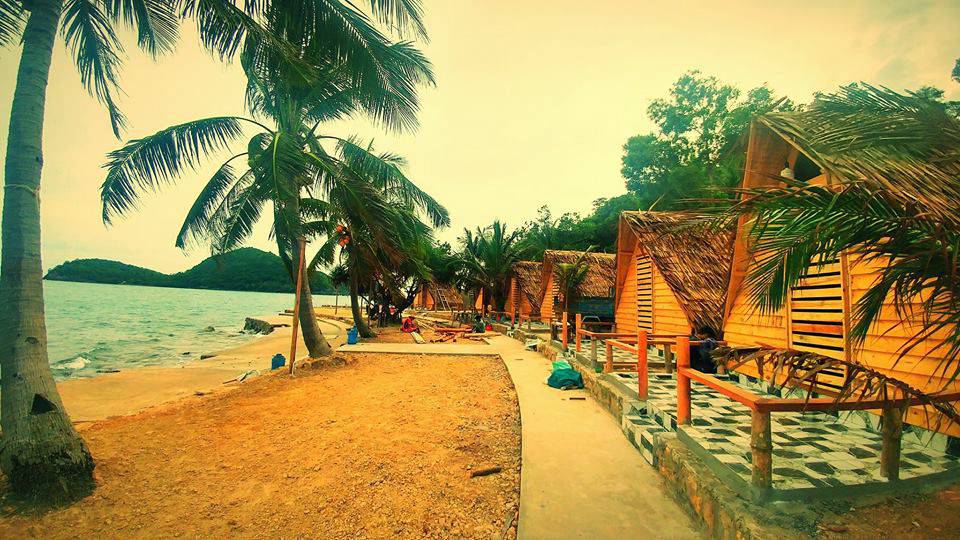 Attractions in Nam Du Island
Hon Lon Island
Hon Lon, also known as Big Island, locally called Cu Tron islet, is Nam Du's largest island on Nam Du, where you can find the majority of accommodations, restaurants and the ferry dock. Hon Lon Island is famous for its lighthouse, a restricted military zone and  has some stunning beaches: Dat Do Beach, Nhun Beach, Men Beach and Mam Beach. And, Men Beach is the most beautiful one of Nam Du Archipelago with green row of coconut, white sands and blue sea.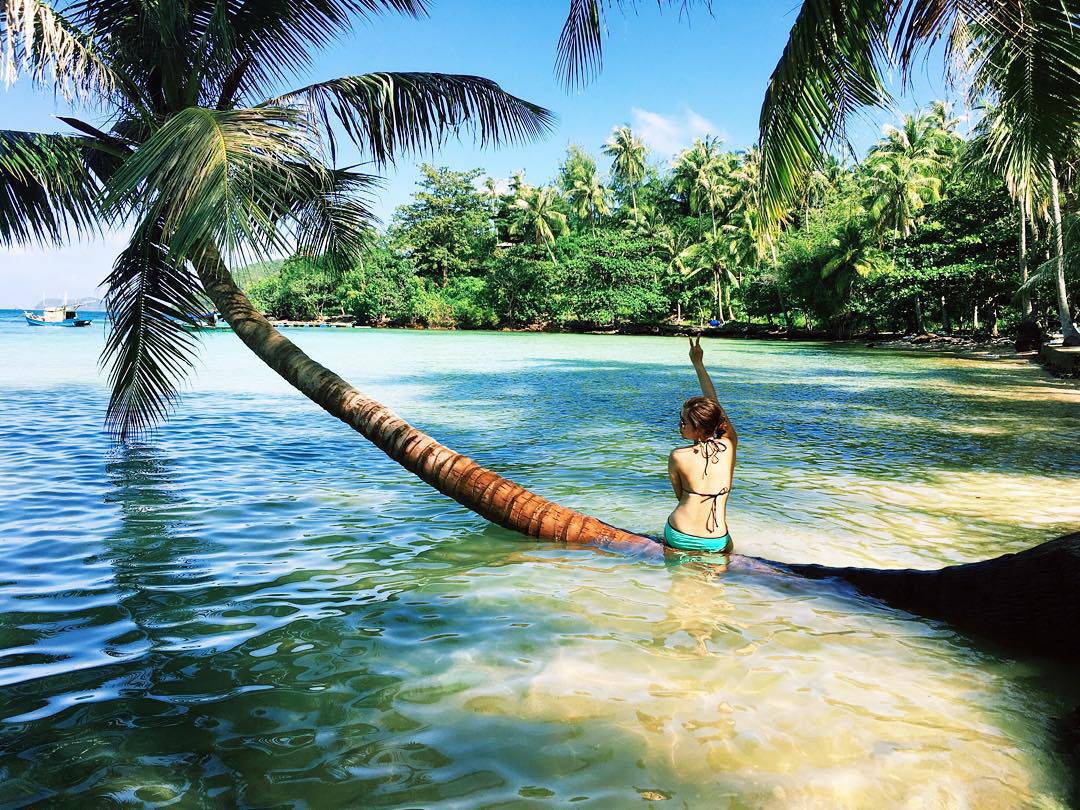 Hon Dau Island
A must-see location is Dau Islet which is 95 percent forest and also boasts shady, picturesque coconut gardens, simple yellow sand beach. Tourists should take a boat trip around the whole archipelago, cruising along Nom Ngoai, Dam, Hang, Moc, and Tre islands' beautiful rocky beaches.
Hon Ngang Island
Hon Ngang is the center island of Nam Du, where most of the people live. It takes 30 minutes to get here from Hon Lon by boat. There is no means of transport on this island, you have to walk around to explore the island, visit the pier to see a sea inundated with fishing boats and fish farms for a photo opportunity. Tourists can also rent a room in the local's guesthouse for an overnight stay.
Hon Mau Island
Mau island is about 2 square kilometers and has a small fishing village with a hundred households. This is famous for beautiful beaches lined with coconut trees and Chuong beach is the best because it is the only real white sand beach. Other beaches are Nam beach, Nom beach, Da Den beach and Da Trang beach. Hon Mau is rapidly expanding to accommodate the tourist surge and there is now a sizable community found on the island that cater to the growing tourism sector.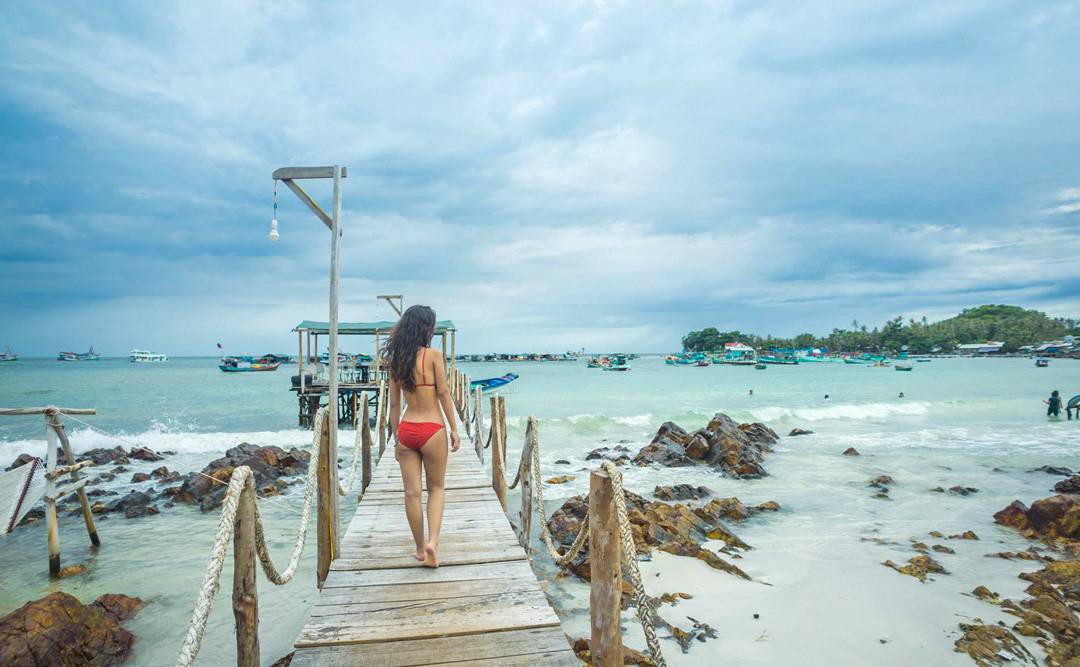 Hai Bo Dap Island
Hai Bo Dap is an uninhabited island that is surrounded by coral. Most island hopping tours stop here for camping, swimming, snorkeling and fishing. One of the unique features of this island is its natural bridge that connects two islands together to form Hai Bo Dap. This natural sea bridge can only be seen at low tide.
Activities on Nam Du island archipelago
Trekking and Hiking
For people who love some sport activities, trekking to Nhum Beach is a great experience, you need to hike along a small trail, pass the towns fresh water supply source, and down through a densely forested area teeming with wildlife. The trail eventually leads to a rocky beach and the best time to hike this trail is before sunrise.
Snorkeling
Nam Du Archipelago is plentiful marine life and coral reefs and Hon Dau Island is a perfect destination for diving, snorkeling that offers you a discovery of the colorful world of wonderful coral reefs. You can snorkel from shore, join a tour, or charter your own boat and don't forget to bring your swimsuit and your swimming goggles.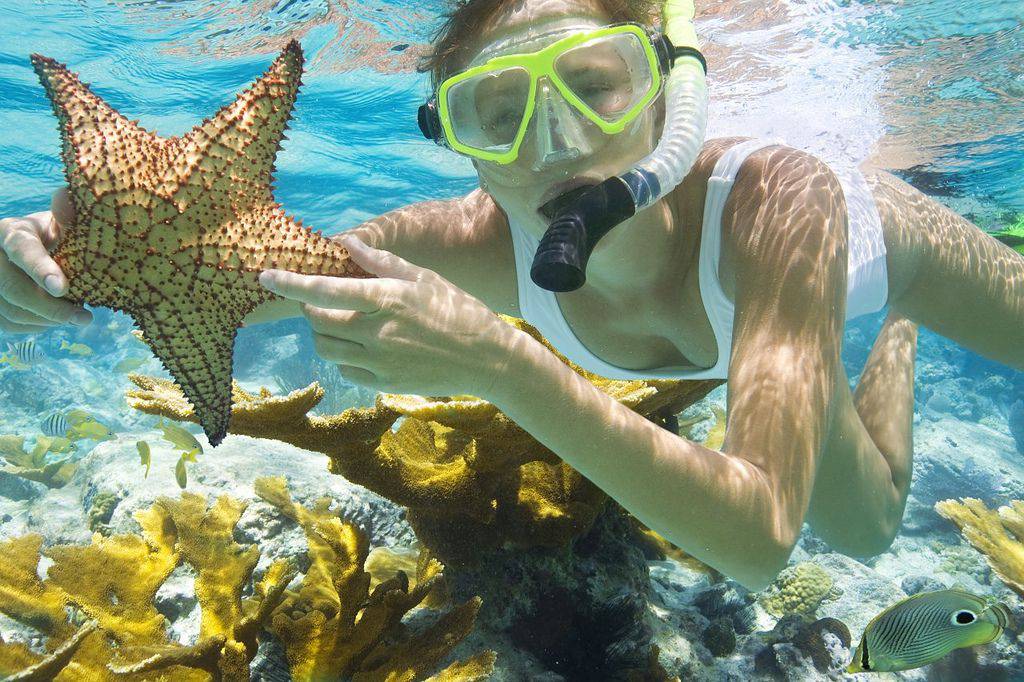 Sunrises and sunsets
Nam Du's ocean sunrises and sunsets are some of the best you will ever see in Vietnam and since the island is so small you can actually watch from a single location. The pier at Hon Lon Island is a perfect spot to watch the sunrise right behind Hon Dau Island. Be sure to keep an eye out above to spot the few hawks in the area. Meanwhile, sunset along the coastal road on Hon Lon Island is breathtaking. Stop anywhere along this road and watch an amazing ocean sunset.
Fishing and foraging on Nam Du
You can either fish from the main pier, commission a small boat, or rent a boat. There are also night squid and baby octopus fishing excursions that may be of interest to you. You can also forage for your own food as all the Nam Du Island are blessed with many wild edibles and seafood such as sea snails, oysters, clams and sea urchins.
Nam Du Lighthouse
Nam Du Lighthouse is located on the top of Hon Lon Island, 300 meters above the sea level and it is considered to be the highest lighthouse in all of Vietnam. With this height, tourists can see the most beautiful panorama of Nam Du island. However, it is a restricted military zone and most visitors to Nam Du will not be able to visit it without "tipping" someone or being invited by the military.
Temples and pagodas
There are two colorful temples called Mieu Ba Chua Xu and Ngu Thanh Mieu. Mieu Ba Chua Xu is near Tret Beach having a beautiful statue of Ba. Ngu Thanh Mieu is near Bai Ngu, worships whales and you can see their bones on display.
Nam Du Island discovery tour
Discover the Nam Du Archipelago by joining a full or half day tour of the Nam Du Islands. The itinerary for these tours consists of visiting the popular islands, swimming at calm bays, snorkeling in areas that have good coral, and visiting Nam Du's best beaches. There are 2 tours available, a full day tour or half day tour so you should consider with your schedule.
Special foods on Nam Du Island
Nam Du Island specialty dish is Blue bonefish or "Xuong Xanh", as this green colored fish is quite abundant in and around the Gulf of Thailand. It is of served grilled or a dried version is fried.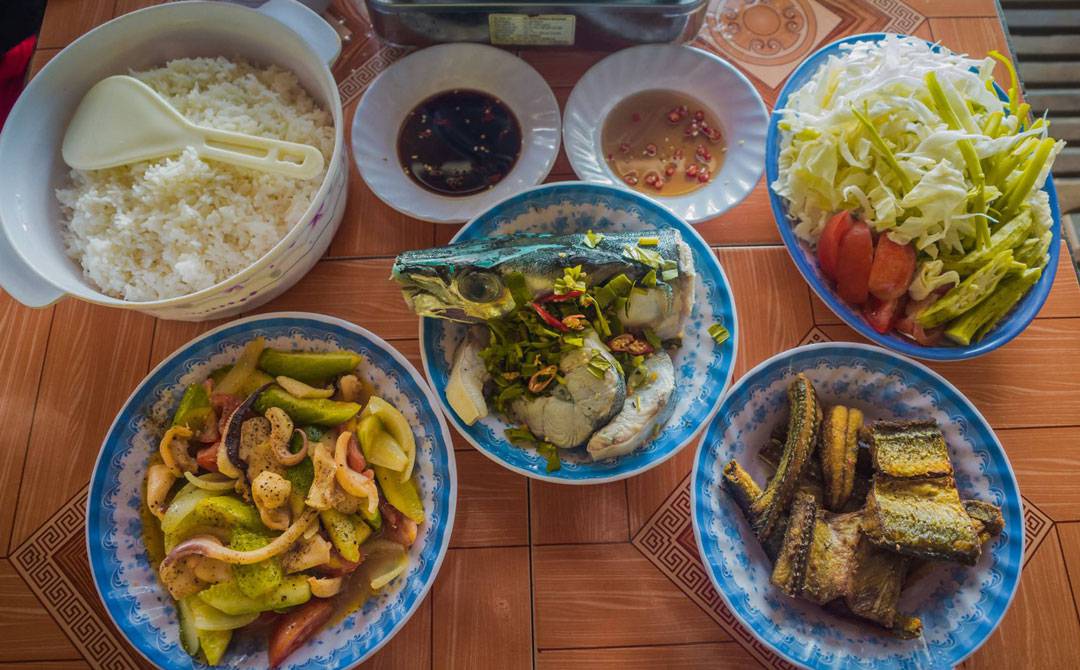 Grilled scallop with fat and onion
Scallops are a popular seafood with delicious ivory flesh without toughness, suitable for both fried and roasted, and is one of the materials to be processed into a variety of delicious and nutritious dishes such as: fried scallop with salt and pepper, grilled scallop with fat and union.
Steamed squid with ginger
During the breeding season, squids contain many eggs, for more than 70% of a squid. With Squid eggs, you can make many a tasty dishes like: fried squid eggs with chili fried ruffled squid, but the most striking is still steamed squid with ginger.
Permits for Foreigners
Nam Du is a popular tourist attraction among Vietnamese people. Foreigners are only allowed on the island with a permit. Foreigners need a valid passport, visa, residence papers and "permits for entry into maritime boundary areas issued by provincial-level public security departments" to go to Nam Du Island. However, Nam Du is off limits to foreigners because Nam Du businesses cater to mainly "package tourists and tour group", please check with us for foreigner's permission information to travel to Nam Du, which is best worth to spend your beach holiday when you want to extend your Mekong Delta tour.