Mui Ne Travel Guide : Everything you must know about perfect seaside gateway
If you're stuck in Saigon and need a break from the heat, think about going to Mui Ne. Just a five-hour drive from the organized chaos of the big city, it feels like a world away from work and responsibility. FocusAsia Travel will share some travel guides in Mui Ne for your best preparation.
Located a five hours' drive from Ho Chi Minh City, Mui Ne is a favorite destination for many Saigonese to spend a weekend away from the hustle and bustle of the city and get out into nature. International travelers have also discovered Mui Ne for themselves thanks to the town's long stretches of beautiful beaches and the abundance of delicious fresh seafood. Apart from that, Mui Ne is home to some breathtaking landscapes and unique scenery you won't find anywhere else in Vietnam. Curious to know more? Then read on to learn about all the cool things to see and do in Mui Ne.
Mui Ne – A Bit of History
Known for its beaches and delicious seafood, Mui Ne is usually not the first place that comes to mind when thinking of Vietnamese history. However, this seaside town has many stories to tell and is home to interesting sites dating back to 1,200 years ago.
The beautiful 'sheltered bay' (meaning of Mui Ne in English) attracted ancient Vietnamese tribes as well as a Cham King who had the famous Po Sha Inu Champa towers built in Mui Ne. Legends say that it is also here that the historical marriage between princess Huyen Chan and Cham King Jaya Sinhavarman III was approved in the 14th century by King Tran Nhan Trong.
In the early 1900s, Ho Chi Minh spent one year here teaching at a local school which can still be visited today. Mui Ne's image as a popular travel destination only started developing around twenty years ago and resulted in the construction of new tourism infrastructure as well as hotels along Nguyễn Đình Chiểu, the town's main road running along the beach.
The Best Time to Visit Mui Ne
Thanks to its unique micro-climate, Mui Ne is one of the driest places in South East Asia. Even during its rainy season, it's dry compared to cities nearby. For the best weather and temperatures, visit the city between August and April. If you're interested in kitesurfing, plan a trip between September and February. At this time the wind is strongest, and you'll get some nice waves ideal for kitesurfing and other water sports. If you don't like too much heat, avoid the time from April to August as it's very hot in Mui Ne during this time. You should remember traveling tips to Mui Ne before visiting Mui Ne.
How to Get to Mui Ne
By Coach
Mui Ne is easy to reach whether you're coming from the north or south. The most comfortable way to travel here is by bus as you can get from Ho Chi Minh City, Dalat, and Nha Trang straight to the center of Mui Ne. Whichever city you're coming from, the trip will last about five to six hours. If you travel at night, you can book a sleeper bus with wide reclining seats. That way you'll get some rest and be ready to explore once you reach Mui Ne the following morning. Your hostel can help you book the tickets and show you exactly where you need to go to find your bus.
By Motorbike – Driving to Mui Ne from Ho Chi Minh City
While it's a long drive, it is possible to go from Ho Chi Minh City to Mui Ne by motorbike. The trip would easily take you the whole day, but it can be worth it if you want to stop along the way to explore things that catch your eye from the road.
When going on such a long ride, be sure you're renting your motorbike from a reliable shop and check it carefully before leaving. You wouldn't want it to break down in the middle of a country road with the next repair shop miles away.
Also, always wear a helmet. It's the law and the local driving practices you'll see out on the road will make you happy for every extra bit of protection you have, especially if you've never driven in Vietnam.
By Car
Want to enjoy the scenery and get to Mui Ne stress-free? Hiring a private driver and a car is the best solution. This will give you the chance to stop along the way and you will have complete flexibility in terms of scheduling. If you go with a group of friends, you could even get a minivan all to yourselves. While it's still a bit more expensive than the coach, having a vehicle just for your group can make the trip extra fun.
Getting Around in Mui Ne
By Bicycle
Most restaurants, bars, shops and beaches you'll want to go to while in Mui Ne are all along Nguyễn Đình Chiểu, the city's main strip. Getting around there by bicycle is quick and easy. Most hostels and hotels have bikes they rent to guests for free, so be sure to ask about that at the reception.
By Motorbike
For trips to the sand dunes, a motorbike is a good choice. It gives you extra flexibility and lets you cover distances quickly without totally tiring you out. Again, many hostels and hotels have a few bikes on hand which they rent out to guests. If they don't, the receptionists can point you to a reliable place to rent one for the day. This usually costs around 100,000 VND (4-5 USD).
By Car
If you've come to Mui Ne by private driver, maybe you can ask your driver to stick around and take you to the sand dunes and other places you want to visit. Alternatively, you can get a taxi instead of paying for a driver for a full day if you are not comfortable on a motorbike.
By Organized Tour
There are a lot of operators offering tours to Mui Ne's popular landmarks. Especially when traveling by yourself, this is a fun way to meet other travelers and check all the boxes on your itinerary. Your hostel staff can help you book a tour or you can just pop in at any of the many travel agent offices you'll find along Nguyễn Đình Chiểu. Rates are usually quite similar, so the best idea is to check on TripAdvisor or Facebook to see feedback others have left. That way you'll know what you're getting for your money and you can make the most of your trip.
Where to Stay in Mui Ne
With more guests coming to Mui Ne for weekend trips and international travelers slowly discovering the area, the choice of accommodation in Mui Ne is quickly growing. Here are some places worth a look in Mui Ne handbook guides of Focus Asia Travel share for you.
Mui Ne Victory Guest House
A great, budget-friendly option, Mui Ne Victory Guest House is close to restaurants, bars and shops and only a short drive from the sand dunes, the fairy stream and the beach. The hosts are helpful and will gladly assist you in booking a motorbike to get around. Ask them for their favorite place to have seafood and a cold beer after a long day outside and they'll point you to some of Mui Ne's less touristy, more local watering holes and eateries.
Bot Bien Homestay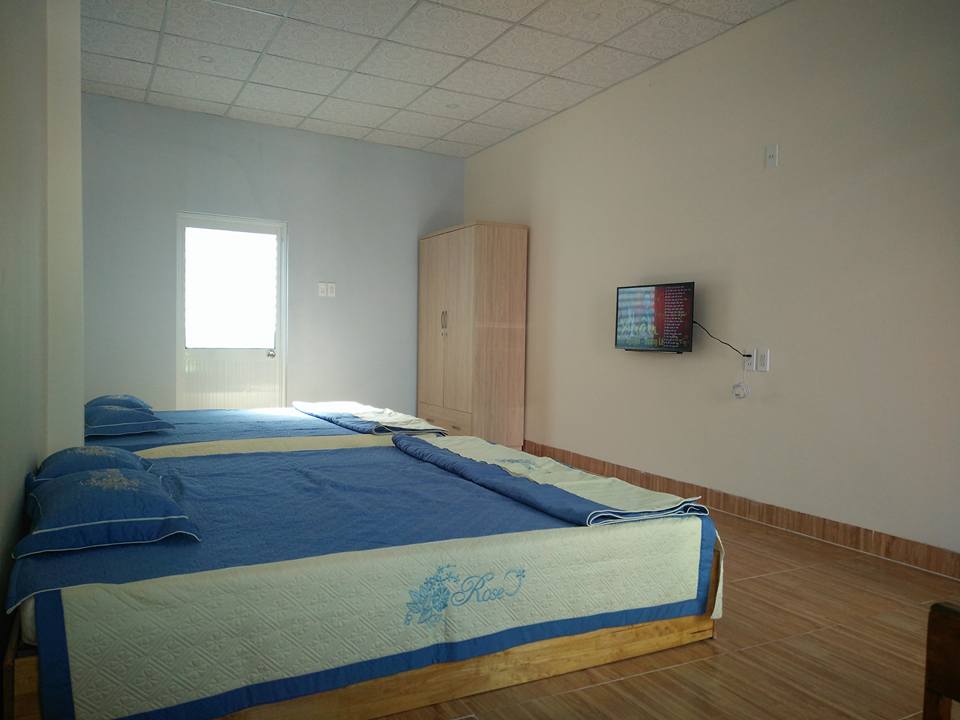 Just a few minutes away from the famous red sand dunes of Mui Ne, Bot Bien Homestay welcomes guests with simple, clean rooms and friendly helpful hosts. The city's main restaurant and bar strip is only a short drive away, but you'll find plenty of other eateries within walking distance. Staying here with a group of friends could be great as the rooms offer up to four beds. A kitchen area is available if you want to prepare your own morning coffee or whip up a quick meal instead of going out for dinner.
Ngoc Thuy Guesthouse
Another budget-friendly alternative, Ngoc Thuy Guesthouse's central location makes it popular among travelers. The rooms are simple and clean, the hosts are always there to help out with anything you need. Hop on a motorbike during the day to explore the city and its sights and go for a walk past the many restaurants and bars in the evening. Especially if you're here with a group of friends, this guest house is great as it provides inexpensive shared rooms and the city's popular nightlife spots are nearby.
Hotels and Resorts
Coco Beach Resort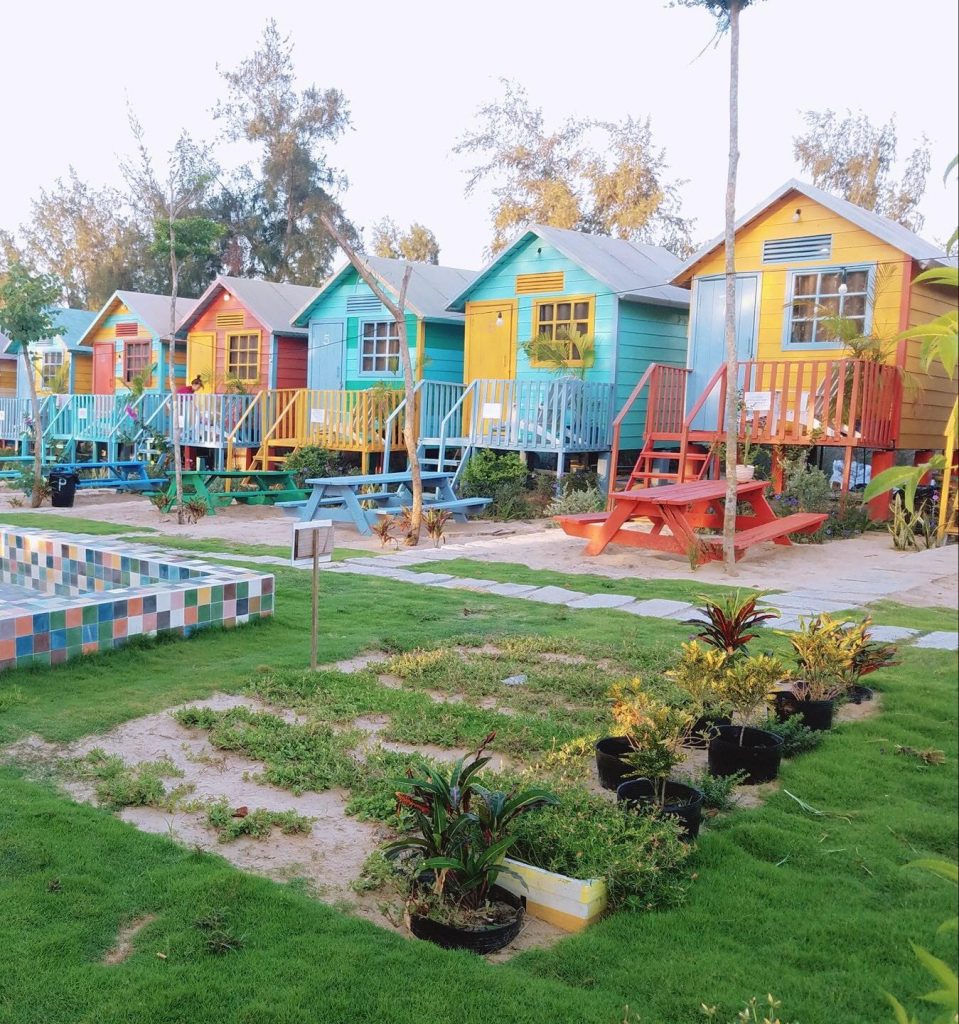 Set close to the city but far enough from the noise, the Coco Beach Resort is a wonderful spot to relax and enjoy a calm weekend by the sea. Lay out on the private beach, enjoy a cocktail at the bar or swim a few laps in the pool after a day of exploring the area. One of Mui Ne's upscale options, Coco Beach Resort is a nice choice if you want to treat yourself to something special.
Mia Mui Ne Resort 
A short drive from the bustle of Mui Ne's main drag, the Mia Mui Ne Resort welcomes guests with its modern bungalows, direct beach access and beautiful gardens. Stay here to get pampered at the spa, indulge in their rich breakfast buffet and simply enjoy the pleasures of life while basking in the sun and working on that tan. For travelers looking for that little bit of extra luxury, this resort is perfect.
What to See and Do in Mui Ne
Whether you want to chill out by the beach, explore some unique natural sights or indulge in wonderfully fresh seafood, Mui Ne has got you covered. Curious what all there is to see and do in Mui Ne? Keep reading!
Climb Mui Ne's sand dunes
The sand dunes are Mui Ne's most famous sight and probably one of the main reasons many visitors come here. After all, they are the only dunes of their kind in Vietnam! Note that there are two different spots to visit: the white sand dunes and the red sand dunes.
Both areas are like miniature deserts and offer a completely different image of the otherwise lush, green Vietnam. Take some time to explore both spots, try to climb to the top of the dunes or hire a quad bike to drive around.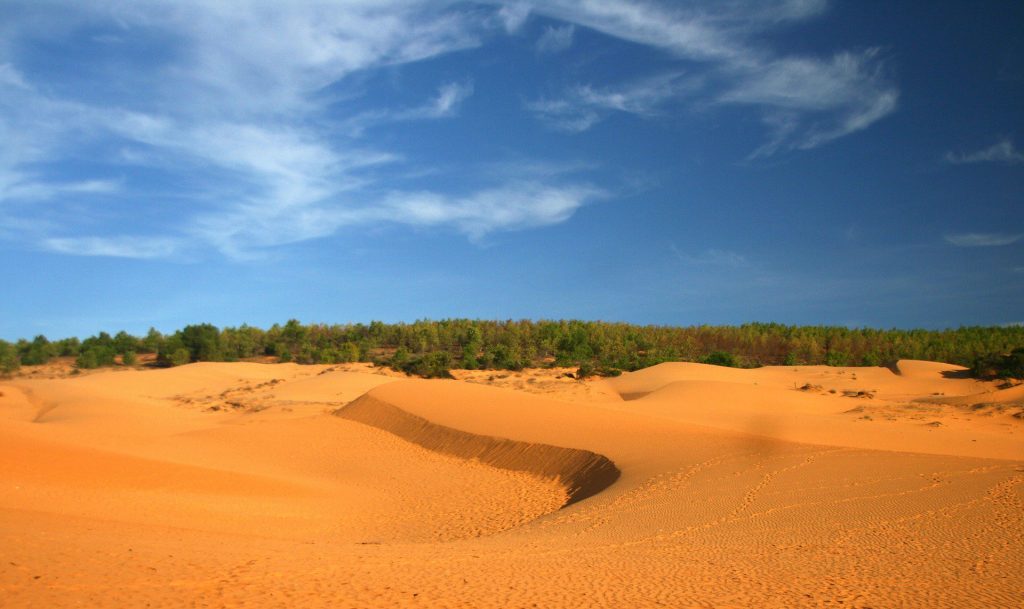 The red sand dunes are just a few minutes' drive from the city and can even be reached by bicycle if you don't want to get a scooter. Come early in the morning to catch the sunrise or in the afternoon to see the sunset. That way you avoid the midday heat and get a beautiful view of the sun emerging from or dipping into the sea. To avoid the crowds, the mornings are best as not many people will be able to drag themselves out of bed around five in the morning.
Mui Ne's white sand dunes Bau Trang in Mui Ne
The white sand dunes are bit further out. To get there you need a motorbike or a taxi. Don't let that stop you from going though! Since the white dunes cover a larger area than the red dunes, it'll be easier to find a spot for yourself and you can also get some great photos without too many people in them. Again, coming in the early morning or late afternoon is the best as you'll get good lighting and be able to enjoy the view of the sun rising or setting right on the water.
Walk to the Fairy Stream
Just about ten minutes from the main resort area, you'll find the Fairy Stream directly off of Nguyen Dinh Chieu, Mui Ne's main road. As you head east, keep an eye out for a small bridge and a café next to it. This is where you'll leave your bike (for a parking fee of about 10,000 to 20,000 VND) and start walking along the stream.
You'll quickly get into some impressive limestone formations which make it feel like you're in a much tinier version of the Grand Canyon. At the end, you'll see a small waterfall. If you're here during the rainy season, there might not be much to see, but the walk through the 'canyon' is still well worth it.
Pro tip: there's no need to bring good shoes since you'll be walking through ankle-deep water most of the way.
Explore the Po Sha Inu Cham towers
A little way west of Mui Ne, the Po Sha Inu or Poshainu Cham Towers are waiting. They are some of the oldest remaining Cham towers in Vietnam, built around the eighth century and dedicated to Lord Shiva. It can be a bit tricky to find them as they're off the main road, but the spot is well worth a visit. Google Maps will help you find your way and who knows, maybe you'll come across some other interesting things on the way!
Visit Mui Ne fishing village and the morning market
What would a stay in a seaside destination be without a stop by the local fish market? Mui Ne, like most other towns on the water, has a lively fishing village where fishermen go out early in the morning and sell their catch at the market upon their return.
If you come here at the crack of dawn, you'll find yourself in the middle of a flurry of activity. Men returning from work with the catch of the day, women setting up their stalls and people coming to buy the freshest seafood for their homes and restaurants. Take a stroll around to witness the haggling, chit-chat and general business of this market. Maybe you'll even learn a thing or two about local seafood varieties and discover a new favorite!
Chill out by the beach
Mui Ne itself stretches along ten kilometers of soft sandy beach, so you'd think there's plenty of space for you to find a spot you'll enjoy. However, most hotels with direct beach access will allow only their guests to use it. Coco Beach Resort and Bamboo Village offer day passes for around 200,000 VND which includes the use of their beach, sun loungers, towels and bathrooms/changing rooms. Drinks are reasonably priced too.
Mui Ne's public beach is also worth a try, but especially on the weekends it's pretty crowded and a lack of facilities like bathrooms and wastebaskets takes a toll on this area.
To have a fine stretch of coastline to yourself, head a bit northeast of Mui Ne, past the white sand dunes. There you will find long stretches of white sand beaches that are hardly touched. If you want some basic facilities, go all the way to the Langson Mui Ne Campground. They provide sunchairs and changing rooms to their guests but don't mind outsiders snagging a spot, as long as you have a drink or two. And who could say 'no' to a cool beer or cocktail?
Go kitesurfing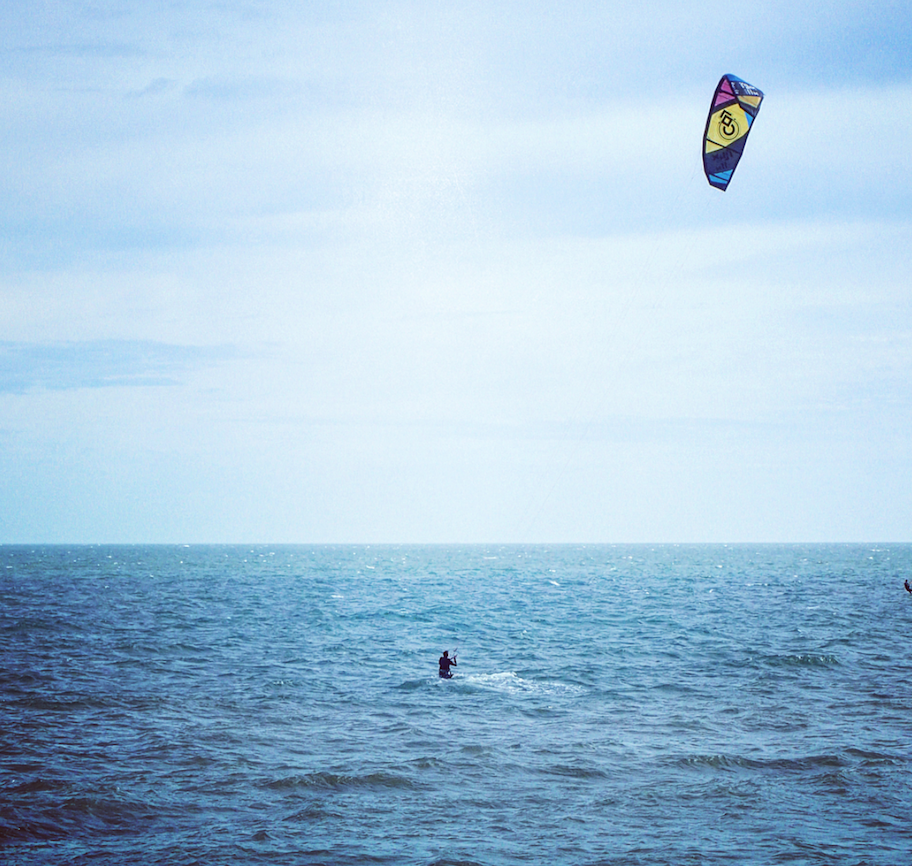 During Mui Ne's windy season from September to February, adventure seekers flock to this part of Vietnam for all kinds of wind and water sports. Kitesurfing, in particular, is super popular in Mui Ne and you'll easily find a place to take classes and rent equipment. Not sure which one to choose? Ask your hostel staff for advice and check reviews on TripAdvisor and Facebook. That way you'll easily find a trustworthy shop and be out on the water in no time.
Eating out in Mui Ne
Along Nguyen Dinh Chieu, Mui Ne's main road, you'll find plenty of eateries to choose from. As tourism has developed quickly in recent years, the variety and quality of food have been catching up with other resort destinations.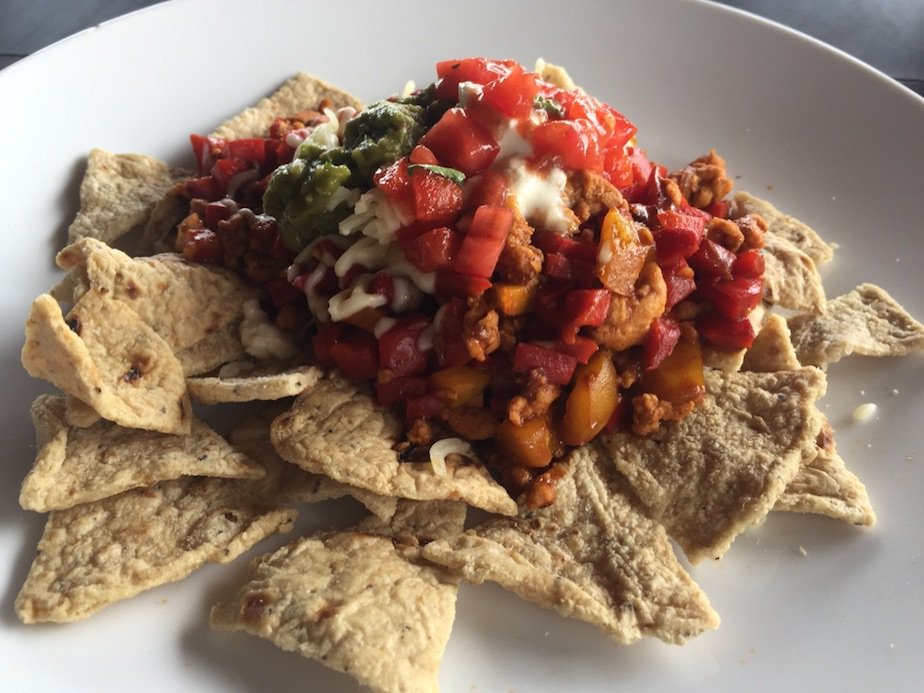 While in Mui Ne, you'll probably want to try some fresh seafood. A good place to start is BiBo Restaurant at 195 Nguyen Dinh Chieu. They offer everything from razor clams and king prawns to sea snails and various types of fish.
Alternatively, you can ask your local staff at the hostel where they like to go for seafood. Their suggestions will probably lead you to some simple hole-in-the-wall places which don't look like much but often have the best and freshest food. A good rule of thumb is to pick places to eat by watching for big crowds of Vietnamese eating outside. It's a fail-safe indicator of how authentic and good it is.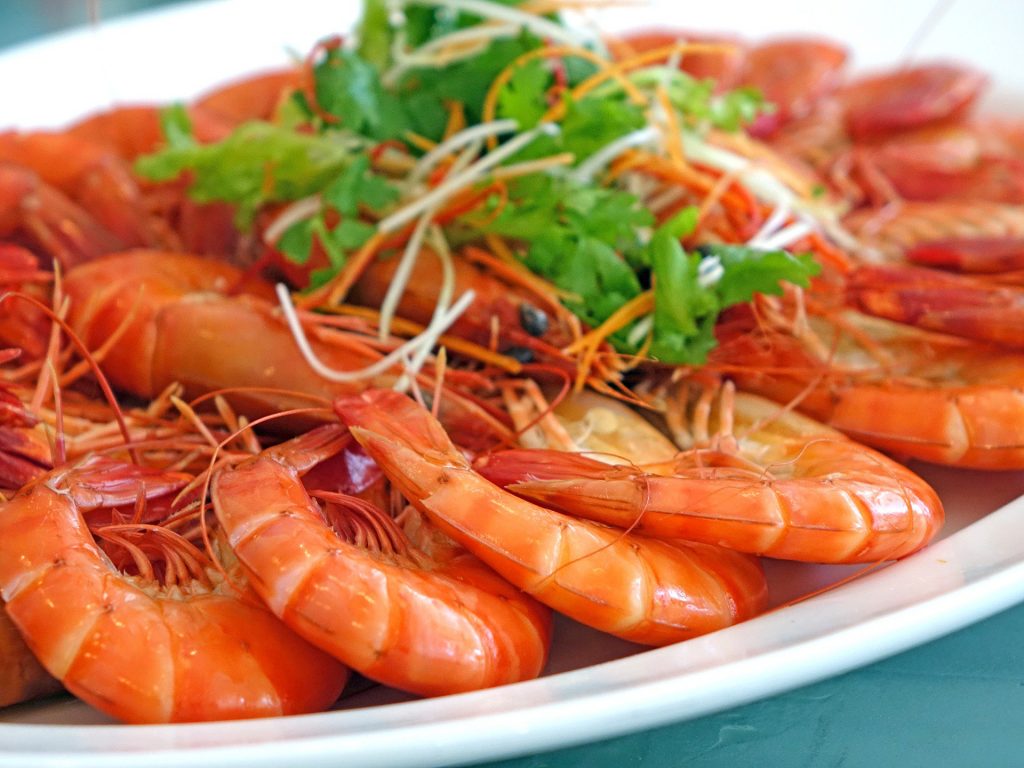 The Piri Piri House and El Café are two restaurants with some nice western choices. If you're looking for food that reminds you of home, stop by one of these two places at 246Nguyen Dinh Chieu, a small food court with a diverse food offering. El Café is fully vegetarian, so even if you're not a seafood lover, you'll find something tasty here.
Have a great night out in Mui Ne
With plenty of bars and lounges all along Nguyễn Đình Chiểu, Mui Ne has a bit of everything in terms of nightlife.
Head to Déjà Vu for some live jazz, rock or traditional music or stop by on Wednesday night for the Kung Fu or folklore performances.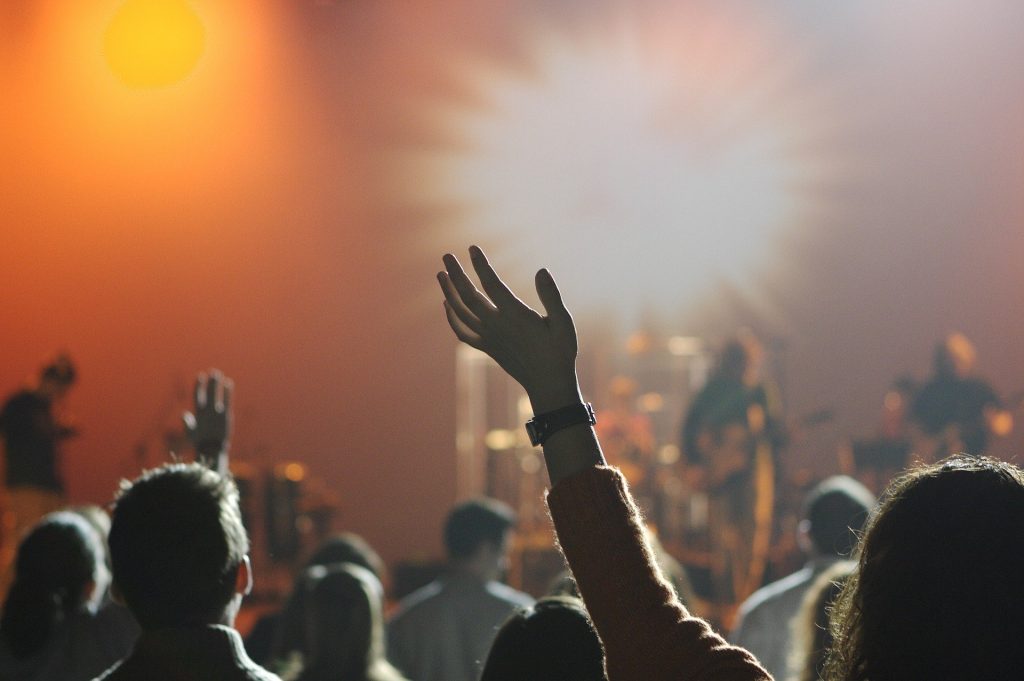 At Dragon Beach Bar you can relax in the lounge area, have a bite to eat and enjoy a shisha or dance the night away to the latest funk, RnB or house tunes put on by both guest and resident DJs.
Line Up Bar & Grill is probably one of the most popular spots to party, so if you want to stay on your feet until three in the morning, this is the place go. DJs from around Vietnam and abroad come here to play a fun mix of electro, deep house, RnB, pop and funk and enjoy the generous happy hour from 9 to 11 PM.
Curious to visit Mui Ne and explore this unique destination? Allow for two days to take in the amazing sand dunes, explore the fairy stream and Cham Towers and still have enough time to relax and enjoy a cocktail or two at the beach. Whether it's for a weekend getaway or as the chilled-out end of your trip to Vietnam, Mui Ne is worth adding to your Vietnam travel itinerary.