Hanoi vs Saigon: Which city is better?
When it comes to deciding which city to visit in Vietnam, Hanoi and Saigon (or Ho Chi Minh City) are frequently common options among first-time visitors. At first glance, both cities seem to have a plethora of sightseeing and retail experiences, eating and nightlife choices and hotels to fit almost every budget and choice.
1. Attractions
Hanoi: More temples & natural landscapes
The capital of Vietnam is dotted with well-preserved Buddhist shrines, majestic lakes, and an Old Quarter filled with ancient ruins, some of which are over 1,000 years old. The Temple of Literature, Ngoc Son Temple, One Pillar Pagoda, and Thang Long Imperial Citadel are all notable landmarks. Although the French Quarter has its fair share of colonial villas and mansions, Hanoi is known for its proudly preserved Vietnamese culture and traditions.
Ho Chi Minh City: More war museums & colonial structures
Though Ho Chi Minh City has seen rapid urbanization over the years, there are still many colonial houses, war museums, and historic relics of the Vietnam War to be found. In the city center, visitors can visit the Central Post Office, Ho Chi Minh Square, War Remnants Museum, and Reunification Palace, while the Chu Chi Tunnels are a 40-minute drive away. Here's a handy guide to things to do in Ho Chi Minh City.
2. Hotels
Hanoi: more boutique-style
Hotels in Hanoi (particularly in the French Quarter) are typically boutique-style properties with unique architectural ideas, personalized services, and a wide variety of amenities. Although backpackers can find reasonably priced lodging in the Old Quarter, Hanoi primarily caters to middle-class and affluent visitors.
Saigon: more variety
Ho Chi Minh District, as Vietnam's commercial and financial hub, provides a diverse selection of lodging options in the city center, with convenient access to famous cultural landmarks and attractions. District 1 is home to sprawling five-star hotels, while backpackers can find low-cost guesthouses on Pham Ngu Lao Street and Cholon Street (Chinatown). Check out our list of the Top 10 Best Hotels in Ho Chi Minh City to find the best one for your travel dates and budget.
3. Dining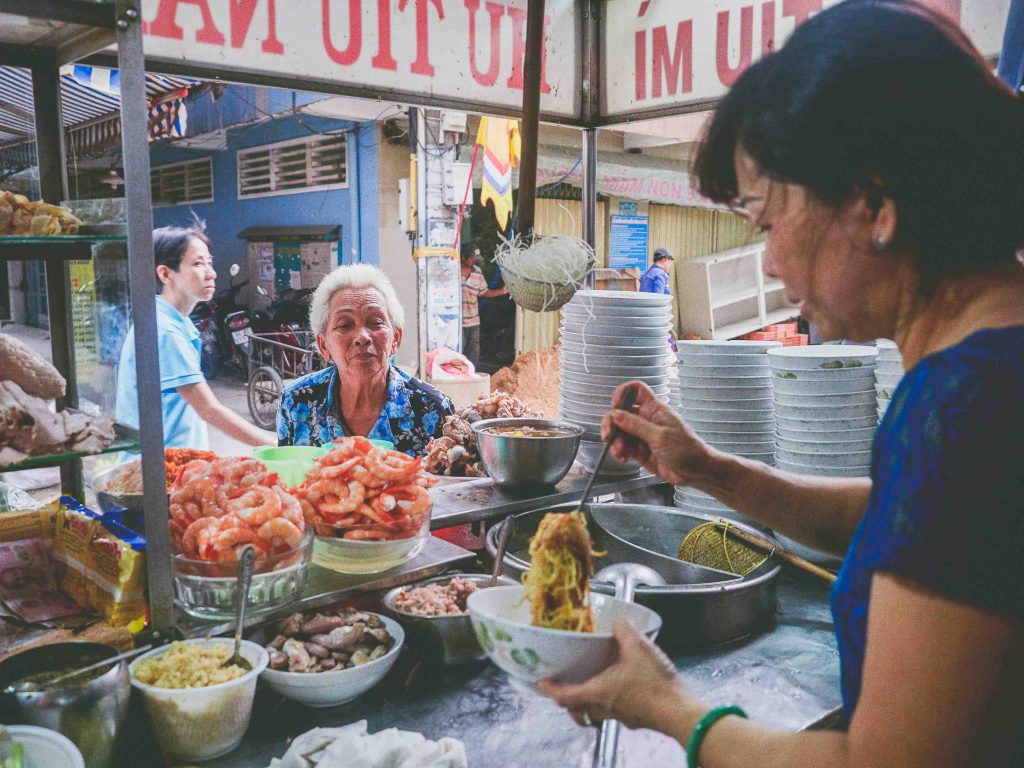 Hanoi: more traditional
In terms of dining, Hanoi's small alleyways are home to many roadside stalls, urban markets, and family-owned restaurants. The classic Vietnamese pho (rice noodle soup) originated in Hanoi, where a generous bowl with lots of fresh greens costs less than US$1. In addition, we've assembled a list of the best local restaurants and dishes to try in Hanoi.
Saigon: more diverse
Ho Chi Minh City is renowned as Vietnam's culinary capital, with authentic French and Vietnamese delicacies as well as expat-owned bistros offering Japanese, Chinese, Mediterranean, and American fare. From opulent fine-dining establishments to casual pizza joints, here are our top picks on where to eat in Ho Chi Minh City.
4. Nightlife
Hanoi: More casual bars
If you're hunting for cheap booze and laid-back vibes, Hanoi is the place to be. After dark, a section of Hanoi's Old Quarter turns into Bia Hoi Junction, a buzzing nightlife area where visitors can sip local beers (bia hoi) for as little as VND 5,000 per bottle while sitting on plastic stools.
Saigon: More nightclubs & rooftop bars
Many skyscrapers and five-star hotels in Ho Chi Minh City's District 1 have rooftop bars and swanky nightclubs that remain open until 03:00 or later, catering to a more affluent clientele. Live music bars and casual pubs can be found along the backpacker-friendly Pham Ngu Lao Street for those on a tight budget.
5. Shopping
Hanoi: more markets
Hanoi's busy markets and colonial shophouses selling handicrafts, native artwork, and new produce have a more authentic shopping experience. There are no two streets in the pedestrian-friendly Old Quarter that are alike, as each specializes in a different commodity, such as silverware, shoes, or silk fabrics. Check out our shopping guide for the best places to shop in Hanoi.
Saigon: more shopping malls
Ho Chi Minh City, on the other hand, is known for its spacious and modern shopping malls, such as Vincom Center, Takashimaya Vietnam, and Parkson Plaza Department Store. Meanwhile, fashion boutiques and art galleries line Dong Khoi Street in District 1, where bespoke pieces can be purchased for a fraction of the price they would cost elsewhere. Shopping is one of the main draws for visitors to Ho Chi Minh City, so we've put together a helpful guide to the best spots for retail therapy.
6. Lifestyle
Hanoi: more traditional
Hanoi, home to a vibrant local Buddhist population, has remained traditional throughout the years. The Old Quarter's streets still have colonial shophouses, stores, small restaurants and stalls, and coffee shops that have been serving the residents for decades. The aged doing Tai Chi and line dance, people walking their puppies, and couples enjoying the lake's tranquil scenery can all be seen at Hoan Kiem Lake.
Saigon: more westernized & urban
Ho Chi Minh City's lifestyle has been heavily inspired by American and French society, resulting in rapid modernization in the form of luxurious hotels, fashionable shopping centers, entertainment options, and futuristic skyscrapers. However, there are numerous historical monuments in the district, including the Reunification Palace, Cao Dai Temple, and Jade Emperor Pagoda.
7. Traffic
Vietnam's traffic condition is undeniably notorious, especially in developed cities such as Hanoi and Ho Chi Minh City. Although Ho Chi Minh City has newer and broader roads than Hanoi, traffic jams are unavoidable during peak hours, with motorists misusing sidewalks, pedestrian streets, and narrow alleyways to get to their destination. As dangerous as it sounds, it's important not to panic when you're walking into six lanes of dense traffic – just keep a steady pace, don't panic and you'll probably be fine.
Conclusion
While both Hanoi and Ho Chi Minh City are popular tourist destinations in Vietnam, it is obvious that each city caters to a particular category of visitor. Hanoi is suitable for those seeking a more conventional way of life, while Ho Chi Minh City's urban environment is better fit for leisure travelers. Domestic flights between Hanoi and Ho Chi Minh City are also available on a regular basis, allowing you to experience the best of both worlds. If you're looking for a more affordable option, the Reunification Express train costs between USD50 (for hard seats) and USD90 (for soft seats) (for soft berth).