Experience the new feeling of horse riding in Ha Tinh
New tourism entertainment model
On February 28, Vabis Group launched the Horse Riding Sports Club at Hoa Tien Paradise – Xuan Thanh Beach Tourist Area, located in Xuan Thanh commune, Nghi Xuan district. 20 Thoroughbred horses were imported from Saudi Arabia, Europe, Australia and raised in Nghi Xuan district to serve tourists, with activities such as horse riding training, hurdles jumping, horseback riding at sea, horseback riding picnic.
When the resort comes into operation, visitors here can learn how to ride horses and take pictures at sea. The cost of one- time learning to ride horses and taking pictures is from 200,000 to 500,000 VND for 20-60 minutes.
Visitors coming to the club can take souvenir photos and watch performances of 20 Thoroughbred purebred "horses" imported from European countries.
Monumental tourist complex
Mr. Nguyen Ngoc My, the investor of the project, said that he had cherished the breeding of horses in Nghi Xuan district for a long time to serve tourists. After many years of training human resources, preparing facilities and asking for permission from the authorities, until now, consent has been obtained. Mr. My hopes that bringing horses to tourism will bring a new feeling to visitors when coming to Xuan Thanh beach.
Hoa Tien Paradise – Xuan Thanh is a complex of culture, tourism, sports and entertainment. The project is building 380 resort villas, 180 shophouse houses, 128-room camping beach and 5 170-room 5-star hotels. The resort is expected to go into operation on the occasion of the 30 April.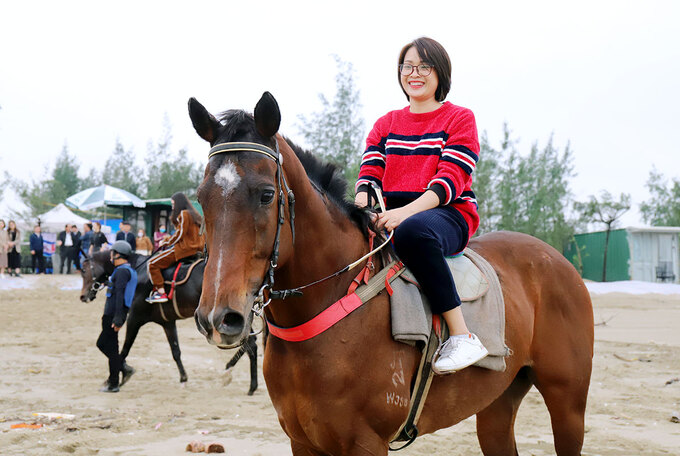 When coming into official operation, visitors coming to Xuan Thanh beach, besides swimming or enjoying seafood can also watch dog racing performances, horse performances or participate in sea sports such as volleyball, soccer, kayaking, water motorbike, paragliding, beach buoy, cycling, night food street discovery, etc.
The launch of the club in Nghi Xuan district (Ha Tinh) is an activity in the series of plans to prepare for the development of equestrianism in Vietnam, contributing to Vietnam's early joining the International Equestrian Federation (FEI). ) and the Asian Equestrian Federation (AEF); participate in competitions in the Seagame and Asiad events in the near future.