BEST HOSPITALS AND MEDICAL CENTERS IN VIETNAM
Focus Asia Travel recommend you to travel with insurance. No one wants to get sick or face any health problems when traveling, however, just in case, here are some information about best medical centers in major cities of Vietnam you should know…
Hospitals in Vietnam are divided into two main types, namely, public hospitals and private hospitals. Most Vietnam public hospitals do not meet the international standards with lack of services and equipment and are often overcrowded. Doctors and medical staff working at public hospitals will generally only speak Vietnamese. However, prices of treatments and health consultations in public hospitals are more reasonable.
On the other hand, the standard of private hospitals in Vietnam is excellent. They are staffed with English or French speaking medical doctors or foreign doctors from the USA, France, Japan, Korea etc., so you are no need to worry about language barrier and their facilities and equipment are more modern and adequate than the other.
Below is the list of the best hospitals and medical centers in some famous places you may visit in Vietnam.
HANOI
• Hanoi French Hospital
Address: 1, Phuong Mai, Dong Da District
Telephone: +84 243 5771 100
Website: http://en.hfh.com.vn/
Hours of operation: Monday to Sunday from 14:00 to 20:00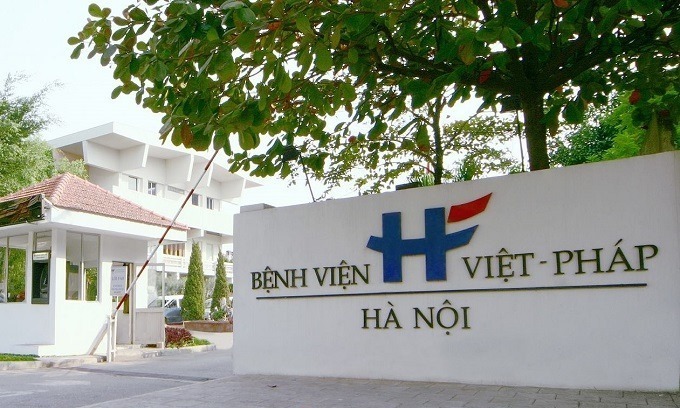 • Vinmec International Hospital
Address: 458 Minh Khai Street, Hai Ba Trung District, Vinh Tuy, Hanoi
Telephone: +84 243 9743 556
Website: https://vinmec.com/eng/
Hours of operation: Monday to Sunday – 24 hours

• Hong Ngoc General Hospital
Address: 55 Yen Ninh Street, Ba Dinh District, Hanoi
Telephone: +84 243 9275 568
Website: http://imc.hongngochospital.vn/
Hours of operation: Monday to Sunday – 24 hours
• Hong Ngoc Clinic – Savico Long Bien
Address: 3rd Floor, Savico Megamall, 7 – 9 Nguyen Van Linh Str, Long Bien Dist, Hanoi
Telephone: +84 243 9275 568
Website: http://imc.hongngochospital.vn/
Hours of operation: Monday to Sunday from 07:00 to 19:00
• Raffles Medical Clinic
Address: 51 Xuan Dieu Street, Tay Ho District, Hanoi
Telephone: +84 24 3676 222
Website: https://www.rafflesmedical.vn/
Hours of operation: Monday to Sunday from 08:00 to 20:00
• Hanoi Family Medical Practice
Address: 298I, Kim Ma Street, Van Phuc Compound, Dinh District
Telephone: +84 243 8430 748
Website: http://vietnammedicalpractice.com/
Hours of operation: Monday to Sunday from 09:00 to 21:00
HA LONG
• Vinmec International Hospital – Ha Long City
Address: 10A Le Thanh Tong Street, Ha Long City, Quang Ninh
Telephone: +84 203 3828 188
Website: https://vinmec.com/halong/eng/
• Quang Ninh General Hospital
Address: Tue Tinh, Bach Dang Ward, Ha Long City, Quang Ninh
Telephone: +84 203 3825 499/ +84 203 3825 489
Website: http://benhviendktinhquangninh.vn/
Hours of operation: Monday to Friday – 24 hours
HAI PHONG
• Vinmec Hai Phong International Hospital
Address: Vo Nguyen Giap Road, Vinh Niem Ward, Le Chan District, Hai Phong City
Telephone: +84 225 730 9888
Website: https://vinmec.com/haiphong/
Hours of operation: Monday to Sunday – 24 hours
• Hai Phong International Hospital (HIH)
Address: 124 Nguyen Duc Canh Street, Cat Dai Ward, Le Chan District, Hai Phong City
Telephone: +84 225 3955 888
Website: http://hih.vn
Hours of operation: Monday to Sunday – 24 hours
SAPA/ LAO CAI
• Sa Pa General Hospital
Address: Group 1A, Đien Bien Phu Street, Sa Pa town
Telephone: +84 214 3871 635
• Lao Cai General Hospital
Address : Chieng On Road (B8) – Binh Minh, Lao Cai City
Telephone: +84 214 3842 989
Website: http://www.bvdklaocai.vn/
NINH BINH
• Ninh Binh Hospital
Address: Tue Tinh, Nam Thanh Street, Ninh Binh City
Telephone: + 84 229 3871 030
Website: http://benhviendakhoaninhbinh.com.vn/
Hours of operation: Monday to Sunday – 24 hours
HUE
• Hue Central Hospital
Address: 16 Le Loi Street, Vinh Ninh, Hue City
Telephone: +84 234 3822 325
Website: http://bvtwhue.com.vn/english/
Hours of operation: Monday to Sunday – 24 hours
DANANG
• Vinmec Da Nang International Hospital
Address: 30/4 Street, Residence No.4 Nguyen Tri Phuong Street, Hai Chau District, Da Nang City
Telephone: +84 236 3711 111
Website: https://vinmec.com/danang/eng/
Hours of operation: Monday to Sunday – 24 hours
• Family Medical Practice Da Nang
Address: 50-52, Nguyen Van Linh Street, Hai Chau District, Da Nang
Telephone: +84 236 3582 699
Website: http://vietnammedicalpractice.com/
Hours of operation: Monday to Sunday from 09:00 to 21:00
• Hoan My Da Nang Hospital
Address: 161 Nguyen Van Linh Street, Thanh Khe District, Da Nang City
Telephone: +84 236 3650 676
Website: http://www.hoanmy.com/danang/
Hours of operation: Monday to Saturday from 07:00 to 16:00
Sunday from 07:30 to 12:00
HOI AN
• Hoi An Medical Services
Address: 503 Hai Ba Trung Street, Cam Pho, Hoi An, Quang Nam
Telephone: +84 235 3862 257 or +84 913 457 219
Website: http://www.hoianmedicalservices.com/
Hours of operation: Monday to Sunday from 07:30 to 19:30
• Thai Binh Duong – Pacific Hospital
Address: 6 Phan Dinh Phung, Cam Pho, Hoi An
Telephone: +84 235 3921 656
Website: http://www.pacifichospital.com/tbdhoian/
Hours of operation: Monday to Sunday – 24 hours
NHA TRANG
• Vinmec International Hospital – Nha Trang
Address: 42A Trần Phú Street, Vinh Nguyen Ward, Nha Trang City
Telephone: +84 258 3900 168
Website: https://vinmec.com/nhatrang/

• VK Hospital
Address: 34/4 Nguyen Thien Thuat, Nha Trang, Khanh Hoa
Telephone: +84 258 3528 866
Website: http://www.vkhospital.com.vn/
• Nha Trang Medical Center
Address: 13 Le Loi, Nha Trang, Khanh Hoa
Telephone: +84 258 3822 167
PHAN THIET/ MUI NE
• An Phuoc Hospital
Address: 235 Tran Phu, Phu Trinh, Phan Thiet City
Telephone: +84 252 3831 056
Website: http://anphuochospital.com
Hours of operation: Monday to Sunday – 24 hours
DA LAT
• Lam Dong General Hospital
Address: 4 Pham Ngoc Thach Street, Da Lat
Telephone: +84 263 3827 528
Hours of operation: Monday to Friday from 07:00 to 17:00
• Hoan My General Hospital
Address: Mimosa Street, Ward 10, Da Lat
Telephone: +84 263 3577 633
Website: http://www.hoanmy.com/dalat/
HO CHI MINH CITY
• Franco-Vietnamese Hospital
Address: 6, Nguyen Luong Bang Street, Saigon South (Phu My Hung), District 7
Telephone: +84 285 411 3333
Website: http://fvhospital.com/
Hours of operation: Monday to Sunday from 14:00 to 20:00
• Vinmec Saigon International Clinic
Address: No. 2 – 2 Bis Tran Cao Van Street, District 1, Ho Chi Minh City
Telephone: +84 28 3520 3388
Website: http://www.vinmec.com

• Ho Chi Minh City Family Medical Practice
Address: 34, Le Duan Street, District 1
Telephone: +84 283 8227 848
Website: http://vietnammedicalpractice.com/
Hours of operation: Monday to Sunday from 09:00 to 21:00
• Columbia Asia International Hospital – Private Hospital
Columbia Asia is a chain of hospitals in Asia, with 24 medical facilities across India, Malaysia, Vietnam and Indonesia
Address: 08 Alexandre de Rhodes, Dist.1, Ho Chi Minh City, Vietnam.
Telephone: +84 28 3823 8888
Email: customercare.sg@columbiaasia.com
Company Website: www.columbiaasia.com
• Centre Medical International
Address: 1, Han Thuyen, Ho Chi Minh
Telephone: +974 4466 6009
Website: http://cmi-vietnam.com/
Hours of operation: Monday to Sunday from 09:00 to 21:00
CAN THO (MEKONG DELTA)
• Hoan My Cuu Long Hospital
Address: 20 Quang Trung Street, Phu Thu Ward, Cai Rang District, Can Tho
Telephone: +84 292 3917 901
Website: http://www.hoanmy.com/cuulong/
• Can Tho Central General Hospital
Address: 315 Nguyen Van Linh Street, An Khanh Ward, Ninh Kieu Ward, Can Tho
Telephone: +84 292 3820 271
Website: http://www.bvtwct.vn/
• Can Tho General Hospital
Address: 4 Chau Van Liem Street, An Lac Ward, Ninh Kieu Ward, Can Tho
Telephone: +84 292 3721 235
Website: http://www.bvcantho.vn
CHAU DOC
• Chau Doc General Hospital
Address: Zone 8, Chau Phu A, Chau Doc City, An Giang Province
Telephone: +84 296 866 252
Website: http://bvcd.com.vn/
VUNG TAU
• International SOS
Address: 1 Le Ngoc Han, Vung Tau
Telephone: +84 254 3858 776
Website: www.internationalsos.com
• Medicoast Hospital Vung Tau
Address: 165 Thuy Van, Thang Tam Ward, Vung Tau City
Telephone: +84 254 3521 183
Website: http://www.medicoast.com.au
PHU QUOC
• Vinmec International Hospital
Address: Long Beach, Ganh Dau, Phu Quoc, Kien Giang
Telephone: +84 297 3985 588
Website: https://vinmec.com/phuquoc/
Hours of operation: Monday to Sunday – 24 hours