A Mekong Delta Food Adventure – Dishes Will Blow Your Mind
The Mekong Delta is a huge maze of interconnecting rivers, swamps, and islands. It is home to an endless list of things to explore, especially food. I am here to guide you a Mekong Delta food adventure in this article.
Vietnam is globally known for its sophisticated mouth-watering cuisine. And furthermore, every province of Vietnam boasts their own unique delicacies. This will keep you busy for years discovering all the tasty specialties of each region. Check out Sonny Side's famous Best Ever Food Review Show to get an idea of how to properly explore your food obsession in Vietnam!
Let's get to the main point: the ten best foods of Mekong Delta. Sonny has made this Ultimate MEKONG DELTA Tour (about food, of course)that you should watch. And you may want to check out this Guide to Mekong Delta as well. But I'm adding more to that, widening the choices of your journey in the South of Vietnam. My list is made up of ten dishes from the four must-visit areas of the Mekong Delta: Tien Giang, Ben Tre in the South-Western Area, and Dong Thap, An Giang to the West. Put your boots on and get to the swamps!
Tien Giang Province – Kingdom of Fruit and Noodles
Tien Giang is called the Kingdom of Fruit in Vietnam and it's famous for Cai Be fruit floating market. Yet the cuisine is not as fruity as many people think. It actually capitalizes on other resources, utilizing the surf-and-turf elements of the flora and fauna.
The dishes are deeply complex in flavor due to the variety of edible creatures in the harmonious region of jungles, rivers, and the sea. I will guide you through this diversity with the best three food experiences in Tien Giang. The first two are the paradisal Cai Be fruit floating market and the unforgettably delightful Hu Tieu My Tho. The last secret one will require a bit of bravery but it will reward those who dare.
1. Tropical Fruit Paradise of Cai Be Floating Market
If you think you know fruit, you don't really know fruit until you visit this market. There is a whole ton of fruit to try, probably fruit that you can't find anywhere else in good, fresh quality. Most of the strange colors, shapes, and textures may not look familiar, but trust me, they taste awesome (except maybe durian). Let me name some: coconut, nipa palm fruit (dua nuoc), mango, milk apple (pomme de lait – vu sua), pineapple, longan fruit (nhan), rambutan (chom chom), jackfruit (mit), mangosteen (mang cut), sugar-apple (mang cau), banana, dragon fruit(thanh long), and some that I don't even remember.
Fruits are self-explanatory, just try them out if you're curious. The awesome thing is, you can get all these freshly-picked from the tree in Tien Giang also! The locals have a variety of dishes and drinks made with these fruits, try it out: fried banana, nipa palm fruit juice, fruit jellies (rau cau), and fresh fruit smoothies (sinh to).
2. Hu Tieu My Tho – Assorted Rice Noodle Soup
Pho, Bun Bo, and Hu Tieu are the three most well-known Vietnamese noodle soup dishes that you can even find overseas. This has lead to the appearance of too many versions and modifications, making it difficult to get the best and the most original soups. You should get pho in Hanoi, bun bo in Hue, and lastly, hu tieu in My Tho for the ultimate authenticity.
Unlike any hu tieu vendor anywhere else, the first moment you will be overwhelmed by the inventory on the table: fish sauce, soy sauce, chili sauce, black bean sauce, lime cuts, bean sprouts, whole tiny hot chilies, sliced big colorful chilies, pickled chilies, garlic and onion, and a basket of local herbs. Then you get spirited away by the appearance and the fragrance of a heavenly bowl of soup.
Hu Tieu My Tho consists of locally-made rice noodles, fresh shrimp, pork and pig liver cuts, stir-fried ground pork, sautéed minced garlic, and a squeeze of lime. The broth is a mind-blowing consommé that once riddled Anthony Bourdain, Gordon Ramsay, and the 2013 MasterChef runner-ups: "The assault of flavors right away."
Let me unveil the secret: it is made by simmering seared ginger, grilled onion, caramelized pineapple, a combination of beef, chicken and pork bones, and dried seafood up to 8 hours with a mixture of spices for the finish.
In my opinion, this should be on your bucket list of delicacies that you should have more than once in your whole life, not just one of the dishes to try in Vietnam. The best way to fully experience the flavor is to get a hu tieu kho – mixed hu tieu with garlic oil, red vinegar, soy sauce, and the broth on the side.
Here are the top 3 places that you can get this amazing treat of flavors, just under $2:
Cai Be Floating Market, Cai Be District
Location: Mekong River, Cai Be District, Tien Giang
Opening Hours: 3:00 AM to 8:00 PM (from 6:00 AM to 8:00 AM is the best time)
Just experience the dish like Gordon Ramsay did! Have hu tieu on a random boat vendor.
Pro Tip: Get it from the most crowded boat. Eat where the locals eat.
Hu Tieu Quan Ky, My Tho City
Location: 55 Ngo Quyen st., Ward 7, My Tho City, Tien Giang
Opening Hours: 6:30 AM to 11:00 AM (only in the morning, sells out really quick)
One of the best and most famous hu tieu vendors is My Tho, 50 years of making and staying true to the originality of hu tieu My Tho.
Hu Tieu Chay Cay Bo De – Vegetarian Hu Tieu, My Tho City
Location: 24 Nam Ky Khoi Nghia st., Ward 1, My Tho City, Tien Giang
Opening Hours: 07:00 AM to 9:00 PM
Best Vegetarian hu tieu around town. The broth is intensely deep in taste with many layers, coming from simmered vegetables and mushrooms. The toppings are tofu, vegetarian sausage (made out of soy curds and vegetable flavorings), mushrooms and green bean fried dumplings. They also have many more vegetarian dishes as well.
3. Sam Bien Go Cong – Tri-spine Horseshoe Crab. What?
These crabs are living fossils with blue blood, literally. We are going to eat them, those prehistoric creatures that have been crawling around for 450 million years, unchanged. Although these creatures are "crabs", they are most closely related to modern-day spiders, scorpions, and the extinct trilobites. In Japan, they are legendary symbols of a brave warrior's afterlife, resembling the shape of a Samurai helmet. But here in Vietnam, they are food. Real food, good food.
November to March marks the mating time of these horseshoe crabs (sam in Vietnamese). It is relatively easy to catch them since they are scattered all around Go Cong beach (Bien Go Cong), and the males stick intensively to the females – doubles the harvest. This phenomenon is used in Vietnamese culture to describe those lovers who always stick together and cannot be separated. The sam is considered the most valuable seafood treat in the area. Raised naturally (and of course organically), sam bien Go Cong is always prepared in sophisticated ways and served as fresh as possible.
Like a jewel hidden inside a stone, their silky meat and golden roe taste amazing. It is a combination of ancient essences, conserved throughout millions of years, without deformation and evolution. The sam's meat has a fibrous texture combined with a deep savory-sweet flavor and a bit of saltiness from the nutrients of the ocean, that leaves a mouthful of subtle yet lingering taste.
The roe is even more delicate. Upon cracking open its belly, a grilled female sam – sam trung, lets out an overwhelming, mouth-watering fragrance, all coming from the roe. This complex buttery taste resembles that of other luxurious hard-shell creatures like lobsters and big crabs. In addition, sam's roe is packed with even more protein and nutrients compared to its meat.
And lastly, its blue-ish blood has an enormous medical value – priced at $16,000 per litter. Sam's blood contains a substance, Coagulogen, that serves as a natural antibiotic and the crab's microbial defensive system for millions of years. It has been proven to be E. Coli's worst nightmare, because it can hyper-sensitively detect a threat like a grain of sand in a swimming pool, and then rapidly react and disable it within just a couple hours of absorption (while our immune system takes up to a few days). So, are you up to giving your body a good cleanse? Enjoying a bowl of tiet canh sam will slightly boost your immunity in just a couple of hours.
Where to find these miraculous delicacies? Check out these two locations:
Lang Viet Seafood Restaurant, My Tho City
Location: 194D Ap Bac st., Ward 5, My Tho City, Tien Giang
Opening Hours: 07:00 AM to 11:00 PM
Price Range: 80.000 VND – 500.000 VND
Vam Lang town, Go Cong Dong District
There are plenty of local restaurants serving sam bien Go Cong, and they are relatively equal in quality and taste. Eat where the locals eat.
Coming up next is the land of coconuts – Ben Tre province, with their own unique ways of eating and cooking food, just across the My Tho River.
Ben Tre Province – Land of Coconuts
Ben Tre is widely known as the land of coconuts, with its endless coconut and mangrove forests, vast rice fields, and networks of interconnecting rivers and canals. This gentle, rustic, and hearty land is truly one of the most attractive destinations and a must-see when traveling around the South of Vietnam.
Upon arrival to Ben Tre, you should take a trip on a Sampan boat rowing down the Mekong river, while enjoying fresh local coconut treats. A rumor about Ben Tre says there is a total of 36 delicacies to be discovered. You can always research these but you will come up short, the rest are unknown to travelers. Sonny Side's Best Ever Food Review Show has just excavated only 5 lesser-known treats out of that gourmet list, including candied coconut strips, Giant Gourami fried over sizzling grease,  straw-charred freshwater fish, underground grilled mud chicken and scorched-earth roasted duck egg.
Let us know in the comments if you happen to find out more. For those of you who are new to Mekong Delta's cuisine, I will recommend two of the best dishes that Ben Tre has to offer just to give you an idea of the harmony of food and nature in this lovely region.
4. Com Dua Tep Rang – Steamed Rice and Roasted Baby Shrimp in a Coconut!
In Ben Tre – coconut land, you can expect that coconuts are used every day in local cooking. Yes, you may try coconut candies, enjoy coconut pork stew in a coconut bowl, and drink coconut moonshine (yes, moonshine) out of a coconut pot. The most bizarre food might be the coconut worm that is not for the faint-hearted.
Apart from these homemade and rustic treats, the talented local chefs have invented a fine delicacy, com dua tep rang, rice steamed in a coconut with roasted baby shrimp. Its name may sound simple, but as a matter of fact, the complexity of the preparation and the cooking techniques are challenging for inexperienced cooks. Therefore, reservation is a must if you want to get the coconut rice in time.
First, cut only the top of a ripe sweet coconut to take out all the juice, the top piece will be later used as a lid. The rice is then washed with clear water and soaked in that coconut juice. After a while, the chef will put the rice inside the coconut with an appropriate amount of coconut juice, and add extra ingredients to enhance the flavors and fragrance, such as lotus seed, green peas, diced carrots, onion, and herbs, sometimes with diced squid also. Then the coconut is covered with its own lid and steamed until done. Since everything is contained within the coconut, the ingredients mingle together and harmonize with each other inside. The essence of the coconut and other ingredients are condensed into every single grain of rice.
It should take around 45 minutes for the rice to reach its peak. Meanwhile, the chef prepares the side dish – roasted baby shrimp. The shrimp is caramelized with dashes of coconut juice and a subtle combination of seasoning to slightly enrich the taste. When the rice is done, it transforms into a golden color and releases an irresistible fragrance. The moment the chef opens the lid, you would happen to say "Is that my dish coming?"
The taste is amazing and it cannot be described with words. The combination of ingredients is sophisticated yet local, hearty but warming. I will not tell you more about the flavors, or how it tastes. You need to experience the flavors yourself.
To enjoy this fine dish, the best destination is the Ben Tre floating restaurant – Nha Hang Noi Ben Tre. The restaurant is designed to look like a cruise ship with a dragon head, with elegant Indochinese interiors. Along with the coconut rice, all the other dishes on the menu are Mekong Delta specialties also. As I mentioned before, com dua tep rang takes a while to make. You should try some other food as well before the star of your dinner shows up. I would recommend the coconut heart salad – goi cu hu dua and the beef surrounded by flames – bo quanh lua hong.
"Nha Hang Noi Ben Tre" Restaurant, Ben Tre City
Location: Hung Vuong Park, Ward 5, Ben Tre City
Opening Hours: 08:00 AM to 10:00 PM
Price Range: 100.000 VND – 385.000 VND
5. Banh Canh Hen Nuoc Cot Dua – Rice Udon with Baby Clams in Coconut Milk Broth?!
You probably have heard of and maybe tried banh canh – Vietnamese rice udon (usually called rice cake soup) if you have traveled to the central and the southern regions of Vietnam. The three most well-known are banh canh Cua – with crab, banh canh ca loc – with snakehead fish, and banh canh cha ca – with fishcakes.
There are more than 10 different types of Banh Canh dishes in the Mekong Delta, including the three mentioned above. But only in Ben Tre, the land of coconut, you will experience this unique banh canh hen nuoc cot dua – Banh Canh with baby clams in coconut milk broth. Despite being a folksy noodle soup, this concoction will rival any other soup in term of flavors. It requires the cooks to truly understand the ingredients and know how to mix-and-match spices and seasonings to create an ultimate banh canh hen nuoc cot dua dish.
The baby clams – Hen – are harvested from the nearby Co Chien river; they are thick, sweet, and crunchy. They are soaked in rice water to get rid of sand particles, and then simmered and barely stirred in boiling water to release their intestines. After that, the cooked baby clams are stir-fried with garlic and onion, then seasoned and set aside. The water used to boil the clams will be re-used to make the broth. The Banh Canh noodles are like Japanese udon in terms of shape and technique, but the taste is very different because the Vietnamese use rice and tapioca starch as ingredients.
To make the broth, the vendor chooses the sweetest coconut with the thickest meat. The juice is used together with the boiled baby clam water to make the broth, and the coconut meat is ground to extract the milk. When the broth is almost done and seasoned, the banh canh noodles are mixed in, then the heat is lowered to add the coconut milk.
To serve, the mixture is poured into a bowl, the stir-fried baby clams are added along with salt, pepper, and some local herbs. The chewiness of the banh canh noodles, covered by thick soup with many layers of taste will surely satisfy any picky tastes. This buttery, fragrant, savory and sweet dish is going to leave an unforgettable memory, reminding you of a lovely land.
You can easily find banh canh hen nuoc cot dua in Cho Lach district of Ben Tre province, the price is about 15.000 VND only.
Dong Thap Province – Endless Rice Fields and Lotus Swamps
Dong Thap province is a wetland located 150 kilometers away from Saigon, famously known for its vast green scenery. Flocks of birds fly over the endless rice fields, lotus swamps, and through Indigo forests. It's a daydream for those of you who are bored with the concrete jungle and vehicle horns. Check it out to learn more about this charming region, but for now, we will explore the food.
Dong Thap cuisine also makes use of its surrounding fauna and flora. Anything that moves, swims or just stands still is susceptible to the cooking pot. But, the cooks of this region know how to combine and create rustic dishes of unusual excellence.
Here we have grilled snakehead fish wrapped in lotus leaf, smoked living snails (yes, they live and get fatter just by eating smoke), and Hu Tieu Sa Dec. But there are two particular dishes that sit on the top, and have become the symbol of Dong Thap cuisine: lau ca linh bong dien dien and chuot dong quay lu.
6. Lau Ca Linh Bong Dien Dien – Freshwater Fish with River Hemp Flower Hot Pot
Flood season has become a part of Dong Thap locals' lives. They have adapted to survive the floods, making the people tough and vibrant; but because of this adversity, they have warm hearts that highly value family gathering dinners. Foods that always appear on the dining table (or straw mat) every evening are spicy fish or meat stew, crunchy fried fish, and a steaming hot pot with a lot of greens. Ca linh – a type of local freshwater fish, and bong dien dien – river hemp flower, are hearty gifts from mother nature to encourage Dong Thap people to live through the floods.
Ca Linh is best harvested in the flood season every year, from September to November. At this time, the fish are delicious: young and growing. Its bones are still soft and there is lots of fat under the belly, making it the most nutritious treat of the year. The female fish usually comes with a roe pouch, which is delicious when deep fried. The male fish is simmered in the pot.
This fish's best companion in the steaming broth is bong dien dien, a radiant yellow flower that grows wild on the river banks, swamps, and rice fields. When blanched, it has a very special flavor, nutty and buttery, crunchy in texture, and full of aroma. Bong Dien Dien has become a beloved specialty from the Mekong Delta and makes its way to almost every Vietnamese home-cooked style restaurant around the country.
To make the lau ca linh bong dien dien dish, the most time-consuming cooking process is to deal with the Ca Linh fish. You have to take out all the intestines, the bitter part, and get rid of the pointy tail. Ca Linh can be eaten whole, and the younger they are, the more savory and sweet. These fish are really tender and easy to cook once you remove the unsavory parts.
The broth, on the other hand, is easy to make: start with a pot full of coconut water and pork or chicken stock, put in a few young tamarinds for a sharper taste, add some seasoning and there you go. Let it boil, add in some keo neo – yellow velvet-leaf and bong sung– water lily for extra sweetness. These are local common vegetables and they taste really good also.
Ca linh is added last before eating. Blanch bong dien dien in the hot pot – dip the flower into the boiling broth for just a second, then take it out. Follow these procedures, and you will have the most unique and most delicious hot pot. Remember to turn down the heat when you take a break. And not to mention, it is best enjoyed with a good fish sauce and chilies.
You can have lau ca linh bong dien dien in the biggest city of Dong Thap – Cao Lanh city. It is even better if you manage to get acquainted with a local family and enjoy this meal with them.
Quan Nhau Binh Dan Ba Tam – Cheap local eatery, Cao Lanh city
Location: 53 Pham Huu Lau St., Ward 4, Cao Lanh city, Dong Thap province.
Opening Hours: 10:00 AM – 10:00 PM
Price Range: 20.000 VND – 100.000 VND
This is a very cheap and super good local place. It costs only around 60.000 VND for a hot pot. You may struggle a bit with the language barrier, but it will pay off greatly.
Xeo Quit Restaurant, Cao Lanh City
Location: Xeo Quit Eco-tourism park, My Hiep Commune, Cao Lanh city, Dong Thap province.
Opening Hours: 10:00 AM – 10:00 PM
Price Range: 50.000 VND – 220.000 VND
Located within the Xeo Quit Eco-tourism park, this restaurant offers a very big menu with almost every local specialty. The drawback is everything is in Vietnamese.
7. Chuot Dong Quay Lu – Rice Field Mouse Roasted in a Vase
If you hang around the markets in Dong Thap during the flood season, you will see a lot of unusual local feasts, from worms to scorpions, and definitely snakes. You can also find all these things in Saigon. But there is one particular treat that you can only find here: rice field rat. Rat may sound a bit uninviting at first, but when Sonny took a bite, he said: "It's pretty damn good." Even Andrew Zimmern – an American celebrity chef – went as far to say that he would replace chicken with rats for his everyday meal, "Because it's sweeter, it's stickier, it's meatier but it's not as rich as pork."
There are many kinds of rats, but only those living in the rice field, feasting on rice and fresh water, are safe and tasty to consume. The rats roasted in a vase are the fattest and meatiest ones because they have been eating the best rice grains all day. When the locals harvest the rice, they also chase these little devils down and lure them to a net. After catching a bunch, they smoke the rats with rice straws. Their meat is naturally marinated with the essence of the sun, the land, and the rice. While smoking, the fragrance is said to be sweet, milky like toast and butter.
Captured rats are then butchered, the intestines are removed, and their feet are discarded. They are soaked in BBQ marinade for 15 to 20 minutes before being put in the roasting vases. It is essential to continuously spread fat and sauce on the rat and spin them periodically while roasting. This process takes around one hour for a vase of 8 to 30 rats. Open the lid, and these delicacies will make your mouth water immediately. Their skin is caramelized and shiny, emanating an irresistible aroma. They look like roasted piglets.
Chuot dong quay lu is then finished off with lime, salt, and pepper for dipping, with young banana, tomato and cucumber slices on the side. Usually grilled or roasted dishes in Vietnam are served with very basic condiments (mentioned above). This is because the condiments should not overpower the main dish. In Vietnamese cuisine, the taste is among the most important elements of food. I want to see how surprised you are once you take a bite so comment below with your reactions! The rat meat is exceptionally delicious, the Mekong locals even call it "rice field venison".
Chuot dong quay lu is widely available in Cao Lanh city, you can find it in almost every corner during flood season, from September to November. Especially in the markets, you will get more than just Chuot Dong Quay Lu. Even more bizarre yet delicious dishes from rice field rats are on offer. But if you would like to enjoy this dish with guaranteed safety and quality, try these places:
Hai Dong Quan, Cao Lanh city
Location: Vo Truong Toan St., Ward 1, Cao Lanh city, Dong Thap province.
Opening Hours: 8:00 AM – 10:00 PM
Price Range: 30.000 VND – 150.000 VND
Quan A Hien, Cao Lanh City
Location: 193-195 Dien Bien Phu St., My Phu Ward, Cao Lanh city, Dong Thap province.
Opening Hours: 10:00 AM – 10:30 PM
Price Range: 30.000 VND – 150.000 VND
An Giang Province – Harmony of Mountains and Rivers
An Giang is a province bordering Cambodia, well known as a multicultural land with many ethnicities: Champa, Khmer, Chinese, Viet, and more. Not just the cultures make this area special; but also the harmony of mountains and rivers enriching the luring charm of An Giang. All these elements contribute to the foundation of this land's unique and diverse cuisine, and many of the dishes clearly reflect the people and the land's identity.
With a bold history established long ago, gifted with many luring natural sights and a more favorable climate compared to other Southern regions, An Giang province is surely a destination not to be missed when visiting the Mekong Delta. The three notable areas of An Giang are Long Xuyen City, Chau Doc City, and the Seven Mountains (Bay Nui or That Son). Coming up next, I will guide you through each destination's cuisine and their most unique dishes.
8. Bun Ca, Long Xuyen – "Smooth" Rice Noodle with Fish
Long Xuyen City is the capital city of An Giang, and the center of economy, culture, and cuisine of the province. Long Xuyen is also the melting pot of all ethnic cultures throughout the region, with one of the most complex cuisines in the Mekong Delta. Blessed by the local natural specialties, mixed with multicultural diversity, Long Xuyen cuisine is the most unique in that you can not find it anywhere else in the country. It is surely irresistible for travelers looking for good food.
Bun ca Long Xuyen is the favorite dish of the city, whoever comes here will always be greeted with a bowl of Bun ca as an act of hospitality. While other regions use words like "excellent, top, and the best" to describe their cuisine, Long Xuyen locals will just describe theirs as "smooth." And yes, the dish is very smooth.
The selling point of Bun ca is its yellow broth and the yellow Snakehead fish slice, the yellow color from turmeric. The soup is really smooth and rich with a subtle turmeric and lemongrass aroma, and you will be astonished by its sweetness. The broth is made with fish and pork bones, creating that mind-blowing sweetness. Topped with water mimosa flower (Rau nhut), morning glory (Rau muong), and strips of young banana, these tart and flavorful raw vegetables act as a break, capturing all the smooth flavors and letting them linger on your taste buds.
The star of bun ca is the yellow Snakehead fish (ca loc) slice. Only the freshest fish among the biggest and the most matured Snakeheads are chosen to be sacrificed for this heavenly soup. The fish fillet is lightly boiled, skinned, deboned, and marinated with turmeric rub. Then, the yellow-dyed Snakehead steak will be either seared whole or stir-fried in cubes, depending on the vendor. There is no fishiness to the taste, leaving only the sweetness of the Snakehead steak.
To taste, you can add just salt, pepper, or chili flakes. No fish sauce or other condiments are put on the table. The point is to keep the original essence of the ingredients. In some places, crab roe is added for extra buttery taste.
There is another variation of bun ca, called bun keng in Chau Doc, made with coconut water and curry powder. For this one, slices of daikon (Asian radish) and pig blood cubes are added.
To find this delicacy, you can just wander around the city and eventually find a place. But these are two of the most popular places to get bun ca in Long Xuyen, and an extra place for bun keng in Chau Doc:
Bun Ca Nhu Mai, Long Xuyen City
Location: 60 Nguyen Thai Hoc St., My Binh Ward, Long Xuyen city, An Giang province.
Opening Hours: 6:00 AM – 9:00 PM
Price Range: 15.000 VND – 30.000 VND
Bun Ca 12K, Long Xuyen City
Location: Tran Hung Dao St., My Binh Ward, Long Xuyen city, An Giang province.
Opening Hours: 1:00 PM – 5:00 PM
Price Range: 12.000 VND – 180.000 VND
Bun Keng, Chau Doc City
Location: Phan Van Vang St., Chau Phu A Ward, Chau Doc city, An Giang province.
Opening Hours: 5:00 AM – 11:00 AM
Price Range: 15.000 VND – 20.000 VND
9. Lau Mam, Chau Doc – Mekong Delta in a Hot Pot
Chau Doc city is the top pilgrimage destination of the Mekong Delta, surrounded by charming sceneries: ranges of blooming mountains and vast rice fields along the crossways of the Mekong River. There, the Vietnamese, the Cham, and the Khmer people live together in harmony, have built a complex of Buddhism pagodas, Hindu temples, Islam mosques, and many other religious sites. This gave birth to the one and only Chau Doc cuisine with originality and traditions of many cultures. Therefore, Chau Doc is also known as "the kingdom of fermented pastes," a typical seasoning condiment that defines Southeast Asian culture.
Located within the intersection of cultures and the branches of the Mekong River, Chau Doc is blessed with plenty of freshwater fauna, creating hundreds of fermented pastes – Mam –from different types of fishes, shrimps, and crabs. The most popular one would be mam Thai – Thai fermented paste or "Pla-ra" in Thai, which is sold everywhere. There are also specialties that resemble those found in Cambodia, Indonesia, and Malaysia like Prahok, Terasi, and Belacan.  Yet, the most precious and most valued fermented pastes are the local creations: mam sac, mam tren, and mam linh. The mam of Chau Doc is usually subtly sweet with deep saltiness, which is a heavenly good pairing with a hot bowl of white rice on a rainy day of the flood season.
The best of Chau Doc cuisine is represented by lau mam – hot pot with broth made from fermented pastes. Various sophisticated processes and the steaming hot broth take away the fermented odors, leaving behind only the spirits of the Mekong River in a pot. When enjoying this dish, the boiling broth is continuously releasing an inviting fragrance, together with thick and rich flavors. This is the result of the marriage between three most valuable local fermented pastes: mam sac, mam tren, and mam linh.
Mam sac creates an aromatic base for the broth. It is made by fermenting ca sac fish with many fragrant ingredients like lemongrass, palmyra sugar, pineapple, starfruit, rice wine, and salt. Mam tren thickens the broth and seasons it with a richly sweet, savory taste and a mild saltiness. And lastly, mam linh adds an extra buttery and tart layer to round out the flavors to perfection. There are many more types of mam in the base broth, based on how the local chefs tinker with flavors to create their signature delicacy.
A whole buffet of ingredients are put into the pot: around 35 herbs, flowers, and vegetables and a dozen freshwater fishes like ca linh, ca sac, anchovies, eel, squid, and shrimp. A whole library of Mekong's delicacies from the fields to the river, combine and condense in one dish. It may sound like a messy melting pot, but no, every ingredient miraculously blends into each other, just like how the locals live in this bountiful ecosystem.
The best places to get Lau Mam are located along the Trung Nu Vuong street of Chau Doc city, here are some well-known recommendations:
Quan Com Bay Bong, Chau Doc City
Location: 46 Trung Nu Vuong St., Chau Phu B Ward, Chau Doc city, An Giang province.
Opening Hours: 6:00 AM – 9:00 PM
Price Range: 25.000 VND – 120.000 VND
Quan Dong Que, Chau Doc City
Location: 108 Trung Nu Vuong St., Ward 8, Chau Doc city, An Giang province.
Opening Hours: 1:00 PM – 5:00 PM
Price Range: 50.000 VND – 200.000 VND
Chua Ba, Chau Doc City
Location: Nui Sam, Chau Doc city, An Giang province.
Opening Hours: 5:00 AM – 11:00 AM
There are plenty of places there that serve lau mam also, on the way to Ba Chua Su Temple. You can explore the pagodas and temples on the peak, then walk down and enjoy a sizzling lau mam hot pot for the best experience.
10. Thot Not, Bay Nui Area – Palmyra Desserts from the Seven Mountains Region
Bay Nui region (Seven Mountains) is a valley located in the mountains, which makes for fresh, temperate air, and truckloads of wild vegetables and herbs year-round. And yet, there is one particular plant that has been living with the people forever, the Palmyra tree or as the locals call it – Thot not.
Thot not grows all over the Seven Mountains area, it stands high, up to 12 meters in height. It takes up to 40 years to fully grow and start to bear fruit. Like the coconut tree of the downstream Mekong folks, and the bamboo tree in many other regions of Vietnam, the thot not tree has been accompanying the Khmer people for generations. The wood is used to build houses and household instruments, but it also gifts the people with its fruits and refreshing juice, improving one's life throughout the floods. Thot not fruits are widely used in the area in many dishes of the local cuisine.
Thot not fruit has up to 5 clear, edible cores and only the locals know how to scoop them out intact. It is almost tasteless when eaten on its own, yet it has a lot of nutrition in the form of vitamin A, B, and C. The juice is actually extracted from the fruit stems, up high in the tree. It is filled with simple sugars like glucose and fructose, packed with many micro-minerals such as magnesium, iron, calcium, phosphorus, zinc, and potassium.
In other words, the fruit cores and the juice together make a healthy, natural, and organic energy drink, quenching thirst and giving you a great boost of stamina on a hot day. It does not heighten blood sugar level either and appears to be good for your liver. In India, thot not is a traditional medicine used to cure infections.
Due to its high level of healthy sugars, the juice is utilized to make a unique type of sugar cube – duong thot not. One tree can provide up to 30 liters of juice, by synthesizing it with the nearby plentiful water source. The juice is filtered and cooked until thickened, and then cooled in a mold. It is then cut into smaller pieces and wrapped in dried thot not leaves. Unlike sugarcane sugar, the locals don't refine duong thot not, in order to keep all the healthy essences and its natural unique flavors. The Palmyra sugar cube is yellow in color, with a fruity, honey-like fragrance. It is used to make desserts like cakes, sweet soups, and it sometimes appears in savory dishes.
One popular dessert dish is Che thot not nuoc cot dua – Palmyra sweet soup with coconut milk. This sweet soup is made from dissolving palmyra sugar with water or coconut water, coconut milk and Thot Not fruit cores. The sweet and nutty taste of the coconut milk, mix together with the rich sugary base and chewy yet crunchy cores, what a dish! You can find this sweet soup almost anywhere throughout An Giang province, especially near the markets.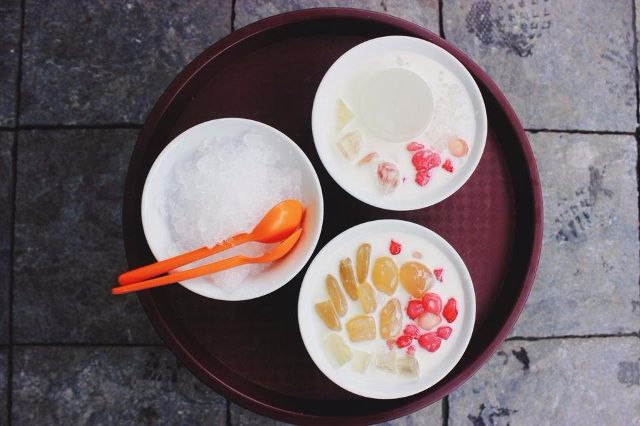 Savoring thot not drink and enjoying thot not sweet soup might satisfy you but there is one more delicious food that you should try – the banh bo thot not, thot not rice sponge cake. This golden cake has an alluring aroma that will have you walking miles just to find it, and the desire gets stronger once you are close enough to have a look. Upon taking a bite while it's hot, an explosion of taste ignites. It's fluffy, spongy, and sweet. Banh bo thot not is made from rice starch, thot not sugar, coconut milk, mashed mung bean, and especially grated thot nothusk that creates its unique notes. The preparation process is complex and requires experience. The cook must know how to choose the best ingredients, make the perfect dough, and control the temperature of the steaming heat to bring you the most satisfying cake.
There are many more local products made from thot not that I have yet to discover. They are there for you to explore, and that is the most fun part. So, are you ready to pack up and discover the rest of what An Giang cuisine has to offer?
End of Story
This list of the 10 best dishes hardly encompasses the Mekong Delta cuisine. It is the hearty, homey, the subtle scents, the lingering tastes that engrave an unforgettable experience in the travelers' memory when they have a chance to visit the Mekong Delta. To truly experience the Mekong Delta, you can either do it by yourself via our guide of what to do and see, or join trip with FocusAsia Travel on the Mekong Delta Private Adventures. Here is a guide how to get to and where to stay in the Mekong Delta if you are still lost.