5 Annual Events in Vietnam
There are also several cultural festivals that are only held at some times of the year (or years), so you never know when one will appear on your travels. We've assembled a list of the best festivals in Vietnam, and although they're celebrated all over the world, we've included some recommendations on where to go so you can totally immerse yourself in these one-of-a-kind activities during your vacation.
Lim Festival
Mid-February
What's so great about it?
On your visit to Lim Festival, you will be able to enjoy UNESCO-listed quan ho folk singing performances as well as a variety of traditional sports. On the 12th and 13th days of the first lunar month, multiple stages are constructed inside the village where locals perform in traditional costumes. We strongly recommend going to the lake outside the Lim Communal House to see a quan ho singing show on a dragon boat. Lim Festival also features traditional games such as danh du (bamboo swings), cockfighting, tug-of-war, boxing, human chess, and blind man's bluff.
What is the perfect location for a celebration?
Lim Festival is held in Lim Village, which is part of the Tien Du District in Bac Ninh Province. This traditional village is located 18 kilometers from Hanoi and is easily accessible by bus or rental car.
Wandering Souls Day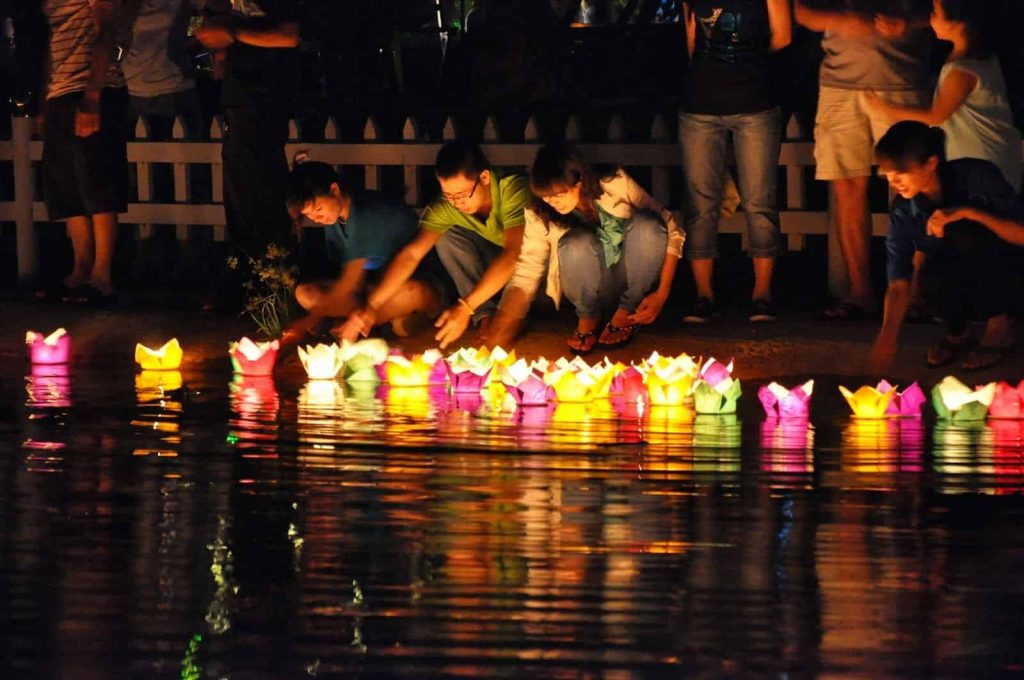 Early September
What's the big deal with it?
The annual Wandering Souls Day is celebrated on the 15th day of the 7th lunar month when locals believe spirits of their ancestors will visit their homes. Families flock to Buddhist temples and the graves of their deceased loved ones on the eve of the festival to deliver prayers, roses, sticky rice cakes, sugarcane, and fruits. During this time of year, paper money and clothing are also burnt.
What is the perfect location for a celebration?
While the Buddhist population of Vietnam celebrates Wandering Souls Day, the best place to enjoy this solemn occasion is in Hue, where various Buddhist shrines and pagodas are crowded with locals and monks conducting ceremonies and prayers. The festival is also known as the Cold Food Festival (Tet Han Thuc) since chilled dishes like banh troi (floating rice cake) and banh chay (glutinous rice balls with mung bean paste) are common.
Hoi An Lantern Festival
14th day of every month
What's the big deal with it?
Hoi An Lantern Festival is a monthly event that transforms the quaint UNESCO World Heritage Site into a spectacular display of paper lanterns. On the 14th day of each lunar month, every shop, restaurant, bar, and business in the Ancient Town switch off all electricity and relies on hundreds of candles and lanterns. Meanwhile, the entrance to all temples is free of charge, where you can see monks and locals holding candlelit ceremonies.
Buddha's Birthday
Early May
What's the big deal with it?
Despite being a communist republic, devotees in Vietnam celebrate Buddha's Birthday. On the eighth day of the fourth lunar month, several temples are lavishly decorated, with locals offering fruit, flower garlands, and numerous Vietnamese dishes. This festival also attracts thousands of people who come to participate in street parades and prayer sessions.
What is the perfect location for a celebration?
Hoi An is probably the safest place to celebrate this holiday. The day begins with a procession of monks through the streets of Hoi An Ancient Town, followed by locals flocking to the temple to perform religious rituals and listen to Buddhist scriptures. In the evening, there will be a festive procession along the main street of the Old Town, where animals will be released and flower garlands and lanterns will be displayed along the riverbank. Aside from experiencing local culture, Buddha's Birthday is also a wonderful time to indulge in vegetarian dishes offered by Hoi An street vendors.
Phu Giay Festival
Late March to Early April
What's the big deal with it?
The Phu Giay Festival attracts devotees of the goddess Lieu Hanh to the Phu Giay Pagoda, where they pray for good health while bearing carved bamboo relics and dressed in traditional costumes. The temple, which is located 88 kilometers east of Hanoi, also hosts numerous games such as capture-the-flag, human chess, lion dance, and wrestling, creating a lively atmosphere during the day. Folk dance and classical songs such as trong quan, cheo (satirical musical theatre), and ca tru are also available to visitors (chamber music).
What is the perfect location for a celebration?
The Phu Giay Festival is only observed by villagers within the Kim Thai Commune, with the Phu Giay Temple being the closest place to celebrate.