Xuan Thieu beach
Besides My Khe beach and Bac My An beach, Da Nang also owns Xuan Thieu beach which is extremely attractive. Xuan Thieu beach is clean, beautiful and unspoiled with white sand. The sea water is always crystal- clear. Let's follow Focus Asia Travel to find out more information about Xuan Thieu beach.
The beauty of sunset
Xuan Thieu Beach is quiet, clean and beautiful with fine white sand, clear blue sea, overlooking the peaceful of Danang Bay. It is humming all year which is ideal for relaxation and immersing in the cool water. In particular, the beach still retains the pristine beauty even under both the sunset and dawn.
Compared to other Da Nang beaches, Xuan Thieu beach is also a tourist attraction for dating couples. Tourists will love the tranquility on the deserted beach and walking barefoot on the fish. Xuan Thieu Beach also has another name-Red Sea. Because at dawn or dusk, when the sun reflects the light on the water, the whole beach is like wearing a charming red robe.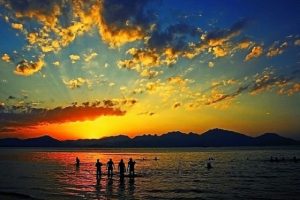 The whole sky is a like picture that is coordinated by brilliant colors. The sun is sinking into the sea, making the seawater also turn red. That scenery probably makes visitors extremely excited and seems to want to stay in this coastal city for longer.
Wild beauty
Strolling by the beach, visitors will feel the fleshy sea breeze along with the cool white sand. From here, visitors can see the beautiful Son Tra peninsula and the majestic Hai Van mountain. The distant sea gate opens right in front of your eyes.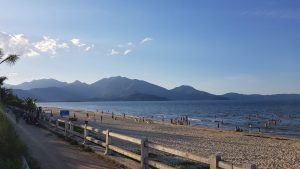 Although Xuan Thieu beach is steeper, the water here is clearer and quieter. Part of the water is poured from the Han River and the taste of the water is not as salty as elsewhere. Visitors to Da Nang should also pay attention because the sand here is still short and steep which is so dangerous.
Walking around on the beach, visitors can participate in the sea games here. Many entertainment activities are organized such as playing volleyball on the sea, canoeing, soccer, water motorbikes, which create a relaxing space for visitors. Xuan Thieu Beach has a full range of hotels, restaurants, some entertainment services, swimming services, etc. Besides, visitors can also enjoy seafood dishes at Red Beach restaurant with competitive prices.
Xuan Thieu beach attracts tourists by its own special features. Do not miss the early dawn or sunset on this beach. Focus Asia Travel wishes you an enjoyable experience with this wonderful sea.