Which season is the best for travelling to Ha Giang?
Ha Giang is synonymous for Dong Van plateau , winding roads, picturesque terraced fields, Khau Vai love market, etc. Those who have never been to Ha Giang should find out more information about it before travelling to Ha Giang.
Focus Asia Travel
will share with you the highlights of each season to answer the above question.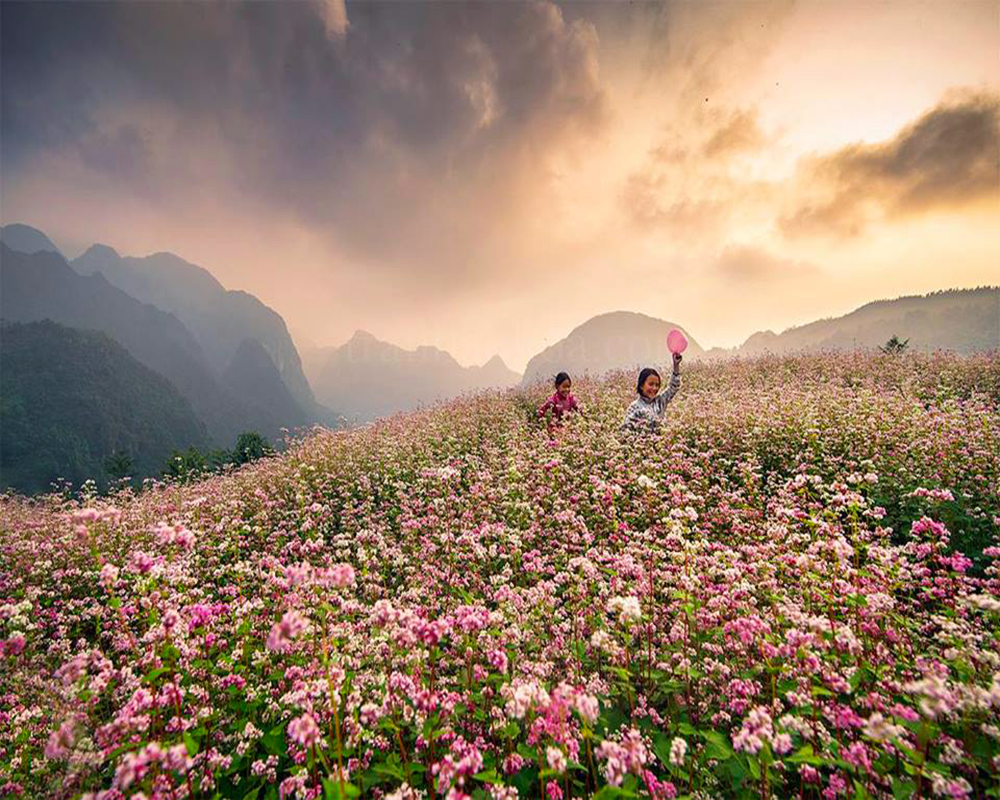 Which season is the best to travel to Ha Giang?
Traveling to Ha Giang in the spring
During the early spring, you will have the opportunity to explore the traditional festivals here. This is the time for those who love exploring the cultures and festivals in Ha Giang. You will witness the festival celebrating longevity of the Tay people – this is a traditional custom of the Tay people and this is also the time when children and grandchildren get together fully to congratulate grandparents and parents on longevity. At the beginning of spring,  Ha Giang  also has festivals such as buffalo fighting festival, cage festival and horse fighting festival … these festivals attract a large number of tourists from other countries to participate.
Should travel to Ha Giang in March?
Around March, is the most beautiful time of Ha Giang with peach gardens, plum blooms full of spring colors. The plum forest, peach blossomed with white and pink flowers as an ink painting, will be a time for young people to love exploring, for couples about to marry the best wedding photos. Len in each corner of the peach-plum garden are guys and girls who keep beautiful moments with pictures with peach-plum. It would be great if you spend time with your loved one coming to Ha Giang in March.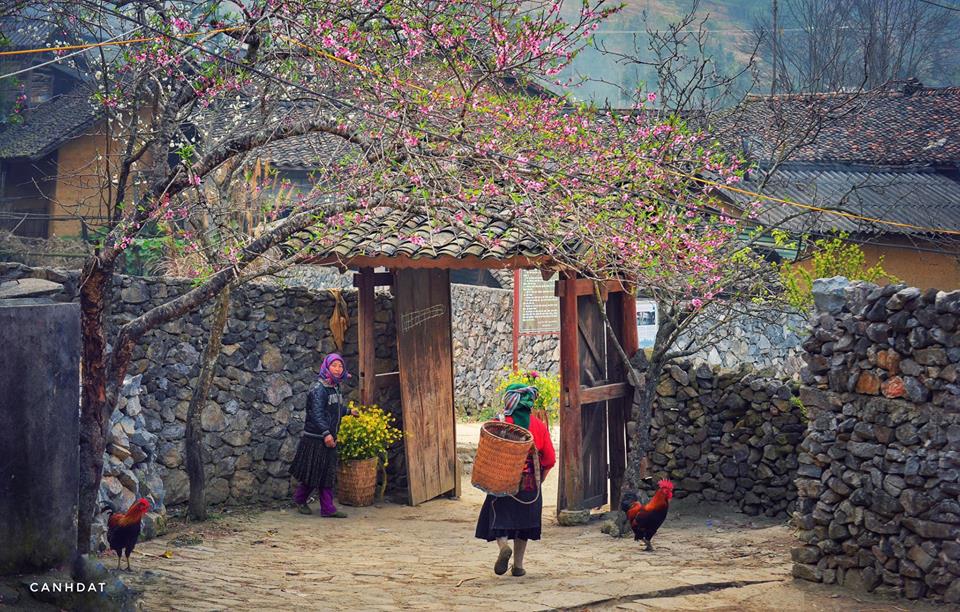 What is special about Ha Giang in April?
In April, Ha Giang has a big festival that is the Khau Vai Love Fair. Come to Khau Vai love market in April to learn more about a special culture of the land of Ha Giang. A bustling space with a large number of people attending the festival together. Here, you will see the human beauty of Khau Vai love market, images of guys and girls gossiping and sharing life stories. The coming festival is a short time for those who love each other but cannot come together to meet again, talk together, confidently.
Ha Giang poured water
And you will witness a charming Ha Giang in the "pouring season" of May and June. At this time, Ha Giang is both beautiful and charming with the image of winding terraces receiving water from the top of the mountain. poured in. Water overflows the fields and looks like a new layer of clothing. This is also the time when people start bustling down the fields to prepare for the new crop. Visitors coming here will be immersed in the bustling atmosphere of people going to work, joining them in the field in a cheerful, excited mood.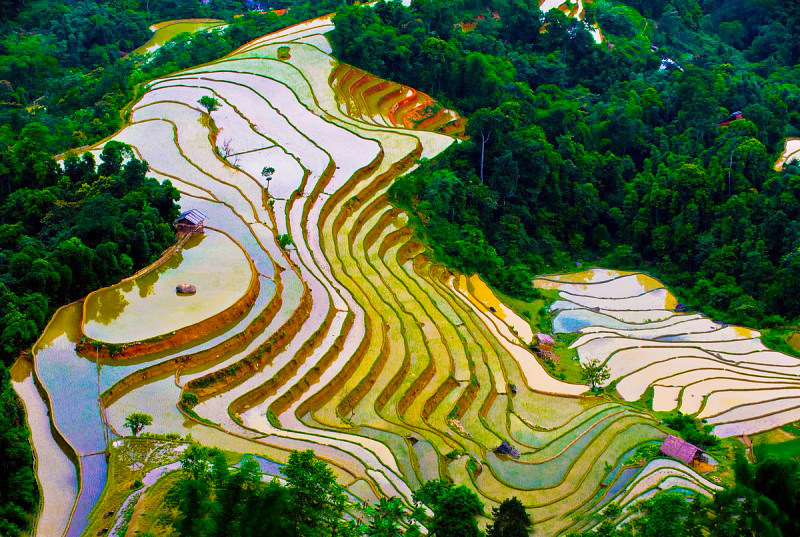 See also: Hoang Su Phi travel experience
Traveling to Ha Giang in ripe rice season
In August and September, you will regret not coming to Ha Giang at this time. This time in Ha Giang is the season when rice is ripe. Surely no one is passionate about travel but does not know Hoang Su Phi , right? You will admire the terraced fields with a golden color of rice. Not only watching, you feel, send the fragrant aroma of rice and feel the hometown when you come here.
Triangular hunting in Ha Giang
October-November is the time when triangular flowers bloom with a purple color all over the hillsides, the foot of the mountain like a spreading purple carpet. A brilliant, romantic purple color blends with the cold air here. After the Triangulum Flower season, you will witness the brilliant yellow canola flower season in December. The canola flowers bloom, spread a brilliant yellow, you will come here will capture extremely beautiful moments and romantic. This is also the time when the weather is cold, you will feel the coldness of this land, touch the misty mist under the slopes and foothills.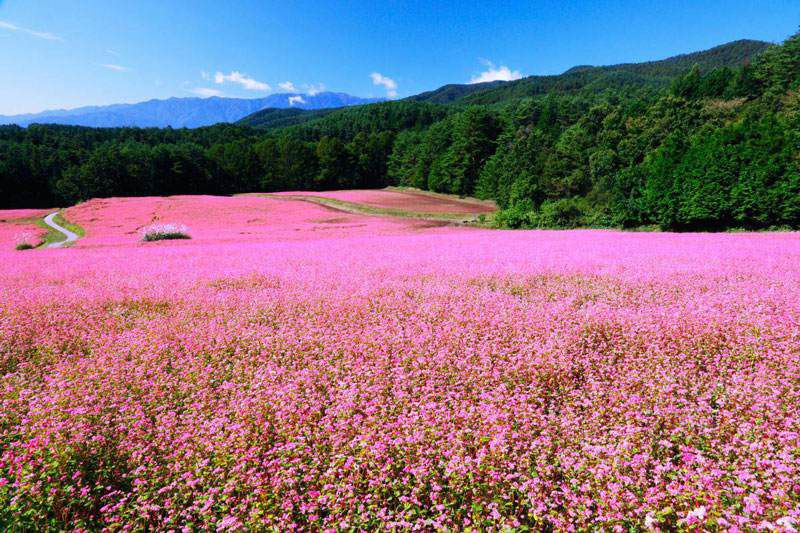 With Ha Giang, every season of the year is also the tourist season, every season has its own special attraction to tourists. Especially the young people who are passionate about Ha Giang travel are in love with the most beautiful travel times of Ha Giang, right. Come to Ha Giang to see the most beautiful highland scenery along Focus Asia Travel