Where to go in Quang Binh?
Quang Binh is a coastal province in the North Central Coast of Vietnam. Dủ to its beautiful natural scenery and internationally recognized landscapes, Quang Binh is truly a tourist paradise for domestic and foreign tourists. Let's follow Focus Asia to find out more information about where to go in Quang Bình!
1. Than Dinh Mountain
Than Dinh Mountain (also known as Non Pagoda Mountain) is about 25 km away from Dong Hoi city in the southwest and 3 km from the east branch of Ho Chi Minh trail. Many legends surround the mountain which is also considered the Multi-Buddha place.
Located at an altitude of 405m over the sea level. It takes about 40 minutes to climb 1,260 stone steps to the Non Pagoda (also known as Kim Phong). The pagoda was built in 1701. There still exists a stone stele erected in the 11th year of Minh Mang's reign (1830) recording the pagoda's profile. Situated in front of the pagoda is a clear, cool and fresh water well, known as the Fairy well. A few tens of meters on the left is the  Hang Cave pagoda.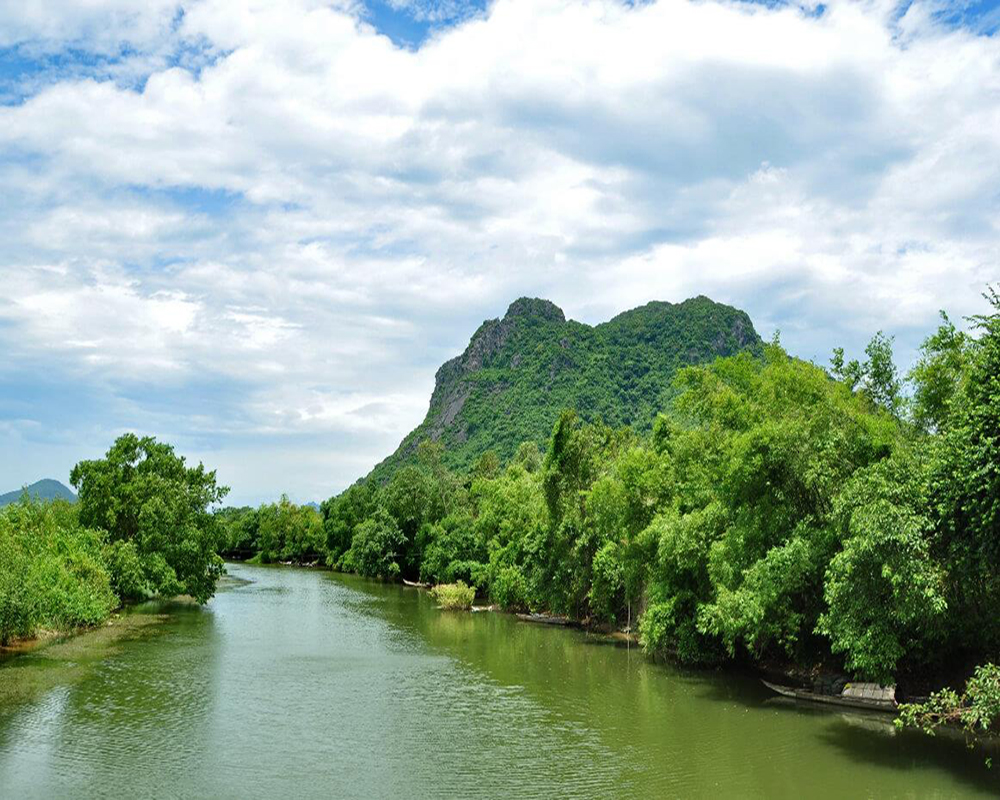 Visitors can enjoy the natural beauty of fertile lands looming under the distant forests along the Dai Giang river which curve softly under Long Dai bridge and mingles with the Nhat Le river to flow into the East Sea, taste the holy water and pray for a refined life or contemplate plenty of interesting shapes of rocks and stalactites in the Drum and Bell caves.Than Dinh Mountain has become an attractive tourism spot in the area.
2. Vung chua (Yen Island)
Vung Chua – Yen island is the resting place of General Vo Nguyen Giap, the first general of the Vietnam People's Army.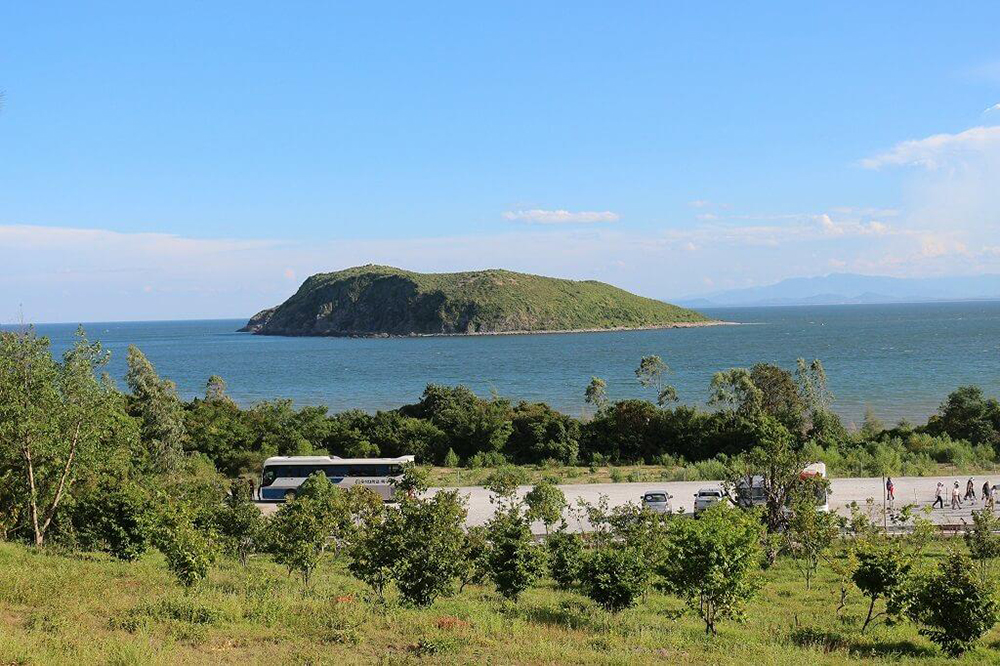 Vung Chua is surrounded by three islands. They are: Hon La, Hon Gia, and Hon Nom (Yen island). That is a reason why local fishermen usually come here to seek for a shelter when storms come.
According to the locals, the name of Vung Chua (Pagoda pool) originated from a pagoda located here for hundreds of year ago. In addition, the pagoda's location is quiet and peaceful as a pool. However, there is only the foundation as its remains left.
Yen island was firstly called "Hon Nom" (South wind island) following the wind direction. Then, the name of Yen island (Salangane island) is widely known because many salangane come and build nests here.
3. Yen Phu Lake 
Yen Phu Lake has undulating rocky terrain and stretching on the water, bringing a fanciful look in the morning mist, long stretches of green grass and the image of cows grazing.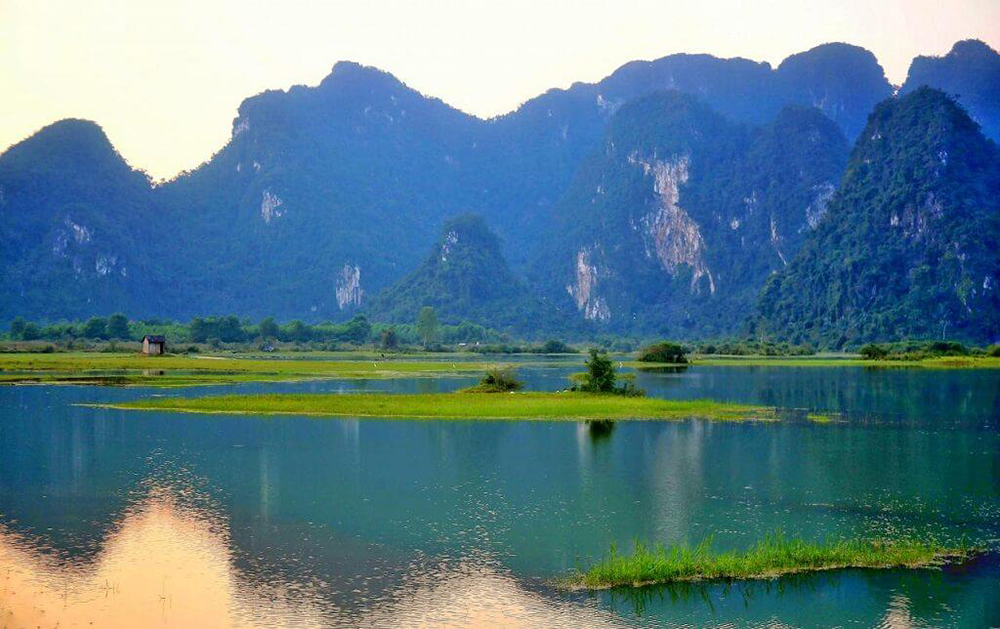 It is this impressive beauty that Jordan VogtRoberts director selected as one of the scenes for the famous blockbuster movie Kong: Skull Island.
4. Hang Va – Nuoc Nut Cave
While not physically connected to Son Doong, Hang Nuoc Nut and Hang Va are parts of Son Doong cave system based on their shared water flow. Nonetheless, it is said that the stalactites and stalagmites in these caves are even more beautiful, extraordinary and worth seeing than that in Son Doong. Unlike other caves in Vietnam and elsewhere in the world, stalactite columns here are formed in a very unusual way. They are formed from a hard material (wood branches, grains of sand …) at the bottom of the lake, the water level rises over time carrying calcium and clinging to these hard objects, which soon turns into stalactite columns.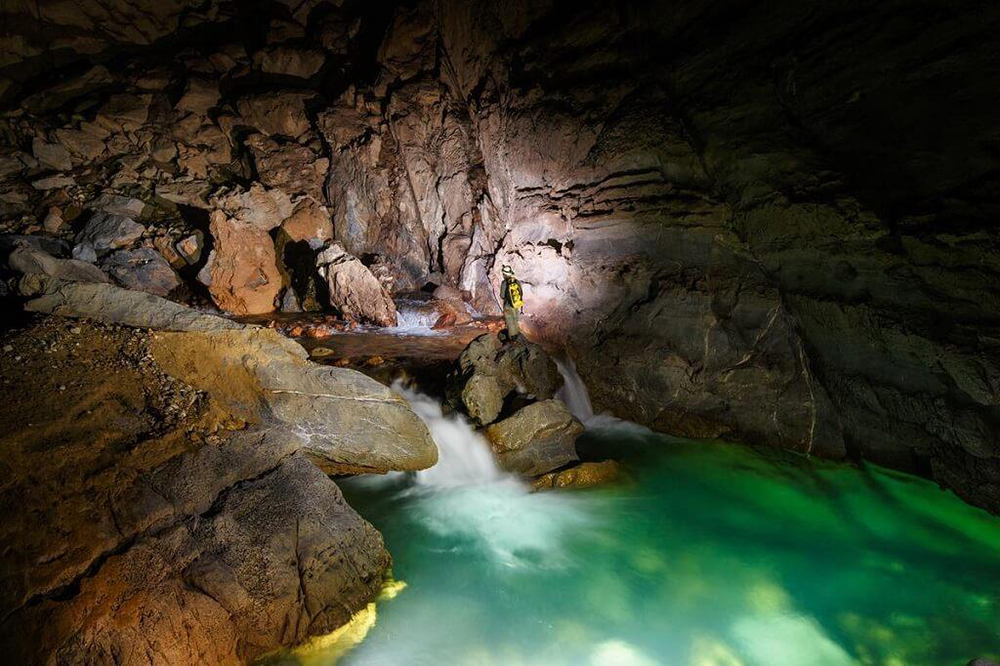 Since these caves were found recently in 2012, the entrance is not yet to be built. Therefore, to put early human steps into the cave, you will have to hike, stoop through the entrance, use ropes and cross some rivers including one inside the caves. This experience would surely be an unique and unforgettable expedition for those who like to challenge themselves and see discover unusual things.
5. Survival Valley
This is also the scenic cluster of Phong Nha – Ke Bang National Park. Survivial valley is the convergence of many terrains: limestone mountains, non-karsts, flat land, caves, underground streams, primeval forests. In particular, this is also the kingdom of many rare birds.
Thuy Cung Cave is located in the middle of Survival valley with a beautiful and exotic emerald green water color. Until now, expeditions have not been able to explain the cause of that special blue color. Deep inside the cave are countless mysterious stalactites and colorful stalactites.
6. Tra Ang Cave
Tra Ang Cave is located in Phong Nha – Ke Bang National Park, possessing a length of 667m.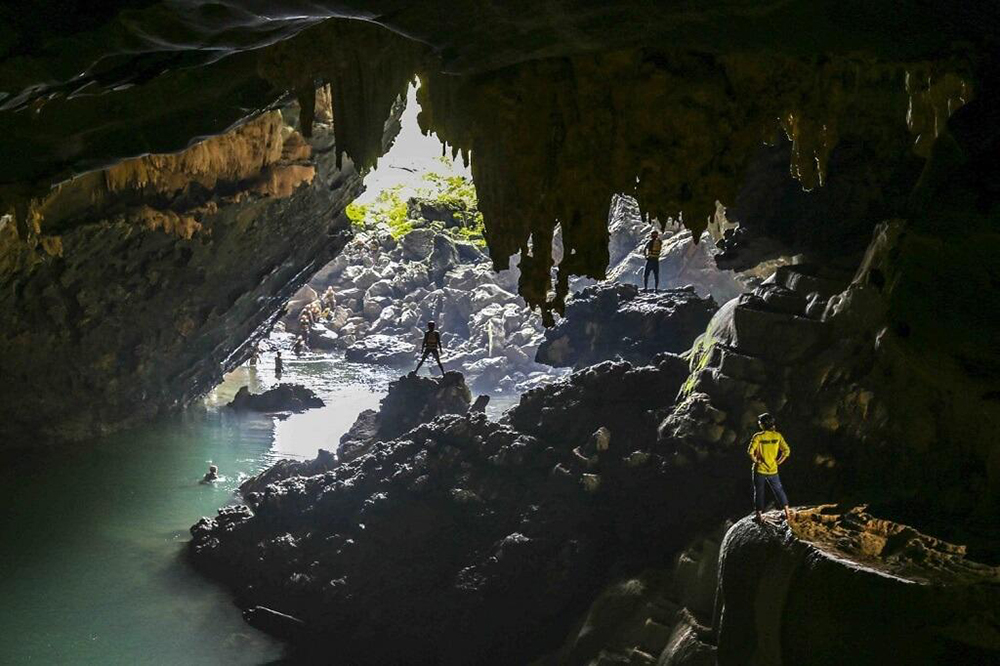 This is a cave with a system of clear, cool underground rivers flowing inside, a pristine system of stalactites, structural diversity with many impressive shapes. In front of the cave is a natural sandy beach and a beautiful Tra Ang stream.