Visit the paradise of flowers – Le Jardin D'amour flower garden
Those who has a burning desire for flowers cannot ignore this Le Jardin D'amour flower garden. This place is located right at Ba Na Hills in Da Nang. Furthermore, it is associated with interesting stories in different architectural styles. Every scene is full of poetry and romance.
This flower garden is also known as the love flower garden with an area of ​​nearly 21,000m2, spreading across the slopes of Ba Na mountain from east to west. This place is a paradise for flowers blooming and art-shaped on the top of the mountain.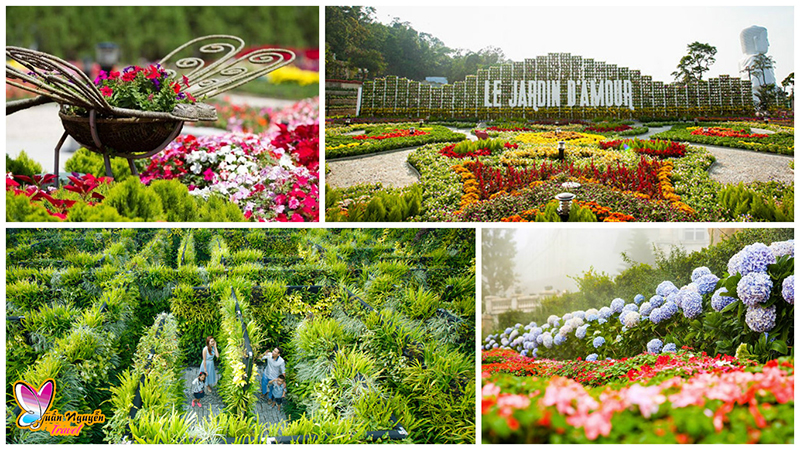 Le Jardin D'amour flower garden is divided into 9 gardens with 9 different architectural styles: 
Suoi Mo Garden: is the combination of Aparang and Kim Cham flowers, gentle terrain and sweeping views.
Eden Garden: A place to watch the sunrise. The garden has a unique beauty that the cherry blossoms bring.
Mystery Garden: makes visitors curious to explore it due to the charm of trees.
Uyen Uyen Garden: French architecture combined with vivid and unique patterns.
Garden of Reflections
Garden of Myths: This place is inspired by Mount Olympia with the sacred gods of Athens.
Garden of Memory: Four gods represent the four seasons alternating along the stream of memories.
Garden of Thieng: Couples should not ignore this place because it is witnessed by the gods for their vows to love.
Vineyard: Designed to recreate the French vineyards.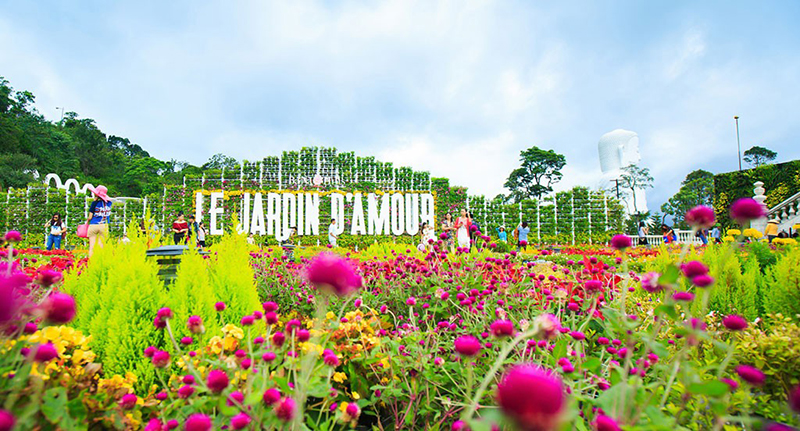 Besides the flower garden, you can refer to the nearby places such as: 
Debay Wine Cellar
Phap Ba Na village