Tourist destination in Da Nang – Hoi An
Da Nang – Hoi An are two inseparable tourist destinations. However, for a short trip, which places should be chosen to travel? Let Focus Asia Travel list the places to visit in Da Nang – Hoi An now!
Tourist destinations in Da Nang
Beautiful beaches in Da Nang
When talking about Danang, you cannot ignore the charming beaches . There are many beautiful beaches in Da Nang and each of them has its own beauty.
This beach is considered to be one of the most beautiful beaches on the planet voted by Forbes' leading economic magazine. The long beach with clear blue water and smooth white sand attracts countless visitors each year.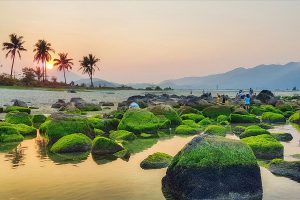 Nam O Reef
It is another sea of ​​Da Nang which is also marked with tourists by its rocky beach jutting out of the water and covered with green.

Xuan Thieu Beach
For those who want to see the picturesque sunset and sunrise, Xuan Thieu beach should not be missed. A magnificent scene unfolds before the eyes with water like a giant mirror reflecting the clouds and sky.
Ba Na Hills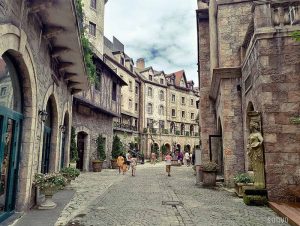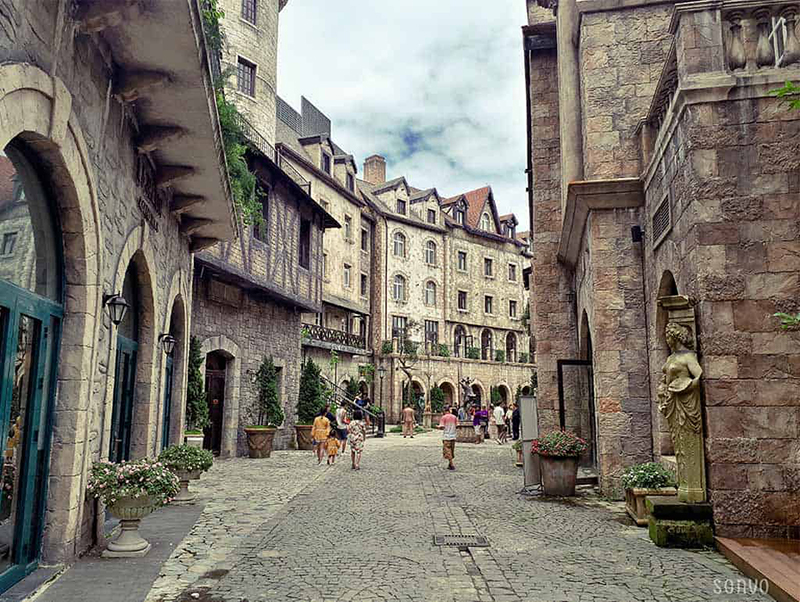 That's no brainer, this place is famous for those who like travelling to discover the West of Vietnam. The French Village – Ba Na Hills is a fairytale world with pointed roof tile houses lying next to each other. Waking up here in the morning, you will feel refreshed with the fresh environment and rustic flowers.
Famous destinations in the city center
Han River
Han River impresses visitors by its shimmering and fanciful. When night falls, Da Nang suddenly stands out by its magic. The light along the cross bridges is silhouetted, illuminating the Han River.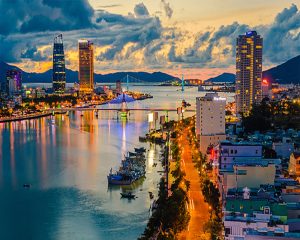 Moreover, the feeling of walking along the river to feel the cool breeze of the autumn weather is very enjoyable. Along the banks of the river are many cafes which is crowded with tourists. 
Dragon Bridge
Obviously, everyone who is a tourist enthusiast has to know this famous bridge. Dragon Bridge with a unique design is a giant yellow curved dragon facing the sea. Every weekend, visitors witness this new dragon spitting fire and water.
Love bridge
This is a destination not to be missed in your list of tourist attractions in Da Nang – Hoi An. The bridge is famous for couples holding their hands to lock their own love locks. They hope that their love will last forever.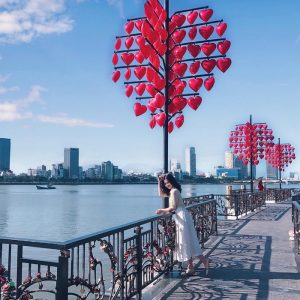 Golden Bridge
The Golden Bridge was designed by the investor Sun Group to an architectural unit designed by TA Landscape Architecture, connecting from Marseille station to Thien Thai garden and Le Jardin D'Amour flower garden.
The most special thing about this bridge is that it is supported by a hand with giant, ragged mossy fingers facing the vast sky, making it feel like being protected by Buddha.
Tourist locations in Hoi An
There is nothing to say about the tourist destination in Hoi An because each street or alley in Hoi An is very beautiful and famous. The old town has a bold nostalgia, bringing a sense of peace in the soul of visitors. Coming to Hoi An, you will eat a lot of famous dishes or come across many beautiful cafes.
Japanese
 Covered Bridge
This bridge is considered as a symbol of the old town. Cau pagoda is the clearest proof of the diverse cultural interplay of Hoi An. Inside the pagoda, there is a statue of North Emperor Tran Vo- a god who protects the land and brings good things to people.
Every Vietnamese people know that this is a famous symbol printed on one of Vietnam's banknotes. 
Hoi An night market
As a place to go out at night when traveling to Hoi An, Hoi An night market possesses dozens of stalls of handicrafts, food, and souvenirs.
Above are a few tourist destinations in Da Nang – Hoi An that you should pay attention to when traveling to Da Nang. Focus Asia Travel hopes you will have an enjoyable experience!!