Top 6 beautiful Scenes in Nha Trang
Nha Trang is becoming a super hot tourist destination due to its possessing unique things. However, if you have just visited this place for the first time and you are wondering where to go to, let's follow Focus Asia Travel to learn top 6 most attractive beautiful scenes of Nha Trang through this article below!!!
Hon Mun Island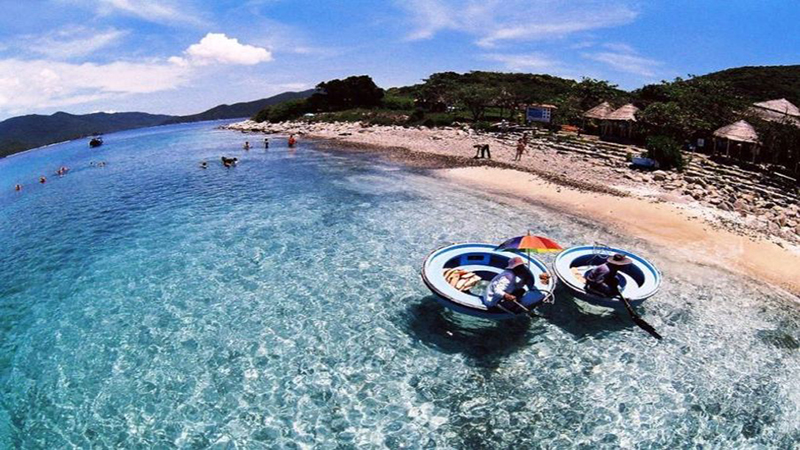 One of the highlights in Nha Trang city is a variety of large and small islands. Each one owns a unique beauty. And Mun Island is a name that we can't ignore when mentioning top popular islands in Nha Trang.
As its name, Mun Island captivates all hearts with an exotic beauty. Its southeastern side has high ledge and cliffs, which form a cave. Especially, the rock on Hon Mun is as black as ebony, which will strongly amaze you when admiring. In the eastern side of Hon Mun Island, there are many species of Salangane making nests in the black rock caves.
Thap Ba- Nha Trang (Tower of the lady)
Together with stunning natural beaches, Nha Trang also impresses tourists with the unique architecture of the Champa empire. And it would be such a big pity for missing Thap Ba (Tower of Lady).
 It is a Cham Pa temple located on the top of a small hill about 10-12 meters above the sea level, at the mouth of Cai river (Nha Trang river) in Nha Trang, Khanh Hoa province. About 2 km to the North of the city center, Thap Ba belongs to Vinh Phuoc ward.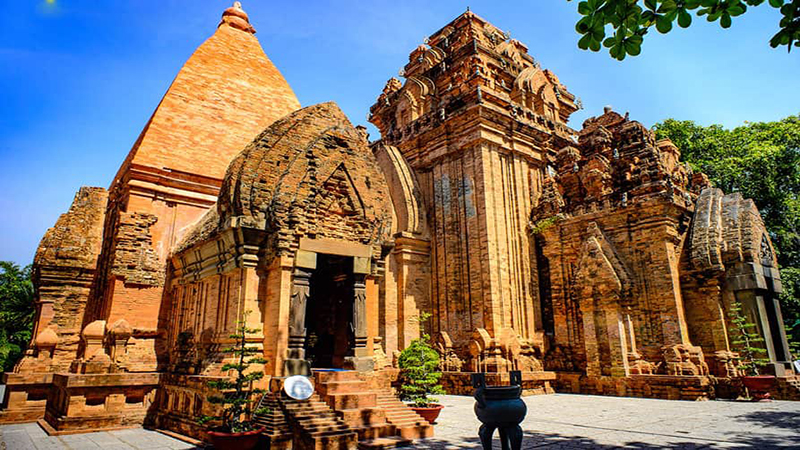 The best time to visit Thap Ba should be the dry season from January to September (the rainy season is very dirty). In addition, it is recommended to visit around lunar March (March, April of the solar calendar) to see the Ponagar Festival in Nha Trang.
Ninh Van Bay

Nha Trang city always attract tourists by romantic scenery with the image of golden sunshine, white sand, blue sea, and clear water.
Much more than that, many people also visit Nha Trang due to its peace and extremely romantic wild nature. Among famous Nha Trang attractions, Ninh Van Bay (Vịnh Ninh Vân) is the place attracting a large number of tourists, especially foreigners, to visit and relax thanks to its romantic and untouchable nature.
Located about 60 km north of Nha Trang city, on the Hon (Meo Hòn Mèo) peninsula in Nha Trang, Ninh Van Bay is almost separated from the noisy world. This bay belongs to Ninh Hoa district. As a small lake in the mountain, this bay has four warm seasons with beautiful beaches that lie curving in the shape of arcs. Many people visit Ninh Van Bay because of its renowned pristine beauty, romance, and peace.
Hon Tam Island
Hon Tam Island: Hon Tam Island is located 7km from Nha Trang city, is a tourist destination in Nha Trang, a certain experience you must visit when coming to the city. Hon Tam Island is dreaming with coconut trees running on the green beach.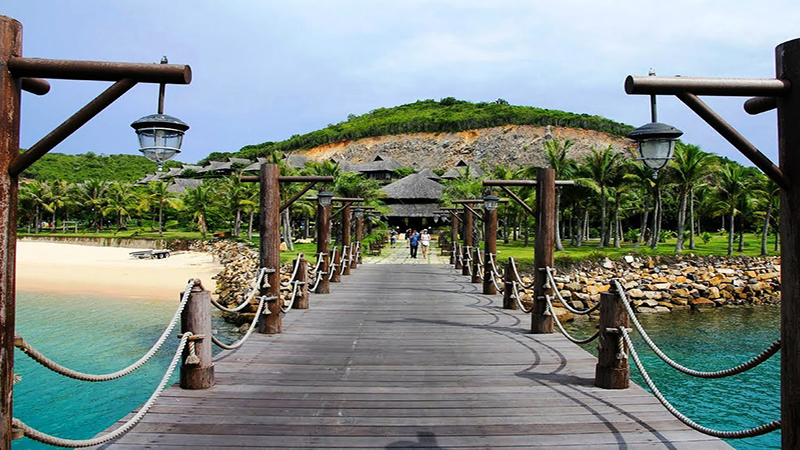 Guests can lie on the chair, listen to the sound of the waves mixed with the sound of coconut leaves vying together to listen to rustling very smoothly or spend the entire holiday at Hon Tam hotel with a beautiful view, overlooking the sea. 
Not only that, but visitors also experience the extremely interesting games on the sea such as skydiving, jet skiing, water skiing, … With such a monumental investment, Hon Tam will surely bring you extremely memorable summer experiences.
Dai Lanh beach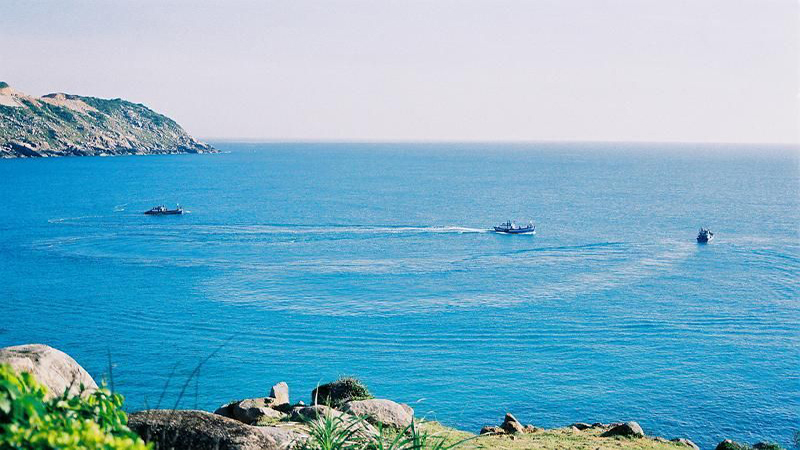 A broad sweep of sand between two dramatic headlands, Dai Lanh Beach is a strikingly beautiful spot. Ninety kilometres north of Nha Trang, this wide bay is framed by lush mountains, with the chalky sand beach between them washed by the pale blue waters of the East Sea.
A fishing village nestles at one end of the bay, giving way to a casuarina-lined bathing beach at the other. Yet Dai Lanh has never developed into a popular attraction. Many travellers see it – from the window of their bus or train – but few travellers stop here. This is because Highway 1, Vietnam's main artery, and the Reunification Railway, both pass directly behind Dai Lanh, subjecting it to much noise and air pollution.
However, this is about to change, because, in September 2017, two new tunnels are due to open, which will take the bulk of heavy traffic away from the coast, leaving Dai Lanh Beach relatively tranquil. This could change Dai Lanh's fortunes dramatically, and be the making of a new beach destination on the south-central coast.
Nha Trang Cathedral
Nha Trang Cathedral is the largest church in the city. Set atop a hill that overlooks Nha Trang Train Station, it was constructed in provincial French Gothic style by Priest Louis Vallet during the early 19th century. Na Thrang Cathedral serves the local Catholic community, with Mass being held between 05:00 and 18:30 on a daily basis. It's locally known as the stone church or Nui Church in Nha Trang.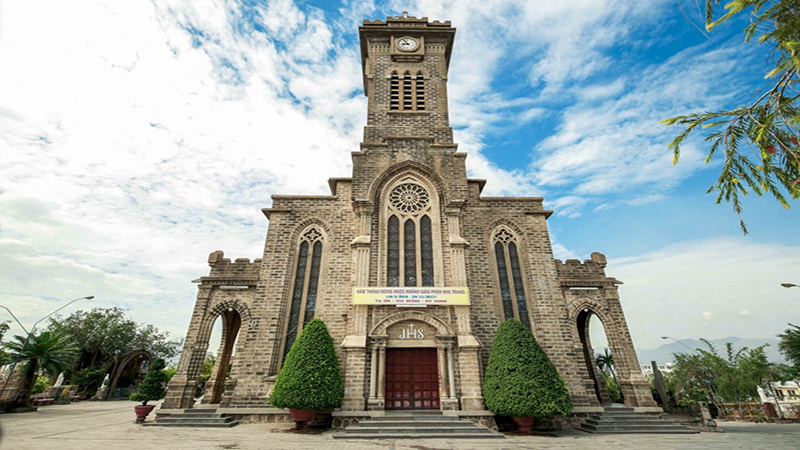 A popular spot for wedding and landscape photography, Nha Trang Cathedral is made entirely of stone and features beautiful stained glass windows, as well as a square clock tower that's surmounted by a large crucifix. Its three cathedral bells, which were cast in France in 1789, are still in working order. There are also hints of Vietnamese influences to the structure, such as pink backlight on the tabernacle, red neon light outlining the crucifix, blue neon on the arch, and a white neon-lit halo atop St. Mary's statue.
Here are the top 6 beautiful sights of Nha Trang that we want to introduce to you. If you intend to travel Nha Trang  to such places, please contact Focus Asia Travel immediately!!1