Top 5 most attractive experiences in Hoi An – Focus Asia Travel
Hoi An – a place where time settles, a place with the breath of an ancient memory. Since when has the characteristic nostalgic beauty of each street corner seduced the souls of many visitors from far away? The answer must lie in the heart of every guest when coming here, because Hoi An 's graceful and idyllic charmis what has caused an invisible attraction to this unique place. Discover Hoi An with Focus Asia Travel and enjoy  the most fascinating experiences in Hoi An to see the full beauty of this memorable land!
1. Release the flower lights and watch the old town at night
Why say the beauty of Hoi An is only really displayed when night falls? Because at that time, hundreds of colorful lanterns in the old town will light up, making you feel like you are lost in the bustling atmosphere of an ancient Nguyen Dynasty trading port.
Not only that, you can also sit on a small boat and let your soul float on the Hoai River, under the light of countless shimmering lights.
If you come to Hoi An on the full moon every month (14th lunar month), do not miss the traditional flower lantern festival on the Hoai River. This is the most beautiful moment that Hoi An owns. When the shimmering lights from the candles suddenly appeared from the flower boats fluttered on the river, it was time for them to carry people's minds and sorrows along the flowing water.
2. Find the oldest temples in Hoi An
In the sixteenth – seventeenth centuries, Hoi An was the most vibrant intersection of many cultures in the world from Asia to Europe, from West to Ta. That is why Hoi An has so many Temples and Temples built in such unique architectural ways. Therefore, the pagodas are one of the attractive destinations in Hoi An ancient town , such as Ba Pagoda, Ong Temple, Chuc Thanh Pagoda, Phuoc Lam Pagoda, Van Duc Pagoda, Hai Tang Pagoda.
But the place that makes many of the most impressive visitors is Cau Pagoda, the famous pagoda with fancy architecture forming a symbol of Hoi An temple and temple . Japanese Covered Bridge, also known as Japanese temple, is delicately and elaborately carved across the creek flowing into the Thu Bon River. Here, there is a wooden statue of the North De Tran Vo expressing the aspirations for joy, happiness and peace of the people in the ancient land.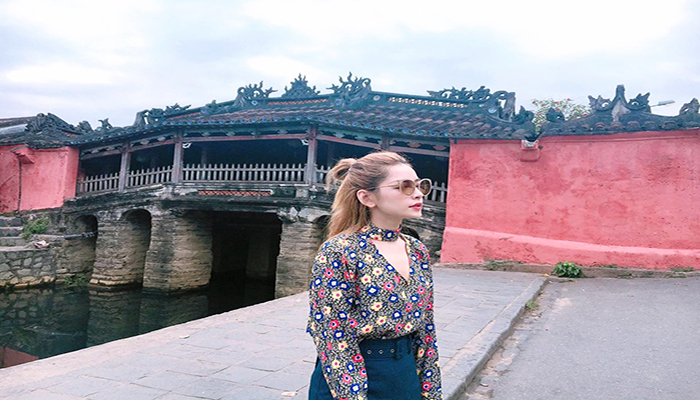 3. Play free at Vinpearland South Hoi An
After immersing yourself in nostalgia in the old town, Focus Asia Travel invites you to take a trip to Vinpearland South Hoi An to play around, forget the way home! Vinpearland Nam Hoi An is an emerging name this year when it comes to tourism Hoi An – Da Nang because it just opened on April 30, 2018. With over 95 indoor games and lots of fun outdoor games like Twiss tower, Tree Swing, Sicko whirlpool and a large water park for you and your kids to have fun with.
4. An Bang beach bath
Did you know that Hoi An not only has nostalgic and peaceful streets, but also green beaches with peaceful and fresh beauty. Not only the famous Cua Dai beach, An Bang beach is like a hidden gem nestled in the heart of Quang Nam. Especially in 2011, this beach was voted one of the 50 most beautiful beaches in the world by the prestigious tourist website CNN GO.
If you try to come here once, surely An Bang's wild but peaceful beauty will make you fall in love. Imagine lying on a chair under a hut, enjoying a glass of cool coconut water, overlooking the green beach and listening to the gentle waves. What's so wonderful like taking out all your worries to enjoy such precious moments of relaxation?
5. Enjoy the show Memory of Hoi An
Add a little special spice to your Hoi An exploration by enjoying the best show about Pho Hoi that will make you love this land even more. Officially launched to visitors from near and far, at Hoi An Impressive Theme Cultural Park, Hoi An Memory Scene Art Performance is considered as an entertainment destination combining to learn about the culture of the long history of Pho Hoi is extremely attractive and satisfying that domestic and foreign tourists cannot ignore.
The program will bring you an aesthetically pleasing view of the golden age of Hoi An's busy commercial port over 400 years ago. This music party will keep you lingering on the beautiful memories of the old town, and you will treasure it in a compartment of your heart to dream of one day coming back here again …
Did you know that experience is something you cannot buy from anyone, anywhere that you can only create for yourself. Therefore, Focus Asia Travel hopes that through this article, you will have a clear view of the beautiful ancient town of Hoi An . Do not hesitate without quickly planning for the most attractive experiences in Hoi An . And remember, Focus Asia Travel is always ready to assist you in every journey! Just contact the website focusasiatravel.vn and prepare to travel around the world …