Tips for Ha Giang tourism
Ha Giang tourism is increasingly popular, especially during this period, if you are wondering where to go, you should consider this destination. This is an ideal check-in place, which is famous for its majestic scenery with terraced fields, triangular flower fields covering hills with purple, combining with ethnic cultural identity in the highlands and so on. Other natural beauty is waiting for you to come and explore by yourself.
The majestic scenery of the northernmost land of the country is worth going every season, along the way you will see roads running upto the blue sky, villages emerging or large terraces.
Ha Giang is not only beautiful for its majestic scenery, but also famous for all kinds of flowers. Here, the flowers bloom all year round with magical colors such as the yellow of Cai Cai, the purple of Triangular Flowers, and the pure white of the Plum Blossom.
Time for Ha Giang tourism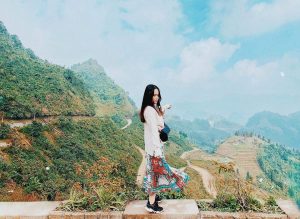 Ha Giang is beautiful all year round, you can visit this place at any time of the year. However, to explore the uniqueness of this rocky plateau, you should come to Ha Giang at the following times.
January: Cherry blossoms, plum blossoms, canola flowers season
When spring comes, everywhere from Quan Ba ​​(Quyet Tien, Minh Tan), Yen Minh (Lao And Chai, Na Khe, Bach Dich), Dong Van (Pho Bang, Fox Street, Sung La, Sa Phin, Thai Phin Tung) , Meo Vac (Sung Tra, Sung Trai, Lung Phin), the peaches, plums, and mustard greens are blooming together with the black stone background of the plateau, with the roofs of houses.
April, May: Water season
In the water-pouring season, most of Northwest fields are poured in around May and June, a few places in July, some plots can accumulate water from April. However, the most beautiful is in the middle of transplanting time, between May and June.
In Ha Giang, visitors will have a chance to see the picturesque rice fields in the water pouring season: Hoang Su Phi, the twin mountains of Quan Ba, or the small fields dotted along the road of happiness- Ma Pi Leng …
September, October: The golden season of rice
September and October are the time of autumn, you will enjoy the scene of terraced fields and valleys at the foot of the pass covered with a picturesque yellow mantle in this land of the country. 
October to December: The season of Triangular Flowers
From late October until December, tourists just pulled together to Ha Giang to see the triangular flowers. Purple triangular flowers spread over the hillsides. Recently, during the blooming season, there has been the Triangular Flower Festival expected to be held in mid-October this year.
Means of transportation to Ha Giang
There are many ways to go to Ha Giang from Hanoi, you can take a bus then go to Ha Giang to rent a motorbike or private car. If you want to take the initiative in the time and route from Hanoi, you can use a private car or a private motorbike to go to Ha Giang.
To Ha Giang by coach
From Hanoi, you should take the night coach Hanoi – Ha Giang, departing from My Dinh bus station at 9pm and arriving in Ha Giang at 5am. The coach will move directly from Hanoi to Ha Giang city.
Note: you should take the bus on the night trip around 9pm the night before (usually Thursday or Friday night) to sleep one night in the bus, and on Sunday night, which will save 1 night.
Travel by motorbike and personal car
You can choose one of the following 2 routes:
Route 1: Hanoi – Vinh Phuc – Viet Tri – Phu Tho – Tuyen Quang. This route is popular and there are also many vehicles passing through.
Route 2: Hanoi – Son Tay – Trung Ha Bridge – Co Tiet – Phong Chau Bridge – Phu Tho – Doan Hung – Tuyen Quang, then from Tuyen Quang city to Ham Yen – Bac Quang – Vi Xuyen – Ha Giang City .
Moving guide in Ha Giang
After arriving in Ha Giang city, you should rent a motorbike to explore all the tourist attractions. Normally, tourists often choose to take the bus to Ha Giang from the previous night, stay overnight in the coach, until about 5:00 am the next morning, they will reach Ha Giang city.
When you arrive in Ha Giang city, have breakfast, then rent a motorbike to go from Ha Giang city to Dong Van, Meo Vac, Lung Cu flagpole, back to Yen Minh and back to Ha Giang city, on the way from Ha Giang to Dong Van you will go through most of the most beautiful tourist spots in Ha Giang.
The most brilliant destinations
In Ha Giang, you will see the first majestic panoramic view of Hoang Su Phi terraced fields in harvest season, triangular flower valleys, dangerous but poetic roads of the great mountain passes Ma Pi Leng or enjoy a peaceful and ancient life in Dong Van old town …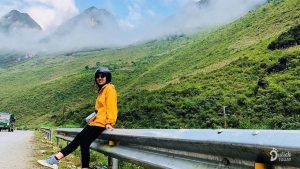 The most beautiful tourist spots in Ha Giang cover the route from Ha Giang City to Dong Van, these are the most beautiful tourist destinations you should not miss on your journey to Ha Giang.
Milestone km 0:
This is the first interesting check-in point on the journey to Ha Giang, located right in Ha Giang city, do not forget to take a few photos at this landmark.
North Sum slope:
The next attractive tourist destination on the Ha Giang discovery road is Bac Sum slope, this is the most dangerous slope in Ha Giang connecting Minh Tan commune, Vi Xuyen district with Quyet Tien commune, Quan Ba ​​district.
From a distance, North Sum slope looks like a soft silk strip across the top of the mountain. Among the rocky mountains, the North Sum slope is hidden in the mist. Behind the slope of North Sum, the view is as beautiful as a water-color painting
Quan Ba Twin ​​Mountain:
The scene of green twin mountains in Ha Giang is certainly not strange to tourists, which is located in the southwestern part of Dong Van Plateau Geopark.
At the foot of the mountain is the Quan Ba ​​rice field. In addition, the color of an illusion covers the whole place, which is a masterpiece.
Yen Minh Pine Forest:
Leaving Quan Ba gate, you will move in the direction of Yen Minh town and pass through Yen Minh pine forest. Yen Minh road is about 50km long from Quan Ba, surrounded by immense green pine forest, growing straight on both sides of the road.
Tham Ma Slope:
This is one of the most favorite check-in spots in Ha Giang. Tham Ma Slope is a steep road with many bends before connecting from Yen Minh town to Cao Street.
The slope is quite dangerous because the bends are hazardous; however, once you get through, the scene down from the top of the slope is very beautiful and attractive.
Sung La Valley
In Dong Van town, on Highway 4C, this place known as a paradise of highland flowers People call Sung La Valley is the wonderland. In the past, poppy flowers were planted in this area; now, Sung La valley is famous for many other beautiful flowers.
The fields and slopes of the mountains and hills are covered with a lot of flowers such as Triangular, yellow brassica flower and rose. However, the most famous one is the Triangular Mach flower. 
Besides, do not forget to visit "Pao's house", a very famous place that was chosen as the setting in Pao's Home movie. The house is very unique, having the characteristics of Dong Van houses with stone walls, ancient architecture. Around the house are many cherry blossoms, triangular flowers …
Cat King Palace
Cat King palace is also known as Vuong's palace, located in Xa Phin commune, Dong Van district. This place is ranked as a national monument. The Cat King mansion not only contains historical stories but also is an attractive architecture.
Lung Cu flagpole:
Known as the headland of the country, this is the most famous destination of Ha Giang. The flagpole is located on the top of Lung Cu, the 54 meter wide flag symbolizing 54 ethnic groups of Vietnam. Standing at the foot of the pole and watching the flag is an extreme pride of whoever coming here.
Dong Van Ancient Street
This street is located in Dong Van town, surrounded by mountains and forests with 40 ancient roofs arranged alternately. All of them create a lively picture of an ancient scene hidden behind dense fog of mountains and forests.
Founded in the early 20th century, at first, Dong Van old street was inhabited by the Mong, Tay and Hoa families. After that, other local residents came to enrich the population.
This tourist destination is not only beautiful because of its imprint of time, but also has Chinese architecture in the dreamy atmosphere.
Ma Pi Leng Pass:
As one of the four greatest mountain passes of the North of Vietnam, this is the most dangerous pass in Ha Giang, located on the Hanh Phuc road connecting Dong Van town with Meo Vac.
Ma Pi Leng Pass possesses high and rugged rocky mountains with clouds, creating a wonderful natural spectacle. The pass has many bends, the bottom of the abyss is really challenging for the tourist.
Hoang Su Phi – National Heritage:
Hoang Su Phi is a district of Ha Giang but not on the road from Ha Giang to Dong Van, and quite far from Ha Giang. Hoang Su Phi consists of 6 communes: Ban Luoc, San Sa Ho, Ban Phung, Ho Thau, Nam Ty and Thong Nguyen.
This place is known as a prominent place to enjoy the harvest scene in Ha Giang, which is a charming carpet of golden rice. In this tourist destination, visitors will be delightedly taking photos among the terraced fields and also go to the upland market to enjoy the attractive wine.
Food in Ha Giang
Ha Giang rocky mountain plateau not only has majestic scenery that captivates the hearts of people but also a paradise of unique and exotic food, these are the outstanding delicacies in Ha Giang you should try.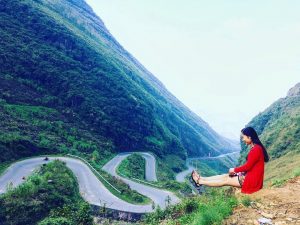 Thang Co: This dish is very popular in upland provinces, but each place has its own unique flavor. Thang Co in Ha Giang has the smell of cardamom and citronella, blended with a greasy taste of meat, which warms the space in the chilly weather.
Five- colored sticky rice: Unlike other types of sticky rice, five- colored sticky rice is made up of five different types of sticky rice with five different colors. They are red, yellow, blue, purple and white. You can easily find five-colored sticky rice at markets in Ha Giang.
Smoked buffalo meat: this is a special dish commonly found in black Thai meals. This meat is usually made from the calf of the domestic buffalo and cow, which are raised in the mountains in the Northwest.
Au Tau soup: On cold winter nights, while wandering around Ha Giang town, you should look for a shop and order a bowl of Au Tau soup. All kinds of flavors in a small bowl are the charismatic smell of yellow sticky rice mixed with ordinary rice grown on upland fields. The soup bowl looks very attractive thanks to the combination of rice, minced meat, bone broth, herbs …
Bac Me Rice: This is another specialty in Ha Giang. This dish has long been loved by tourists and chosen as a gift whenever they come to the rock plateau. It has a delicious, unforgettable taste when enjoying them at the first bite.
Bac Quang orange: For a long time, king orang has become a famous specialty whenever people mention Bac Quang land, while the next thing is tea. This land has climatic and soil conditions unlike any other areas, which makes its oranges get a distinct flavor, extremely sweet and attractive.
Stone moss: For a long time, stone moss has been only considered to not have much effect. However, for the Tay people in Xuan Giang commune, Quang Binh district, Ha Giang province, stone moss is considered as a specialty in their cuisine. The dishes are made from stone moss also known as "que".
Thang Den: this is a popular dish in Dong Van. When the winter breezes, you can sit by the fire to eat a bowl of amaranth, which is warm and interesting.
Smoked sausages: Sausages in Ha Giang have the smell of the highland sun, the smell of kitchen smoke, of ginger, alcohol, and a special aroma of honey. The chewy taste of the entrails, the sweetness of meat, the fatty taste of the fat mix well together, which is delicious. A little more wine is recommended to get a better taste.
In Ha Giang, it is very easy to find a restaurant with the specialties of the mountainous Northwest of Vietnam. Close to popular destinations are places with a large concentration of them. Visitors can stop for a meal at these locations: Quan Ba, Yen Minh, Dong Van and Meo Vac.