Review three- lake stream in Nha Trang
Three- lake stream is located in Ninh Hoa district, about 25km from Nha Trang. From the city center, you drive along Highway 1A 20km north, turn left at the foot of Ro Tuong pass and then go straight 3km to reach this enchanting natural landscape. Let's follow Focus Asia Travel to find out more information about this three- lake stream in Nha Trang.
ECOLOGICAL TOURISM OF THREE- LAKE STREAM
Originating from a stream atop Hon Son, 600m high and over 10km long, Three- lake stream goes through a primeval forest ecosystem and forms a system of small cascades that fall down to create03 lakes consecutively located at different heights. In addition to the name "stream", people sometimes call it "Ba Ho waterfall".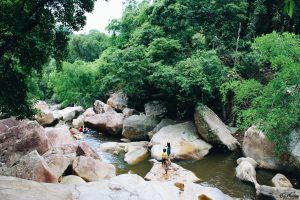 To reach these areas of the lake, you must walk through the forest, then climb over the cliffs in the direction of the arrows. Talking through the forest sounds great, but in fact, it is not a big deal, just a green-covered trail running along the stream. This road is 01km long, you can choose between walking or renting a tram. 
If you do not like climbing, you do not need to go up on the falls. The stream here is very beautiful with crystal- clear . Before being exploited, there was nothing around this stream but now investors have built more huts and set up more stops in order that visitors can take photos or take a rest and go to the toilet, which are quite convenient.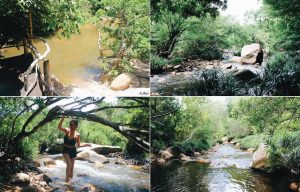 In case you are a person who likes to conquer, go climbing the waterfall to visit all three lakes here. Lake No. 01 is the most accessible lake because it is located at the lowest height.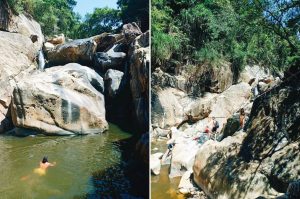 Lake No. 02 and Lake No. 03 are in the higher position. The road is a bit hard, but if the clothes are suitable (neat clothes, shoes, good grip which are suitable for climbing), it will be ok. 
ENTERTAINMENT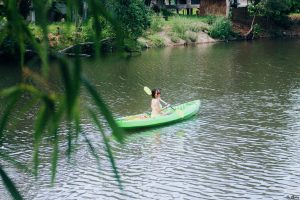 The games available at the Ba Lake resort include kayaking, double water bike, water ball, canoe and float. 
The resort is fully equipped with life jackets and there is always a lifeguard on duty as well as staff to guide visitors how to play each game. There is also a dressing area, a freshwater bathroom, and a locker. However, most of the lockers are broken and quite dirty but the toilet and bathroom is clean and beautiful.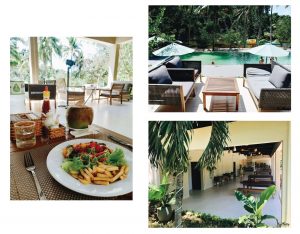 In short, after retouching the beauty and wearing a new outfit, Three- lake tourist area becomes much more splendid (except for the sunshade net). From the gate to the main restaurant area, people cannot complain about anything from beautiful bungalow, campus, restaurant to swimming pool. 
The current ticket price is 100.000 / person. This is called "a combo ticket" because it has two different ticket books including 01 entrance ticket (50.000 VND) and 01 ticket for the amusement park (50,000 VND). With this combo ticket, visitors will be able to use the following services:
Visiting and bathing Three- Lake stream;

Free play games: kayaking, double water bike, water ball, canoeing;

Free use of swimming pool.