Review "The Kupid Hill Homestay Dalat"
The Kupid homestay Dalat is a spacious and modern housing area. Especially, this small scenes are quite beautiful to take pictures. If you are a person who has a passion for photography, this is definitely an ideal destination. Let's follow Focus Asia Travel to find more information about The Kupid Hill Homestay in Dalat.
The outstanding characteristics
Due to its modern design, you will definitely take thousands of beautiful photos when coming here. In addition, the bustling atmosphere at night in the BBQ party is also quite attractive.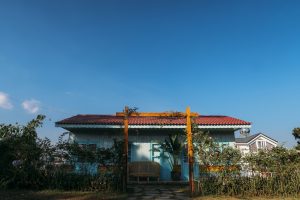 Large garden and many wonderful miniatures
It seems that homestay is aimed at young people who love beautifully designed scenes.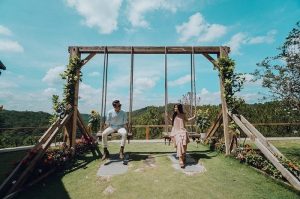 In front of the homestay, an interesting pinwheel garden was set up. Whenever there is a rush of wind, the rotating pinwheels look very attractive. Step inside is a flower garden with a wooden path.
The swings with wooden tables placed in the middle create a beautiful space which is an ideal place to sit and chat with friends. Let your imagination soar with the clouds of the sky and cool breeze in Dalat.
BBQ party at night 
In front of the homestay are long wooden tables which are carefully arranged. That place at night will turn into barbecue tables with your friends.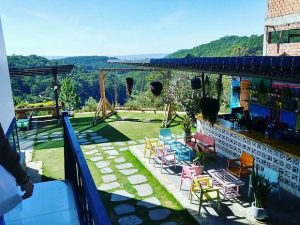 Don't worry that the night sky will prevent you from seeing your food clearly. The sparkling lights are bright enough for an epic barbecue, which creates a romantic feeling. While eating barbecue, you can drink delicious beer glasses. All will create a wonderful Dalat memory.
Room rates The Kupid homestay Da Lat
Dorm room : 150,000 VND / bed.
Hill view room :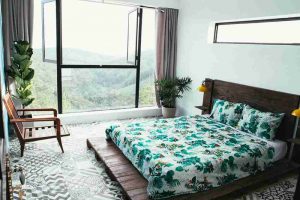 Room for 2 ordinary people (shared bathroom): 500,000 VND / room.
Room 2 people (Private bathroom): 1,000,000 VND / room.
Quadruple room (Private bathroom): 1,200,000 VND / room.
Room with pine forest view : 600,000 – 1,000,000 VND / room.
Wooden bath room, hill view : 1,000,000 – 1,500,000 VND / room.
Small wooden house room : 600,000 VND / room.
Time to check in and check out The Kupid Da Lat
Check-in time at The Kupid homestay Da Lat: 14h00.
Check- out time at The Kupid homestay Da Lat: 11:00 am.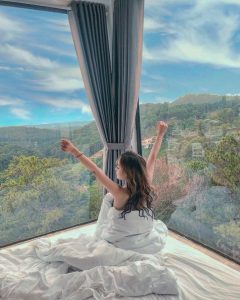 Room before 11:00 am will be charged 50% of the room rate. Check-out after 14:00 will also be charged 50% of the room rate. So be careful when you check in or check out!
The Kupid Dalat's address
The Kupid homestay is located more than 3km from Dalat city center. It is located at the end of Dang Thai Than Street and quite close to La Phong tourist area. Although the road is not too difficult to go, it's a little bit narrow since there are a lot of large vehicles moving.
Phone number of The Kupid homestay: 0899509000.
Do not hesitate to contact Focus Asia Travel if you have a demand for travelling to Dalat.