Quang Binh's beauty is like a paradise scene
Quang Binh is a coastal province in the North Central region of Vietnam. Quang Binh possesses a paradise-like beauty when fully converging elements of mountains and sea, with magnificent landscapes that especially must be mentioned such as Son Doong cave, Quang Phu sand dunes … will give you a more objective view of the beauty of Quang Binh like paradise.
White sand paradise in Bao Ninh
In the subconscious of many tourists, Bao Ninh is just a small sand hill appearing at the mouth of Nhat Le River, the hometown of a heroic mother echoing the history of the heroic resistance war of the nation – Mother Throughout: Mother's hair is shaking, the wind is shaking like a wave of white waves ".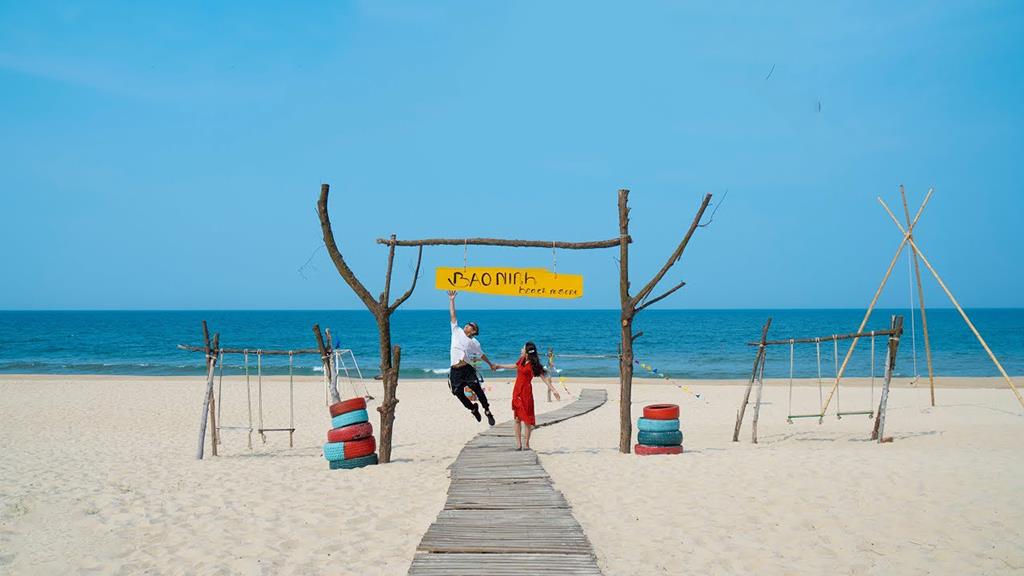 In the distance, we will see a lot of shabby houses hidden under the peaceful, tall coconut trees. However, today's Bao Ninh peninsula has become the center of Quang Binh province, where there are luxury hotels and resorts that are no less than tourist destinations in Vietnam.
In Bao Ninh, there are many places to visit and explore such as: Ancient Citadel relic, Fish Ong temple or Mother Trans statue, grave of General Vo Nguyen Giap, Quang Binh Quan or especially famous Son Doong cave. World … These historic destinations will help people understand more deeply the arduous war years of our army and people in this misty and windy land.
Owns the largest cave in the world
Son Doong cave is the largest natural cave in our country. Although discovered not long ago, this cave is very famous in world travel magazines and is a very popular destination for foreign tourists when coming to Vietnam and is known as one of the beautiful caves. most of the planet.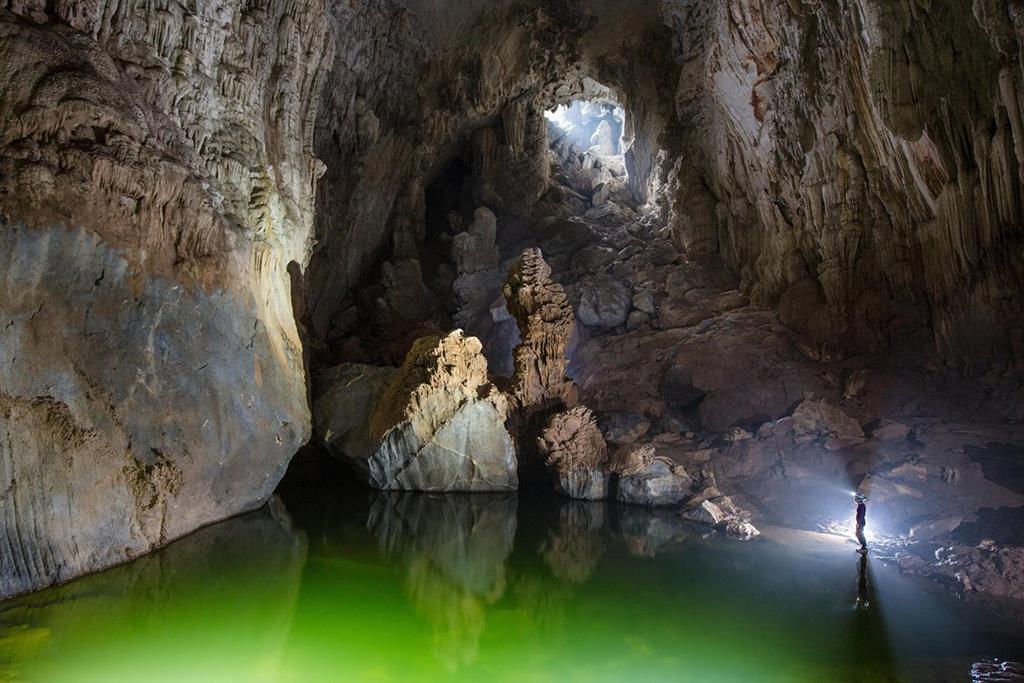 Son Doong cave was formed about 2 – 5 million years ago, with a length of about 6.5km, a width of 150m and a height of 200m, capable of accommodating 68 helicopters, or can "fit" a 40-storey high building.
Son Doong cave is considered to be 5 times larger than Phong Nha cave. However, what makes everyone admire is the wonderful nature inside the cave. They discovered pearl-like gems in the sea but were many times larger in size, many as big as baseball. But this is not all, the magical beauty of the stalactites and the ecosystem inside the cave is what amazes the most. With sparkling stalactites of strange shapes hanging from above, smooth tassels of stalagmites protrude like swords and other beautiful shapes.
In Son Doong cave, explorers discovered a primeval forest with rich vegetation, with no human traces. Experts have even called the forest in this cave a "garden of Eden" to honor this beautiful beauty.
Quang Phu sand dunes are like Sahara amidst the beauty in Quang Binh
Quang Phu is one of the most beautiful sand dunes in Central Vietnam and also the largest sand dune in Quang Binh. The first thing that impresses visitors is the white sand dune shimmering in the sun. White sandy plains run close to the green coast, providing unique scenery.
A special feature that attracts tourists at Quang Phu sand dunes is the change in the shape of the sand and the color every day. The sand lines change shape continuously due to the beautiful sea breeze day and night creates a strange charm. Along with that is the color of sand also "change clothes" according to each time of day.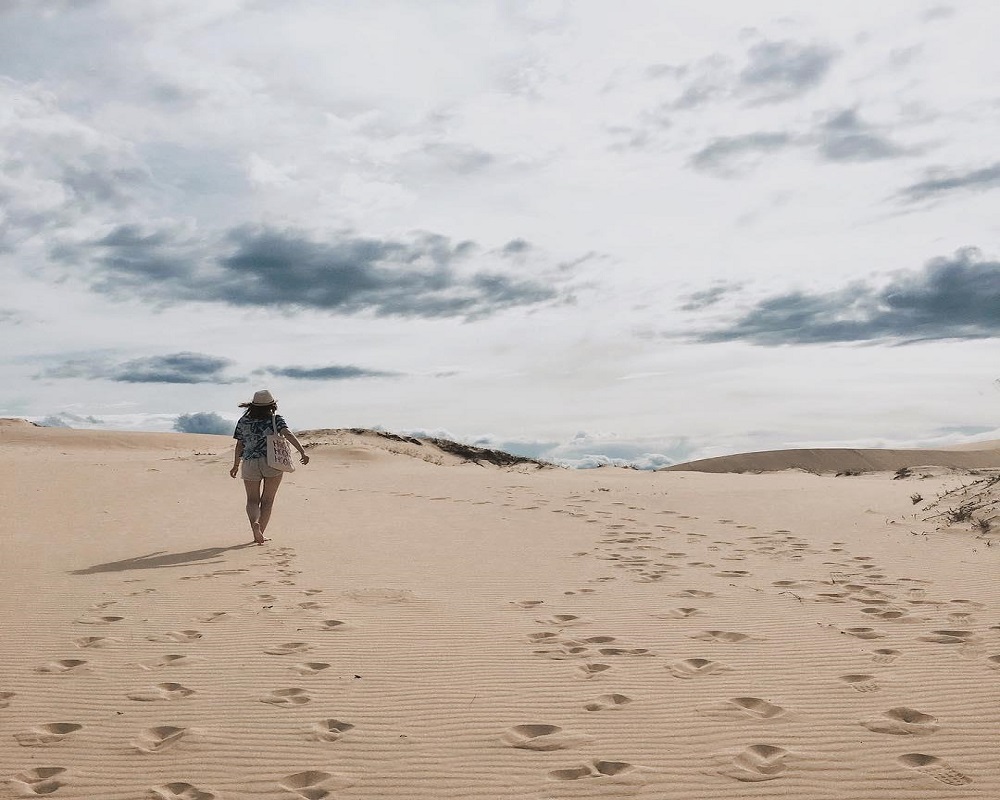 If during the day, the sand is pure white to welcome the gentle morning rays, when noon comes, bright yellow sunshine covers the sand hill in an eye-catching saffron coat. When night falls, the sand has a characteristic sad, white gray color.
Walking along the sandy road, sometimes the green color of the wild trees or the deep brown color of the dry branches create a highlight in the wild, quiet space. It all looks like a picture of a wild, majestic nature that is extremely seductive and enchanting.
See more:Enjoy tea flavors many countries around the world
Relax at Happy Hill eco-zone
Happy Hill is a relaxing eco-tourism area combining a unique cafe and mountain cuisine. With the charming river scenery, inspired by the Happy Hills Dalat tourist area that stands out with the green space covered, a delicate combination between the deep green mountains, the gentle river brings cool air and hundred Fragrant flowers have created an impressive relaxing and resting space for tourists inside and outside the province.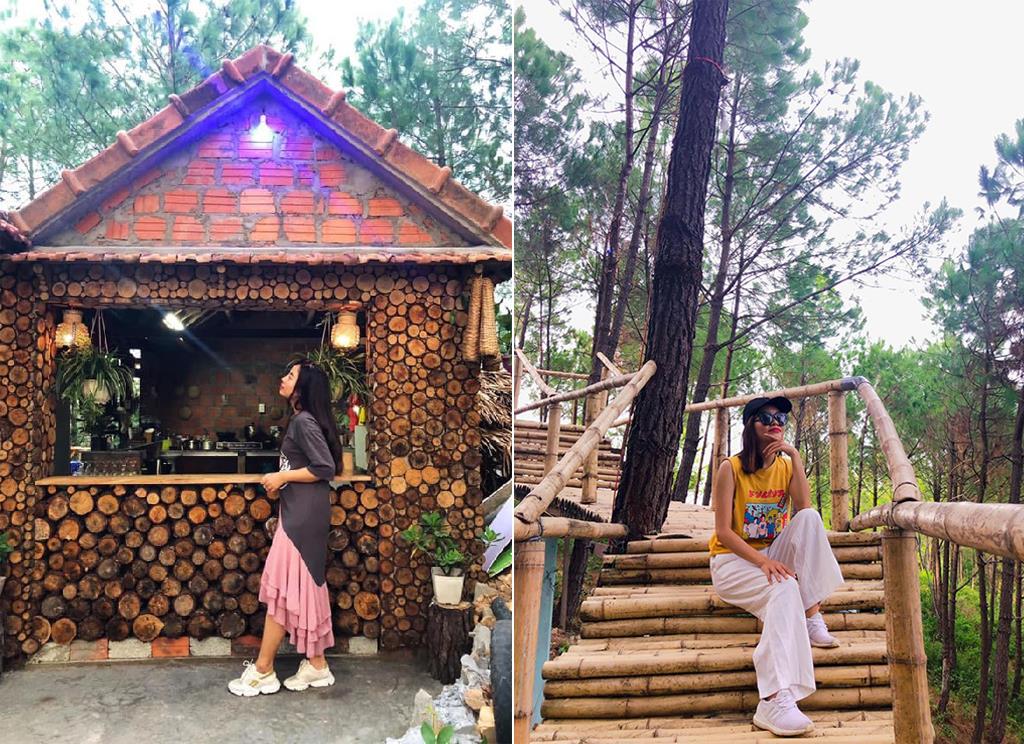 Not only a place for fun and relaxation, Happy Hill is also a paradise for couples to take wedding photos and a favorite virtual living place of many young people. The small wooden house with bold vintage style is a favorite check-in place of young people, the way up is structured by hundreds of natural bamboo tubes creating a rustic feeling, bold mountains.
With such a beauty in Quang Binh , hope can make visitors put Quang Binh on your upcoming travel list.