Phu Quoc Tourist Map
Phu Quoc tourist map is always an essential item for any first- time tourists coming to this pearl island. Having a map of Phu Quoc on hand, you can arrange the itinerary in the most convenient and reasonable way.
Let Focus Asia Travel make your trip to Phu Quoc easier.
1. Overview of Phu Quoc tourism
1.1. Location of Phu Quoc
Phu Quoc is the largest island in Vietnam which is located in the Gulf of Thailand, in the Kien Giang province. The entire island district has a total area of ​​589.23 km² (according to the land statistics in 2005) with a population of 101,407 people (2015 statistics). Phu Quoc is located 120 km from Rach Gia city and 45 km from Ha Tien city.
To get here, besides flight, you can also take the high-speed train from Rach Gia or Kien Giang. 
1.2 Administrative Characteristics of Phu Quoc 
According to the Phu Quoc map, this island district is divided into 3 main areas: north island, south island, east island, west island and Duong Dong town. 
2. Phu Quoc tourist map
2.1 Route to Phu Quoc
Currently, you have 2 means to travel to Phu Quoc: airplanes and high-speed trains. From Hanoi, Saigon, Rach Gia and Can Tho you can all travel to Phu Quoc by plane.
The second way, you can go by car to Ha Tien or Rach Gia. Then, from Ha Tien and Rach Gia, a high-speed train arrives at the port system in Phu Quoc.
2.2 Phu Quoc tourist map: famous destinations
Phu Quoc has many famous destinations stretching from the North to the South of the island. If the journey is from the north, it will take a few days to go all the famous destinations in Phu Quoc. If you can arrange, you can follow the area to conveniently visit all the most famous tourist attractions in Phu Quoc.
North of Phu Quoc Island
The North of the island has many interesting tourist spots such as: Ganh Dau, Phu Quoc National Park, semi-wild zoo Vinpearl Safari Phu Quoc , Vinpearl Phu Quoc amusement park, Da Ngon stream, Vung Bau beach. With the map of Phu Quoc below, you can master without worrying about getting lost!
South of Phu Quoc Island
The South Island area is home to tourist spots that cannot be missed such as: Coconut tree, Suoi Da pepper garden, Hung Long pagoda, Pearl culture facilities, Bai Sao , Khem beach and An Thoi archipelago. By using this map, you will know how to go to Phu Quoc without missing any famous spots. 
East of Phu Quoc Island
The crowded area has famous tourist spots such as Dinh Cau, Ham Ninh fishing village, Suoi Tranh, fish sauce factory, sim wine production. Below is a map of Phu Quoc tourism,  you can save go ahead of the trip. 
West island and Duong Dong town
Duong Dong town area is the center of tourism activities. Many attractions in West island are always busy including Duong Dong market, Phu Quoc beach, Truong beach, Cua Can beach, etc.
2.3 Map of fishing, diving to see Phu Quoc coral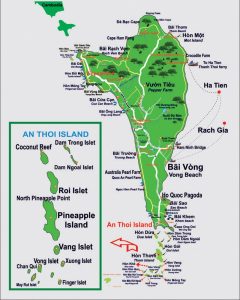 Coming to Phu Quoc, the thing that many people are most interested in is fishing, diving and watching coral. These activities are taken place on beaches stretching from the north to the south of the island.
Therefore, in Phu Quoc tours for 3 days- 3 nights, people often spend the morning diving to see coral and the evening going fishing.
Phu Quoc hotel and resort system, Phu Quoc restaurant are mainly concentrated in Bai Dai and Duong Dong town. So if you are in this area, you will have more choices. 
2.5 Map of Duong Dong town
Duong Dong town is considered as the center of Phu Quoc with the most exciting tourist activities, especially on holidays, New Year, etc. There are many restaurants, hotels, resorts and entertainment spots so if you know the way to move, you can easily travel in this island district. 
3.1 Note when using online Phu Quoc map
All travel is easy and convenient with Google Maps. Today, the data of all the places is almost completed on Google Maps so you can easily find your destination with instructions on your smartphone. With this online map, the way to complete Phu Quoc becomes so easy. 
Technology, however, also has many limitations. Google Maps will show the path which it can locate. Sometimes, you will come across a very bad situation: no one is going on that road such as the mountain road; highways not for motorcycles, etc.
The best way is to combine Google with asking people on the road to avoid going the wrong way. Don't forget to check the data and the battery to avoid your phone turning off.
3.2 Note when using paper map of Phu Quoc
Paper map will be a lifesaver for you in case you cannot use the Internet and Smartphone. The advantage of paper maps: the maps sold to tourists are quite accurate updated tourist sites; restaurant; hotel and directions.
With above information about Phu Quoc tourist map, Focus Asia Travel wish you to have a unforgettable trip.