Phu Quoc backpacking tourism and visit the magnificent Kim Quy aquarium
Phu Quoc has not only beautiful blue beaches, many excellent resorts, but also an extremely magnificent Kim Quy aquarium is about to be released. If you plan to visit Phu Quoc on your own, this is a place not to be missed. Let's find out in detail its majestic and magnificent beauty. Kim Quy Phu Quoc Aquarium is one of the most monumental aquariums in Vietnam, holding the Top 5 record of the World.
Located in Ganh Dau hamlet, Ganh Dau commune, 35km from Duong Dong town center, 45km from Phu Quoc airport, Kim Quy Aquarium is a monumental project at Vinpearl Land Phu Quoc 2. With a total area of ​​up to 15,000 square meters with many invested works, Kim Quy aquarium is the largest and most modern aquarium in Southeast Asia, which manages to bring the scenes of the vast ocean for visitors.
The possession of a large campus and giant turtle shape design is the most impressive of the aquarium. That is also the reason why it is called "Kim Quy aquarium".
Visiting the Kim Quy aquarium, you will definitely have a different experience compared to other aquariums that have appeared in Vietnam in particular and Southeast Asia in general. Many rare fish species as well as giant fish will appear as the simulation of the wild ocean world.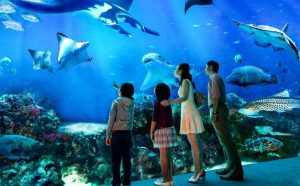 You will have a chance to be lost in a world-class aquarium, like the world from Hollywood movies about hero Aquaman or mermaid Ariel. In addition, you will see the world of millions of unique sea creatures.
At the entrance to the aquarium is the main tank with a capacity of 15,500 m³ of water, which will be in the top 5 largest tanks in the world with giant glass panels of up to 8 meter x 25 meter. It is divided into 5 different subdivisions: jellyfish world, fish world, penguin world, ferocious shark world and giant species world. This promises to be a worthy destination in Phu Quoc in the near future.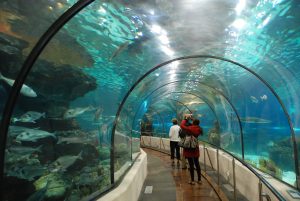 When it comes to Vinpearl Land Phu Quoc, the aquarium or indoor aquarium is one of the most popular areas. However, whether this place is worth visiting when you and your family go on backpacking tourism? 
The answer is absolutely "Yes", Vinpearl Land Phu Quoc gets point 8 out of 10. This aquarium belongs to the Vinpearl Resort Phu Quoc system and is located in the Bai Dai area. However, you do not need to stay at the Vinpearl resorts to visit it. Everyone including foreign tourists and guests from other resorts can buy tickets to visit the aquarium by booking a Vinpearl Land Phu Quoc ticket or by tour Phu Quoc with Vinpearl Land entertainment package.
The first impression when you set foot in this aquarium is the fresh atmosphere as if you had an adventure under the water among ocean creatures moving over your head. Although they may notice you or not, you will definitely be surprised by their appearances. This scene would remind you about some Hollywood films.
Vinpearl Land Phu Quoc's aquarium is famous for its mermaid show. There are beautiful girls who can swim and perform underwater in colorful mermaid costumes. Everyone, especially children, enjoy this performance a lot. The aquarium is home of hundreds of species. You can watch fish, take photos and take selfies with unique backgrounds. The Mermaid Show has 2 timelines: 11:00 and 15:00, each lasts for about 15 minutes, which will definitely make you have unforgettable memories.
Furthermore, when traveling to Phu Quoc, do not miss the chance to find the Gentoo penguins, the fastest penguin in the world. You can watch and take a picture with some penguins that are stubby and look really cute, which are definitely different from what you see on television. In particular, the aquarium also has fish, snakes, salamanders, turtles and sharks. Besides, you can join a fish feeding program.
Vinpearl Land Phu Quoc Aquarium is considered to be the most ideal outdoor place to hide sun and dust on the Phu Quoc precious islands thanks to its extremely cool atmosphere. Do not forget to visit the aquarium if you have the opportunity to travel to Phu Quoc on your own. You can book tickets to Vinpearl Land with Phu Quoc TV today.