Night squid fishing in Phu Quoc
Phu Quoc is also known as Ngoc Island, which is the largest island in Vietnam located in the Gulf of Thailand. This place not only attracts tourists by the romantic natural scenery or the cool beaches with brilliant golden sand, it also makes visitors extremely excited by the unique entertainment activities including night squid fishing. Today, Focus Asia Travel will introduce some interesting things about this activity.
Interesting things about night squid fishing in Phu Quoc
This is a tourism activity that gives visitors the experience of night squid fishing like fishermen. This activity is organized by local travel agencies.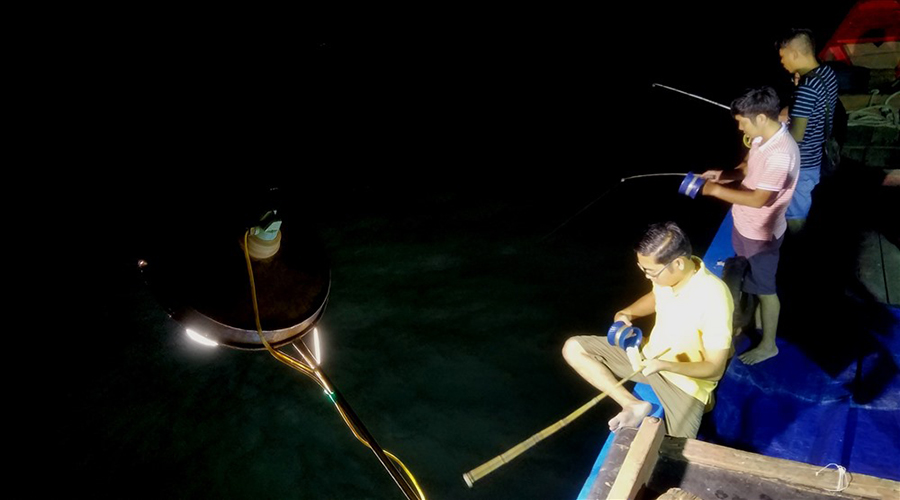 A corner of the sea seems to be sparkling in the night that envelops the island. It is not exaggerating when people often call it "pearl island". This island is not only sparkling and charming during the day but at night it is more ecstatic. Night squid fishing can be said to be an must- try activity when you visit Phu Quoc.
In addition, you can also enjoy the night view of Phu Quoc. It is wonderful, isn't it !!!
The best season for Night squid fishing in Phu Quoc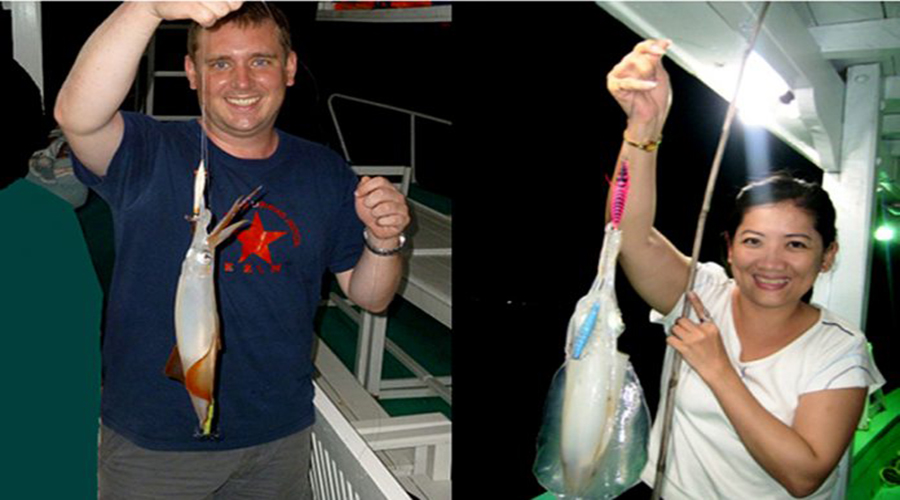 Most of the visitors who visit Ngoc Island on holidays and Tet will probably not miss the new joy of "squid fishing at night". The dry season (November-April) every year is the ideal time for squid fishing.
Squid fishing should not be done during the day or at night with a full moon because the waves of the sea are very strong. 
Things to keep in mind when you want to fish at night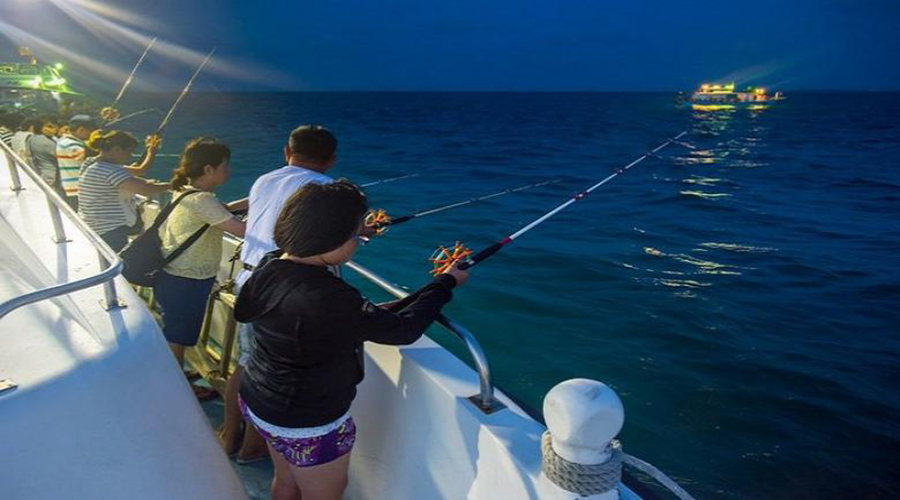 Prepare a squid bait
Many Phu Quoc squid fishing tours will prepare bait for you, but if you want a "bumper" trip to the sea, you should prepare your own quality bait. Choose bait made from Japan for better squid attraction. In addition to the bait you should also prepare a piece of reflective material to attract the attention of the squid.
Beware of seasickness
If you suffer from seasickness or in poor health, absolutely you should not participate in this experience because you will get on a boat and float on the sea for a long night. Make sure that you take the medicine before joining !!!
Bring windbreakers and anti-cold medicine
The night temperature here is quite low and the sea temperature is lower. If you join night squid fishing in Phu Quoc, you need to prepare yourself a thin windbreaker and cold medicine because, when sitting directly outdoors all night, the wind blowing cold from the sea will make you very susceptible to colds.
Focus Asia Travel hope that these information will help you have an unforgettable experience when participating in Phu Quoc night squid fishing. If you want to travel to Phu Quoc, please contact us !!