Nha Trang Beach – Collection of green beaches attracts the most visitors
Those who have ever had the opportunity to set foot on Nha Trang beach city, immerse themselves in the blue sea, lie on the smooth sand to watch the clouds and sky or catch wonderful natural moments, will surely never forget. get this beautiful land. Here, together with FocusAsia , let's summarize the beautiful Nha Trang beaches that attract the most tourists.
NHA TRANG IS ALWAYS ATTRACTIVE DESTINATION
Nha Trang Bay is about 500km2 wide, quite windy, no big waves. Cai river mouth falls between two crescent-shaped beaches, cool sand stretches for 6, 7 kilometers.
Under the tropical sunlight, the green of the undulating mountains on the shore, of the islands mingle with the blue sea, as if enhancing the charm of the yellow sand strips, rich in white waves.
Over the years, Nha Trang beach town has changed more and more skin, in harmony with the youthful, modern and dynamic lifestyle, innovating and developing every day. However, the beauty of Nha Trang beach has always fascinated and infatuated many people.
Nha Trang beach , at any time you can immerse yourself in the cool seawater, enjoy diving or lying on the sand, building long-lasting souls or relaxing with beautiful nature. .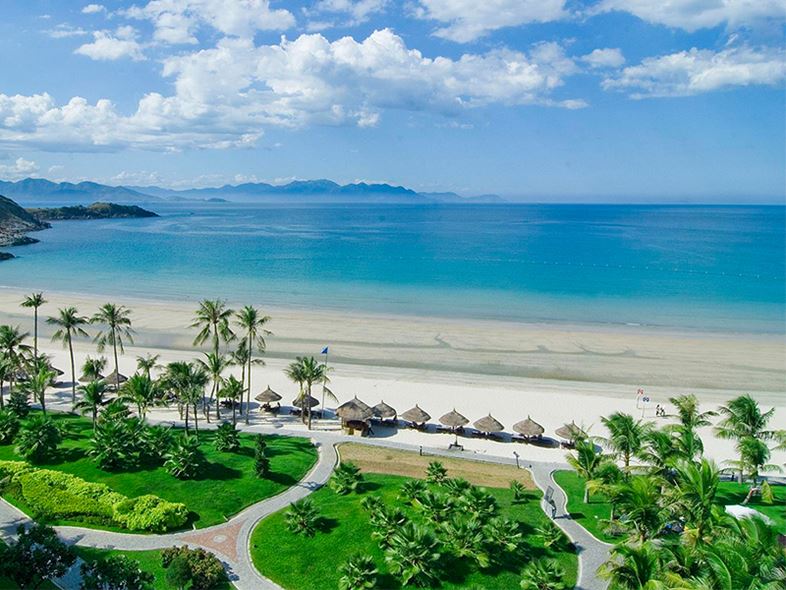 The beauty of Nha Trang beach is like a magnet full of attraction to fascinate visitors. Every time you look at the natural picture of this land, you will be engrossed in admiring and forget all the time, so be enthralled by the elegant and seductive beauty of this coastal city. That is a wonderful and expensive gift that natural motherland gave Nha Trang.
GAME ON THE COASTAL OF NHA TRANG
Coming to Nha Trang, in addition to enjoying the beauty of the sea, the uniqueness of a city located along the 20km long coastline and charming beaches in the island clusters being exploited offshore, visitors can also participate in games. play at sea. These games give visitors a great sense of euphoria.
COLLABORATION
You can play games right at Nha Trang beach or at tourist resorts: Vinpearl Land, Hon Tam, Doc Let and many other places. This game seems risky, but actually quite safe because when visitors are dragged parachute flying in the sky at an altitude of 70 – 100m, there is always a canoe below.
GOING THE WATER DESCRIPTION
Another game that also attracts speed enthusiasts is water motorcycle. This game can take two people or one person on a water motorcycle made of composite plastic, controlled by scooter. After paying motorbike rental for 30 minutes or 1 hour, visitors are instructed how to control the scooter and how to keep the steering wheel. When you want the motorcycle to stop, just release the scooter is safe.
SWITCH
Although less popular, surfing games always force guests to practice. Join this game, guests will be surfing right on top of the wave with a board.
DIVING
In Khanh Hoa, there are many points for diving services. This is really a game that thrills and impresses visitors. If you only dive to a depth of 5m or scuba diving, you can dive at Hon Tam resort and Monkey Island (Hon Lao) .
WELCOME THAT RIGHTS
At the northern island points (Nha Phu lagoon) of Long Phu Tourism Joint Stock Company, there are also collective sports games such as controlling boats to fight sea monsters, using rafts to cross the sea …
COASTAL COASTAL NHA TRANG CITY CENTER – TRAN PHU Street
Location: located along Tran Phu Nha Trang Street
Directions: The beach is located in the heart of Nha Trang, along Phu Tran street.
The central beach stretches along Tran Phu Street, the long and beautiful beach, the clear blue water, always full of sunlight, this is the ideal bathing place for city people and tourists.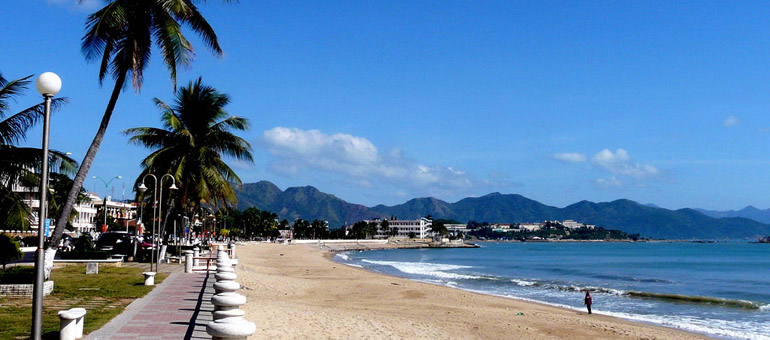 COURT TEAM – NHA TRANG IS FAMOUS
Location: Ninh Hai ward, Ninh Hoa town, Khanh Hoa province
How to go: From Nha Trang city center, you drive up to Pham Van Dong street, then follow the sea road to National Highway 1A. From National Highway 1A you continue to Ninh Hoa, then follow the signboard to run into Doc Let
Doc Let is the most shallow beach among all the beautiful beaches in Nha Trang. This beach has very small and light waves, so it is quite safe for everyone to bath, including the elderly and young children. Therefore, this is also the beach chosen by families to play, relax and swim a lot.
With 2.5km stretched by rows of blue, casuarina, fine white sand banks, seawater is clear blue to see through the bottom, far away there are many surrounding islands creating a unique wild character for the place. here.
It is hard to forget the sweet specialties of the sea such as squid, shrimp, snails, crabs … that are still fresh and processed on the spot for visitors to enjoy, taste the fragrant dish, taste So delicious and delicious in front of such a beautiful view.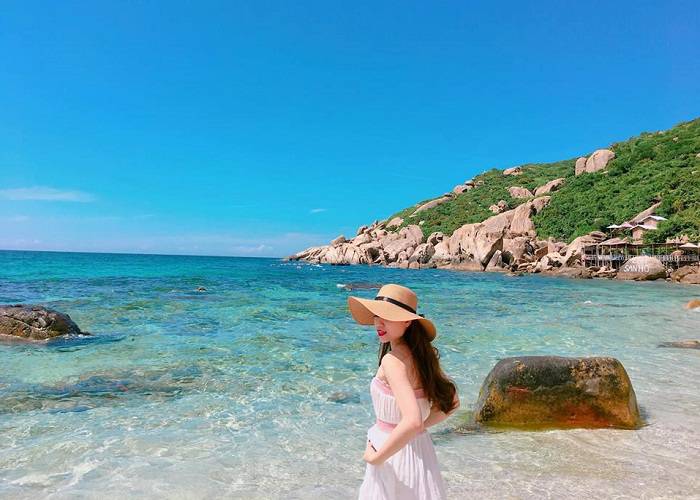 COURSES – NHA TRANG COAST IS SURE TO COUPLE
Bai Tru is located on Hon Tre island in Vinh Nguyen ward, Nha Trang city, Khanh Hoa province. Bai Tru is known as one of the ideal, clear and most beautiful beaches in Nha Trang. Although Bai Tru is located on an island, it does not have many large waves because it is directed towards the mainland.
In addition to bathing in the extremely clear blue sea, sunbathing on the pristine white sand, walking along the shore picking up shells, squid fishing, fishing or snorkeling, you can rest under the canopy The shade of green trees is shady because there are many mountain slopes around the beach. An ideal resort, leaving behind the hustle and bustle of life. Because of that, when it comes to Nha Trang beach , people cannot help but mention Bai Tru – an ideal resort, leaving behind the hustle and bustle of life.
NHA TRANG SEA – LONG BAO
The sea in Nha Trang is a symbol of purity because there are still many pristine beaches that have never been influenced by humans. Therefore, your trip to Nha Trang will definitely not be complete if you do not come to Nha Trang Long Beach, the famous blue and white sea in the region.
In this place during the day you will see two skies because the water is clear as a glass, reflecting, embracing the sky above into the seabed, adding dazzling rays of sunlight that make the sea surface sparkle like silver. so. Bai Dai is also home to a full range of sea services such as canoeing, skydiving or restaurants serving "all kinds" of famous seafood dishes of Nha Trang.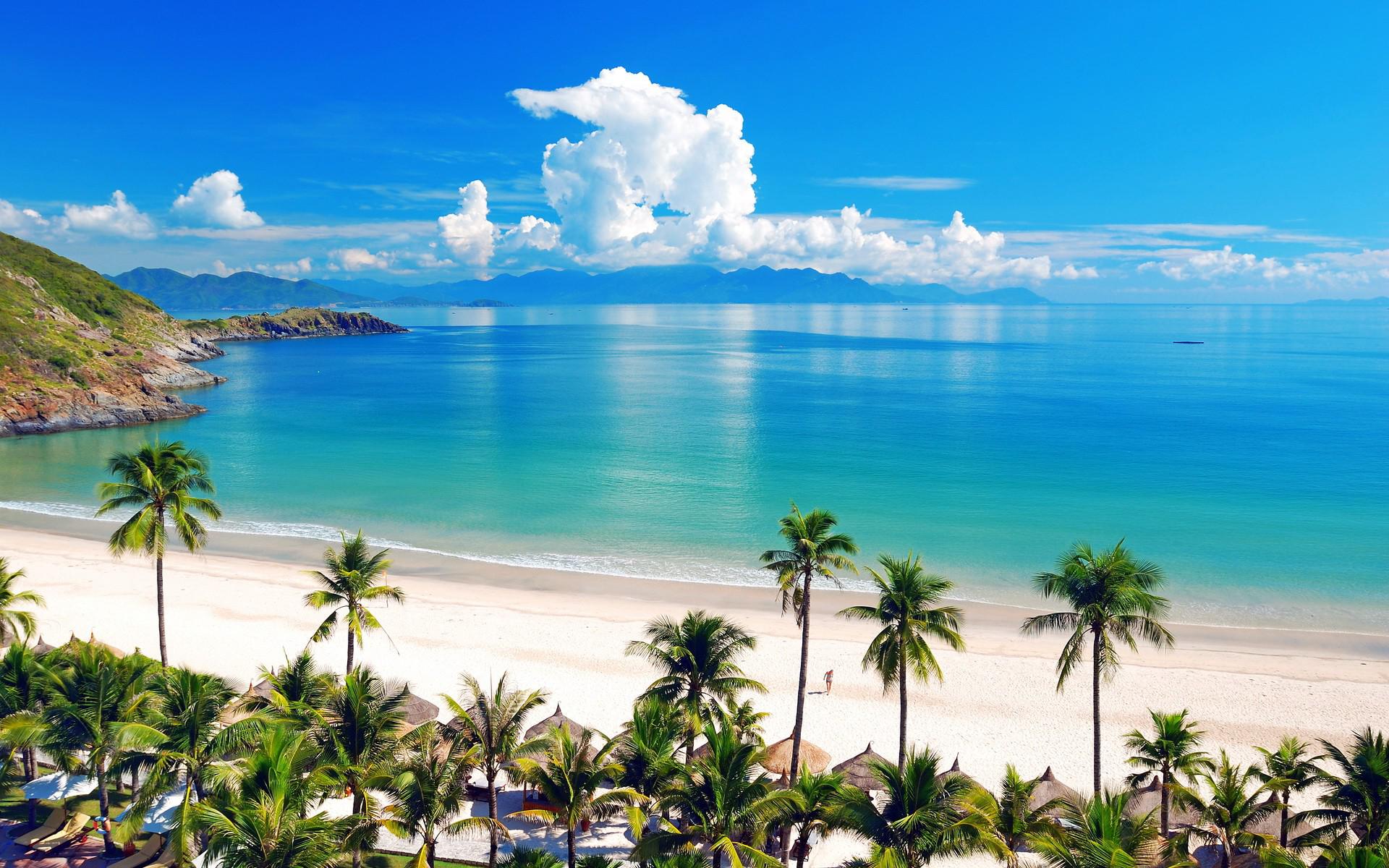 NHA TRANG BA COAST
Located on Binh Ba Island , about 60km from Nha Trang city, Binh Ba beach is famous for its smooth white sand, blue water, so clear it can see the sea floor. It is still untouched here. Because it is a military zone, tourism has not been exploited much. Therefore, this is a paradise for those who like the tranquility, tranquility and wilderness.
In Binh Ba beach, there are many other beaches such as Bai Chuong, Bo De beach, Nha Hanh, Cay Me,… they are hidden between the mountain and sea so few people set foot. Therefore, it will help visitors experience absolute peace, where only sunshine, wind, waves, sea …
Above are all the information about Nha Trang beach that FocusAsia wants to send you. If you still have any questions, please contact us directly. FocusAsia can definitely help.