Must-try Dishes in the China town of Ho Chi Minh City
When you walk into Ho Chi Minh City's Chinatown, you'll feel like you're in a miniature Hong Kong, with people speaking Cantonese and shops selling Chinese cuisine. Prepare to enjoy these must-try dishes in Ho Chi Minh City's Chinatown as you walk along the spiderweb streets and alleyways.
Handmade Noodles
If you like Hong Kong movies, you can try the "Kungfu egg noodle" – homemade fresh noodles made with the cook's deft movements. This noodle is more flavorful, chewy, and tender than the pre-packaged kind. It is usually served with a braised duck leg or other toppings such as char siu, lobster, pork organs, and so on.
Dim Sum
In Chinese, "dim sum" means "breakfast." As a result, people normally love it at the start of their day. Dim sum refers to any small bite-sized food eaten on a plate or in a bamboo steamer. They're usually made with pork or shrimp, flour, and served with soy sauce. Dumplings and Chinese buns are the most popular styles, which can be found anywhere from luxury restaurants and buffet parties to street stalls.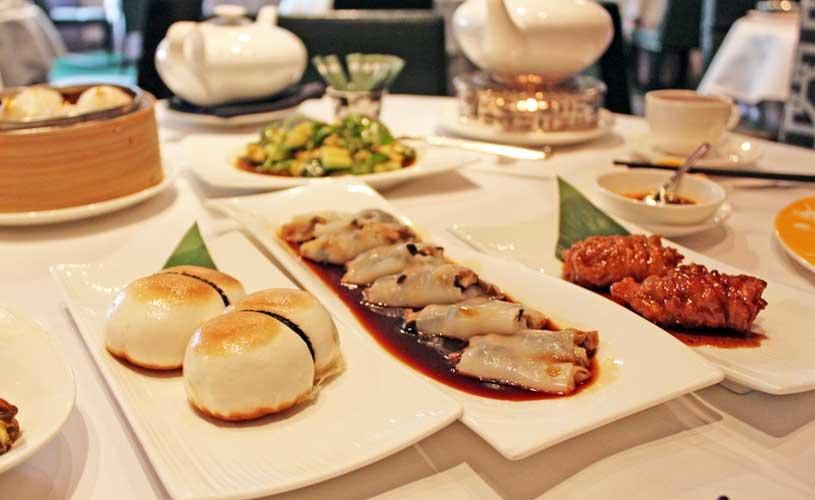 Roasted Duck
Beijing Roasted Duck is well-known in the world, but you can enjoy a similar delectable dish right in Chinatown. Unfortunately, this dish is not common with Vietnamese diners. They simply go to these shops and take their preferred one, so you can think about taking it with you to your hotel.
Hotpot
It would be a travesty to discuss must-try dishes in Ho Chi Minh City's Chinatown without discussing the hotpot. A hotpot is an excellent option for a friend's reunion or a family gathering. Hotpot encourages people to cook together by placing a boiling pot in the middle of the table. Typically, vegetables are boiled first, followed by meat or fish.
Sweet Soup
You may be familiar with this as a common Vietnamese dessert, but several varieties originated in China. Nhan Nhuc (Dried Longan Sweet Soup) and Sam Bo Luong (Ching Bo Leung) are two common Chinese sweet soups found throughout the region. Some varieties, however, are only available in Chinatown, such as Hot Ga Tra (Herbal Egg), Dau Hu Hanh Nhan (Almond Jelly), and Quy Linh Cao (Guilinggao).