Lost In Da Lat Persimmon Garden
Crispy pink season in Dalat is the time when the rose garden is the most beautiful. From a distance, people can easily see it by motorbiking to Minosa Pass. 
Although the persimmon garden in Dalat is not very big, it is large enough for people to selfie, pick and try the most delicious crunchy persimmon.
Dalat persimmon garden at the most beautiful time
Dalat persimmon season starts from mid-September and lasts until early December. Under the cold weather of late autumn and early winter, the suburban infrared gardens are filled with orange and red colors of attractive ripe fruits.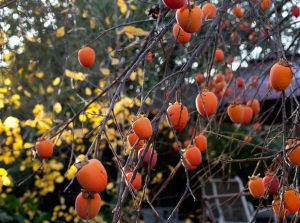 Try visiting the persimmon gardens once to see how the garden owners harvest them. You can pick and bring them as gifts for relatives.
Places to hunt for Dalat persimmon garden
You can hunt for persimmon gardens along the following paths:
 – Road to Cau Dat tea hill.
 – Trieu Viet Vuong Street or around the Palace III Bao Dai area, there are many wild roses growing around the road.
 – Khe Sanh Street (from the center of Da Lat, following Tran Hung Dao Street, keep going until you see the foot of Mimosa Pass).
Along the highway, persimmon gardens flutter in the sun. Furthermore, you can see small trails leading to people's homes. Dalat people are very hospitability so you can ask for permission to visit the garden and pick up roses while taking photos if you are allowed. After eating at the garden, if you find it delicious, you can pick and buy for a price of 12,000 VND / kg.
Notes when visiting the persimmon garden in Da Lat
Do not pick young pods, break branches or climb on the trunk so as not to damage the garden. This is to preserve the beauty of the persimmon garden and create opportunities for many other visitors.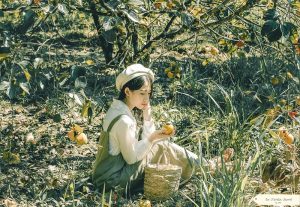 Those whose colors turn into red or orange will taste sweet and soft. As for the yellow fruits, do not eat them in the garden because they are very acrid and need to go through the process of incubating slightly into crisp persimmon to eat. These yellow berries are good for you to buy as gifts because you are not afraid of being stamped.
How to soak in crispy persimmon
The simplest way is to put roses in a clean plastic bag, and then lay a layer of newspaper until the persimmon layer is finished. Just keep alternating like that until the bags are full, then tie them tightly, leaving them to eat in about 10 days. The way to carefully wrap persimmon with newspaper is also a method to ensure the quality of persimmon during transportation.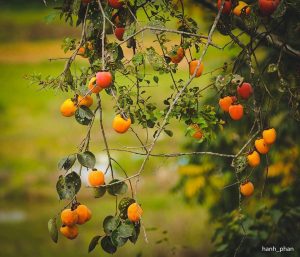 In addition, if you want to shorten the incubation time, you can soak them in warm water at 35 degrees Celsius or you can add a little salt. When the water cools, change the water, and so on. This process lasts for 2 days. This will help the persimmon to ripen earlier than the conventional way of tempering.
Another more convenient way is to just wash them, then put them in a barrel of rice, after 4 or 5 days.
Do not hesitate to contact Focus Asia if you have a demand for travelling to Dalat.