Islands in Nha Trang
The beautiful islands in Nha Trang never ceases to be hot. For travel enthusiasts, conquering these mysterious islands in Nha Trang is a great dream that they chase throughout their youth. Let Focus Asia Travel discover more about the beauty of these islands in Nha Trang right now!
Number of islands in Nha Trang 
Nha Trang has a total of 19 islands, but only 14 islands are exploited for tourism. Among them, there are only a few islands that really stand out due to their natural beauty and weather.
Hon Tre
Nha Trang is an attractive destination with interesting islands. Of the 19 islands of Nha Trang city, Hon Tre has the largest area with 36km2 and the highest peak is about 460m. This place is like the green pearl of Nha Trang Bay. If you have the opportunity to visit Nha Trang, you should make a journey to Hon Tre Island to explore the natural beauty and modernity of this place.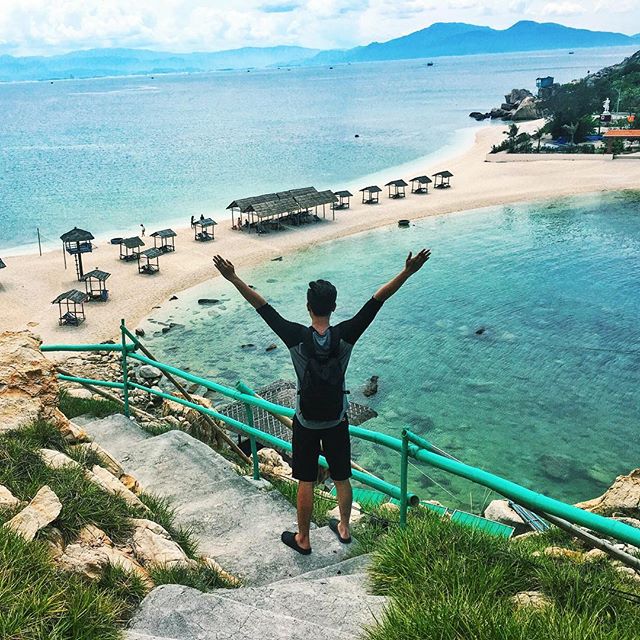 Hon Tre Island is located about 5km east of Nha Trang city center, about 3.5km from Cau Da port. The island is like a barrier lying offshore, making Nha Trang Bay wind-tight and calm. It can be said that this is the convergence of all the natural advantages of the coastal city of Nha Trang .
Hon Tam
It takes 10 minutes to transfer from mainland to Hon Tam island, Hon Tam is well-known as "a small paradise" thanks to its pure beauty and its charming location in a peaceful sea blessed with warm sunshine and melodic breezes all year round.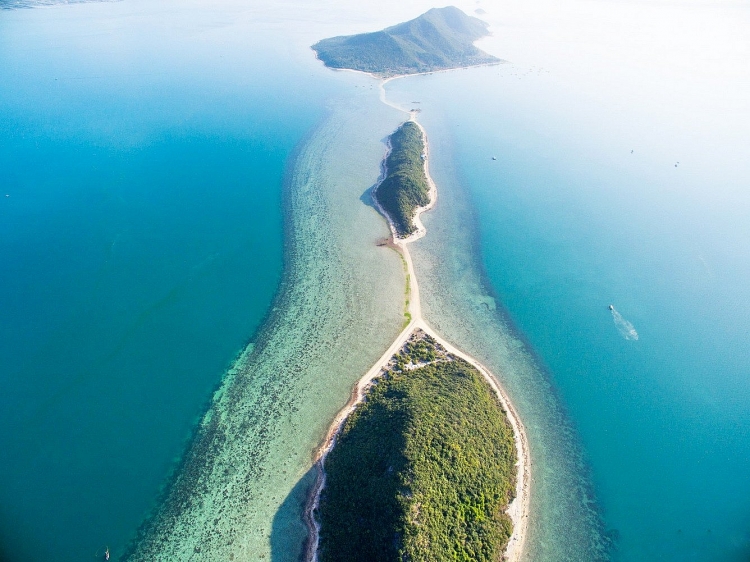 Noi island
Hon Noi is a bird nest island located in Nha Trang Bay, The island is about 25 km south of Cau Da port, because Hon Noi belongs to the management of Sanest Khanh Hoa company so to visit here tourists have to book tours, can not go in self-sufficiency.
Coming to Hon Noi, standing on the fine white sand, you can see the blue sea in any direction. This double beach also has one side of hot water, another side of cold water, making many visitors unforgettable once.
To go to Noi Island , you go to Cau Da port, Nha Trang then buy train tickets to the island. Since this island is managed by the tourism management of Khanh Hoa Salanganes Nest Company, you  have to buy tickets. Visitors can only visit during the day with the price of 350,000 VND per person, including breakfast, bird's nest juice, cakes, lunches and afternoon light fruit.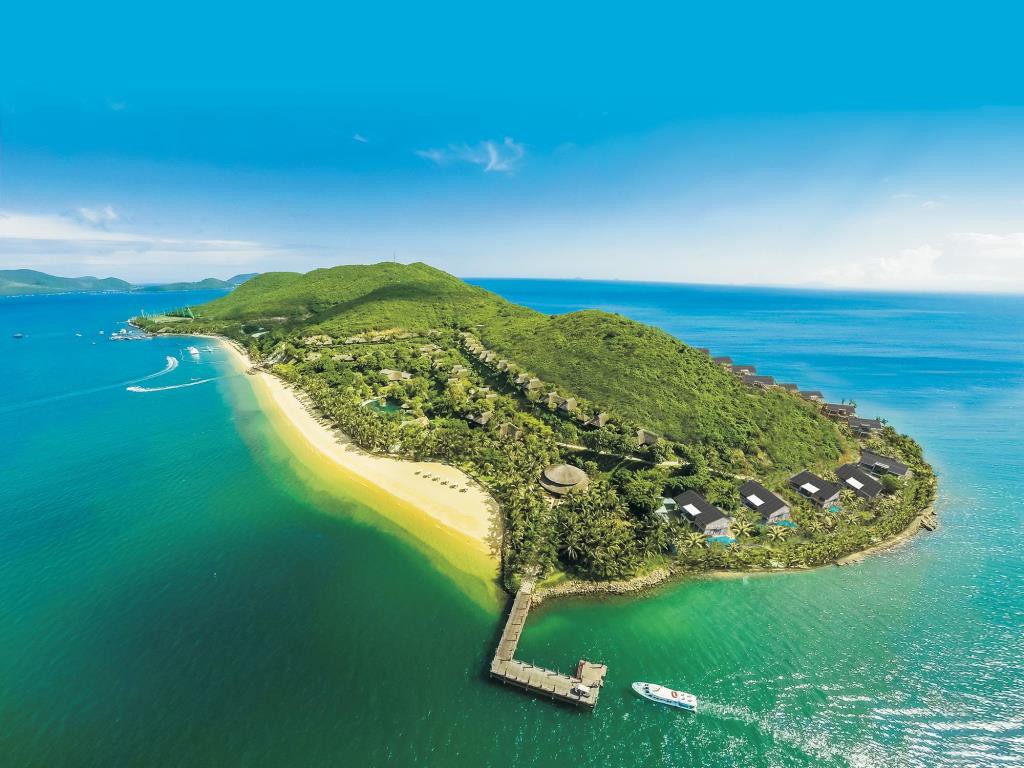 Whale Island (Hon Ong) 
Located in Van Phong Bay, around 100 kilometers from the beach town of Nha Trang, Whale Island, also called Hon Ong, is one of the top destinations for scuba diving, kayaking and snorkeling in Vietnam.
The island remains almost untouched since there are no inhabitants in the area. Whale Island Resort is the only resort on the island.
Hon Mun Island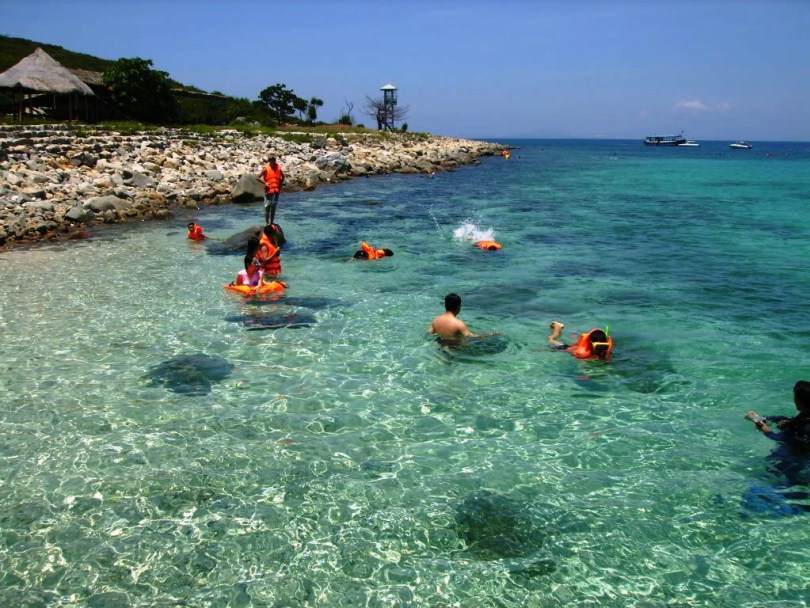 Mun Island is a name that we can't ignore when mentioning top popular islands in Nha Trang.
Set on Bong Nguyen Island, it is roughly 10 km from Cau Da port and takes about 45 minutes to travel by boat.
As its name, Mun Island captivates all hearts with an exotic beauty. Its southeastern side has high ledge and cliffs, which form a cave. Especially, the rock on Hon Mun is as black as ebony, which will strongly amaze you when admiring. In the eastern side of Hon Mun Island, there are many species of Salangane making nests in the black rock caves.
There are too many things that you can do when visiting this beautiful island. The ideas range from leisurely walking along the sandy beaches, soaking in the crystal water to discovering a mysterious life underwater.
With its favorable climate and terrain, Hon Mun Island is situated close to hot sea currents from the equator, which is suitable for the development of many corals and tropical marine species. Therefore, it has diverse and abundant marine organisms. This island is also home to research, observation for oceanographers, researchers, and tourists who are looking for ascertaining about the ocean creatures. If you dive down the seawater, you will be overwhelmed by a different world, which is considered a colorful, shimmering, and fanciful paradise. You will have an opportunity to admire such "untouched coral forest" with a lot of appealing colors and multi-shapes
Hon Mot Island 
Hon Mot Island in Nha Trang embraces a peaceful beauty that allows tourists to enjoy the rustic and idyllic features of the most unique village in Khanh Hoa province. The island is suitable for young people wishing to experience and portray colorful paintings and daily life of Khanh Hoa people.
Hon Mot is located in Vinh Nguyen ward, to the Southeast of Nha Trang city, about 9km from the coast and this is the smallest island in Nha Trang bay with an area of less than 1km2. There are about 200 households on the island, mainly living on fishing and aquaculture like lobster farming.
The best time to visit Hon Mot Island is the dry season from March to September. 
Above is a list of a few islands in the top islands in Nha Trang If you have any questions, please contact FocusAsia.