Guide to Binh Lieu field- Great Wall of Vietnam
If you have the opportunity to travel to Quang Ninh, do not miss the Binh Lieu reed field which is considered as the "Van Ly Truong Thanh" of Vietnam.
This beautiful place is not well- known, but you will be surprised with the following pictures of Binh Lieu, Quang Ninh.
Focus Asia Travel will show you the way to Binh Lieu field to help you move conveniently and quickly.
Way to Binh Lieu field, Quang Ninh
Instructions to move to Binh Lieu, Quang Ninh: 
Visitors can go to Binh Lieu field by car or motorbike. If you ride a motorbike, go straight to Highway 1 to Tien Yen junction, turn left, go towards Hoanh Mo about 28km to reach Binh Lieu field, Quang Ninh.
Or if you travel by car, the way to go to Binh Lieu field of Quang Ninh will be from Hanoi, go straight to the new Hai Phong expressway, turn on Highway 10 to Thai Binh about 40km to Uong Bi. 
From Binh Lieu town, running towards Hoanh Mo on NH18C about 4 km, turn right to Ngan Chuong village, continue to turn to landmark 68 about 14 km, which is the direction of famous landmarks 1302 and 1305.
From landmark 1302, you have to run about 9km to Binh Lieu field .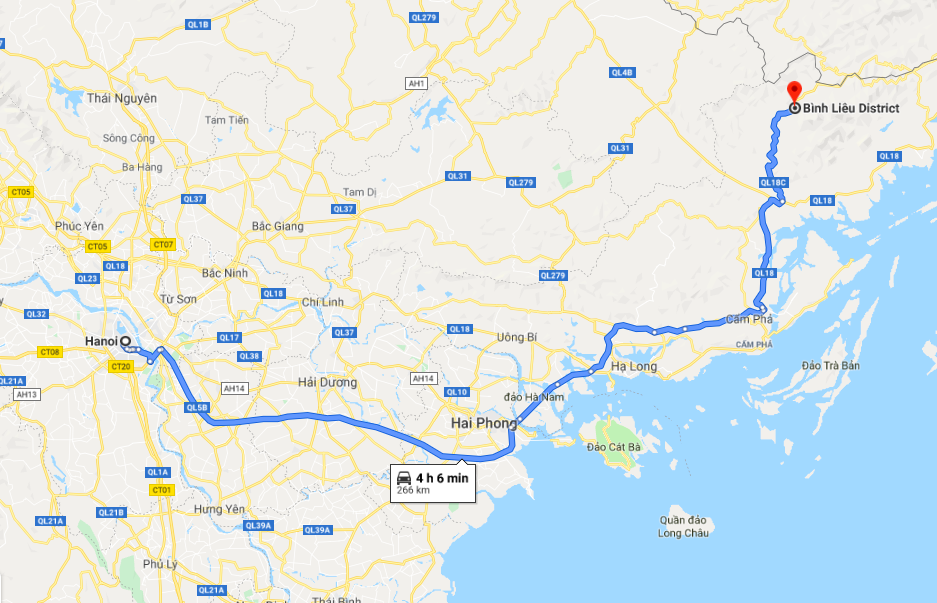 Binh Lieu field is located in Binh Lieu district with a length of about 1.8km, about 280km from Ha Long city center. 
Binh Lieu in the late autumn and early winter is not only a majestic trek, but also possesses a romantic beauty with fields of white flowers all over the hills and mountain sides stretching across the road. 
From here, you will be able to see the wonderful natural scenery and feel so small in the middle of the vast sky.
Seeing a pristine Binh Lieu which is attractive with winding roads around hills, steppes full of white grass and warm sunshine is definitely a unforgettable memory. The immense grass hill with soft reed branches swaying gently with the wind.
That poetic and romantic scene will make you feel peaceful.
Coming to see Binh Lieu field this fall, don't forget to check-in this poetic background.
Address: Binh Lieu district, Northeastern Quang Ninh province (about 280km from Ha Long city center)
Above are some information about Binh Lieu fields that a few people know.
Hopefully, with these interesting shares about a new destination – Van Ly Truong Thanh Vietnam will be the best experience for all of you.
Remember that Focus Asia Travel is always ready to become your companion in every moment.