Famous coffee shop in Danang
With such list of lovely cafes, no more worries where to check-in for great photos or to have great coffee when you visit Danang!
Danang cafes have beautiful views
 Liferia Cafe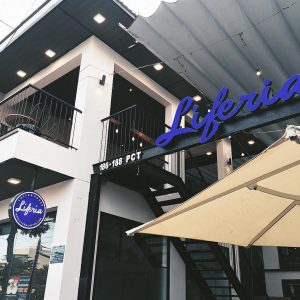 As one of the best Bingsu restaurants in Da Nang, Liferia is confident that it will bring a cool and modern space.
Entering the restaurant, you will find beautiful gardens with mist sprayers in a cool and pleasant feeling. Liferia promises to be the ideal destination for all young people.
Address: 186 – 188 Phan Chau Trinh, Hai Chau District, Da Nang
Opening hours: 07:00 – 22:30
Price: 20.000 – 50.000 VND
Cloud Garden Cafe
The Cloud Garden Cafe is like a picture painted in European style. This cafe brings the elegance, lightness and closeness to nature, creating a very pleasant airy.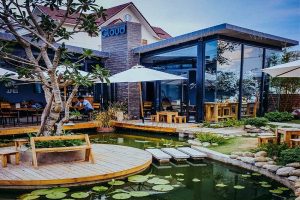 Spacious and cool space ensures customers easily choose a desired sitting angle. Coming to Cloud Garden cafe not only to enjoy drinks and romantic space, you can also have pictures of beautiful moments with your family and loved ones !!!
Address: 72 Le Manh Trinh, Son Tra District, Da Nang
Opening hours 06:30 – 22:00
Price range: 15.000 – 30.000 VND
Cloud Cafe
Located in the heart of the city, the most beautiful cafe location in Da Nang is located on the slope falling down Bach Dang Street, where you can see the romantic Han River. May cafe is the ideal place for you, your friends and relatives to relax and rest after stressful working hours.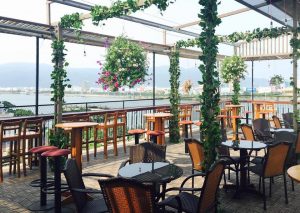 Go straight to the 5th floor, the space is very open. Here you can admire the beauty of the city along with the bridges at night.
The shop is designed in a modern and youthful style but quite romantic. Besides bringing comfort and cool seats, it also gives guests a great feeling.
Address: 1B Le Duan, Hai Chau District, Da Nang
Opening hours: 06:30 – 23:00
Price level: 18.000 – 40.000 VND
Kakao Kafe
Kakao Kafe is a small and beautiful restaurant that has just been come into operation, but the image of this cafe spreads on every social networking sites! Although the shop owns a small space, they are decorated beautifully and subtly with warm color.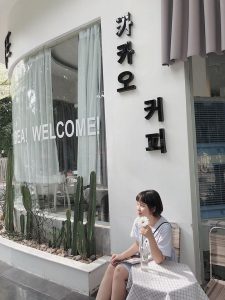 If you know how to find new spots for yourself to check- in, do not hesitate to visit KaKao! 
Address: 31 Nguyen Cong Sau, Da Nang
Danang Souvenirs & Coffee
It is a popular place with many young people of Da Thanh. Souvenirs & Coffee owns a gentle architectural space with the highlight of the gift cafe.
There are a lot of eye- catching gifts displayed such as: shirts, hats, bags, keychains, etc. Furthermore, this shop also has an impressive architecture.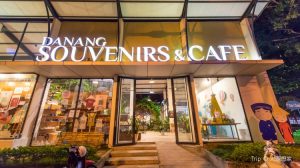 It possesses a two-storey design built on the classic trend with a gentle blend of modernity. The sparkling light system at Danang Souvenirs & Coffee is chosen to attract visitors.
From the second floor, visitors can also admire the beautiful view of Da Nang city on the street. 
CS1: 34 Bach Dang, Hai Chau District, Da Nang
CS2: 68 Tran Quoc Toan, Hai Chau District, Da Nang
Opening hours: 07:00 – 23:00
Price: 20.000 – 50.000 VND
 Papa Container
Address: Lot 06-BT, 6 Thanh Tinh, Lien Chieu District

Opening time: 9am – 9pm

Price: 15.000 – 55.000 VND
Papa Container is a very open space and very airy. Besides, it also has a very nice view. It is just a small balcony corner but always welcomes many visitors every day.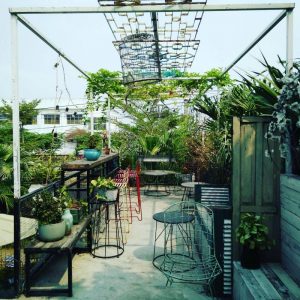 This is also one of the oldest cafes in Da Nang. Green space is planted with lots of trees in both indoor and outdoor spaces. At Papa Container, every corner is piled up.
The Coffee House
The Coffee House is a chain of beautiful cafes in Da Nang that many young people love. Although each restaurant has a different design, the first priority of these shops is simple but attractive.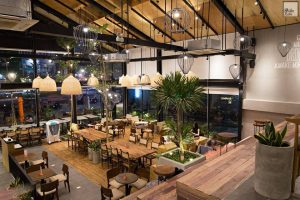 Address: 
461 Tran Hung Dao Street, An Hai Trung, Son Tra

Lot A4, 2 Nguyen Van Linh, Binh Hien, Hai Chau

435 Le Duan, Thac Gian, Thanh Khe

80A Nguyen Chi Thanh, Hai Chau 1
Cong cafe
Cong cafe appears in Da Nang for nearly a year and quickly becomes a famous gathering place in this coastal city.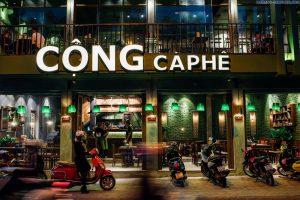 Sitting in a space where all of our objects are all attached to us will make you feel like you relive a peaceful childhood memory. Cong cafe also gives you a feeling of lightness and peace.
Address: 96 – 98 Bach Dang, Hai Chau District, Da Nang
Opening hours: 07:30 – 23:00
Price: 20.000 – 60.000 VND
The Top Bar – A la Carte
Located on the rooftop of A la Carte luxury hotel right on My Khe beach, the Top Bar is a place that many people check in not only at night but also during daytime
Located on the 23rd floor of A La Carte Da Nang Beach 4-star hotel, The Top Bar possesses a modern spatial architecture with an outside swimming pool.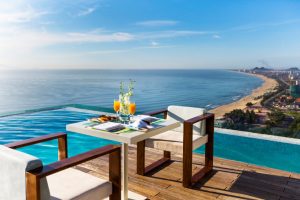 In addition, a team of enthusiastic staff will always support you in all situations and serve when you have additional needs.
Address: 200 Vo Nguyen Giap, Son Tra District, Da Nang
Opening hours: 18:00 – 23:00
Price range: 200.000 – 500.000 VND
Cafe Memory Lounge
With a leaf-shaped design, it is the only floating restaurant on the Han River next to the famous Han River swing bridge.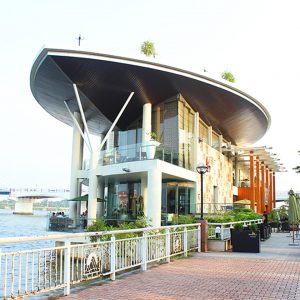 Memory Lounge viewed from above looks like a car lying in the Han River. With unique architecture, Memory Lounge wears a modern look in harmony with the beautiful natural landscape around. Memory's rooms are designed with outstanding glass so anywhere of Memory Lounge can capture the best pictures of the Han River.
Especially, the 500- m2 terrace space becomes a place to welcome visitors to enjoy the most luxurious and ideal fireworks.
Address: 7 Bach Dang, Hai Chau District, Da Nang
Opening hours: 06:00 – 23:00
Price range: 50.000 – 385.000 VND
Focus Asia Travel hopes you will have an enjoyable trip and beautiful photos at these Danang cafes.