Explore Danang Golden Bridge
Danang Golden Bridge – the most famous bridge in Vietnam. Recently, there are many media reports about the Golden Bridge. So what is special about the Golden Bridge? Let's follow Focus Asia Travel to explore this Gold Bridge Danang.
About the Golden Bridge of Da Nang
The Golden Bridge is located in An Son village, Hoa Ninh commune, Hoa Vang district, Da Nang city, connecting the cable car station with other gardens of the resort.
The Golden Bridge was designed by the investor Sun Group to an architectural unit designed by TA Landscape Architecture, connecting a walkway halfway up the mountain from Marseille station to Thien Thai garden and Le Jardin D'Amour flower garden. 
The most special thing about this bridge is that it is supported by a giant hand, ragged mossy fingers facing the vast sky, making it feel like being protected by Buddha.
The two sides of the bridge are beautiful with fresh Blue Queen flowers, Lobelia chrysanthemums which are planted along the pathway on the bridge, creating a colorful scene and attracting the eyes of visitors. That gives a poetic setting, just a romantic one and a little nostalgic overview.
A walk to the sky fashion show has kicked off a series of Fashion Voyage projects by director Long Kan. The unique highlight of this program is the unique catwalk on the Golden Bridge at Sun World Ba Na Hills. The show was taken place on July 14, 2018, attracting the attention of the media, fashion followers, domestic and foreign fans.
Recently, Time magazine has announced a list of the top 100 destinations in 2018 and fortunately, Golden Bridge is also on this list.
How to move to the Golden Bridge of Ba Na Hills in Da Nang
Golden Bridge is located in Ba Na Hills, about 40km southwest of the city center.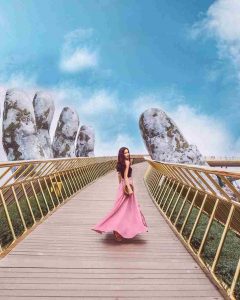 You should choose two popular routes: the route along Provincial Road 602 with the length of 39.8Km and the road of Ba Na – Suoi Mo with the length of 37.3Km.
Transportation to Ba Na Hills Golden Bridge
You can choose a motorbike or car to go to Ba Na. There are many car rental addresses in the center of Da Nang city. You can contact 02363.22.11.68 to have your car delivered with car price 100.000 / day, scooter price 120.000 / day. For cars, you can book grab, or book a 2-way round trip car with experienced drivers: 600.000 / 2 way. Hotline: 0789.419.439
Experience in checking in Da Nang Golden Bridge
Opening time to visit Da Nang Golden Bridge from 7:00 am to 10:00 pm on all days of the week. For beautiful and great moments, you should go in the early morning or cool afternoon. In the early morning when the sun peeps through the dewy sky, the light rays of sunlight shine down on the fanciful, creating a beautiful sunrise picture.
Currently, the ticket price for adults is 750.000 VND. Children with height from 1m to 1m3: ticket price is 600.000 VND. Free admission ticket to Golden Bridge for children under 1m tall. One more rule of Ba Na is that when you enter this resort, you are not allowed to bring food. If you accidentally bring up food, the security guard will remind and temporarily keep and return it at the end of the tour. So we do not waste the effort to prepare food when going to Ba Na. Lunch buffet at Ba Na: 225.000 VND / adult.
Above is the article about Danang Golden Bridge. The bridge marks a historic landmark for Da Nang tourism, introducing Danang to visitors and bringing Vietnam closer to international visitors.