Experience cheap self-sufficient travel Da Nang
Da Nang self-sufficient tourism is the choice of many tourists …
Not only because of the beauty of nature with the charming My Khe beach, the cool green Son Tra peninsula and the legendary Ngu Hanh Son.
Danang also attracts tourists because of the friendliness and hospitality of the people here, creating a brand worth living for Danang city.
Traveling to Da Nang , you will experience the beautiful landscapes, ancient cultural relics and enjoy the rich cuisine of this Central region.
For a long time, Da Nang is gradually becoming a destination that any travel enthusiast wants to visit once in a lifetime.
With Focus Asia Travel, take a look at  the cheap self-sufficiency travel experiences of Da Nang  below to have a trip to this city worth living.
Da Nang Tu Su Travel Experience: moving to Da Nang
Da Nang is the 3rd largest city in the country and is the center of the Central region, so from all parts of the country you can easily find transportation to Da Nang with many different prices.
The most convenient is that you travel by plane to Da Nang to save time, only about 1-2 hours flight from Hanoi and City. Ho Chi Minh.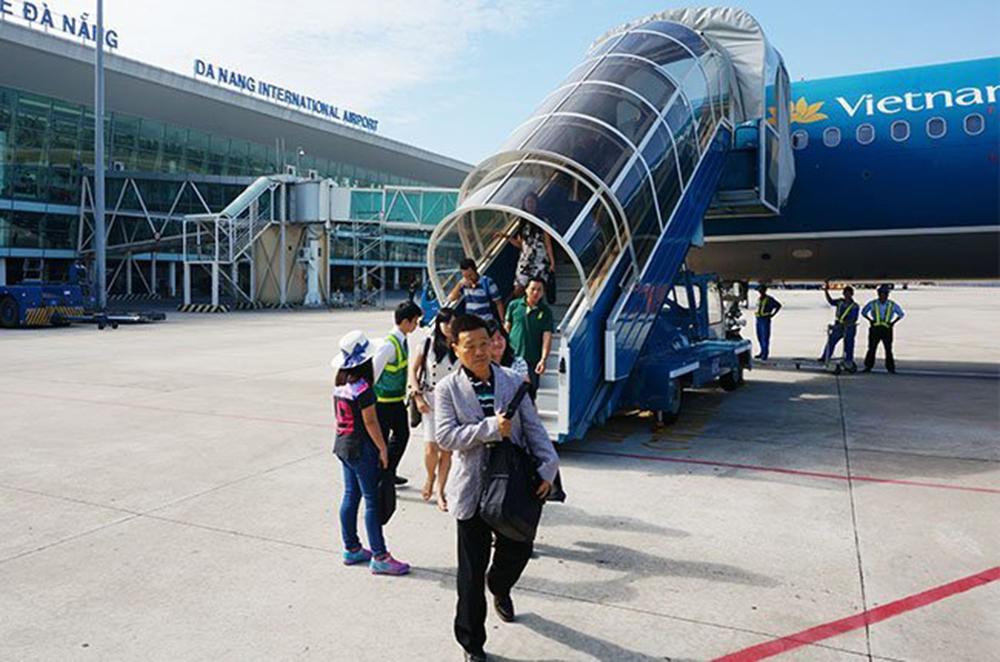 According to Da Nang's self-sufficiency travel experience , you should plan your travel as soon as possible to book cheap flight tickets with the promotions of Vietjet Air or Vietnam Airline.
With Focus Asia Travel , we have the system to compare original prices of all airlines and offer many cheap options for customers to choose.
In addition, Focus Asia Travel has many forms of payment ranging from transfer to cash and I can keep tickets for 24 hours before payment, so it is quite convenient to book flights.
If you want to save money when planning  cheap self-sufficient Danang travel  , the train is also a very good choice.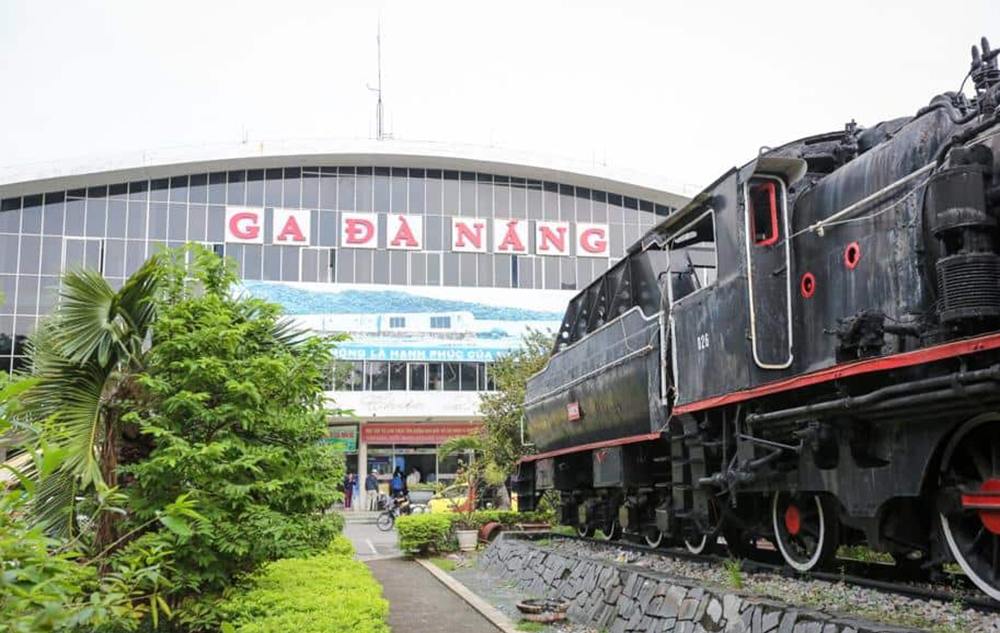 The interesting point when traveling to Da Nang by train is that you have very interesting experiences when seeing the beauty of our country in Vietnam through the train door, especially when traveling by train, the larger the group will be. the more fun.
With the ticket price for the Hanoi – Da Nang or Saigon – Da Nang route is only from 550K / 1 person / 1 way, this is a saving plan for you when coming to Da Nang.
Da Nang Tu Su Travel Experience: choose a hotel in Da Nang
Currently the tourism industry in Da Nang is developing, so it is not difficult for you to find a hotel in Danang.
However, it is not easy to choose a hotel that suits your budget, good service quality and convenient location with your travel schedule.
Focus Asia Travel will share with you experiences of booking cheap hotels in Da Nang to get the  most economical self-sufficient travel in Da Nang .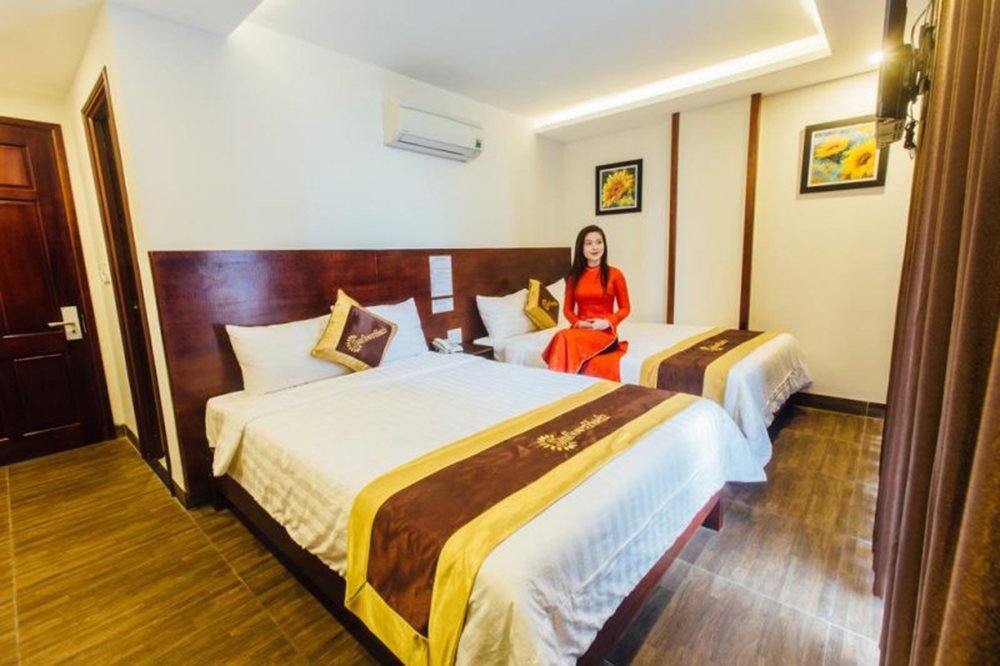 In Da Nang , the two areas where you should book your hotel room are central and near the sea, namely Hai Chau District, Son Tra District and Ngu Hanh Son.
The experience of booking a hotel in Da Nang  is that you should choose Da Nang hotels on either side of Song Han Bridge, Dragon Bridge and Tran Thi Ly Bridge so you can easily move from the beach to the city center and vice versa.
When searching for cheap hotels near Da Nang beach, look for hotels near the main coastal roads for the best price.
Those are the roads like Ho Nghinh, Ha Bong, Loseby … this is the place to gather many cheap hotels near Da Nang beach.
After experiencing and synthesizing the reviews of tourists, Focus Asia Travel has gathered and shared with you  Top cheap and good quality hotels near Danang here.
When choosing  the central hotel of Da Nang  , the first priority is the hotels near the Han River that will make it easy to walk along Bach Dang Street.
This area is also very convenient for you to find eateries, minimarts or Da Nang markets, and you can also easily visit the famous bridges of Da Nang.
---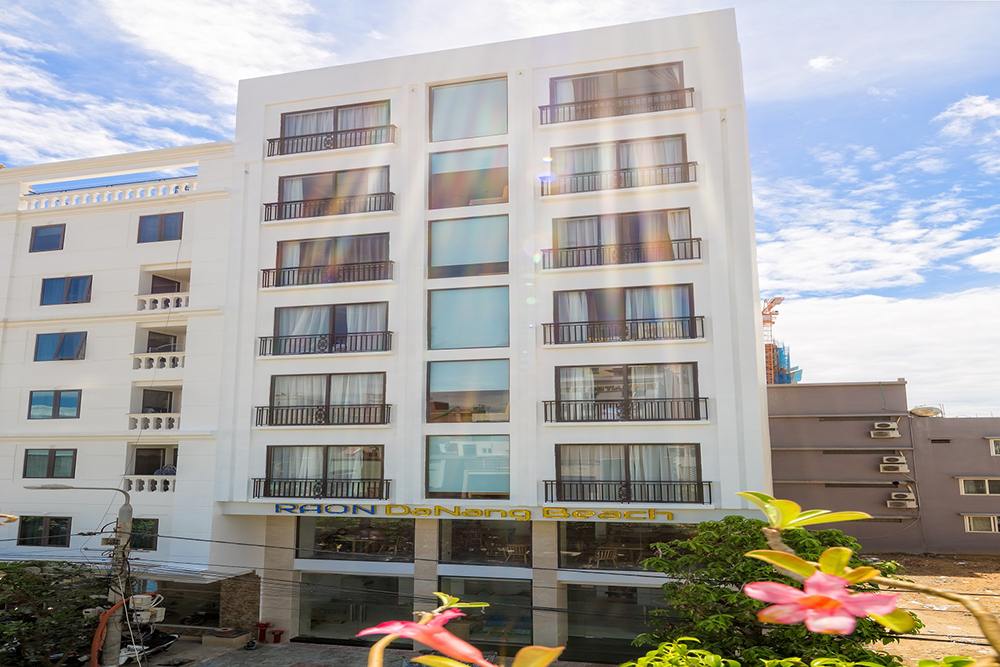 Introducing to you Raon Apartment and Hotel is located between the romantic Han River with famous bridges and My Khe Beach.
The hotel consists of 34 rooms with modern amenities of 3-star standard, all 4 main room classes have beautiful views, panoramic city and sea views.
Each room is designed in a unique and different style. All rooms have a system of technical equipment to meet all essential needs during your stay.
With its prime location, Raon Hotel is very convenient for travelers to travel to locations such as the world famous Hoi An ancient town, Da Nang city , Ngu Hanh Son, Ba Na tourist area Hills, world cultural heritage – My Son holy land and Hue ancient capital.
Address:  

05-07 An Thuong 32, Ngu Hanh Son District – Da Nang

 

For cheap booking, contact: 078.2323.879 – 079.3113.879 

Reception Department: +84 (0) 2363 553 777

Website:  

http://www.raondanangbeach.com/
With the development of e-commerce, direct online booking is increasingly popular and convenient.
Experience in Da Nang hotel booking  because you can check rooms and prices easily for any period, the system will automatically recommend hotels similar to the hotel you are looking for so you can easily type of choice. (Hotline for booking by request: 0782323879 – 0793113879)
---
Da Nang Tu Su Travel Experience: choosing a tourist destination in Da Nang
Danang is blessed with beautiful landscapes, you will experience many beautiful landscapes when traveling to Da Nang.
In addition, Da Nang has many cultural and spiritual tourist sites that you cannot ignore when arriving in Da Nang.
Combining self-sufficient travel experience in Da Nang , Focus Asia will share with you the places to visit in Da Nang completely free of charge.
Danang Beach
With tens of kilometers of beaches encircling Da Nang to the east and north, people and visitors from all over the city are only short journeys to reach these beautiful beaches.
However, only My Khe Beach is the most beautiful beach in Da Nang when it is honored as one of the 6 most attractive beaches on the planet.
So please stay at My Khe beach for your upcoming Da Nang trip , and below are the famous beaches in Da Nang:
This is the most famous beach in Da Nang and is master planed with parking lot, beach, dressing room, culinary services and beach sports services.
Therefore, Pham Van Dong beach is the most chosen beach by people and tourists when swimming in Da Nang.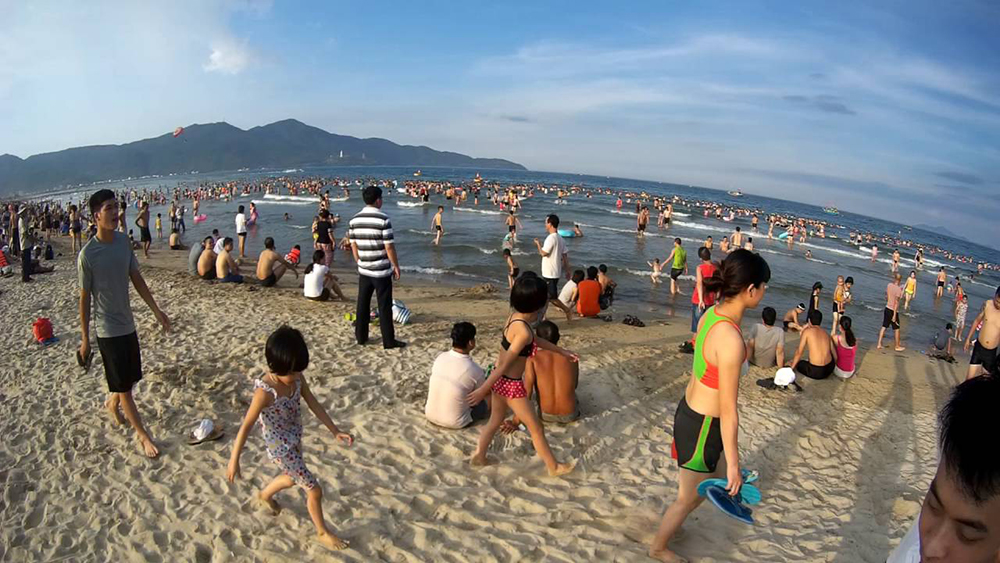 T20 beach is located on Vo Nguyen Giap street and not far from Pham Van Dong beach, similar to Pham Van Dong beach, T20 Da Nang beach also has beach seat rental service.
You should note that from parking locations or fresh water baths, you must cross the street to reach T20 beach.
Unique bridges in Da Nang
Da Nang is known as the city of bridges, here you will admire the bridges with extremely fancy designs.
… And when the bridges light up at night, these are the highlights of the city by the Han River .
Dragon Bridge is a symbol of the dynamism of Da Nang city , with a design simulating a Dragon rising to the sea, expressing the desire to rise of the most livable city in Vietnam.
The highlight of the Dragon Bridge is the impressive performance of the Dragon spit fire and water spray.
Certainly, when coming to Da Nang, watching Dragon Bridge blasting on Saturday and Sunday will be a free show that cannot be missed.
Song Han Bridge Da Nang has long been a symbol of the Han River city.
Coming to Da Nang, watching the Han River Bridge rotate is one of the most special moments and most anticipated by tourists.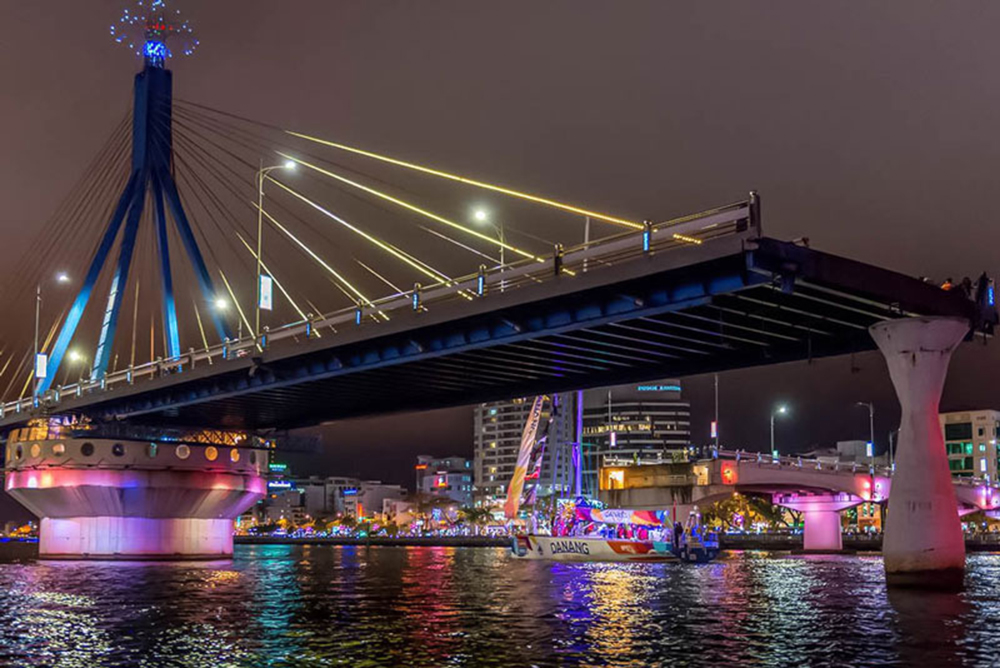 In the past, the rotating bridge span previously served as a service for waterway traffic, so that large boats could pass along the Han River across the bridge between 1:00 am – 4:00 am daily, then to serve the people and Visitors want to enjoy the rotating bridge, the Han River bridge turns from 0am – 1pm and two weekends.
Thuan Phuoc Bridge and Tran Thi Ly Bridge
Thuan Phuoc Bridge is located at the seaport of Da Nang connecting Hai Chau district to the green Son Tra peninsula.
Especially at night, watching Thuan Phuoc Bridge lights up and changing colors is sparkling and majestic between the sea and the end of the river.
Tran Thi Ly Bridge is designed as a sail stretching out to the big sea to express the desire of Danang people.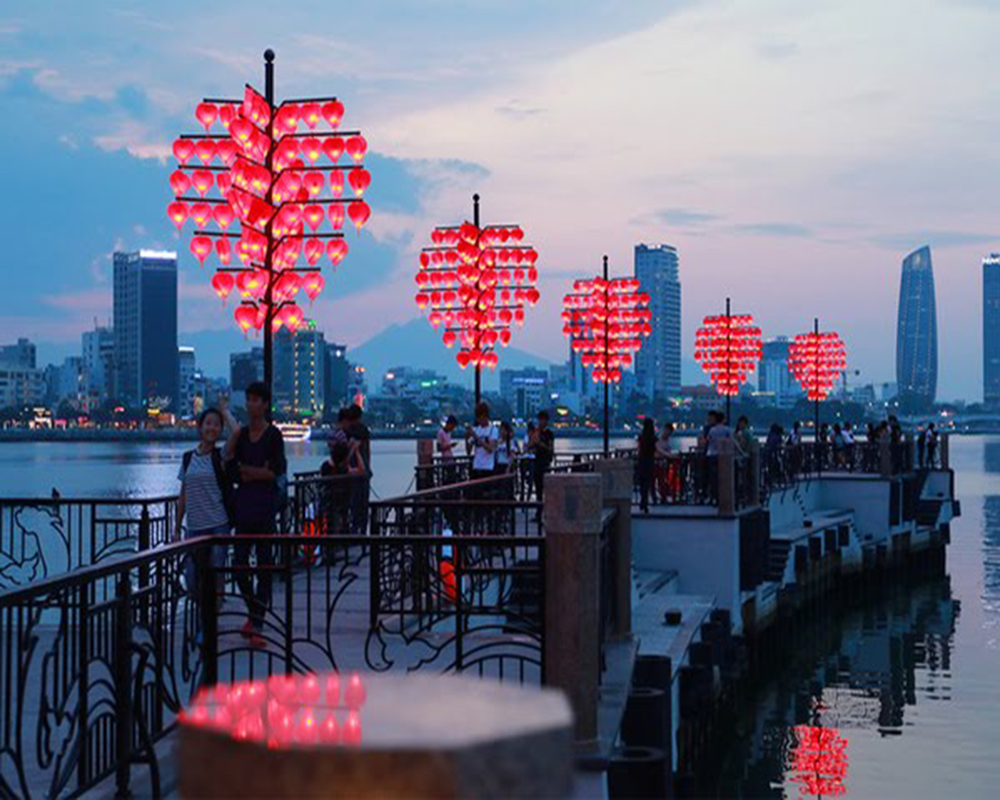 Love Bridge in Da Nang was just inaugurated in 2015, is the place where many couples come to make vows and wishes to "lock" the other half's heart.
That is why many couples use the locks and locks on the bridge to prove their love and love wishes are always strong.
From Love Bridge, you can look at the Dragon Bridge, make beautiful photo sets with the Dragon carp icon.
Da Nang self-sufficient tourist destination:
Son Tra Peninsula is the green lung of Da Nang city and is a biosphere reserve with many rare species of flora and fauna.
Among them is the rare brown-shanked douc langur – the symbol of Da Nang during the APEC 2017 high-end week. Son Tra Peninsula is a very interesting tourist destination in Da Nang with many places worth exploring.
Da Nang tourism experience self-sufficiently thinks that there are 5 most famous sightseeing places in Son Tra peninsula: Linh Ung Pagoda – Multi-year Tree – Top Ban Co – Old Helicopter Airport – Watching brown legs
Ngu Hanh Son tourist destination is located about 8km southeast of Da Nang center, on a vast sandy beach near the coast, in Ngu Hanh Son district, Da Nang city .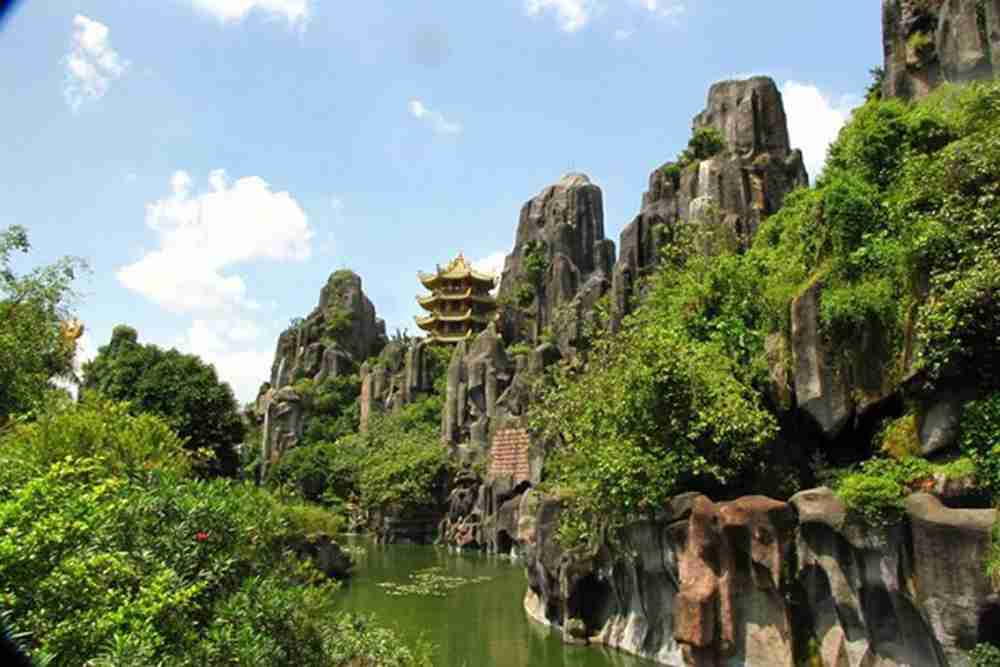 Ngu Hanh Son with five mountains lying according to the Ngu Hanh system is a masterpiece of nature bestowed on Da Nang city, including Kim Son, Moc Son, Thuy Son, Hoa Son and Tho Son.
According to Da Nang tourism experience , when you come to Ngu Hanh Son, you must definitely visit the following destinations: husband rock tunnels, Ms. Tho cave, Am Phu cave, Huyen Khong cave, Linh Ung pagoda, Vong Giang Radio … suitable for spiritual tourism.
At the foot of the mountain is Non Nuoc stone carving village over 300 years old, where visitors can personally enjoy the stone carving skills of talented Artisans and can choose the most satisfactory products as souvenirs. recite.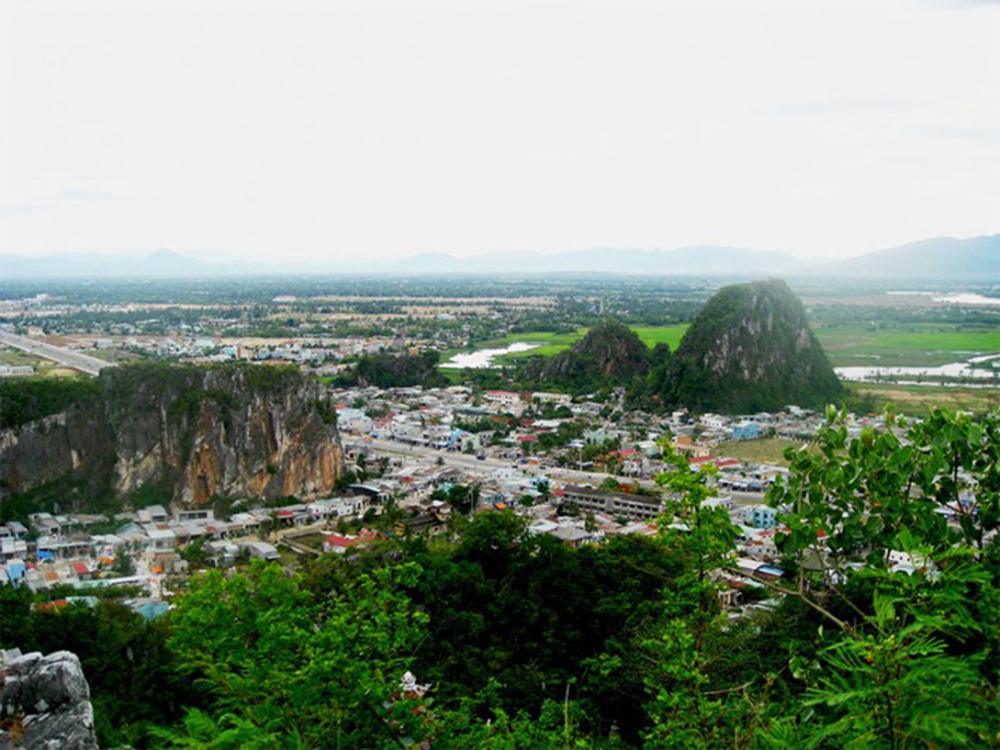 Hai Van pass is one of the most beautiful and impressive coastal passes in the world.
Hai Van street is precarious, meandering, prominent amidst the immense green of majestic mountains.
Sometimes it bends around, hugging the mountainside. Sometimes it turns suddenly, creating fancy zigzag lines.
Hai Van with one side is high mountain, the far side is the big sea.
All create magnificent natural pictures, infatuated people's hearts.
It is a wonderful work of creation and a work of human hand.
It can be said that Hai Van Pass is a road that any traveler wants to conquer once. Surely you will be impressed with the rare majestic beauty of this place.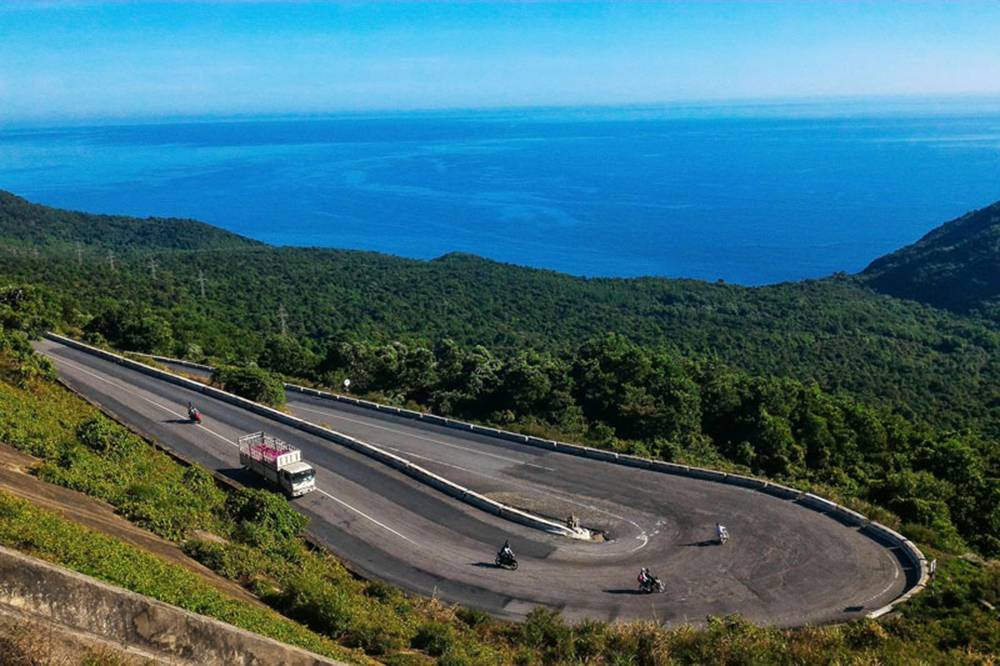 Danang Cathedral, also known as Danang Con Ga Church, was built in 1923, nearly 70m high by priest Louis Vallet, is the only church built in the city of Danang during the French colonial period. .
Gothique church architecture with soaring lines, canopy doors.
Inside the church are pictures and statues illustrating the events in the Bible that follow the motifs of the Western churches.
Behind the church is the Marian cave decorated in the model of Lourdes cave in France.
Con Ga Church is a destination that many international tourists visit, where you can take the most impressive check-in photos.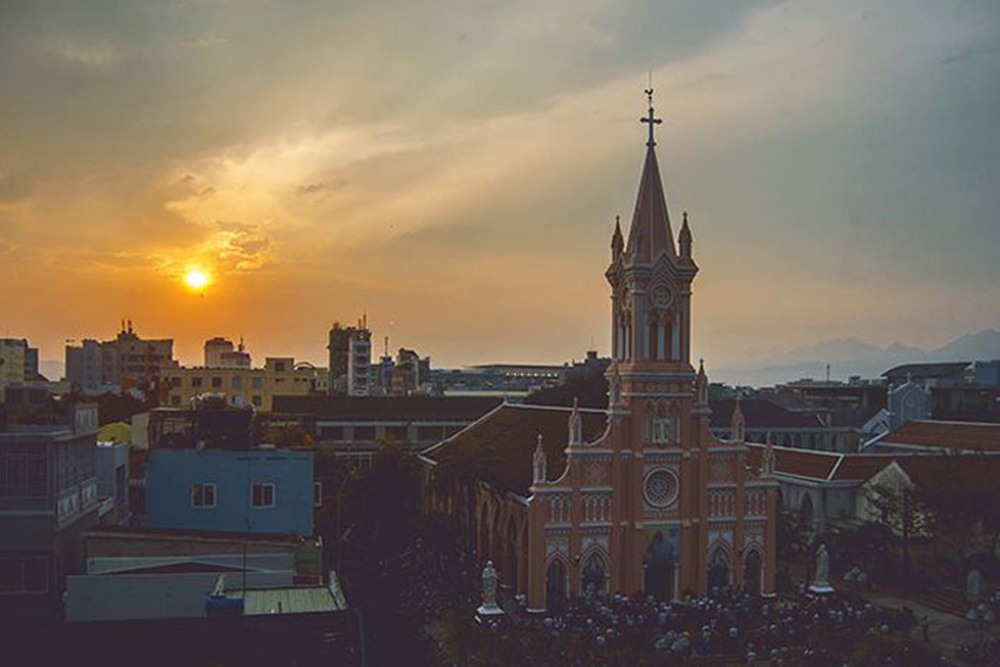 Ecotourism site in Da Nang
To Da Nang , if you want to  immerse yourself in nature when  traveling to Da Nang , choose for yourself ecotourism destinations to enjoy the clear green air, immerse yourself in the plants, flowers and soak in cool water.
The ecotourism places that people and tourists love include: Suoi Hoa, Ngam Doi, Hoa Phu Thanh, Lai Thieu, Tien Sa tourist site …
The famous Da Nang markets
The two most famous Da Nang markets that are interested by many tourists are Han market and Con market in the center of Da Nang city .
Han Market stands out with specialties from Da Nang to bring back as gifts such as dried fish, dried squid and some souvenirs.
Meanwhile, Con market is considered as the street food paradise of Da Nang, where you can easily enjoy delicious snacks at reasonable prices.
In addition, Con market is a huge wholesaler of the city by the Han River.
Ba Na is compared to Da Lat of Da Nang , when it reaches the top, the temperature will be cold and completely different from the bottom of the mountain.
Traveling to Ba Na, you will experience the cable car system that has achieved many world records, the feeling of sitting on the cable car cabin looking at the surrounding primitive forest will be unforgettable impressions.
The attraction of Ba Na is the European space recreated with architectural works, cultural shows and indispensable flowers of temperate land.
Traveling to the ancient town of Hoi An, you will be amazed at an isolated world, separated from all flows and the destructive power of time, both space and time deposited in the old wooden houses.
Japanese Covered Bridge, two-ton old houses with their backs to the Hoai River wharf, Quang Dong Assembly Hall, Fujian … are quietly existing for people to remember a time in the past.
In particular, the old town has a romantic, deep and peaceful look under the fanciful lanterns every night of the 14th lunar month every month.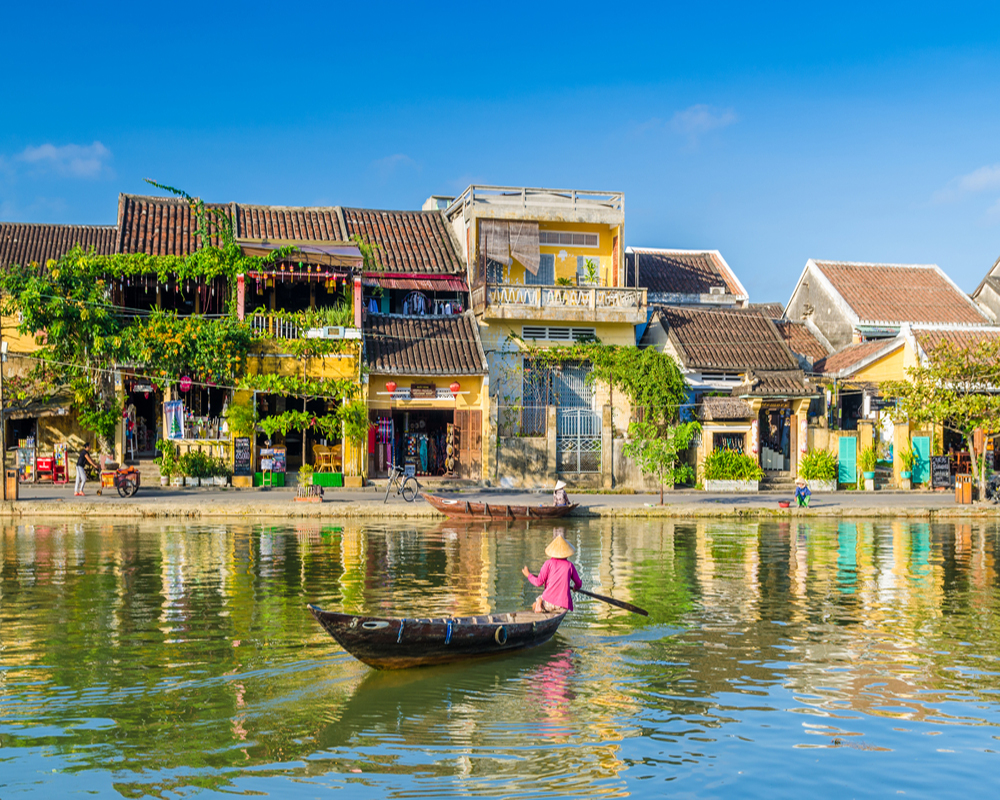 Coming to Hoi An, it is impossible not to mention Cu Lao Cham Temple with its great ecological diversity.
The rare and precious seafood species and colorful coral reefs preserved in the best environment make Cu Lao Cham an ideal destination for those who love the wildness of nature.
The beaches with long white sand and smooth blue water that can be seen to the bottom are the specialties of this place.
According to Da Nang's self-sufficient tourism experience, the most interesting experience when traveling to Cu Lao Cham is to walk on the sea floor amidst colorful coral forests, see the amazing ocean world and give your own hands for the fish. Cute very enjoyable eating.
You can choose Seatrek's services because here they have a professional and dedicated team that can help you walk under the sea easily without having to know how to swim or dive.
So everyone can join this extremely interesting coral walk Seatrek tour. (Hotline: 078.2323.879 – 079.3113.879)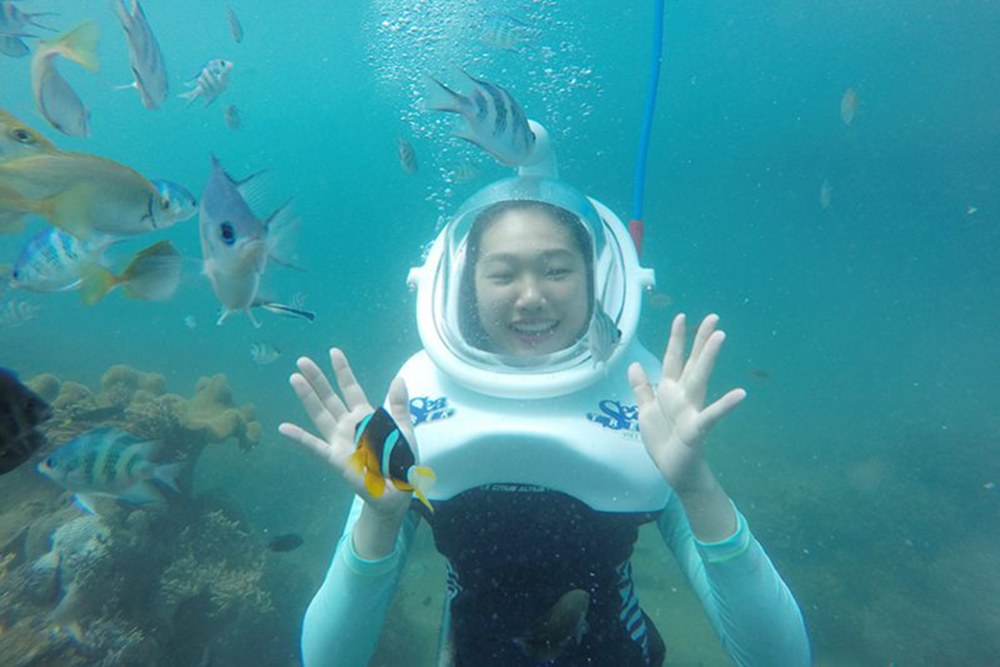 Da Nang Self-Sufficiency Travel Guide: eating and drinking in Da Nang
Danang Cuisine  is one of the most attractive destinations for tourists to Da Nang.
Fresh food, very reasonable prices and good service quality are the plus points of culinary culture in Da Nang.
According to Da Nang's self-sufficient travel experience  , the following are the dishes that have made up the Danang brand that you must definitely try when traveling here:
Needless to say, everyone knows Quang noodle is a famous dish of Da Thanh.
Thick, hard, and big, coarse noodles are the hallmark of the noodle bowl.
Quang Noodle does not have a "immutable" recipe but is very diverse: Quang noodles, snakehead noodles, Quang eel noodles, Quang eel noodles, crab Quang noodles … but the "traditional" noodles are Quang noodles, chicken, eggs. , meat.
In particular, the indispensable ingredients of Quang noodles are roasted peanuts and crispy sesame rice paper.
Diners mix all the ingredients into a bowl, next to the bowl of broth simmered from delicious pork bones and crushed shrimp, adding cashew nuts to create a broth and beautiful color.
Quang noodle is served with raw vegetables such as cabbage, fresh lettuce, basil, bean sprouts, coriander, cilantro, thin iron banana … all mixed together to create an unforgettable flavor.
Watch Now: Top 5 Places to Eat Quang Thieu Da Nang Noodles
Does not require elaborate processing, but simple and very easy to eat. The pork rolls in Da Nang are famous for the ingredients that are carefully selected, making the taste perfect.
Pork only takes the buttocks or shoulders, then steamed to keep the sweet taste. Vegetables are common types, easy to find but must be fresh green, not withered, including lettuce, basil, fish lettuce, green onions, herbs, bitter vegetables, bean sprouts, white banana buds, cucumbers, bananas …
The great way of this dish must include seasoning sauce, irreplaceable sauce. This is something that everyone has to remember when enjoying pork rolls.
Indeed, it is hard to deny the chewy texture of the rice paper in combination with the soft taste of the wet noodles, the sweetness of the meat, the freshness of vegetables and the passionate spicy of the seasoning sauce.
Da Nang self-sufficient tourism experience: entertainment activities 
Da Nang at night is not as exciting as Saigon or Hanoi, but traveling to Da Nang you can choose for yourself exciting night activities to feel the life of this developing city.
Enjoy the Han River on a cruise
This is an interesting recreational activity for all ages, you can enjoy the cool breeze from the Han River and watch the sparkling city ​​of Da Nang at night from the two sides of the Han River to the bridges. unique.
If you stay in Da Nang on two weekends, watching the Dragon Bridge blasting on the yacht is also very interesting. Don't forget to take these impressive check-in photos for yourself.
Sit the PUB along Bach Dang street
Bach Dang route along the Han River is known as the most romantic road in Da Nang. There are very unique PUB shops where you can sit and drink a beer, enjoy music and watch the flow of people on the street.
According to Da Nang's self-sufficient tourism experience , you can choose PUB on Bach Dang Street behind: Bamboo 2, Golden Pine, OM bar or The City Pub.
Enjoy panoramic city views from the rooftop bars
Experience the feeling of embracing Da Nang's sky from above will also be very interesting.
In Da Nang you can go to a bar of the hotels: Sky36 at Novotel Hotel Bach Dang Street, Top View Bar at Vanda Hotel Nguyen Van Linh Street, Top bar at A La Carte Hotel on Vo Nguyen Giap street or SkyBar on the floor 21 at Diamond Sea hotel on Vo Nguyen Giap street.