Enjoy Phu Quoc Tour on tet 2021 with 7 amazing experiences
For recent years, Phu Quoc has always been one of the most important travelling destinations of our country. To avoid wasting time on booking room, finding means of transport by yourself, you'd better choose the Phu Quoc Tour on Tet 2021 to freely enjoy your holiday, which is filled with 7 exciting experiences recommended by Focus Asia Travel.
 Tour to 2 or 4 or 5 islands
Phu Quoc comprises 22 different islands; therefore, the tours to those islands have been flourishing. Particularly, the most popular kinds of tours are the tour to 2 islands, tour to 4 islands and the one to 5 islands. The tour to 2 islands is relevant to the family having old people and small kids. The two others are ideal for the people who prefer exploring nature or visit Phu Quoc the first time.
Recently, there are numerous organizations hosting island tourism programs, which include shuttle services, lunch, photo taking and recording by flycam. However, you should consider the hosting organizations carefully to avoid the troubles for your holiday.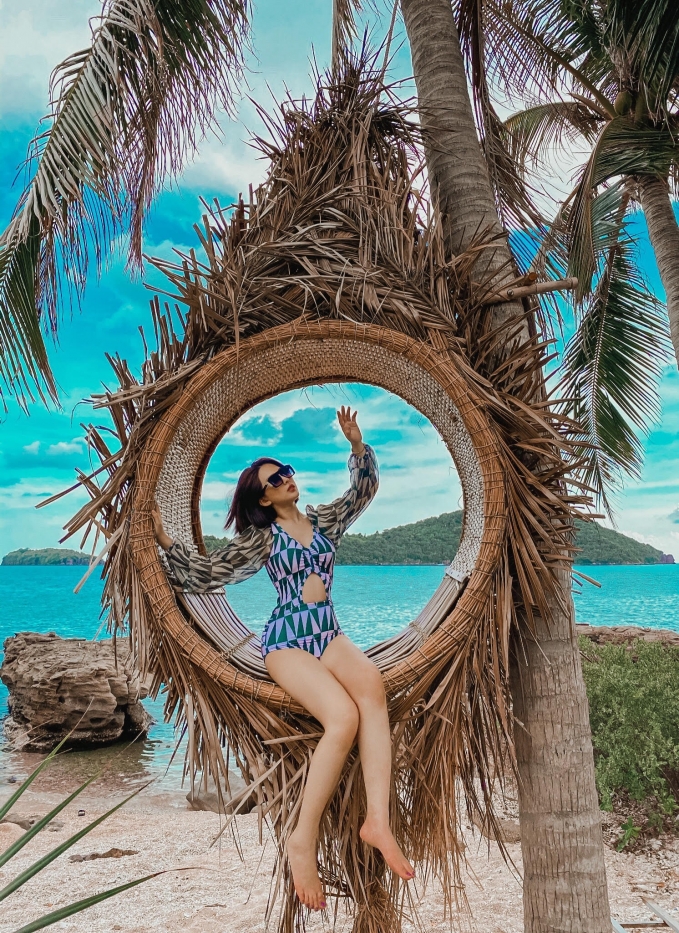 Most of the tours go through these destinations:
Hon Gam Ghi (Dam Ngang): the kingdom of super beautiful coral.
Hon Mong Tay: known as the Maldives of Vietnam.
Hon May Rut Trong: The beach has a wild stretch of sand, looks like Robinson Island.
Hon May Rut Ngoai: the cleanest and bluest beach in the An Thoi archipelago.
At the end of the program, the visitors will move to Sunset Sanato, Ocsen Beach Bar to see the sunset.
Tour to 2 islands includes Hon Mong Tay and Hon Gam Ghi. In tours to 5 islands, tourists will have a chance to experience the Thom Cable Car service- the longest 3-wire cable car crossing the sea in the world. The prices cover from 450.000VND to 1.000.000VND depending on chosen organizations and the type of tour.
Seawalker
Along with diving and seeing coral, which are very popular in Phu Quoc, there is Seawalker service available. This kind of tour is always hosted at Coral Park, Hon Roi from June to September, the rest of time is hosted at Mui Ky Lan and Hon Thom. The price ranges from 650.000VND/person/12mins to 950.000VND/person/20mins.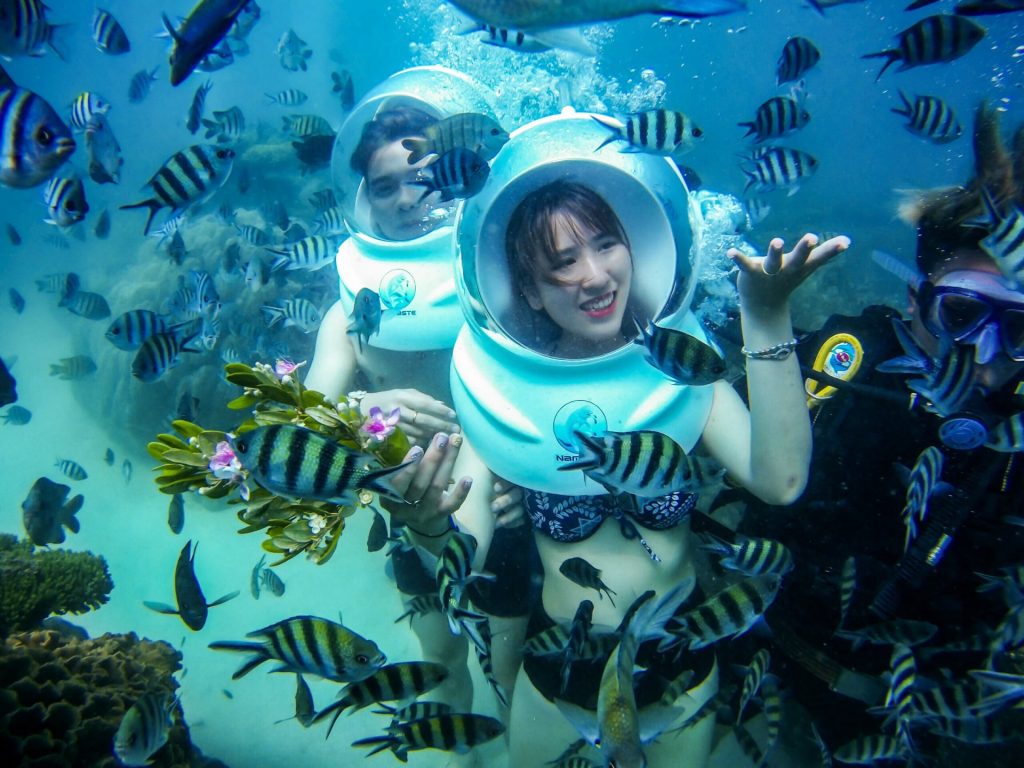 Different from seeing coral, which requires a lot of equipment, all you need for Seawalker is only an oxygen hat. Thanks to that, you can freely explore the underwater world and take perfect photos as well. The declarants have a program to support taking photos (300,000VND / 20 photos / person; 500,000VND / 40 photos / 2 people) and underwater recording (600,000VND) for tourists. Particularly, the tour applies to children from 6 years old that do not require swimming ability.
Vinpearl Safari
Vinpearl Safari Phu Quoc is the first semi-wild zoo model appearing in Vietnam. With a total area of ​​nearly 500 hectares, this place is home to more than 3,000 individuals of 150 rare species of mammals coming from many places such as: South Africa, Australia, America, Europe… With the form of "releasing animals, locking people", Phu Quoc Safari attracts many tourists, especially families with small children coming to explore. There are experiences available for you to take part in:
Explore the animal kingdom.
Enjoy the animal show.
Feed giraffes and elephants.
Watch the Zulu dancer perform.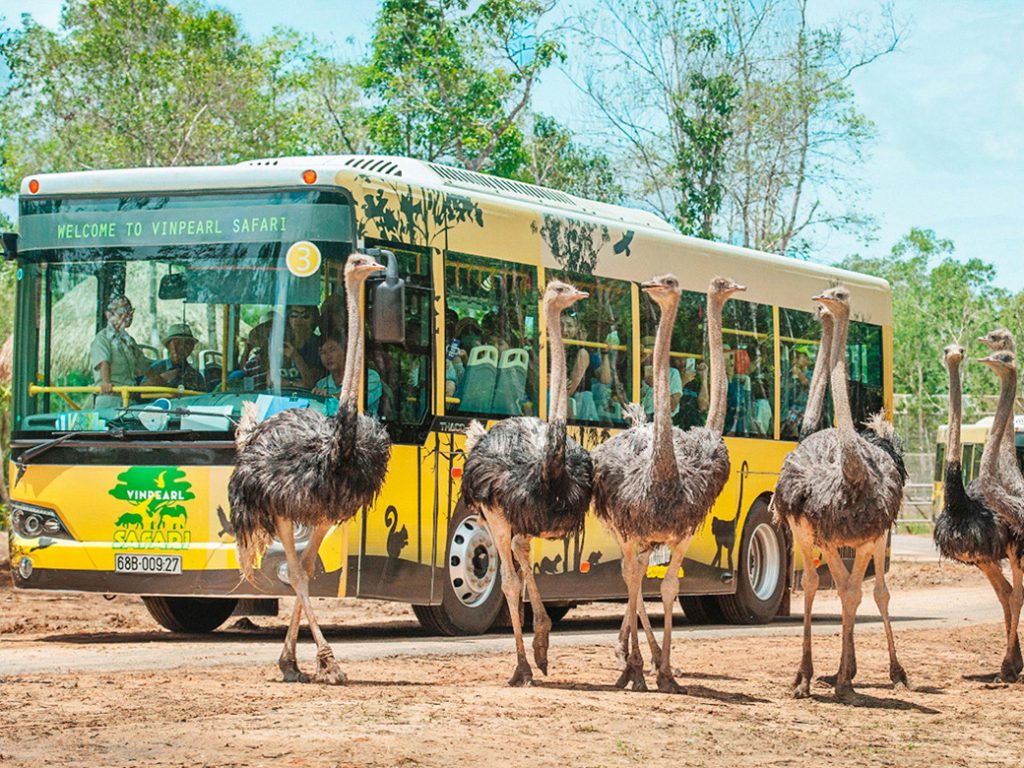 Vinpearl Safari opens from 9am to 4pm everyday. The official prices of tickets are 650.000VND/adult, 490.000VND/the old or children; free for kids under 1 meter. To save time and reduce fatigue, you can also rent tram service which costs 100,000 VND / person over 1,4 meters; 80,000VND / person from 1meter to 1,4 meters and free for kids under 1 meter.
4. Vinwonders
If your health can afford, you should combine visiting Safari in the morning and Vinwonders in the afternoon. Coming to the largest theme park in Vietnam, you will have the chance to conquer 6 major subdivisions with hundreds of exciting games, explore 12 human civilizations, experience the largest water park in Southeast Asia and many other interesting things.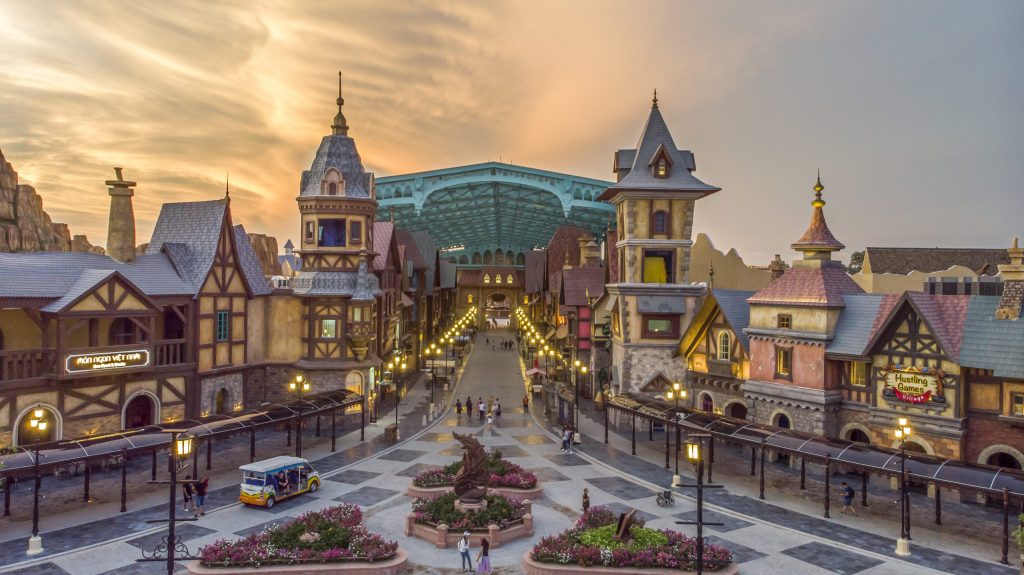 VinWonders is open from 9am to 9pm everyday. The ticket prices are 750,000 VND/adult. and 560,000VND for the elderly (from 60 years old) and children.
5. Casino Corona
Recognized as the resort paradise of Vietnam, Phu Quoc's night activities are also very diverse. One of the most significant ones is the largest casino in Vietnam with 1,000 slot machines, 100 tables. You can try your luck with games like: Blackjack, Baccarat, Poker…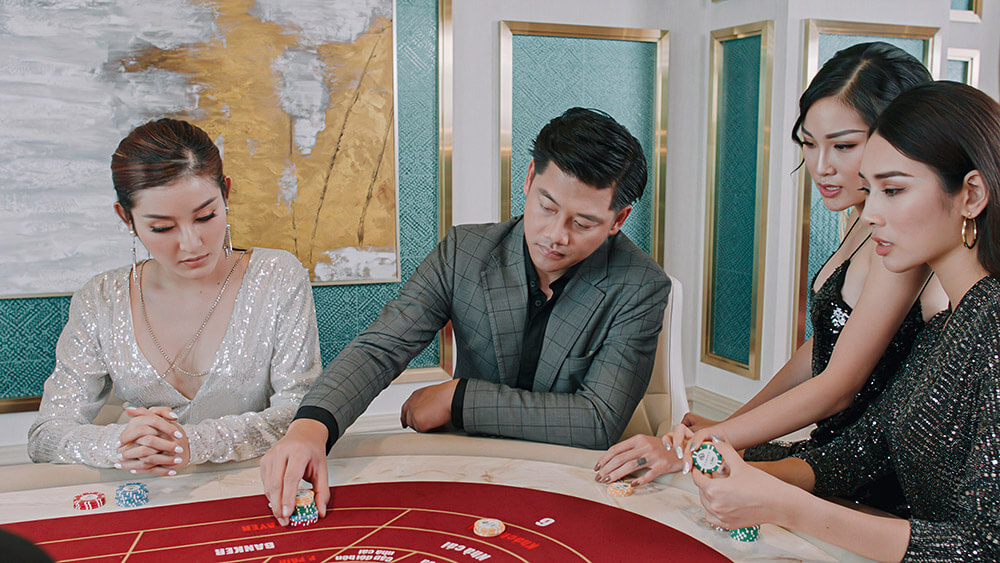 Pay attention that when coming to Corona, you must be a Vietnamese citizen over 21 years old and have proof of income over 10 million VND / month. In addition, there is no criminal record; do not encounter objections from relatives; dress properly and mentally alert (not drunk, do not use drugs). For foreign visitors, an international passport is required before entry.
6. Grand World
Expected to be active from Christmas – on December 24th, 2020, Grand World is Vietnam's first "sleepless city". With 3 Shophouses operating 24/7 with three different styles: Shanghai (Shanghai Shop), Indochina (Indochine Shop) and Mediterranean (Mallorca), it promises to be a destination attracting new international tourists together with other famous names such as Singapore, Hong Kong, …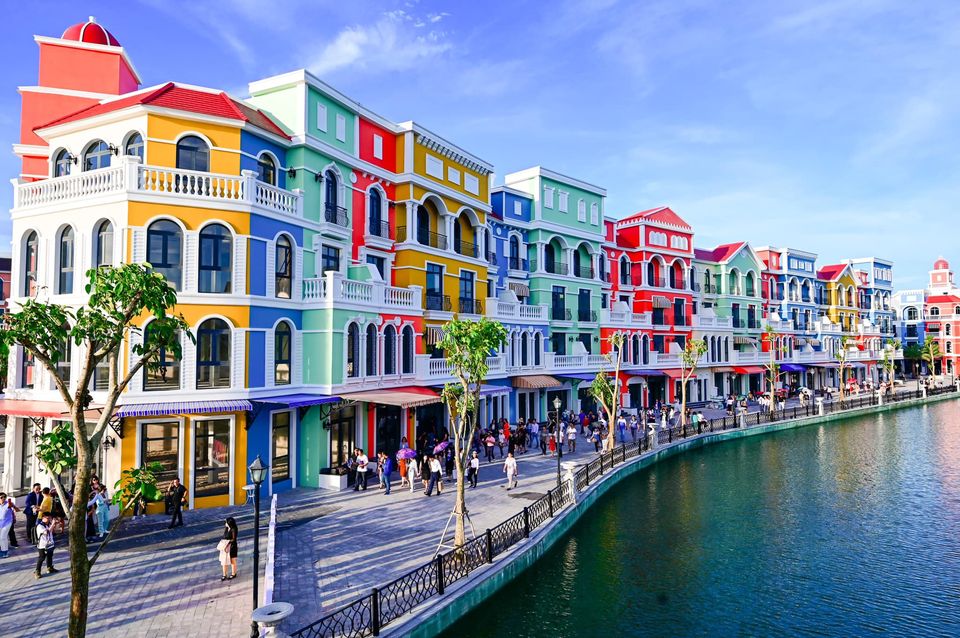 One more special thing to be mentioned is the biggest stage scene in the South. There will be about 2920 shows daily every year and 365 performances at night. Besides, visitors will be immersed in the endless animated atmosphere of hundreds of music festivals from both famous national and international artists.
7. Catching squid at night in the Tour to Phu Quoc on Tet 2021
With a cost of only 250,000 VND, you can experience the night squid catching tour in Phu Quoc along with a full range of services: shuttle included, watching the sunset on the sea, squid catching by yourself… WHen you arrive at the designated area, the expert will guide you on how to catch the biggest squid in the easiest way. After that, you also have a chance to enjoy grilled squid, crispy squid, … from the squid that you just caught. This is one of the funnest evening activities that you and your family can participate in at Pearl Island.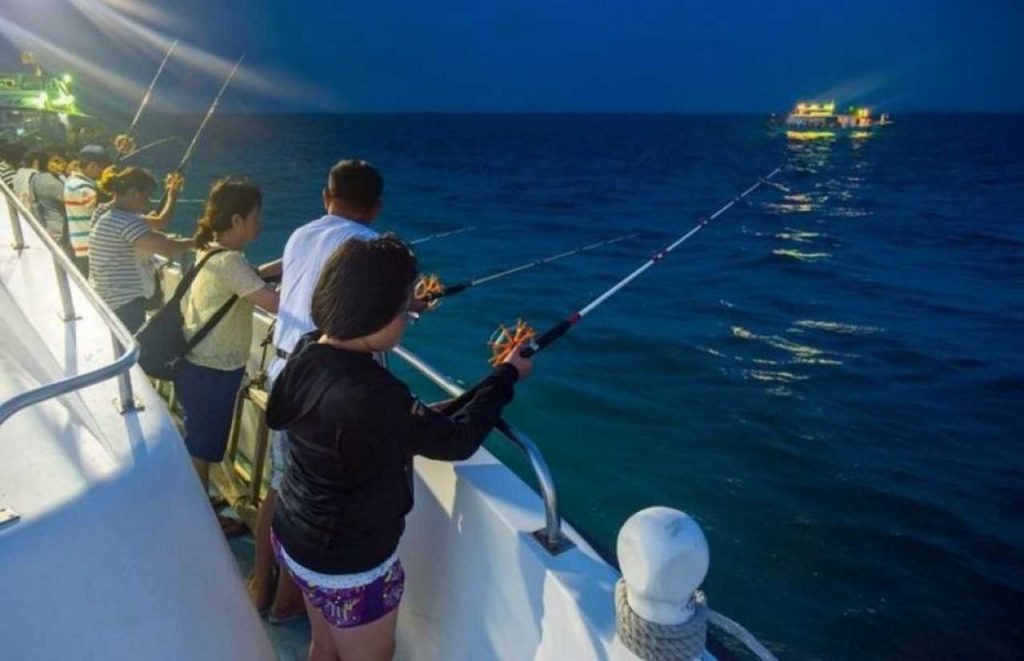 Phu Quoc not only owns excellent natural conditions, but also receives a lot of investment from large corporations. Therefore, it is always a top place for those who prefer resort tourism, especially for holidays. You can consider "Combo Phu Quoc gia re" or Phu Quoc Tour Tet 2021 from Focus Asia Travel to prepare the best plan for your vacation.