Diamond Bay Resort – a diamond on Nha Trang beach
About Diamond Bay Resort
Located on Nguyen Tat Thanh boulevard running close to the coast,  Diamond Bay Nha Trang (or Diamond Bay Resort & Spa) is only 20km from Cam Ranh airport – 25 minutes by car and 10km from the city center. – 15 minutes by car. This is also the venue for major events such as the 2008 Miss Universe 2008, Miss Earth 2010 pageant.
Compared with other resorts in Nha Trang, Diamond Bay Resort offers a more tropical "jungle" feeling  due to its unique geographical location – one side adjacent to the beach and the other based on the hills. Furthermore, Diamond Bay Resort is surrounded by lots of trees and forests. When entering the resort, visitors will be overwhelmed by the designed shady trees such as coconut trees, areca, bananas, mangoes, orchids, etc.
Because of the beautiful and favorable landscape and cool climate all year , Diamond Bay Resort has the potential to become an ecotourism area.
Vacation experience at Diamond Bay Resort
Although all necessary facilities and amenities will be provided in this resort, there are a few things you should bring:
Luggage : Make sure you bring mosquito spray and wind oil  to avoid mosquitoes. Because there are many trees at the resort combining wet sea air which is a favorable condition of mosquitoes. You also need to bring a wind jacket or a thin jacket if you go in the summer as the temperature can get low at night.
Cost : Because the resort is located quite far from the city center, travel is not too convenient. Bring extra money, cash and ATM
In addition, before going on vacation, don't forget to check the weather forecast to prepare some necessary items such as umbrellas, hats, sun protection shirts … if needed.
How to go to Diamond Bay Resort
To help travelers find the most suitable and fastest means of getting to the resort, DulichToday offers a number of ways to get there.
Move from Cam Ranh airport to Diamond Bay resort
Option 1 : Use the airport bus – Dat Moi company
Opening hours : 5:00 – 21:55
Ticket price : 0 – 10km: 10,000 VND / one way, 10 – 20km: 20,000 VND / one way, 20-30km: 30,000 VND / one way, whole route: 50,000 VND / one way
Contact : 0258 625 4455 – 0966 282 388
This is the most convenient and affordable way. Currently, Khanh Hoa has a passenger transportation route by  Dat Moi bus  from Nha Trang to Cam Ranh airport (route 18) and vice versa. One of the stops on this line is Song Lo (Diamond Bay).
Option 2 : Contact the resort to use Diamond Bay's shuttle bus service
Contact the Dimond Bay reception 1 to 2 days in advance to reserve a pick up time, however there will be an additional charge. This is only free when you purchase one of the resort packages.
Option 3 : Take a taxi
Although taking a taxi is the fastest and most convenient way – just get on the bus and give  D iamond Bay Nha Trang the address  to the driver, but it costs money. Therefore, you can choose some of the following cheap carriers to save some costs:
Sun Taxi – (0258) 3 89 89 89
Taxi Khanh Hoa – (0258) 3 899 899
Taxi Thanh Hung – (0258) 3 822 822
Taxi Emasco – (0258) 351 51 51
Note: If you take a taxi at the airport, before getting on the car you should ask the driver to turn on the meter, or negotiate with them in advance about the amount, otherwise you will be ripped off by drivers.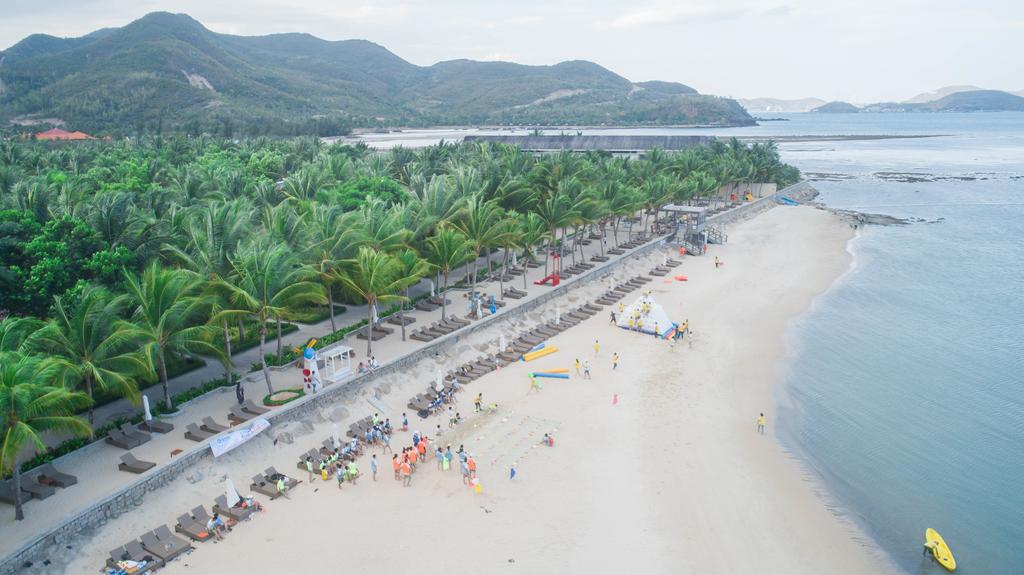 Move between resort and city center
Move between resort and city center
Traveling between Diamond Bay and other attractions as well as the center of Nha Trang is quite inconvenient not only because of the long distance but also the high cost. Despite having daily buses to serve tourists, there are only 5 trips each day and they are also very crowded.
Using other means of transportation such as taxis and the resort's private shuttle is expensive. This is a drawback you should consider when choosing a resort in Nha Trang.
Experience of choosing and booking
Diamond Bay Resort- Nha Trang offers a total of 342 resort rooms which is classified into 2 main groups:
176 hotel rooms are located in a campus filled with trees and flowers.

The 166 Bungalow rooms are divided into 2 rows – Ruby and Sapphire, with views of the garden or sea.
Refer to the detailed information about the area, characteristics and price of Diamond Bay Nha Trang  in the table below.
Kind of room




Room price




reference

Room characteristics

Hotel rooms

Garden Superior

1.900.000 VND / night

Area: 37m2

There is a private balcony with garden view

Double or twin room

Simple style, warm space, suitable for couples

Garden Deluxe

2.300.000 VND / night

Area: 44m2

There is a private balcony with garden view

Double or twin room

Minimalistic, luxurious and warm style (suitable for couples)

Junior Suite

2,700,000 VND / night

Area: 75m2

Vietnamese design style

Only King room type

Private balcony overlooking the garden and mountains

Executive Suite

3,500,000 VND / night

Area: 87m2

Open space, Vietnamese style blends contemporary

Only King room type

Private balcony overlooking the forest and hills

Suitable for small families (2 couples 1 child)

Bungalow

Diamond Garden

3,100,000 VND / night

Area: 61m2

Located in a green campus with many tropical plants

Only 1 double bed room type

An open space with an East-West design

Jacuzzi tub design

Suitable for couples

Diamond Ocean

3,800,000 VND / night

Area: 68m2

Located right by the beach

Only 1 double bed room type

a Contemporary Vietnamese design, an open bathroom and Jacuzzi tub design

Suitable for couples

Diamond Jacuzzi

4,200,000 VND / night

Area: 75m2

Located right on the beach, 3 sides surrounded by gardens

Only 1 double bed room type

This design is considered as the most beautiful in Diamond Bay

Design combines between East and West, an open bathroom space and Jacuzzi tub

Suitable for couples and small families
5.2. Choose a smart room
Choose a room that suits your needs:
Currently, rooms at Diamond Bay resort are double rooms, so it is very suitable for groups of tourists with an even number of people, especially couples. However, all rooms can fully meet all small families' need (2 couples and 1 child) by adding 1 extra bed at a corresponding surcharge.
Travel tip : Garden Superior and Garden Deluxe with small, beautiful space and reasonable price will suit couples. If the couple wants to have private space, they can choose Bungalow Diamond Garden. The remaining room types with more spacious areas will suit families with young children.
Choose a room with 1 double bed or 2 single beds
Garden Superior  and  Garden Deluxe is suitable for travelers who are friends or relatives needing to sleep in separate beds in the same room.
5.3. Booking experience – time of booking and offers
If traveling during the tourist season (July – September), travelers should book early (preferably 2 months in advance) to have more choice of room types and better room rates.

Refer to promotional packages right on  

the official website of Diamond Bay Resort & Spa

 . Highlights of the resort is that many interesting vouchers, combos and promotions for visitors to choose (family package, honeymoon, wedding, golf, sea sports, etc) .

In addition, you can also find vouchers on the Hotdeal, Group Buying, Adayroi or follow the information from Fanpage Diamond Bay Resort & Spa.

Use room rate aggregator websites like Hotelcombined, Trivago, Kayak to track and compare prices in the fastest and most convenient way.
Above is all the information you need to consider Diamond Bay Resort as a resort on this summer vacation in Nha Trang. Quickly book a tour of Focus Asia Travel Nha Trang to experience it!