Dancing Rock Beach in Quang Binh
Traveling to Quang Binh, visitors definitely want to visit Phong Nha – Ke Bang National Park which is a world natural heritage or conquer the world's largest Son Doong cave but only a few people know the name "Dancing Rock Beach- Quang Binh" which is also a proud of Vietnamese people.
Dancing Rock Beach is one of the two most beautiful beaches in Quang Binh. This place has the same range of rocky mountains eroded by seawater over the years protruding from the sea surface with all kinds of eye-catching shapes.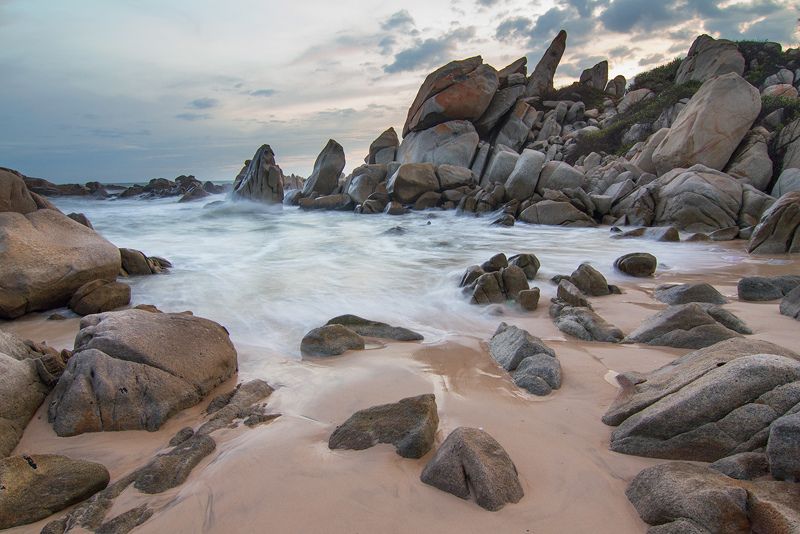 The many large rocks scattered on the beach all year round are honed by ocean waves. Dancing Rock Beach – Quang Binh looks like a wonderful picture with different shapes of rock. There is a huge rock, dark gray like a buffalo lying in the sky. There is an elephant shaped rock for the tiger kneeling. There are other places where there is an empty roof and small rocks protruding on the fine sand that looks like a toad jumping over the water bobbing along the waves.
Visitors to Dancing Rock Beach will admire the different colors of each rock depending on the ebb and flow of the tides. Surely visitors will be amazed by the unique beauty of this place.
Dancing Rock Beach is as beautiful as other beaches in Vietnam. Every year, Dancing Rock Beach welcomes a lot of tourists to admire and frolic on the beach beside strange rocks.
Each wave crashes against the cliffs creating splashing white foam. This will be a beautiful photo when visitors "snap" in time.
Dancing Rock beach is the ideal tourist destination for tourists. It has smooth white sand. It is embellished again by the strange uniqueness of rocks spread across the beach. In addition, visitors can also enjoy attractive marine specialties like snails, crabs, shrimp, squid … Or take part in fun activities such as boating, mountain climbing, exploring poplar forests, … Coming to Dancing Rock Beach, visitors will have a complete holiday with lots of fun and impressions.