Dalat baked rice paper – "Pizza" of Vietnamese people
Nobody comes to this flower city without knowing this "special pizza". Focus Asia Travel would like to offer more information about baked rice paper that you must try when visiting Da Lat.
Da Lat rice paper
For a long time, baked rice paper has become a very popular dish in many parts of Vietnam. The baked rice paper shops on the sidewalk are fragrant with the flavor of the spices, which will definitely make you want to eat this dish.
The unique features of Dalat baked rice paper
The taste of banked rice paper varies according to each region. For example, the banked rice paper in Saigon is a bit sweet but in Dalat, you can feel the spicy taste. 
In Dalat, the visitors can the peacefulness through eating this cake. Perhaps it is the simple thing that make the dish have a special appeal.
The base of this cake is extremely thin and made from a very pure Vietnamese ingredient- the rice paper.
When preparing the dish, the sellers quickly put the soft and thin rice paper on the coal seam. One hand fan for the fire, one hand add some essential ingredients including fragrant onion fat, sautéed onion, a little meat or sautéed. Next, the layer of golden egg is spread evenly over the surface of the rice paper to make the dish more eye-catching and richer.
Baked rice paper shop should try when visiting Da Lat
Aunt Dinh baked rice paper
Not far from the city center, Aunt Dinh baked rice paper is considered to be the best Dalat restaurant. Located on a prime location at the Hoang Dieu and Tran Nhat Duat junction, it is the center of the young people.
Price: ranging from 6,000 VND to 27,000 VND
61 Baked rice paper (Nguyen Van Troi)
Besides Aunt Dinh, every one who comes to Da Lat cannot forget the 61 baked rice paper on Nguyen Van Troi Street.
The shop has been operated for a long time so you just need to ask a motorbike taxi driver or a street vendor to easily find the place without having to search.
Price: 40.000 VND / 2 people eat.
Bui Thi Xuan baked rice paper
The name "Bui Thi Xuan baked rice paper" is not strange to Dalat people because of its novel taste, the super-thin crust made from rice flour blended with egg, cheese, dried shrimp, dried beef, etc.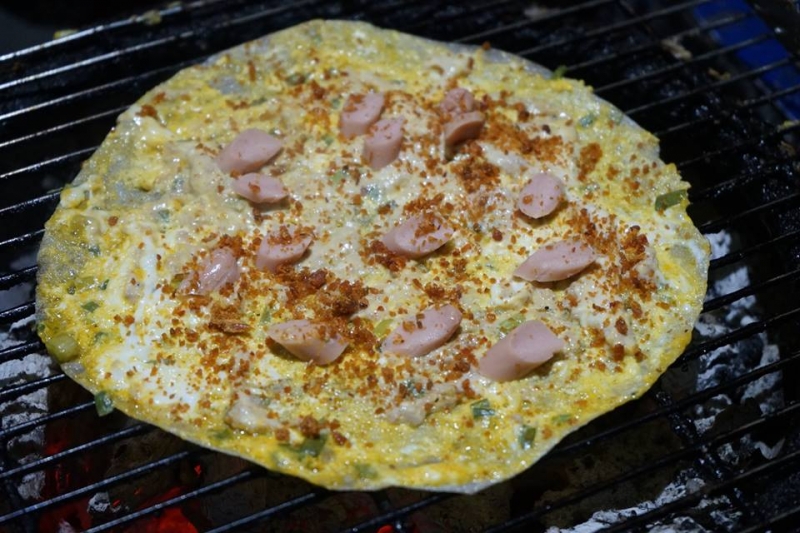 It looks attractive, right? If you are still wondering where to play, what to eat, quickly book the Combo Da Lat 2 days 1 night of Focus Asia Travel !
Wish you have an enjoyable trip!