CYCLING TOUR AROUND HOI AN
The Vietnamese landscape is best explored on two wheels. On a clear day, the mountains around Danang can be seen in the distance from Hoi An. Water buffalo snort contentedly in the rice paddies and pastures, and ducks quack and lift their tail feathers as they pass by on their way to the water.
Many noteworthy points in and around Hoi An can be reached by bicycle. It can be a fun way to see the scenery, work out, and catch some sun, from the beaches to rural areas just outside of the old town.
Self-guided tour
Tra Que Village
Heading east on Hung Vuong, turn left onto Hai Ba Trung, one of Hoi An's main streets. This busy road leads to Tra Que Vegetable Village (just across the Hai Ba Trung bridge), which has several organic vegetable gardens and ends at the idyllic An Bang Beach. You will ride your bike alongside fishing ponds and neat rows of colorful plants, watching employees carefully tending the produce.
An Bang Beach
You should park for 5,000 – 10,000 VND on the sun-warmed shores of An Bang Beach and pull up a lounger or a towel to soak up the rays on the golden sand before heading for a swim in the blue. On the beach, you can see some of the famous circular fishing boats that Vietnamese fishermen still use today. Many local Vietnamese families visit the beach at 5 a.m. and 5 p.m. for a swim and some snacks.
Cam Kim Island – Thien Tray Village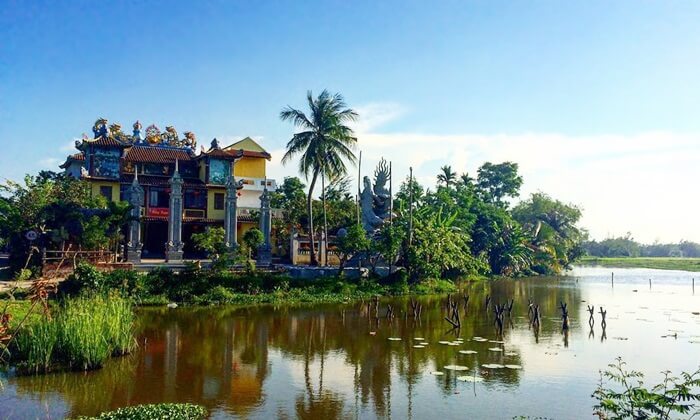 Traveling east on Hung Vuong, turn right onto 18 Thang 8, cross An Hoi island, and continue across the Cau Kim bridge to reach the eerily quiet and picturesque Triem Tay village. Small leafy laneways lead to sleepy temples, and breezy bamboo restaurants overlook the canal, ideal for a beer and a spicy meal.
Silk Village
You will fly to the Hoi An silk village by taking the narrow laneway to the right of the hotel and going north through the rice paddies. Take the first left down the laneway, and you'll soon come across the distinctive Chua Long Tuyen Buddhist temple, complete with multi-tiered pagodas and a beautiful garden with winding paths. At the end of the paddy lane, you'll reach Nguyen Tat Thanh Road and see the elegant silk village across the street.
Visitors can witness the work of a dozen artisans, who manufacture and weave silk into garments and wall hangings using traditional looms. You can also enjoy the mulberry gardens and visit the restaurant and showroom, featuring finished creations.