Bai Rang – A famous tourist destination in Da Nang
Bai Rang- Da Nang: A wild and peaceful beauty in the most livable city in Vietnam. Let's explore the Bai Rang in Da Nang with Focus Asia Travel and enjoy the interesting experiences!
Belonging to Son Tra peninsula, Bai Rang is one of the most beautiful beaches in Da Nang. To reach this beach, you just need to move along Hoang Sa Street then passing Linh Ung. Bai Rang still retains its pristine beauty.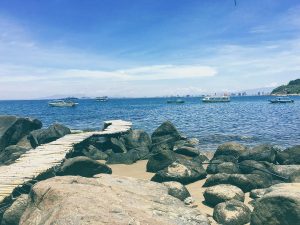 At each time, Bai Rang has its own unique beauty, but perhaps the most beautiful is the sunrise and sunset in Bai Rang. What's better than walking along the coastline, watching the sun rise and radiating bright red across the vast ocean. In the distance, there are undulating basket boats to catch shrimp and fish of local fishermen.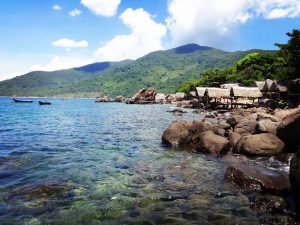 By lying on large rocks, you can enjoy a vast sky and listen to the waves crashing against the whispering rocks in your ears. Bai Rang has many different large and small rocks and when the waves crash with the sunlight, they look really beautiful.
Not only seeing the beautiful scenery, coming to Bai Rang Da Nang, you can also enjoy many delicious dishes at small restaurants along the beach. You can choose to buy fresh seafood caught from fishing boats and net boats. Regardless of being processed by yourself or by a nearby restaurant, it is ensured to be both delicious, nutritious with a strong sea flavor.
It can be said, with the rusticity of the sea and rocks, Bai Rang is one of the  most famous tourist destinations in Da Nang that you should not miss. Bai Rang fully converges the true essence of a central coastal land: simple, clear, romantic and gentle.