7 check-in locations in Dalat that should not be missed out
Check-in location in Dalat: Da Lat city ​​- where there is no shortage of famous tourist sites, attracting a lot of tourists.!
Tinh Crossroads
Familiar on Tung Lam street, the sign of Love Cross has become a check-in stop in Da Lat that should not be ignored.
If you come to this Crossroads, do not forget to visit Ma Rung Lu Quan. With an extremely romantic setting, Ma Rung Lu Quan is currently an attractive destination for tourists in Da Lat, especially for young couples who love to explore the wild scenery.
Check-in location in Da Lat – Franciscaines Chapel
This is considered as a check-in point in the emerging Da Lat, just about 35 km from the city center. It is said to be no different from a rural miniature Netherlands.
Ho Xuan Huong is like the heart of the city. There is also a small Thuy Ta, lying on the lake's calm surface all day and night.
Late afternoon, the lake surface is like a large mirror reflecting the sunset of a red sky. You should definitely not miss this sight.
After the Tuyet Tinh Coc in Ninh Binh and Hai Phong, netizens continues to hunt for Tuyet Tinh Coc Dalat. Tuyet Tinh Coc Dalat is located in Suoi Can village, Lat commune, Lac Duong district, Lam Dong province.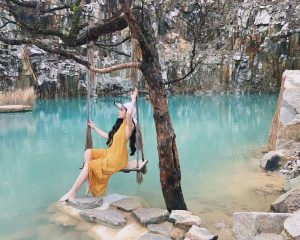 This place is an abandoned marble quarry. Around the lake are tall colorful cliffs. The special watercolor color is what makes people feel like being lost in a mesmerizing "love cup".
Please do not shower no matter how good you swim. And do not litter to keep the landscape.
Windmill bakery
Located at the beginning of Hoa Binh street, the shop has a special name " windmill ". This place also attracts many young people thanks to the yellow wall of the restaurant. Almost, anyone who has been to Da Lat has to check-in this special wall.
After only a few photos appeared on Facebook from May 2017, this bakery immediately became famous. Most people going to Da Lat also have to stop here to get commemorative photos.
This is one of the spots for check-in photos in Dalat . "Village" has the look of an ancient Japan. This is the most famous embroidery village in Vietnam.
6 characteristic areas of XQ Su Quan include: embroidery display area; food court; resorts; area for honoring embroidery artists; a flower garden and installation art and an exhibition of embroidery history. All will give you the opportunity to learn about traditional Vietnamese embroidery as well as being lost in a bold "Japanese" space.
All of these places get visitors' attention by the unique characteristics of each place.