6 hottest tourist destinations in Quang Binh
Here are 6 tourist destinations in Quang Binh that are loved by tourists from all over Vietnam and abroad. People coming to Quang Binh should visit several destinations to discover all the unique beauty of this land.
1. Phong Nha – Ke Bang National Park
Address: Bo Trach and Minh Hoa districts.
Entrance ticket to Thien Duong cave is 250.000VND / time for people over 1m3, children from 1m1 – 1m3 are 125.000VND, under 1m1 is free. Tickets to Phong Nha cave is 150.000VND and Tien Son cave is 80.000VND. Children under 1m3 is free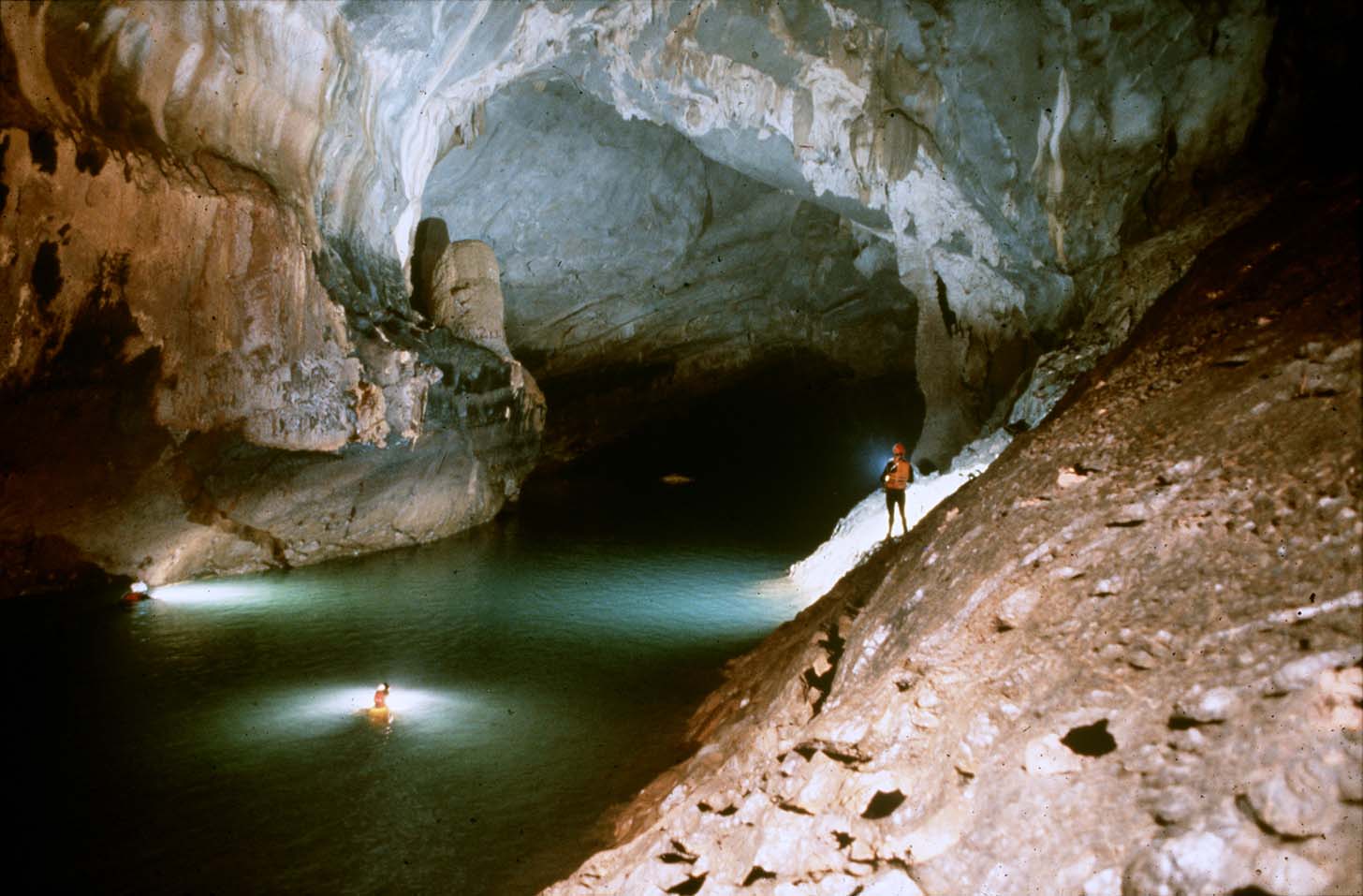 Phong Nha – Ke Bang National Park is a world natural heritage recognized by UNESCO with many unique caves. This is also the sanctuary of many rare plant and animal species.
People going to this most famous tourist destination in Quang Binh can discover the lush green primitive forest and the unique cave system. The most attractive in Phong Nha Ke Bang National Park is Thien Duong cave, Phong Nha cave and Tien Son cave.
The multifaceted stalactites are created by nature in a way that has a strange bond that makes it impossible to take your eyes off.
If you are asking where the most beautiful scenery in Quang Binh is, the answer is definitely Phong Nha Ke Bang National Park.
2. Nuoc Mooc stream
Located relatively close to other famous landscapes in Quang Binh province, such as Thien Duong cave, Chay River, and Toi (Dark) cave, Nuoc Mooc stream remains preserved almost intact with wild beauty.
From Dong Hoi City (Quang Binh Province), following the eastern branch of Ho Chi Minh Road roughly 60km to the north, visitors will meet the Khe Gat Junction. From here, turning onto the western branch of Ho Chi Minh Road for about 5km, visitors will arrive at Mooc Stream, which is like a fairyland and an ideal stopover after exploring the cave during hot summer days.
Ticket price to visit Mooc stream: 80,000VND / time for sightseeing only, children under 1m3 are free. If tourists pay 180,000 VND, they will both enjoy the scenery and rent life jackets, kayaks, ziplines, thrilling games.
Nuoc Mooc tream has a charming and poetic landscape which is suitable for those who want to find a peaceful place to reduce stress.
When you come here, you can walk through the cool stream. If you go in the summer, please bring your clothes, because you will definitely want to deep into this clear and smooth stream.
Those who love sports and adventure when can take part in thrilling games, boating in the lake or drop in the middle of the lake without fear of not being able to swim because the management will provide life jackets.
People who travel to Suoi Mooc stream should travel both the Chay river and the dark cave because these two spots are also very interesting.
 3. Nhat Le Beach
Address: Dong Hoi City.
Nhat Le Beach is said to be a top tourist attraction in Quang Binh because of the blue sea water and white sand, which is suitable for swimming. Located in the center of Dong Hoi city, tourism, entertainment and dining activities of this place has currently quite developed.
Nhat Le Beach has calm waves which is suitable for children to swim. The most interesting thing about Nhat Le beach is to watch the sunrise and walk on the beach at sunset.
Remember to bring high- quality cameras to save this romantic moment!
4. Vung Chua – Dao Yen
Address: Quang Dong commune, Quang Trach district.
Dao Yen pagoda is known as the resting place of General Vo Nguyen Giap – a talented general of the nation who led Vietnamese patriotic soldiers to oppose the oppression of foreign ginseng and liberate our people. This is also where the Vietnamese people come to pay their respects and gratitude to the beloved general of the country.
Everyone coming here should dress politely and obey the regulation of this place.
 5. Da Nhay beach
Address: Bo Trach District.
Da Nhay Beach is also a beautiful and unique beach in Quang Binh that you should visit. In this beach, there are many stones from large to small sizes reaching out to the sea. The sea water here is also quite clear, adding horizontal rocks.
When you go to Da Nhay beach, you can take thousands of pictures. The multi-shape stones will give your photos more wild and realistic.
 6. Bang Mineral Hot Stream
Address: Kim Thuy commune, Le Thuy district.
For a long time, Bang mineral hot stram has become an attractive destination in Quang Binh. This place attracts a lot of visitors every year. Water is supplied entirely from nature.
Therefore, if you soak in hot mineral stream for a long time, you can prevent diseases from invading. Bang Stream is warm all year round so you can go here whenever you like
This is a list of the most famous tourist destinations in Quang Binh. Hopefully, through this article, you will no longer have any questions about where to play in Quang Binh