11 Interesting Facts About Halong Bay
Halong Bay was declared a UNESCO World Heritage Site in 1994. For many tourists, this place is like something right out of a movie. The fact is that Halong Bay features a wide range of biodiversity, while the surrealistic scenery has indeed featured in endless movies. 
Have you ever visited this spectacular place yet? Let's follow Focus Asia Travel to find out 11 interesting facts about Halong Bay.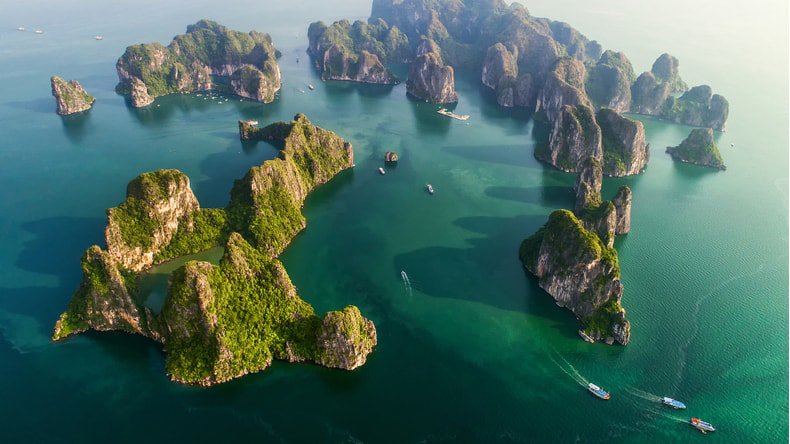 1. What?
Named "Hạ Long" in Vietnamese and "Halong" in English, Halong Bay is a famous UNESCO World Heritage site featuring thousands of beautiful limestone karsts, and around 2000 islands and islets. It draws around 2.58 million tourists per year.
Update: Halong bay welcomed over 4,4 million visitors in 2019, of which 2,9m are international arrivals.
2. Where?
Located in North-Eastern Vietnam, Halong Bay may be found in the mountainous Quang Ninh province.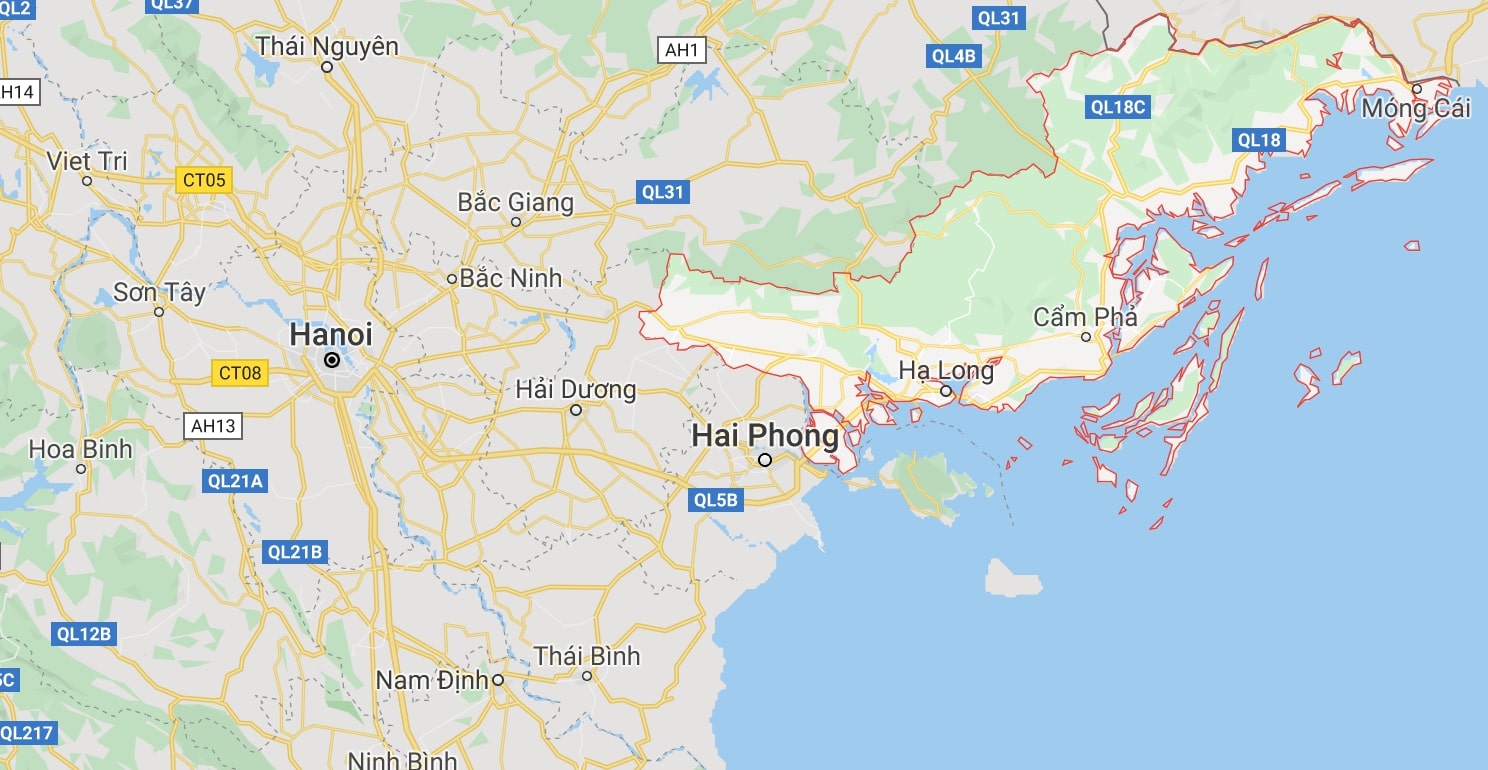 Quang Ninh province (Google maps)

Distance between Halong bay and other destinations in Vietnam:
| Location | Distance | Estimated travel time |
| --- | --- | --- |
| Hanoi | 170 km (105 miles) | 2-3 hours (by bus) |
| Sapa | 491 km (305 miles) | 7-9 hours (by bus) |
| Da Nang | 879 km (546 miles) | 4-5 hours (plane + bus) |
| Hoi An | 907 km (563 miles) | 4-6 hours (plane + bus) |
| Nha Trang | 1400 km (869 miles) | 6-7 hours (plane + bus) |
| Da Lat | 1527 km (948 miles) | 6-7 hours (plane + bus) |
| Ho Chi Minh city | 1723 km (1070 miles) | 6-7 hours (plane + bus) |
3. When?
While the rock formations that make up Halong Bay can be dated back 3 million years, evidence shows that people have only inhabited the Halong area for tens of thousands of years. Today visitors flock to Halong Bay year round to take in the scenery!
4. Size?
Halong Bay has an area of 1553 km² and coastline spanning 120 km. The bay is relatively shallow with its deepest depth measuring at 33 feet (10 metres).
5. Population? 
Approximately 1600 people live in four floating fishing villages: Cua Van, Ba Hang, Cong Tau and Vung Vieng – this means that the majority of the 2000 islands that make up Halong Bay are uninhabited.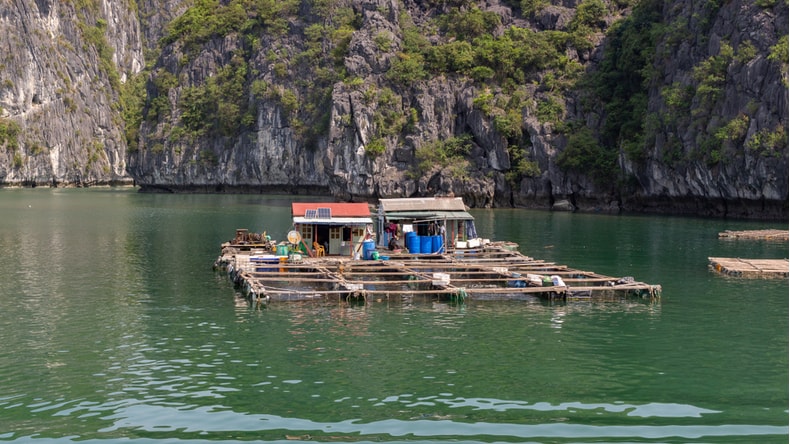 Floating fishing village in Halong bay.
6. Wildlife?
Halong bay is home to a broad spectrum of wildlife and boasts high biodiversity. There are 450 species of Mollusc and over 200 unique types of fish! Hawks, Sea Eagles, monkeys, antelopes, lizards and frogs may also be seen on the islands that make up Halong Bay.
7. Attractions?
Aside from the natural scenery that commands Halong Bay, other great attractions include the floating fishing villages where the local fishing people can be found going about their daily business.
8. Activities?
For visitors to Halong Bay fun activities may include kayaking, squid-fishing, Tai Chi, scuba-diving and snorkeling.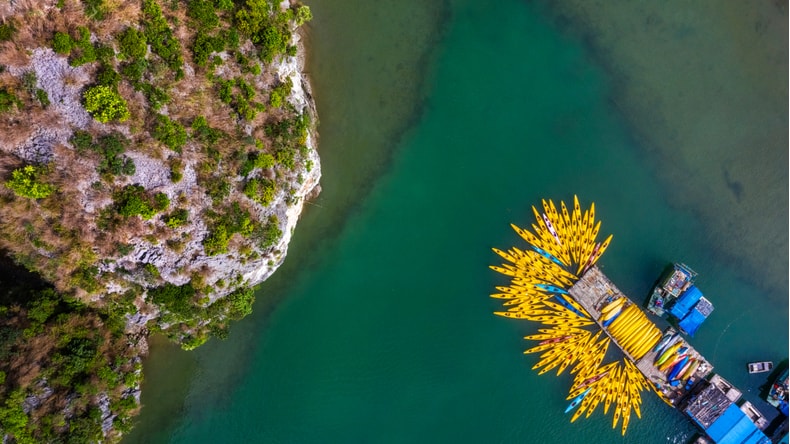 Kayaking area in Halong bay.
9. Festivities?
Since 2006, Halong Carnival has been the spotlight of Halong Tourism Week and the biggest festivity in the bay. Held annually, the festival is a chance for participants to showcase and celebrate the unique culture of Vietnam. Halong Tourism Week is usually in April or May and includes a Miss Halong Contest.
10. History?
Archaeologists believe that humans have lived in Halong Bay for around 18,000 years. Over the centuries, Halong Bay has been the scene for many naval conflicts between Vietnam and foreign aggressors.
11. Awards?
In 2000 Halong Bay was designated an UNESCO World Heritage Site and in 2007 it achieved recognition as one of the New7Wonders of Nature.
These are 11 facts about Halong Bay. If you want to visit this beautiful places, do not hesitate to contact Focus Asia Travel immediately!